News
Masters 2018: A potentially historic Sunday goes surprisingly wrong for Rory McIlroy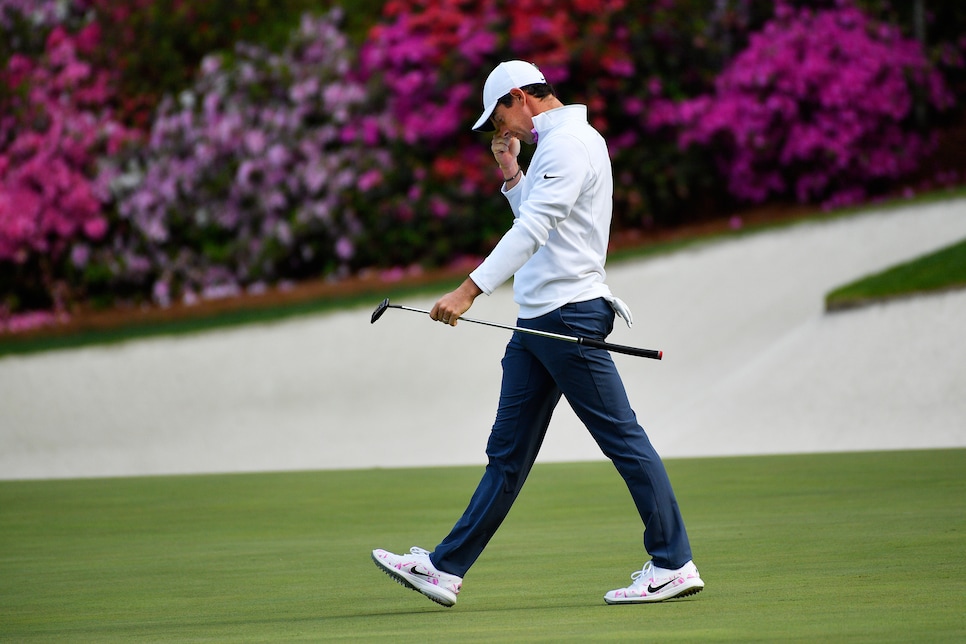 AUGUSTA, Ga. — This wasn't how the final round of the 82nd Masters was supposed to go.
If anyone was going to make nine birdies and shoot 64 it was going to be him.
If anyone was going to complete the career Grand Slam, it was definitely going to be him.
If anyone should start missing fairways, greens and putts, it would be the other guy.
If anyone was going to shoot over par and finish T-5, it would be another of those other guys.
If anyone was going to lose the year's first major, it would be all of those other guys.
This was going to be a divine 2018, in contrast to the disaster that was 2011.
One day after looking and sounding like the champion in-waiting, Rory McIlroy did shoot an extraordinarily pedestrian 74. Rory McIlroy did miss way too many fairways, greens and putts. Rory McIlroy did finish T-5. So no green jacket. And still only five men have won all four of golf's most glittering prizes.
In truth, this wasn't just a disappointing performance—six strokes behind winner Patrick Reed—from the man many believe to be the most naturally talented golfer on the planet, never mind what the rankings might say. It was worse that that. Much worse.
On a card littered with errors of varying magnitude, all of the faults that have contributed to McIlroy's descent from golf's summit were in evidence. The peerless driving was suddenly erratic. The approach shots equally so, distance control sorely lacking. The short game was blunt. And the putting? Well, that was bloody awful. Standing on the 15th tee, McIlroy had already missed seven putts inside 10 feet and four inside six feet. It was ugly stuff.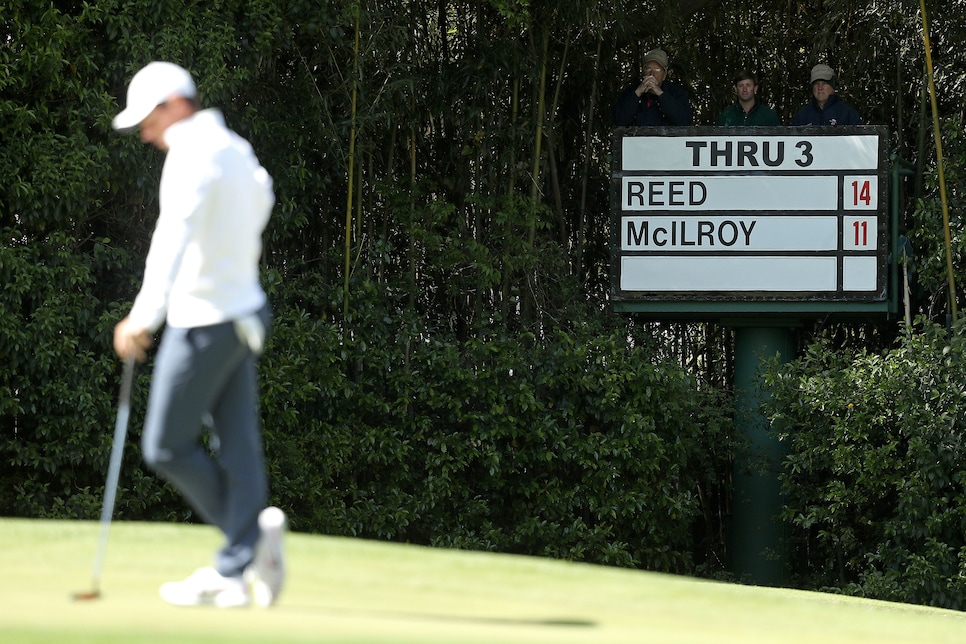 Speaking on the U.K.'s Sky Sports coverage, Butch Harmon went for understatement: "Really surprised by Rory's play today. I thought he'd do better. I thought this was his event to go take."
On Twitter, Lee Westwood, six times a top-10 finisher in the Masters, wondered more specifically: "Just an observation, but how far left is Rory aiming today?"
The unexpected yet familiar signs of fragility were prominent early. After driving miles right off the first tee, the ball was already at least 20 yards offline when it struck a tree, McIlroy did well to save par from the greenside bunker. Then, after a sumptuous approach to the par-5 second, he missed the four-foot putt for eagle. A sloppy bogey, where he came up short in two, followed at the third. Even the birdie from four feet at the par-3 fourth only stemmed the flow. Nine more holes would pass before the Northern Irishman would again dip under par. And by then, his bid for golf's ultimate glory was all but over.
Even history and tradition were not on McIlroy's side. On a back nine, where the 28-year-old had not dropped a shot all week—and on which the Masters is reputed to begin on Sunday—the still four-time major champion shot 37 and managed just one birdie, a two-putt 4 at the 13th. By the end, he was an understandably deflated and defeated figure, his body language a far cry from the bouncy optimism that was so prominent 24 hours earlier.
"There is always pressure," was McIlroy's opening admission. "But I had a decent warm-up. And I felt like I settled down OK. It wasn't as if nerves got to me. But I just didn't have it right from the first tee-shot. Even then, given where I was in one on the first hole, I would have taken one under after two holes.
"Still, momentum is huge in the last round of a major," McIlroy continued. "Look at what Jordan [Spieth] and Rickie [Fowler] did. They got on a roll and I just didn't. Patrick didn't either. We were in and around even par and just grinding out there—not quite what we both had in mind. He just hung in there a little better than I did and got the job done.
McIlroy, having finished fourth, T-10 and T-7 in his three previous attempts at the Masters to cap his career Grand Slam bid, understood the complete breakdown of his game and tried to explain what happened.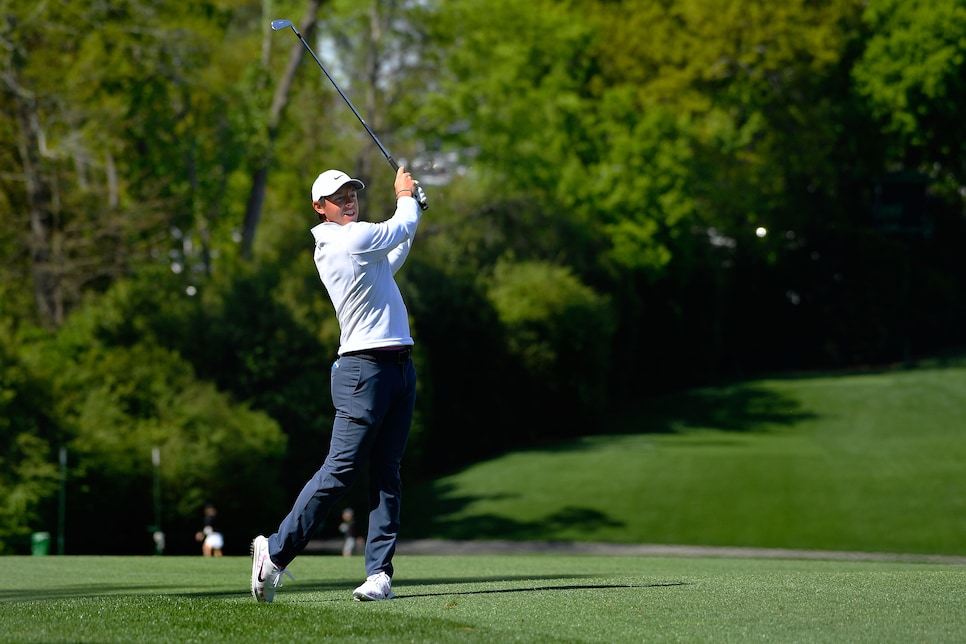 "Any time I got momentum I gave it away on the next hole. I was trying to hit good shots and hit good putts. But every time I hit a good one I ended up on the wrong side of the hole," he said. "And when I did get opportunities I didn't take them. Every time I took a step forward I took one backwards on the next hole. The bogeys on the third and the fifth both followed birdies and are the two holes I will look back on with most regret."
All of which made sense. As ever, McIlroy made no attempt to disguise either his shortcomings or his disappointment. The desolate look in his eyes spoke loudest though. This one, even more than the stunning collapse that added up to the 80 he shot in the final round seven years ago, will hurt. This was one he expected to win. This was one he will need to time to get over.
"I can't let this derail me or get me down," he insisted. "I've played a lot of good golf this week. I know it's hard to take any positives from this right now, but at least I put myself in position. I've been in two final groups here in the last seven years. I play this course well, just not well enough yet. I'll sit down over the next few days and look at what I could have done better."
That is not likely to be a short period of contemplation. This was a shocking failure.