News
Masters 2018: Patrick Reed holds off Rickie Fowler, Jordan Spieth to win 82nd Masters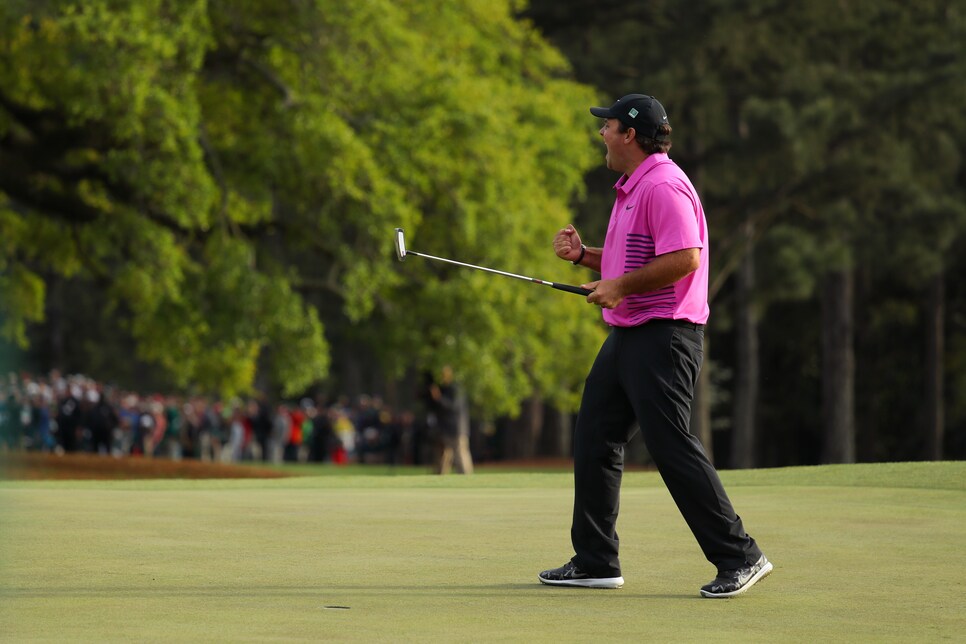 It came down to a slippery two-putt on the 72nd hole, and yet there was no doubt Patrick Reed would get the job done. Reed's putter never failed him throughout the week, including Sunday, when he carded a one-under 71 to win the 82nd Masters at 15-under 273, holding off Rickie Fowler and Jordan Spieth in the process.
It was going to take something special to catch Reed, and that's what both Fowler and Spieth produced, Fowler posting a five-under 67 with a birdie at the last and Jordan Spieth nearly tying the course record with an eight-under 64. But it wasn't enough, especially with Reed coming up clutch down the stretch, having made birdies at the 12th and 14th holes and two key par saves at 17 and 18 to win his first major.
"To be able to make that putt I felt like, on 14, and to make that two-putt on 17, it just kind of have me that momentum going into 18, which in the past has given me so many issues. To be able to have to par the last hole to win my first major, it definitely felt right," said Reed.
"I knew it was going to be tough, any time trying to just close off a golf tournament is really hard, but to close off your first major and to do it at a place that's so close to me, being it's where I went to college, I knew that the lead was going to shrink at some times I knew the lead could grow, it's just the flows of golf. You just have to know how to handle it, the only way that I felt like I could get that done was to make sure the putter was working and it was tough out there."
While Reed made plenty of long putts throughout the week, it was two two-putts that ultimately won him the green jacket. At the 17th, Reed's approach just missed the front left part of the green, leaving him an 80-foot putt that he nearly made, hitting the hole and running out to five feet. After saving that for par, Reed found the fairway at 18, then hit his second well above the hole, about 25 feet away. He barely touched it and it rolled past about four feet, but once again, he buried the par putt.
"I'm sitting there in between two clubs on the iron shot and to hit it where I thought was going to be perfect and for it to stay on that ridge, I was watching Sergio a year before having putts from up there and just barely tapping them and they're just barely getting down to the hole and you see it carrying some speed, I knew there was no way to leave it short. When I hit it, I kind of mis hit it, tried to hit it off the toe and for it to go three-and-a-half feet by, just happy I've actually hit that putt before and knew it was just a left center putt."
The victory is the sixth of Reed's career, and the first since the 2016 Barclays, where he also held off Fowler down the stretch at Bethpage Black.
"It's almost impossible to put into words. Just to make the putt on the last and watch the ball go in the hole and know that I won my first major, to finally end the drought of not winning last year, that was one of my huge goals coming into this year. To not only contend in majors but also get back in that winning circle, to do it in the first major, to kind of finish off that drought, it just meant so much to me."
For Fowler, it's another close call in a major. He's finished inside the top 10 nine times in major championships, eight of which have come in the top 5 and three in the top 2. He's getting closer to a breakthrough.
"There's been a few majors where obviously I've played well enough where that score (14-under) would have held up at another point or if there wasn't another guy, but that's golf," said Fowler. "You have to beat everyone, and it's been fun to have the good performances in majors, especially in 2014, we finished top 5 in all four. Maybe this is a year where maybe we get all top 5s again, but it'd be nice to throw one trophy in there as well."
Spieth's round may be quickly forgotten in the immediate aftermath of Reed's victory, but it was an incredible one. He made nine birdies and just one bogey, which came at the final hole after his poor tee shot left him in an impossible spot to hit the green in regulation. His next bid at a second green jacket will have to wait, but there's no doubt it's coming.
Jon Rahm, who fired a final-round 69, finished in solo fourth at 11-under 277. Cameron Smith, Henrik Stenson, Rory McIlroy and Bubba Watson tied for fifth at nine-under 279.