Presidents Cup
Tom Kim can't stop ripping his pants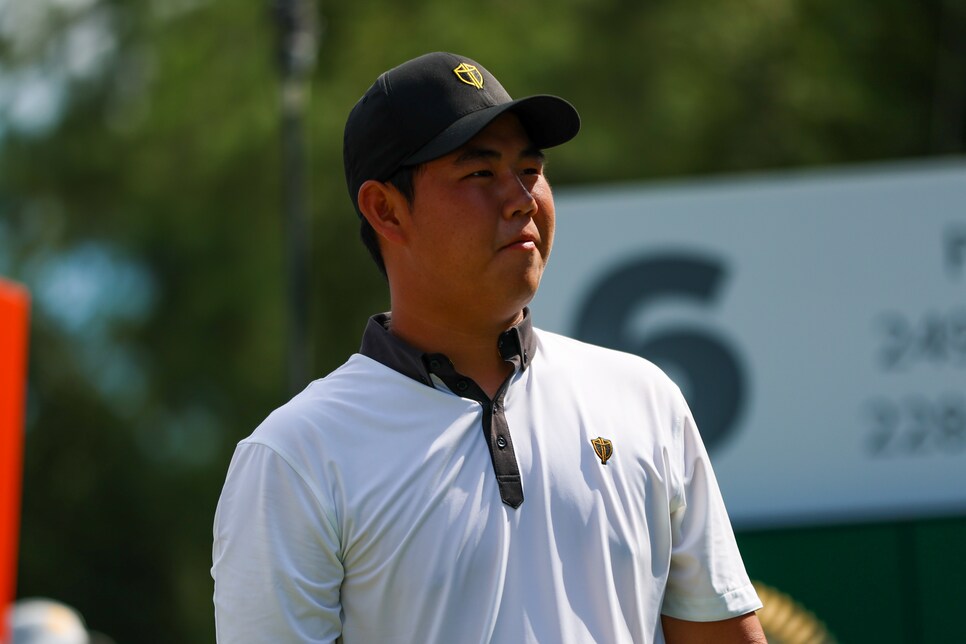 Tom Kim was marked as a potential breakout candidate at this week's Presidents Cup. The 20-year-old is taking that to heart … and also to his pants.
Kim, who earned temporary tour status with a third-place finish at the Scottish Open and captured the Wyndham Championship a month later, has been playing to the crowds and punctuating made putts with yells and fist bumps. The man oozes swaggo and seems undisturbed by the moment. Or a fashion emergency. Sorry, emergencies.
During Friday's warm-up for the fourball session, word spread that Kim had ripped his pants on the driving range. In itself a funny yet relatable occurrence: Should anyone say their khakis weren't a little tight when wearing dress pants for the first time in two years after wearing nothing but shorts and sweatpants during the pandemic then that person is a stone-cold liar. But what added a layer of awesomeness to Kim's predicament is that it wasn't the only time it's happened this week:
So, clearly, trying to keep movements to a minimum, one would think Kim would try to play it cool once the round commenced. However, that is not how Tom Kim thinks:
Forget LIV Golf. The biggest concern in golf is getting Kim dual citizenship in Europe so he can compete in next year's Ryder Cup.
MORE PRESIDENTS CUP 2022 STORIES FROM GOLF DIGEST