Betting Odds
Tom Brady, Aaron Rodgers projected to be slight favorites over Patrick Mahomes and Josh Allen in The Match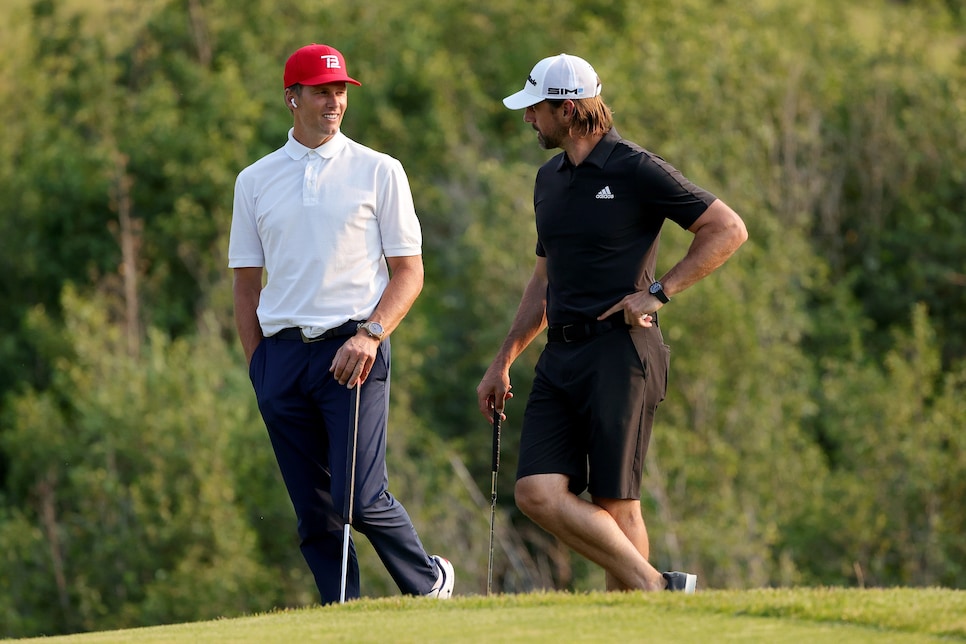 Given what transpired in the epic AFC Divisional Round Game between the Kansas City Chiefs and Buffalo Bills a few months ago, it's quite clear that Patrick Mahomes and Josh Allen are the new faces of the NFL, at least at the quarterback position. However, Tom Brady and Aaron Rodgers are still top dogs ... on the golf course, that is.
Well, maybe they're still top dogs on the football field, too, but the torch will soon be passed to Mahomes and Allen if it hasn't been already. The clear indicator of that would be if Brady or Rodgers went into Kansas City or Buffalo, they'd likely be slight underdogs. In fact, Brady was barely a favorite against Allen in his home stadium last season (Brady eeked out a 33-27 OT victory), while Rodgers' Packers were seven-point dogs at the Chiefs in November, though Rodgers didn't play due to COVID.
Like the Koepka-DeChambeau match, which Koepka won, this will also be a 12-hole event, and all players will be mic'd up. This will mark Brady's third appearance in the made-for-TV event, the QB having gone 0-2 so far alongside Phil Mickelson each time. Rodgers is making his second appearance, having defeated Brady and Mickelson with DeChambeau as his teammate in Montana last July.