News
Tiger's strong Open tune-up (and jab at the USGA), Molinari laps the field and Toms, Park win majors: What you missed this weekend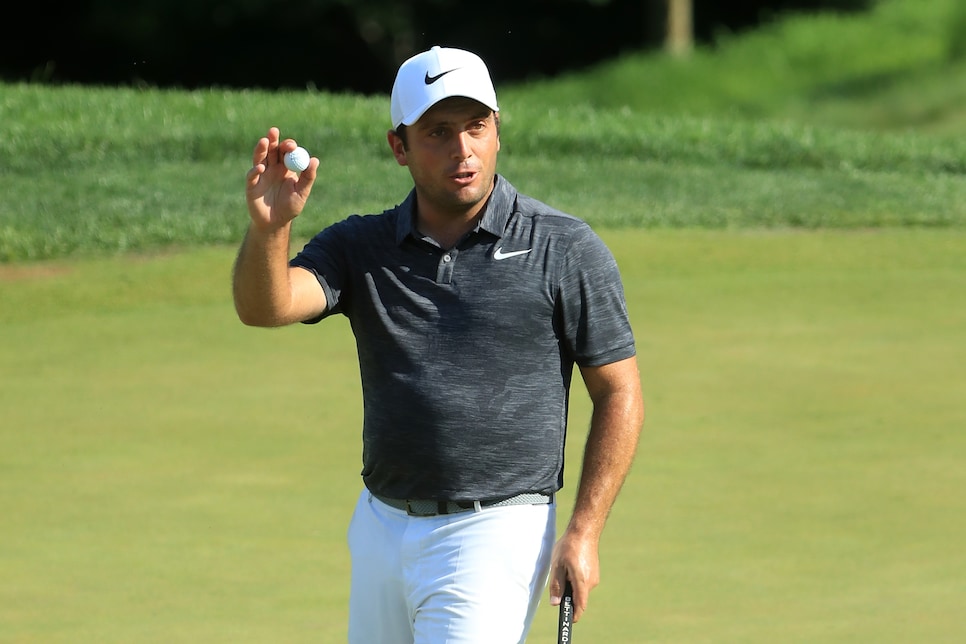 Welcome to the Dew Sweeper, your one-stop shop to catch up on the weekend action from the golf world. From the professional tours, trending news, social media headlines and upcoming events, here's every golf-related thing you need to know for the morning of July 2.
Molinari puts on clinic at Quicken Loans National
Got to feel for the field at TPC Potomac. Temperatures in the area hovered in the mid-90s most of the weekend, with humidity making it feel like triple digits. Conditions brutal in their own right. Especially so when you're playing for second.
That's what the Quicken Loans National was rendered to thanks to Francesco Molinari, who lapped his competition by a whopping eight shots with a final-round 62.
"Amazing, amazing. I still haven't realized what happened today," Molinari said. "It was a lot easier than I thought. I played great. The start of the back nine was incredible. Really proud of what I've done, and I hope a lot of guys back home [in Italy] are watching tonight."
The 35-year-old is noted as one of the best ball-strikers in the game, and it was his second-shot prowess that propelled him at Potomac with a tournament-best 9.8 strokes gained/approach figure. Coupled with keeping the big numbers at bay (just two bogeys on the week), it was smooth sailing for the 17th-ranked player in the world.
Technically it's Molinari's first PGA Tour victory; he captured the 2010 WGC-HSBC Champions, but it was not a tour-sanctioned event until 2013. Conversely, perhaps the display should have been expected, as Molinari had won the BMW PGA Championship and finished second at the Italian Open in the past month. Other notables included Beau Hossler, who followed a Travelers' runner-up with a T-6, a 12th-place finish from Rickie Fowler, and a T-4 from a certain 14-time major winner...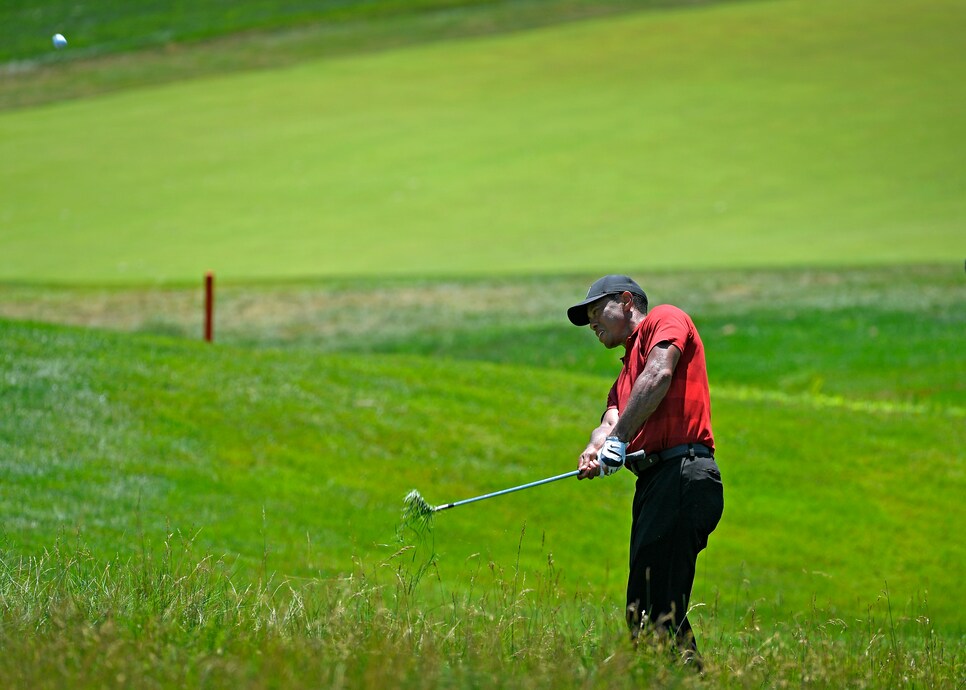 Since stirring runs at Innisbrook and Bay Hill, Tiger Woods hadn't been particularly formidable. There were flashes at Muirfield Village and Sawgrass, but the 42-year-old posted just one top-20 finish since the Arnold Palmer Invitational, including a missed cut at the U.S. Open. That trend looked to continue after a so-so opening round at the Quicken Loans. However, Tiger delivered an inspiring response, playing his final 54 holes 11-under par, good enough for a T-4 finish.
As that standing suggests, there were plenty of positives for Tiger. His 21 birdies tied for a tournament-best, his iron game remained steady (T-7 in greens in regulation), and he made a handful of bombs on the dance floors. In that same breath, his short game continued to frustrate, as he finished dead last in putting inside 10 feet. And though the 21 birdies were impressive, they also underlined Tiger's inability to avoid bogeys, given Molinari, who also had 21 birds, finished 10 shots ahead.
"I've hit the ball well in this stretch, I just haven't made anything," Woods said. "I'm starting to hit some putts, I'm starting to make those putts you're supposed to make from 10, 15 feet, but I'm also making some from outside 20."
Nevertheless, it was a solid final tune-up before the Open. Woods has a nice track record at Carnoustie, and it's historically a major where shaky putters can excel. In short, might want to snag those 25-1 claret jug odds while you can.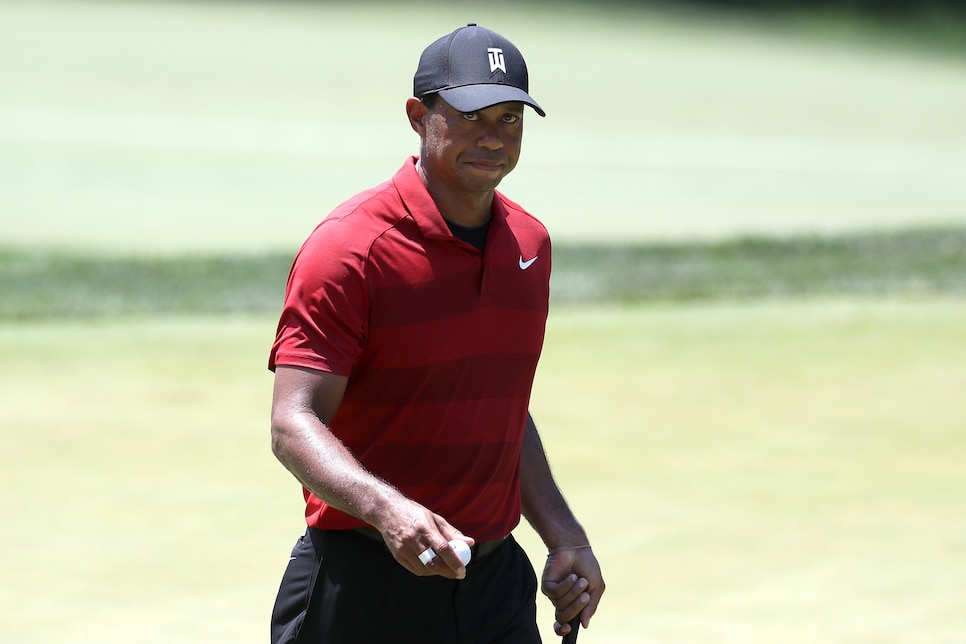 Mike Davis and the USGA have taken their share of body blows for losing Shinnecock Hills, again, at this year's U.S. Open. Judging by Woods' roundabout jab on Sunday, those punches aren't stopping anytime soon.
Following his fourth round, Woods was asked his thoughts on the upcoming Open Championship at Carnoustie. Tiger shared his experiences with the venerable links—he has finished 3rd and 12th at two previous Carnoustie Opens—which led to the following on commentary on the R&A, and what could be interpreted as an indictment on the USGA:
"One of the neat things about playing about the Open Championship, they don't care what par is," Woods said at TPC Potomac. "They let whatever Mother Nature has…if it's in store for a wet Open, it is, if it is dry, it's dry. They don't try to manufacture an Open."
When asked a follow-up if that was a shot at the USGA, Woods replied, "Come again?" and when the question was repeated, a handler escorted Woods away, saying, "I heard ya," with a smile.
He's not wrong, and certainly not alone in his USGA assessment. Still, bold move, considering Woods might have to rely on an exemption into the Pebble Beach field next year.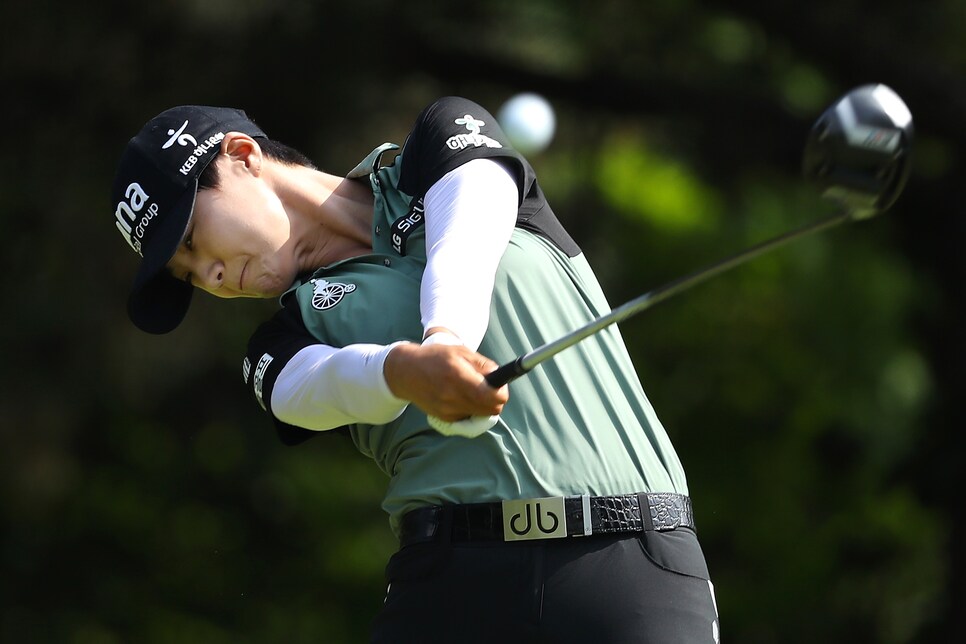 Park snaps sophomore slump with PGA win
After sharing Player of the Year honors as an LPGA rookie, it had been a disappointing second go-around for Sung Hyun Park on tour this season, missing the cut in five of 12 events with just two top-20 finishes. But, after her Sunday performance, it's clear that Park has snapped the dreaded sophomore slump. Park beat So Yeon Ryu and Nasa Hataoka in a playoff to win the KPMG PGA Championship for his second career major.
Park, who didn't make a bogey over the final 30 holes, turned in a final-round 69 at Kemper Lakes to earn a spot in overtime. On the first playoff hole—the 18th, which had only been birdied once throughout the entire day—both Park and Ryu made red numbers to advance. Following a brief weather delay, the two came back on the 16th, where Park's 10-foot birdie sealed the deal.
Fitting, as the 16th was also the site of a phenomenal up-and-down from the hazard that kept her in the running:
A showing that brought the usually-stoic Park to tears.
"Even though it was a really tough year, I think I did really good play this week," Park said, "and I think all the work I've done has paid off today. That's what really made me cry.
"Actually this is my first time feeling like this kind of emotion, like being this emotional, and I was really happy."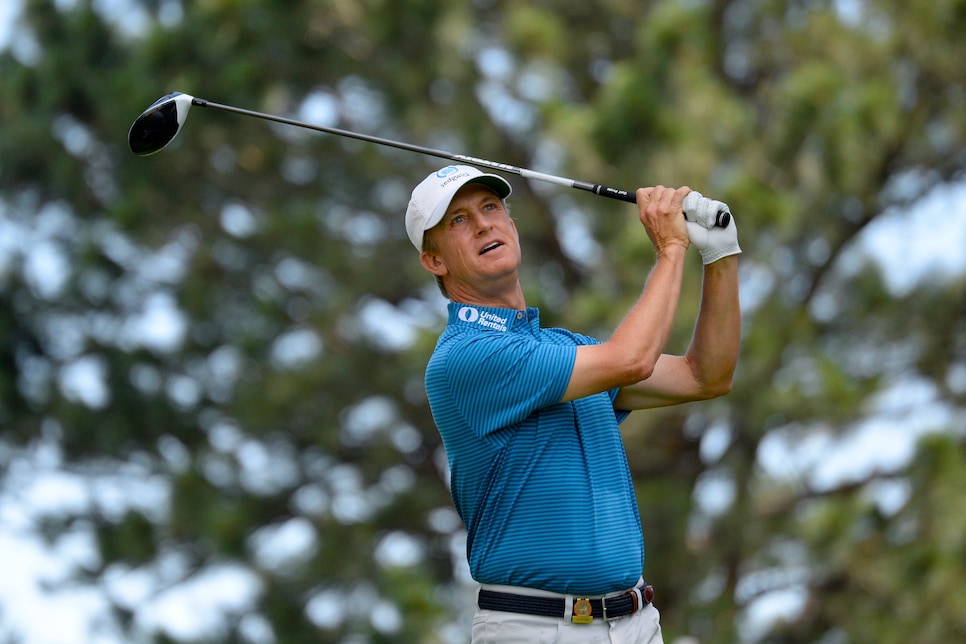 Toms wins U.S. Senior Open
David Toms picked a good time to break through on the Champions circuit. The 2001 Wanamaker winner closed with an even-par 70 at the Broadmoor to win the U.S. Senior Open by one over Jerry Kelly, Miguel Angel Jimenez and Tim Petrovic.
"First of all, it's been a long time, obviously, the last time I held a trophy," Toms said. "To do it in a USGA event is even more special. I didn't really have the patience for U.S. Open searly in my career. I get better at it as my career went on. Never won one, but I got close. To finally have one, just means my patience is probably where it needs to be, finally."
The tournament was up for grabs late into Sunday night, as six different competitors held the lead at one point on the final nine. Paul Goydos held the lead after a birdie at the 15th but stumbled with bogeys on the last two holes to finish two back. And it certainly wasn't a flawless display from Toms, who hit just eight greens on the day. However, Toms' putter saved the day, as the 51-year-old rolled in a birdie on the 16th, converted a difficult par save at the 17th and made work of a two-putt par on the closing hole for the W.