News
Tiger Woods updates: Tiger shoots 71, makes cut on the number at Torrey Pines thanks to closing birdie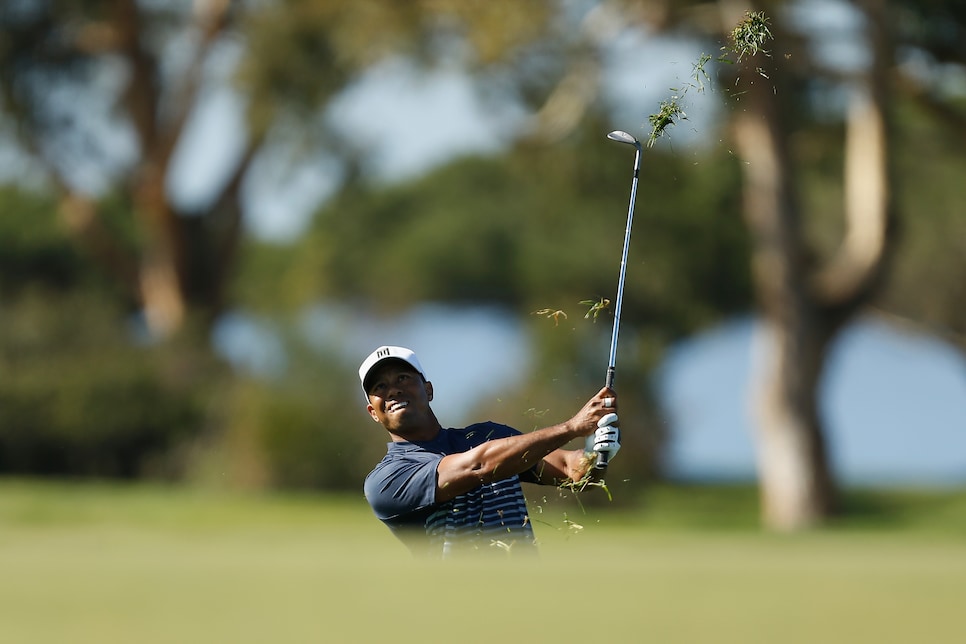 Tiger Woods' latest PGA Tour comeback began with a wild tee shot, but ended with a near hole-in-one and a solid, even-par round at Torrey Pines' South Course. Woods will take on the historically easier North Course on Friday as he tries to make the cut in an official tour event for the first time since August 2015. Before Tiger tees off at 12:30 ET, get caught up on everything that happened in his first round, while learning about a new way of grading his play. And keep it right here for the latest news, scores and highlights from Woods' return in San Diego. (All times ET)
6:45 PM: And it's official. Tiger Woods makes his first cut at a PGA Tour event since the 2015 Wyndham Championship. Take that, Vegas!
"It was a grind. I fought hard. Typical," Woods said. "Just me going out there and fighting for whatever I could get, and it felt good."
5:31 PM: Woods two putts from long distance for a birdie and a one-under 71 to get to -1 for the tournament. That was a grind. It's not definite yet, but that should be enough to play two more rounds.
5:21 PM: Woods gets a great kick over the greenside bunker and it rolls to the center of the green, some 70 feet away. Two putts and he might make the weekend. Not going to be easy, though.
5:12 PM: Another miss way right off the tee for Woods. Making birdie just got a little bit harder, and the cut line look like it will stay at -1.
5:07 PM: Woods hits an ugly tee shot at the par-3 8th that comes up short of the green, and follows that with an even worse chip that rolls well past the hole. Two-putt bogey and he's back to even par with the par-5 9th hole remaining. Eagle would be nice, but birdie is a must to even have a chance.
4:58 PM: Once again, Woods displays some deft touch around the greens, knocking one close and rolling in a putt for birdie:
He's at -1, right on the current cut line.
4:45 PM: Woods takes a healthy cut at the drive-able par-4 7th and ends up pin high, but in a tricky spot left of the green. It'll be a difficult up-and-down for birdie, but one he really needs right now.
4:33 PM: Woods' approach comes up well short in an almost impossible spot to get up and down from, but he plays an incredible, high flop shot to a few feet and taps it in for par. Even par with three to play, including the short par-4 7th and the reachable par-5 9th. There's still hope for the weekend.
4:20 PM: Uh-oh. Woods hits one miles to the right at the par-4 6th hole with a 3-wood. Not good.
4:15 PM: Woods crushes a drive at the par-5 5th and gets a little unlucky as it just rolls into the rough. But he was able to muscle an iron up near the green and get up-and-down for a huge birdie. He's back at even par with four holes to play, and the cut continues to bounce back between one under and two under. Two birdies would be ideal, but he may only need one more.
3:55 PM: Woods makes a solid par on the tough par-4 4th to remain at one over. But now he really needs to make a move with just five holes remaining because the cut line moved to two under.
3:35 PM: Another hole, another beautiful up and down for Woods as he walks away with a hard-earned par on the difficult 241-yard, par-3 third. Woods still needs at least two more birdies, but he has two par fives over his remaining six holes.
3:23 PM: After a miss to the left off the tee (Yes, again), Woods finds the front fringe with his approach and then hits a nifty bump-and-run over a ridge to gimme range to stay at one over. To this point, Woods' driving has been erratic, but his short game has been fantastic. So if you're looking for a silver lining to Tiger's performance so far, it's that the "Y" word hasn't come up. At all.
3:05 PM: Finally, something to get excited about if you're a Tiger fan. And it came when we least expected it. After a poor approach shot with a wedge on the par-4 1st, Woods drains a 40-footer from the fringe for his first birdie (and fist pump) of the day. The unlikely make pulls him within two shots of the current cut line with eight holes to play.
2:55 PM: The good news? Woods makes a fantastic up-and-down on No. 18 (his ninth hole of the day). The bad? It was just for par and it wraps up a disappointing first-nine 38. It looks like Woods is going to shoot a 33 or better on his second nine if he's going to stick around for the weekend. Also good news? That fused back looks like it's feeling pretty good considering this mighty lash from the rough:
2:38 PM: Woods fails to take advantage of another par 5. After a wild drive right (that's different!), Woods punched his second shot up by the green, but couldn't get up and down when his 12-footer came up just short and hung on the edge. The cut line currently sits at -1, while Woods is at +2 with 10 holes to play.
2:20 PM: Woods hits another great tee shot on the par-4 16th, but hits a poor sand wedge to the back of the green. A solid two-putt keeps him at two over.
2:05 PM: Woods misses the green on the the par-3 15th, but makes a nifty up and down from a tight lie to remain at two over.
1:53 PM: Woods finally uncorks a perfect drive and hits a nice approach to set up a birdie on No. 14 (his fifth), but misses from about 15 feet to remain at two over.
1:38 PM: If you bet on Tiger to make the cut this week, it's time to start getting nervous. After driving into the hazard on No. 13 (his fourth hole), Woods dropped, missed the green and then failed to get up and down. The resulting double bogey drops him to 2-over for the tournament, which currently puts him in a tie for 125th place.
1:22 PM: Woods hits another snapper off the tee that finds the left hazard. It reminds us of this tweet from Golf Channel's Tiger Tracker earlier in the week:
We love Tiger Tracker, but that scouting report has not aged well.
1:19 PM: It's difficult to call a par on a 203-yard par 3 disappointing, but Woods walked away shaking his head after missing a birdie attempt from inside of 10 feet. On the bright side, the tee shot was his first good swing of the day and yet he's still at even par.
1:03 PM: Woods makes another disappointing par on the 339-yard, par-4 11th (his second) after another miss to the left off the tee. But it could have been worse. Woods missed the green with his second, hit a poor chip and had to make a 10-foot curler for par. He's currently one shot outside the cut line with 16 holes to play.
12:46 PM: After laying up, Woods hits an indifferent approach shot and two-putts for par from about 40 feet. He remains at even par for the tournament and at a disappointing even par for the five par 5s he's played thus far. His two playing partners, Charley Hoffman (eagle) and Patrick Reed (birdie), fared better.
12:33 PM: Tiger begins his second round just like his first, with a wild hook off the tee. Don't panic, people. It's just one shot. And it's an opening par 5 (he's starting on No. 10). But yeah, that was ugly.
11:43 AM: Look at all the SPEED Tiger has in this clip of him warming up:
11:15 AM: Tiger Woods arrives at the course, apparently, with much less fanfare than the previous day.
---------------------------------THURSDAY-----------------------------------
6:36 PM: Tiger's drive at 18 finds the left rough, leading to a layup to about 150 yards. From there, his approach came up just a few yards short, spinning back down the green and leaving him a 40-footer. His two-putt par gives him an even par 72. All things considered, Woods did a good job of battling and not letting this round get away from him. He tees off on the North Course on Friday at 12:30 ET.
6:11 PM: Woods follows up his near hole-in-one with another par to stay at even. He heads to the par 5 18th with one more shot to get under par, which would feel like a win after that bad bogey at the 13th hole.
6:00 PM: Another better look at the near ace ... so close:
5:55 PM: Woods nearly jars it for a 1 at the par 3 16th with an incredible shot. He kicks it in to get back to even with two holes to play.
5:50 PM: Fairway, green, two-putt par at the 15th. He's hanging around, but running out of time to get into red figures. Finishing at even might feel like a win after the way Tiger's battled all day, though.
5:30 PM: After an adventure at the 13th that ended in a bogey, Tiger makes par at the par 4 14th to stay at one over on the round with four holes to play.
4:50 PM: Tiger two putts from 40-plus feet for a routine par. On to the par 5 13th, where he has a great chance to get into red figures for the first time today.
4:45 PM: A look at Tiger's "bad" drive at the 12th:
From there, he finds the green with his approach from 189 yards, but will have a lengthy putt for birdie.
4:38 PM: Woods two-putts for par at the 11th to stay at even, and then takes out the driver at the 504-yard par 4 12th. After impact, he dropped the club in disgust, indicating it was heading left, but it ended up in the fairway. Very Matsuyama-like, but he'll take it.
4:28 PM: Birdie at the 10th gets him back to even, and he follows it up with a well-struck tee shot at the par 3 11th that comes to rest just outside of 20 feet from the hole for another birdie look.
4:18 PM: Tiger went with the 3-wood at the 10th and left himself a pitching wedge in, which he nearly holed out from the second cut. He's facing a kick-in for birdie to get back to even par for the day. Could help him build some momentum as he heads down the home stretch at Torrey Pines, where he's shown a flair for the dramatic in his career.
4:08 PM: Woods' bunker shot was not his best, coming up well short of the hole and leading to a two-putt par. He turns in one-over 37, putting him six back of leader Ted Potter, Jr.
4:00 PM: Tiger's drive finds the fairway at the ninth, but he won't have an eagle putt. His approach shot finds a left greenside bunker.
3:45 PM: Woods pulls his tee shot at the par 3 eighth, and then nearly holes the chip for birdie. Nice up and down to stay at one over as he heads to the par 5 ninth, where he'll have a good opportunity to get back to even par at the turn.
3:38 PM: After another good drive in the fairway, Woods hits a poor approach with just a nine iron in his hand to a front right greenside bunker, where he hit one of his better short game shots of the day to a couple feet and tapped in for par. He was then overheard telling his playing partners, "it's Joey's fault", referring to caddie Joe LaCava for mis-clubbing him. Yikes! At least he didn't whip a headcover at him or anything like that ...
3:21 PM: Woods hits a solid putt that just misses on the left side and he taps it in for birdie. He's on the board, but still sits six back at one over.
3:15 PM: From 252 yards away, Woods strikes his best shot of the day, knocking a 4-iron on the front of the green. His first eagle putt of 2018 awaits, and it's from just over 50 feet.
3:05 PM: Tiger splits the fairway at the par 5 sixth, 307 yards to be exact. He'll have just under 250 left to the green. Big chance to get one back here.
3:00 PM: Woods misses left off the tee again (Thanks for that scouting report, Tiger Tracker) and finds a fairway bunker. His approach finds another bunker and he's unable to get up and down. Woods' second bogey drops him to two over thru five holes.
2:45 PM: After an indifferent approach, Woods two-putts from 45 feet, again holing about a four-footer for par. Through four holes, here are Tiger's stats:
"YOU DA MAN, TIGER!"s: 743
2:25 PM: Big Cat pulls the big dog for the first time and finds the left side of the fairway on the par-4 fourth, 309 yards out. Not too shabby.
2:20 PM: Woods hits his first green in regulation of the day on the picturesque par-3 third, and from 27 feet. . . he just burned the edge, dropping down to his knees. Woods tapped in for a second straight par to remain at one over.
2:09 PM: After finding the fairway, Woods airmailed the green with his approach, but he made a nice chip to four feet and holed the par putt.
1:54 PM: Woods makes an opening bogey that wasn't all his fault. After that wild tee shot, he found the front bunker, but his ball plugged. Woods hit a pretty good sand shot to about 12 feet, but missed his par putt. Oh well. He's got the first hole under his Nike belt.
1:42 PM: Tiger tees off and. . . goes way left with a fairway wood. This, despite reports on Wednesday that all his misses were to the right. Hmm. . . Anyway, congrats to everyone who (smartly) bet on him missing the fairway on his first hole.
1:30 PM In case you were wondering what equipment the 14-time major champ has in the bag this week, our Mike Johnson has you covered:
1:05 PM Even two-time NBA MVP and aspiring tour pro Stephen Curry is pumped about Tiger's return:
1:00 PM Woods makes his way to the range:
And wait, is that a hint of red in his shirt? On Thursday?!
12:40 PM An hour before his tee time, Tiger hits the practice green with an all-black ensemble and starts doing those on-handed putting drills we all say we'll try, but never do: