Tiger: 25 Years a Pro
Tiger Woods showed glimpses of his greatness in the first chapters of his pro career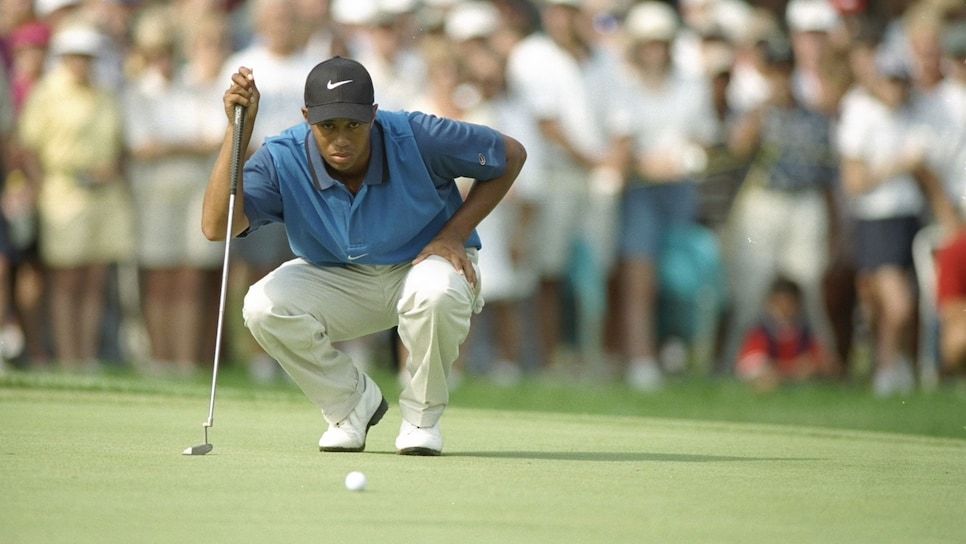 It didn't take long for Tiger Woods to go from his famous "Hello World" salutation upon turning professional to shocking the world to beating it.
A matter of weeks was all that Woods needed in the fall of 1996 to prove that his decision to leave the amateur ranks after a record three straight U.S. Amateur titles—and an unprecedented run of six consecutive USGA victories—not only was the right one, but also that he was more than equipped to start taking over the sport. Expectations were astronomically high and yet, somehow, Woods surpassed them, ushering in a new era of domination.
It's not uncommon to think that Woods's astonishing 12-stroke triumph in the 1997 Masters was the signal moment of his arrival. It was a victory so complete and mesmerizing and absolute that the accomplishments that followed—the 15-stroke U.S. Open win in 2000, the Tiger Slam in 2001, the 683 weeks atop the World Ranking, the 82 PGA Tour wins, etc.—seemed like a fait accompli, unalterable.
But prior to all of his greater achievements was a seven-tournament run at the outset of his professional career that was unprecedented and, yes, even unexpected. Sure, the potential was unmistakable. No one could deny that. And Titleist and Nike anted up an estimated $60 million in endorsements before his first tee shot at the Greater Milwaukee Open on Aug. 29, 1996.
Potential is one thing. Performance is another. Woods, who formally announced he was turning pro on Wednesday, Aug. 28, in a room inundated by national media, still had to prove himself. Not yet 21, he had to prove that he could handle the physical and mental rigors of competing week in and week out against the game's best players. He had to prove he could handle different courses and setups with only days to prepare.
And he had to handle all that went with being Tiger Woods, a challenge, as Tom Watson noted at the time, that no golfer ever encountered. Record crowds greeted him everywhere. Nearly every shot he hit was televised.
Did he really "shock" the world? Well, not even the most skeptical observer could believe Woods wouldn't be successful. Eventually. When he pegged the ground as a pro at Brown Deer Park Golf Course in Milwaukee, Woods was embarking on a mission to simply earn enough money to become exempt on the PGA Tour and bypass Q-School. Few doubted his ability to do it. But he still had to do it.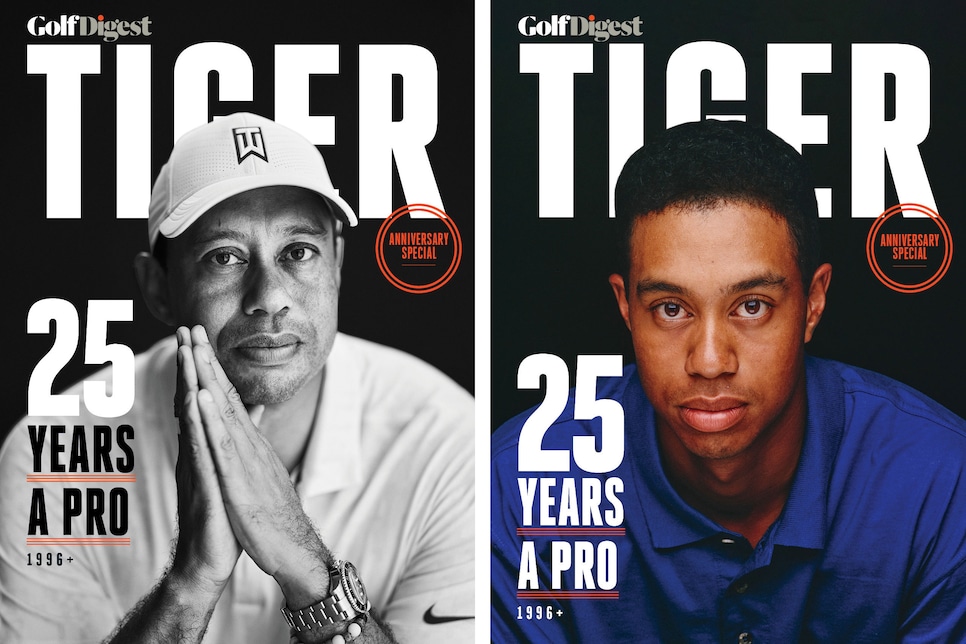 The front and back covers of Golf Digest's 'Tiger: 25 years a pro' special collector's issue.
That he blew away all expectations—all but his own, you can bet—and swiftly assumed command of the sport was a development of breathtaking audacity. Sure, it's hardly unique for newly minted pros to earn tour membership via sponsor's exemptions, but no one in history ever accepted that proposition and parlayed it into a berth in the Tour Championship. Twenty-five years ago, Tiger Woods did it in seven scintillating weeks. It was quite a run. It was historic. It was Tigeresque.
Two rounds into his new career, Tiger already was sounding like Tiger. He opened with a four-under 67 at Brown Deer Park and rallied for a 69 with three birdies in his final six holes to make the cut easily in the 156-man field that featured just four of the top 30 on the PGA Tour money list. Decent start, but he trailed leader Nolan Henke by eight strokes, and he was not happy. "I should be a lot closer," he sniffed.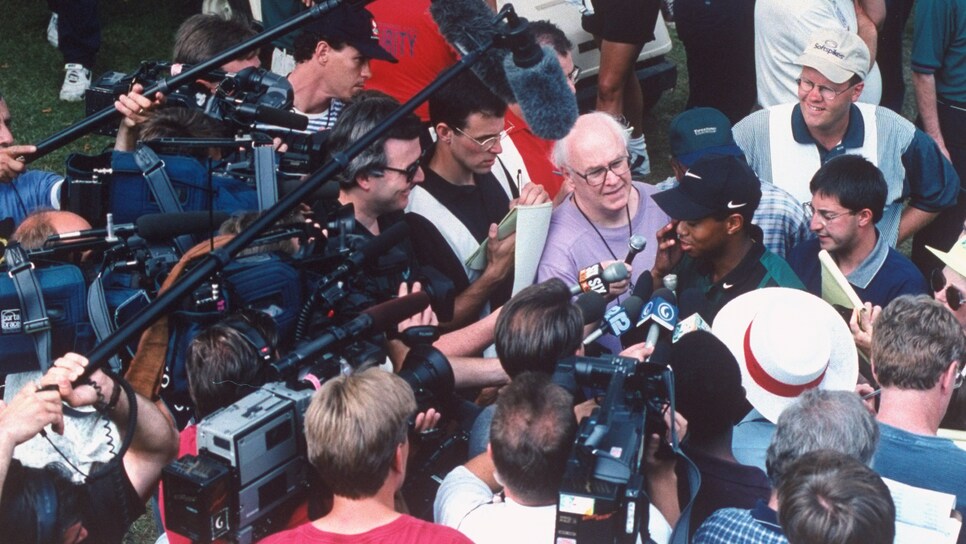 Tiger Woods is mobbed by the media for his pro debut at the Greater Milwaukee Open.
Mark Perlstein
A Saturday 73 had him moving in the wrong direction, but Woods gave the larger-than-usual gallery a thrill on Sunday by acing the par-3 14th hole with a 6-iron from 188 yards on the way to a 68 and a seven-under 277 total to tie for 60th. Already, he was a showman. Tiger finished 12 strokes behind the winner, Loren Roberts, but he was on the board with his first official earnings of $2,544, making him 346th on the money list.
(Odd side note: On the day of his official announcement turning pro, Tiger first played in the GMO pro-am. As an amateur.)
After 13 rounds of golf in a two-week span between the U.S. Amateur and Milwaukee Open, even a 20-year-old can get tired. Better rested and expressing approval of the Jack Nicklaus-designed Glen Abbey course in Oakville, Ont., Woods was looking forward to making a better showing at the Bell Canadian Open.
But the remnants of Hurricane Fran dampened his hopes as well as his huge galleries. With rounds of 70-70 to start, Woods found himself 11 off the pace through 36 holes. When Saturday was washed out by heavy rain and winds exceeding 30 mph, the tournament was shortened to 54 holes. Tiger gamely posted a 68, tied for low round of the day, and moved up to 11th place at 208, six behind first-time winner Dudley Hart.
After his best finish in 17 professional tournaments (the first 15 as an amateur) Tiger earned $37,500, bringing his total earnings to 40,044, good for 204th on the money list.
While many of the tour's best players were beginning play in the second Presidents Cup in Virginia, Woods was in Coal Valley, Ill., starting to show he could be a boss. A second-round six-under 64 at Oakwood Golf Club that featured six straight birdies gave him his first 36-hole lead by one shot over Ed Fiori in the Quad City Classic.
He still had the lead after a third-round 67, but then he did something quite rare in his career—surrendering a 54-hole advantage. A quadruple bogey on the fourth hole and a four-putt green at the seventh led to a closing 72, paving the way for the 43-year-old Fiori to snag the title. "I see progress," Tiger said after ending up a disappointing T-5. "I keep getting better."
He was, indeed, making progress. A check for $42,150 moved him to 155th in earnings with $82,194.
Yep, he's getting better. Woods was T-3 through 54 holes of the B.C. Open at En-Joie Golf Club in Endicott, N.Y., before another bout of bad weather wiped out the final round and sidelined Hurricane Tiger. Rounds of 68-66-66 left him six behind leaders Fred Funk and Pete Jordan, but who knows if the fledgling pro from California wouldn't have reeled them in. (Funk won it in a playoff.)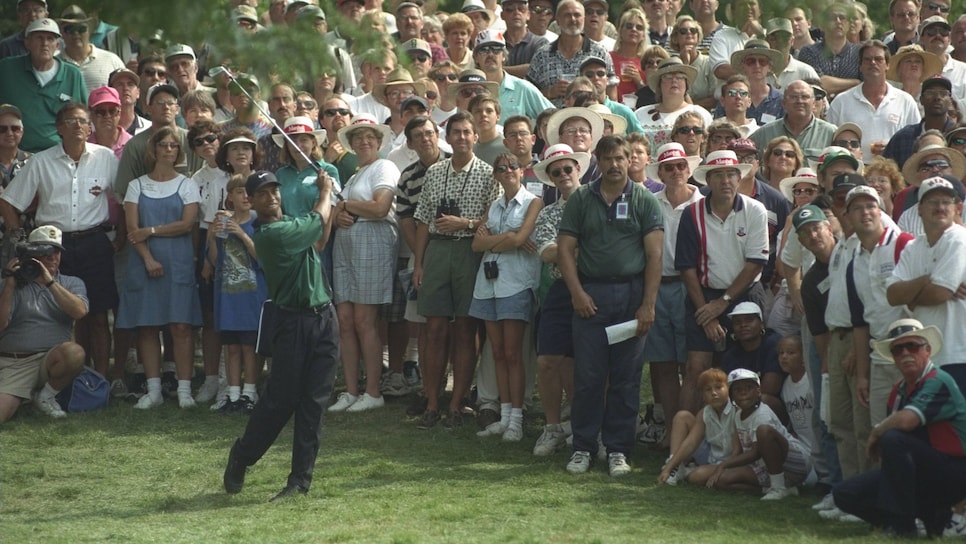 Tiger Woods plays a shot during the Greater Milwaukee Open at the Brown Deer Park Golf Course in Glendale, Wis.
J.D. Cuban
Now, he wasn't exactly playing the tour's toughest courses, but his scoring average of 68.36 in just 14 rounds as a pro had lots of his new peers shaking their heads. If not shaking.
By adding $58,000 to his bankroll, Tiger had all but met his goal. He rose to 128th in earnings with $140,194, making him eligible to receive an unlimited number of sponsor's exemptions the following year.
Yeah, like he was going to be satisfied with that. "Everything is different [as a pro]," he said, "but my objective is the same—to try to win."
Citing fatigue, Woods skipped the Buick Challenge at the end of September and dropped back to 131st on the money list. No problem. He showed up at the Las Vegas Invitational refreshed. "I didn't play or practice. I just rested," he said on the eve of the 90-hole event contested over three courses.
After an opening 70, which left him eight strokes behind leader Keith Fergus, Woods went on a tear. With friends and family in his large gallery, he submitted the following scores: 63, 68, 67, 64. The final two rounds he played with a strained groin after hitting an awkward shot off a mound. His 27-under total of 332 was equaled by Davis Love III, but the match-play savvy Woods won on the first extra hole with a par.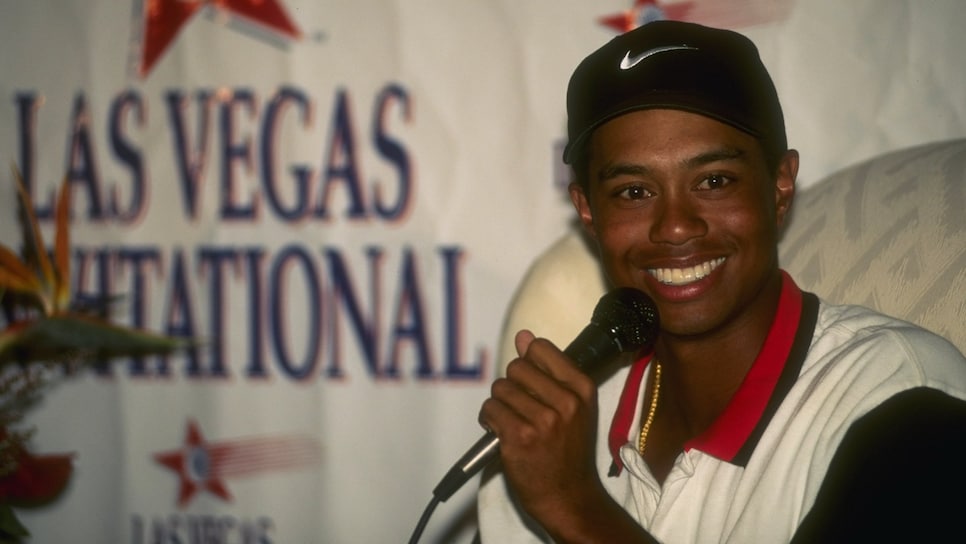 Tiger Woods speaks at a press conference after winning the 1996 Las Vegas Invitational.
J.D. Cuban
Now he was the owner of a two-year tour exemption and leaped to 40th on the money list with $437,194. Another $170,000 and he might get in the Tour Championship—if he decided to keep going. He no longer needed sponsor's invitations.
Oh, and the victory also meant that he qualified for the Masters. Yeah, THAT Masters. He had given up his exemption from the U.S. Amateur when he turned pro.
But not for a third-round 73 at La Cantera Golf Club in San Antonio, a steaming Tiger might have claimed consecutive victories. He was just two off the lead through 36 holes in the Texas Open before a poor front nine left him seven behind and hotter than a habanero pepper.
As it was, he fired a closing five-under 67 and settled for a ho-hum third place behind David Ogrin and Jay Haas and made further inroads toward an unprecedented berth in the Tour Championship beginning Oct. 24.
By adding $81,600, Woods moved up to 34th on the money list with $518,794.
Thanks to a closing six-under 66 on the Magnolia Course at Walt Disney World, Woods posted 21-under 267 and beat playing partner and fellow Orlando resident Payne Stewart by a stroke in the Walt Disney World/Oldsmobile Classic. Being a good sport, Stewart invited his new neighbor to dinner later that evening.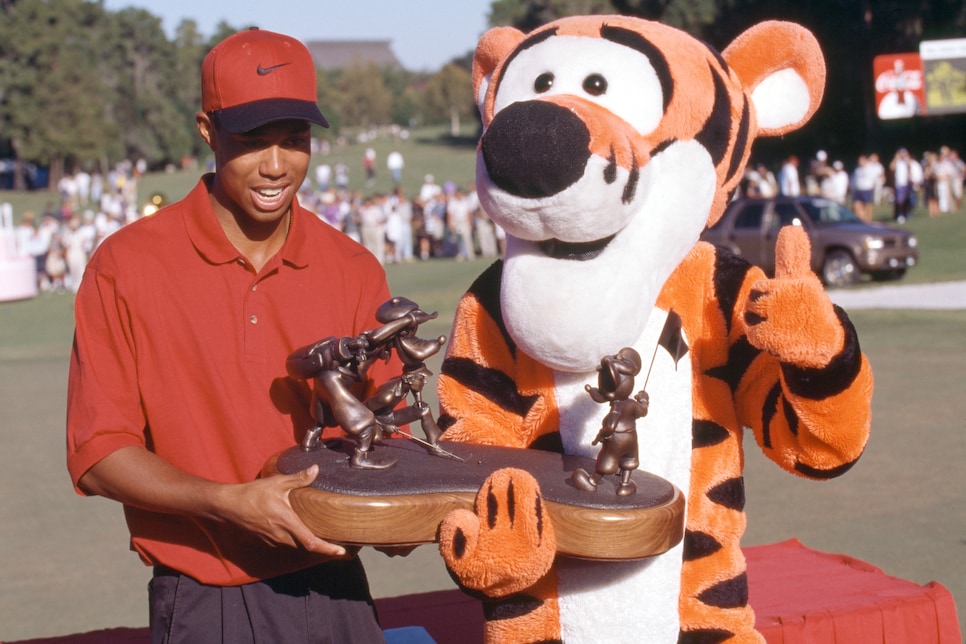 Tiger Woods poses with his trophy and Tigger after winning the 1996 Walt Disney World/Oldsmobile Classic
PGA TOUR Archive
Another $216,000 richer, Tiger had now banked $734,794 and risen to a remarkable 23rd in earnings to reach the Tour Championship reserved for the top 30 players. And his World Ranking already was a lofty 35th after starting his pro career at 441.
And get this: Tiger was the first player since Curtis Strange in 1982 to post five straight top-five finishes. Strange was in his sixth year on the tour when he made that tear.
After his T-60 finish in his debut, Woods allowed a total of 18 players to finish ahead of him in the next six events going into the $3 million Tour Championship, where he was T-21 at Southern Hills Country Club in Tulsa, Okla. His scoring average, even after posting eight-over 288 in Tulsa (mostly because of a second-round 78, the same day his father Earl was hospitalized with chest pains), was a robust 69.443, which, had he played enough rounds, would have ranked second on tour to Player of the Year Tom Lehman's 69.321.
Woods finished 24th on the money list with $790,594, about $90,000 shy of the rookie earnings record Duval set the year before … in 26 events.
No surprise, Tiger was voted PGA Tour Rookie of the Year. Neither was it surprising all that came after. The table had been set, and he when he left the Magic Kingdom, he fired off a warning shot. "I haven't really played my best yet," he said.