Editor's Note: This month, Golf Digest is commemorating the 25th anniversary of Tiger Woods turning pro with a special 116-page collector's issue celebrating his career. This story is one of several that appear in the magazine. You can order your copy of the issue here.
Tiger Woods is known as having something of a photographic memory. According to legend, he can recall yardages, club selections and reads years later. We wanted to put that famous memory to the test by seeing if he could recall details about all types of wins: majors, blowouts, comebacks, you name it. So we looked into all his 82 PGA Tour victories—which span four presidential administrations, four decades, four back surgeries and 23 years—to pick a relatively representative sample and quiz the player tied for the most wins in tour history. The results were, as things tend to be with Tiger, remarkable. Woods' face lit up as he discussed intricacies of victories from the 1990s, recalled competing against players who are now on the PGA Tour Champions (or beyond) and relived his favorite activity: winning.
*Correct answer in bold; Woods' answer, if incorrect, underlined.
Win No. 5: In the 1997 Byron Nelson Classic, you fell two behind after hitting your drive on the third hole into the water. You went on to win by two shots. Who is the player you trailed after that water ball, the same guy who wound up finishing second?
Woods blurted out Rinker's name before I finished asking the question. "That was my first start after the Masters. I remember that one. Oh, yeah, I do."
A month earlier at Augusta National, Woods had shown the world what its next sporting icon looked like with a 12-shot triumph. At the Nelson, Woods suggested he didn't have his "A" game but still got the victory—prompting Rinker to ask: "What is his 'A' game, 40 under par?"
Win No. 13: Heading into the final round of the 1999 Disney Classic, you shared the lead with Bob Tway. But a different player made a charge until a three-putt on 17 doomed his chances, and he finished one behind you. Who was that player?
Right after I finished saying "Disney Classic," Woods said: "I beat Ernie Els in the final round."
Win No. 20: You entered the final round of the 2000 U.S. Open at Pebble Beach with a 10-shot lead and won by a record 15 shots. What did you shoot in the final round?
"I won by 15. Shot 12 under. That's what I remember."
With Woods leading by double digits heading into the final round, the question wasn't who would win but by how many. So as not to lose focus, Woods played a game within a game, setting a goal of going bogey-free, which he did.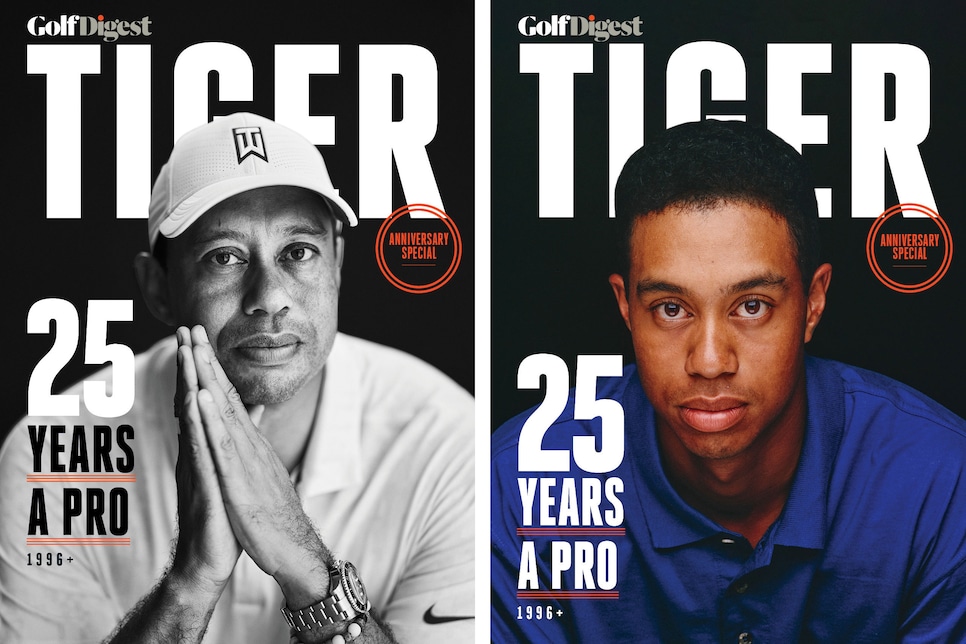 The front and back covers of Golf Digest's 'Tiger: 25 years a pro' special collector's issue.
Win No. 32: At the 2002 U.S. Open, you took control with two brilliant rounds. You led by three heading into the weekend. What was your 36-hole total?
"I was the only guy who finished under par. I'm gonna say five under."
Bethpage Black played to a par 70 that week. Five under is correct. By following his Masters win with a victory at Bethpage, Woods generated considerable Grand Slam talk. No one had won the first two majors of the year since Jack Nicklaus in 1972.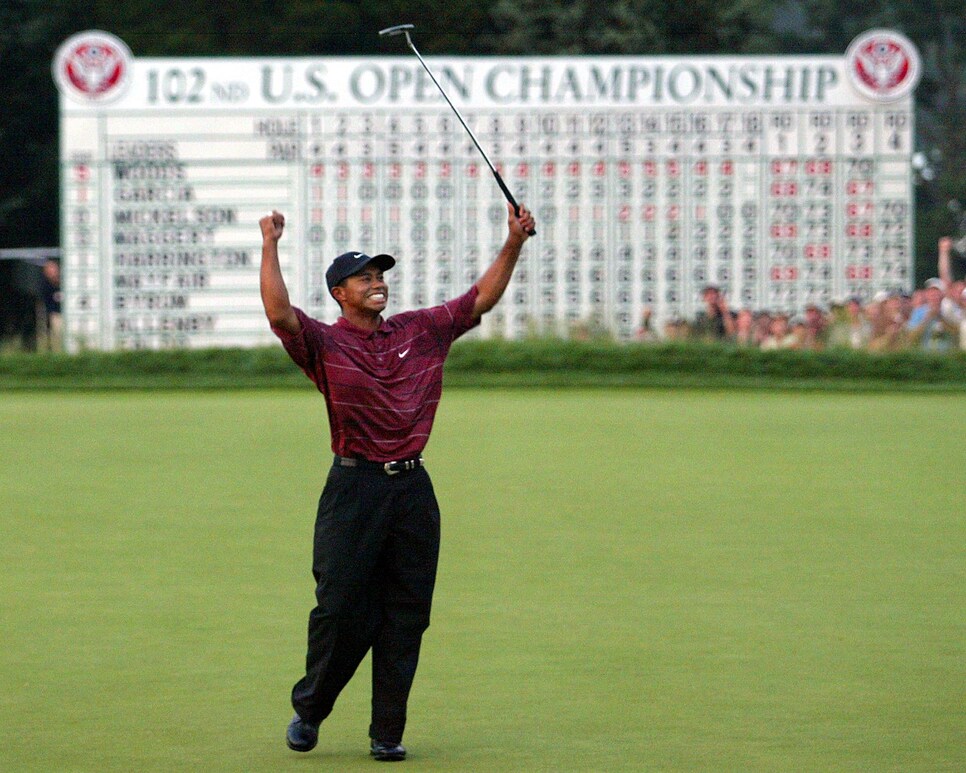 Tiger Woods celebrates his 2002 U.S. Open win on the 18th green at Bethpage Black.
TIMOTHY A. CLARY
Win No. 35: In 2003, you returned from offseason knee surgery to win the Buick Invitational. Carl Pettersson finished second. How many shots did you win by?
"The final group that day was Phil, me and Brad Faxon. No idea how much I won by. Dude! I won by enough. It was enough."
Win No. 39 came at one of Woods' favorite courses, Torrey Pines. It was the first of five victories in 2003, though he failed to win a major that year.
Win No. 54: You won the 2006 WGC-American Express Championship by eight shots over Ian Poulter and Adam Scott. Where did that tournament take place?
"That tournament moved around. I beat Vijay up in Atlanta. I won in Ireland. I won in England. Then they moved it to Valderrama, won it there. Then Doral. How's that? Pretty good."
The tournament most recently known as the WGC-Mexico Championship kept on moving around in the 2000s, and Woods kept winning it. Tiger won six of the first eight editions at six different courses, though his sequencing is a bit off: It went to Valderrama in Spain, then Mount Juliet in Ireland, then Capital City outside Atlanta, then Harding Park in San Francisco, then The Grove in England, then Doral in Florida.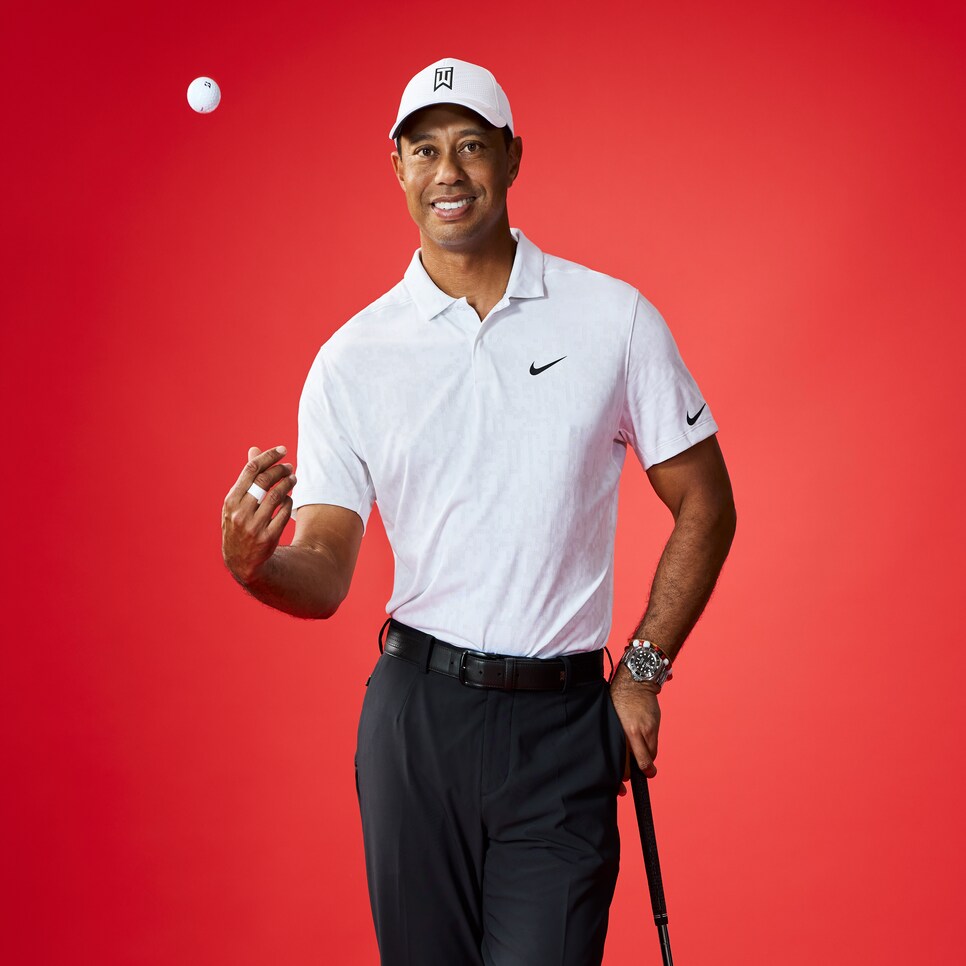 Photograph by Jensen Larson
Win No. 65: At the 2008 U.S. Open, an 18-hole playoff wasn't enough to settle things between you and Rocco Mediate. It went to an extra hole when you finally won. What score did you make on the par-5 18th hole during Monday's playoff?
"I hit a 4-iron into the center of the green and two-putted [for birdie]. He made par."
Perhaps the signature win of his career, Woods found a way at Torrey Pines despite playing on a badly injured leg, making a 12-foot birdie putt on the 72nd hole to force Monday's playoff.
Both players shot 71, and then Woods parred the first sudden-death playoff hole to win. This was Woods' 14th major-championship victory and his last before an 11-year drought ended at Augusta National in April 2019.
Win No. 66: You holed a birdie putt on the 72nd hole of the 2009 Arnold Palmer Invitational for a one-shot victory, your first since reconstructive knee surgery after the 2008 U.S. Open. Who finished second?
Woods wouldn't let me read the options. He wanted to remember this one on his own. After a few seconds, he replied, "Sean O'Hair."
No hole has delivered as much drama in Woods' career as the finisher at Bay Hill. A year after dropping a 24-footer to beat Bart Bryant, Woods made another winning birdie at 18 right in front of host Arnold Palmer. It completed a comeback from five down to begin the day.
Win No. 70: At the 2009 WGC-Bridgestone Invitational, you hit a shot to six inches on the 16th hole on Sunday to cap a come-from-behind victory over Padraig Harrington. What club did you hit?
"It was like 180 yards. We were on the clock. That's what put off Harrington; he had to play quickly and made a mistake."
Woods is correct in recalling his fifth victory of a six-win 2009. Harrington hit a flop shot into the water down the stretch to help seal Woods' fourth straight victory at Firestone and seventh overall at the site. At that point, Woods had won 16 of his 30 starts in World Golf Championship events.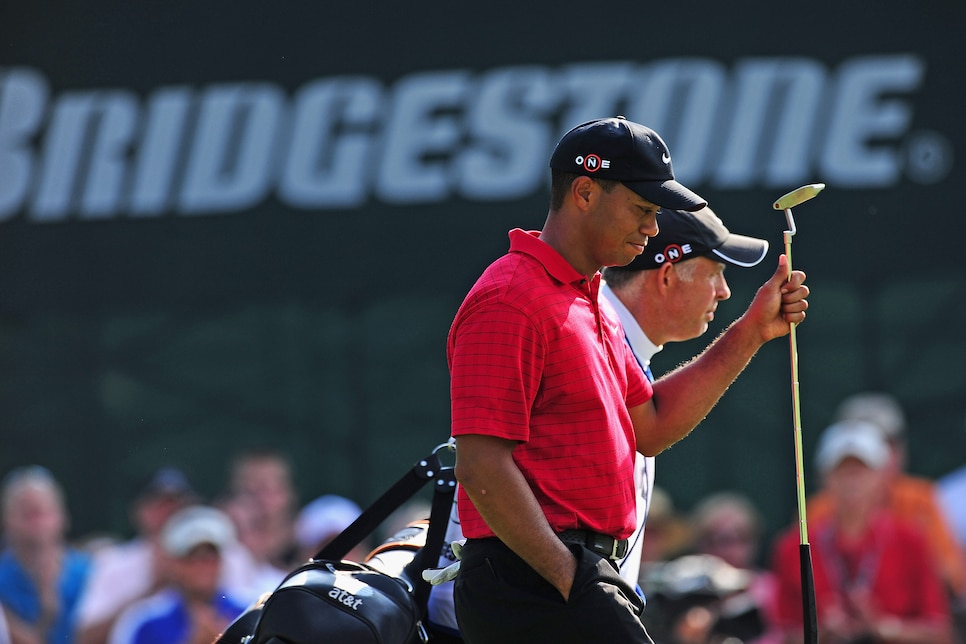 Tiger Woods, with caddie Steve Williams, walks off the 18th hole at Firestone the winner over Padraig Harrington at the 2009 WGC-Bridgestone Invitational.
Stuart Franklin
You won your record-tying 82nd PGA Tour event in October 2019 at the Zozo Championship, a three-shot victory over Hideki Matsuyama. What was your winning score in relation to par?
"I won by two. I don't remember the winning score, but I know I won by two."
Woods actually won by three for his first PGA Tour victory in Japan. Coming off a three-month absence for knee surgery, Woods began with a pair of 64s and led the rest of the way.
Woods answered seven of 10 questions correctly, and even the ones he got "wrong," he had no issue talking in detail about the tournament. Perhaps this shouldn't be surprising. When contending, Woods is so invested in the task that the memories remain vivid all this time later. But Woods' phrasing made one other thing clear: He largely viewed Sunday afternoons as a head-to-head competition against the other player challenging for the title. He said numerous times, "I beat Player X." Reading between the lines, Woods likes to reduce the 140-odd-man tournament to a personal battle against the player in second, or the player he's chasing. Beat him, the thinking goes, and I win the tournament.