GOAT Tales
Tiger Woods reveals 'the most nerve-wracking experience' he's ever had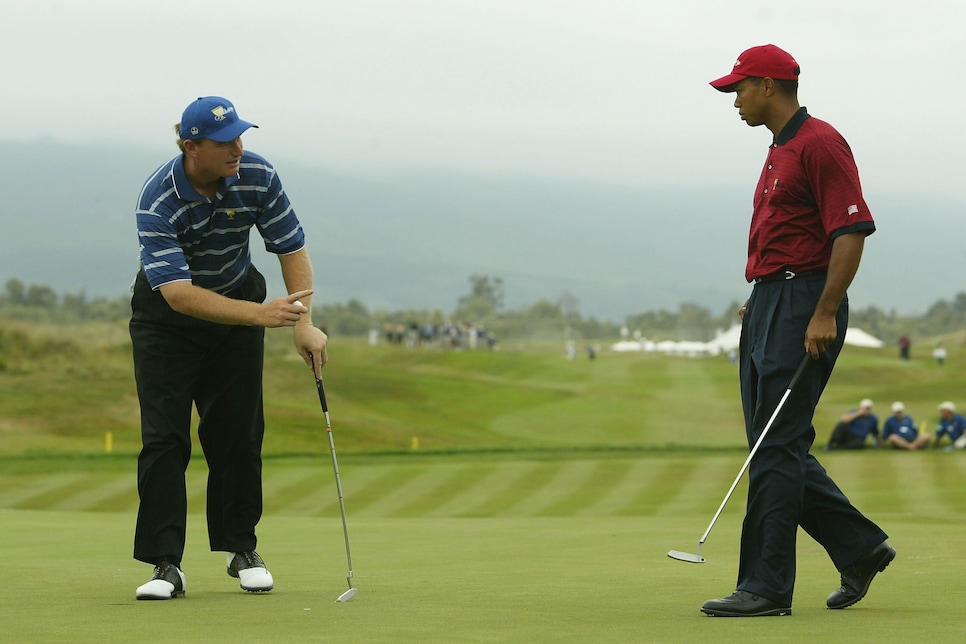 Tiger Woods has put himself in pressurized spots perhaps as much as any athlete in history—with a success rate that matches up to anyone as well. But when it comes to the GOAT having sweaty palms, one particularly clutch moment of his legendary career stands out.
In a video promoting TGL, the new team golf league co-founded by Woods, the 15-time major champ has a conversation with fellow co-founder Rory McIlroy about playing as part of a bigger squad. And he talks about the time when an entire team's fate was in his hands.
Of course, we're talking about the 2003 Presidents Cup, which ended in a tie between the Americans and the Internationals. But only after a legendary three-hole sudden-death playoff between Tiger and Ernie Els against a setting sun in South Africa.
Nick Price, a member of that International Team and a guest on this week's The Loop podcast, told Golf Digest, "All the times that I've been watching golf on TV or whatever, I don't think I've ever been as nervous for anyone in my life as I was for Ernie." Well, it turns out that Tiger was just as nervous. Have a look:
"The most nerve-wracking experience I've ever had was going to a playoff with Ernie Els in South Africa," Woods says in the clip. "I read my par putt from behind the ball and all I could see was nothing but a sea of red. The whole team together. I miss this putt, I lose it for all of them. And that's an experience I've never felt as an individual."
It might surprise some golf fans that Woods would pick that event above all the others—especially golf fans who ridiculously claim Woods didn't care much about playing in team events. But, as Woods explains the collective burden he felt in that moment, it makes sense.