Memory Lane
Fred Couples pulled an all-time prank on Tiger Woods at the 2009 Presidents Cup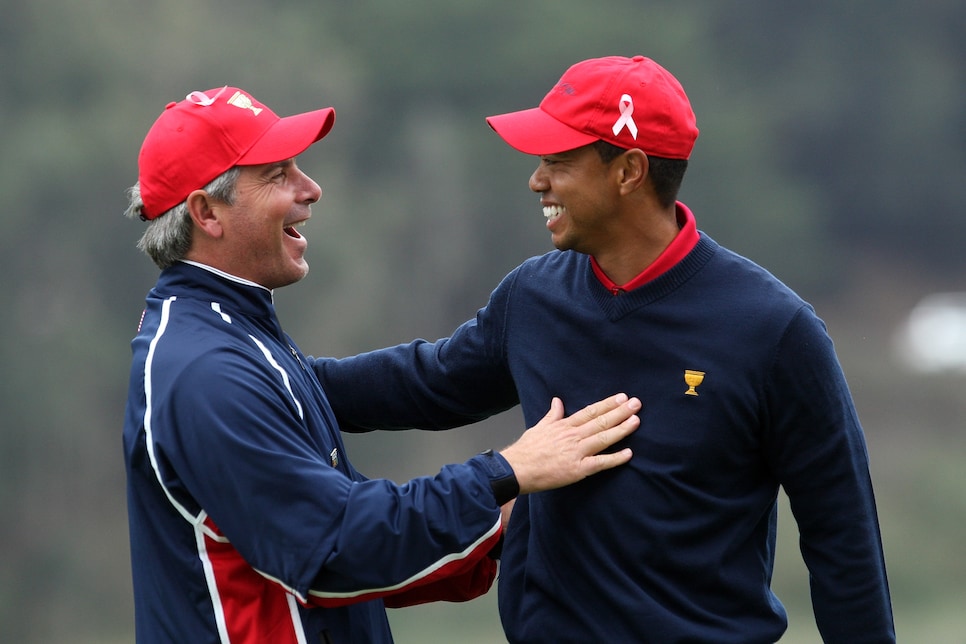 There are multiple acceptable answers when trying to figure out which version of Tiger Woods was the most dominant. Obviously, you start with his historic romps at the 1997 Masters and 2000 U.S. Open. Well, all of 2000 was something else. And then there was also the seven consecutive PGA Tour starts he won from 2006 to 2007. But don't forget about 2009 Presidents Cup Tiger Woods.
After a stunning runner-up finish to Y.E. Yang at the PGA Championship that year, Woods bounced back to win the BMW Championship by eight shots and then claimed a second FedEx Cup title. He arrived at Harding Park in full command of his game, winning all five of his matches (four of which he partnered with Steve Stricker), including a revenge 6-and-5 drubbing of Yang in Sunday singles.
The most memorable moment of the week, though, came the day before when he smoked a long iron on the 18th hole and gave an all-time club twirl and pose as he walked after his shot. You know, this one:
You get the point. The dude was absolutely LOCKED in. Which leads us to the purpose of this post.
On the eve of the event, both captains are asked to put a name in an envelope of a golfer who won't play in Sunday singles should the other team need to sit someone out due to injury. Obviously, Tiger freaking Woods would be the last person that captain Fred Couples would put in that envelope, right?
Well, after the U.S. won easily—and that rule didn't come into play—Couples convinced everyone on the team that's what he had done. That he had risked potentially benching the GOAT in his prime. Listen as Couples tells the funny tale of trickery:
Going to the trouble of carefully opening the envelope and replacing the name? Then having that official announce it to the team? That's quite a prank to pull. Well played, Freddie.
According to Couples, his team bought it to the point that Tiger was texting him about it for weeks, telling him, "Dude, you've got the biggest balls of anyone I've ever seen." Couples says he didn't tell anyone the real story for two years.
But that's where Freddie's memory may be just a bit hazy. A Golf Digest story from November of the following year reports Couples told the story at a luncheon to promote Tiger's Chevron World Challenge. Turns out, Couples and assistant captain Jay Haas were behind it, and that Lucas Glover had been the actual name in the envelope.
That week, Woods said had finally been told the truth. When he was asked if there would be any payback to his buddy, he said, "Absolutely."
While we're not sure if Tiger ever properly got Fred back, we know one thing: Fred is still laughing about it 13 years later. As he should. That was a real doozy.