Presidents Cup Preview
'I don't think I've ever been as nervous for anyone': Nick Price recalls famous Tiger Woods-Ernie Els Presidents Cup match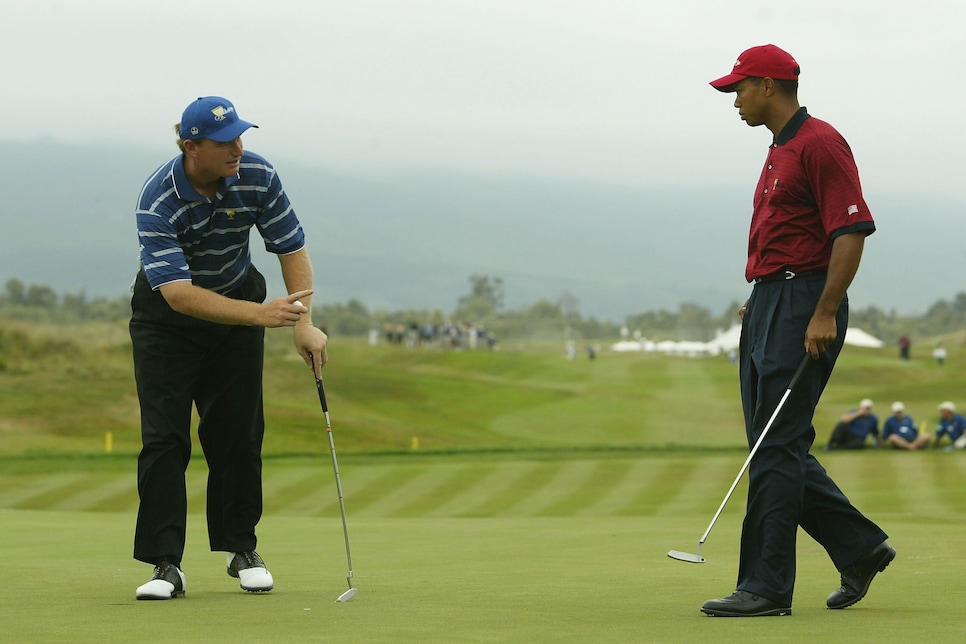 The Presidents Cup, sadly, does not have a history that's littered with memorable moments. That's to be expected with the way the United States side has dominated the International side in the previous 13 iterations of the biennial team event.
In 2003, however, golf fans did bear witness to not only one of the great moments in team golf, but golf history. With the score tied 17-17 at the completion of play at Fancourt Country Club, Presidents Cup rules dictated, at the time, that there would be a sudden-death playoff between two players of each captain's choosing. Naturally, U.S. team captain Jack Nicklaus chose Tiger Woods, the No. 1 player in the world. International team captain Gary Player selected Ernie Els, then World No. 2. Earlier that day, Woods had dusted Els 4-and-3 in Sunday singles, continuing his domination of the South African in moments when it mattered most.
With the pressure at its absolute peak, Els stared Woods down for three holes, sinking clutch putt after clutch putt as the sun began to set in South Africa. Nick Price, then 46 and playing in his final Presidents Cup, was in a glass case of emotion as he watched it all unfold.
"I was coming up on my 47th birthday, my nerves weren't very good. They were starting to get frayed," Price said on this week's episode of The Loop podcast. "All the times I've been watching golf on TV, I don't think I've ever been as nervous for anyone in my life as I was for Ernie that day."
After Woods buried a dramatic 15-footer for par on the third playoff hole, Els poured in a six-footer to tie. With darkness setting in, Player and Nicklaus infamously made the call to agree to a tie, producing one of the strangest scenes ever, with both teams huddled around the second green litigating the situation.
"You could hardly see, to be honest. It was so dark," Price added. "I was sweating, I couldn't look. I was pulling at grass and looking all over the place, but it was tough. Really, really tough."
Price went 2-2-0 that week, and became a member of both the lone International winning team (1998) and the International-tying team in the process. He's since captained the International team three times, failing to win each time but coming unbelievably close in both 2013 at Muirfield Village and 2015 in Korea. Unfortunately, in his most-recent captaincy in 2017, the International team was blown out at Liberty National.
It's likely a similar blowout happens again this week at Quail Hollow, as the American team, despite LIV pilfering a number of its players, remains as stacked as ever. The International team has suffered a much worse fate due to LIV, which has robbed them of guys like Joaquin Niemann, Abraham Ancer and Cameron Smith. Even still, Price believes this International squad can play the underdog card and hang with the Americans in Charlotte. He explained how they can pull off the upset, what he thinks about the future of the Presidents Cup and much more on this week's episode of The Loop podcast. Please, have a listen below.