Loud and proud
Presidents Cup 2022: Prompted by LIV, Davis Love III has found his voice about the future of golf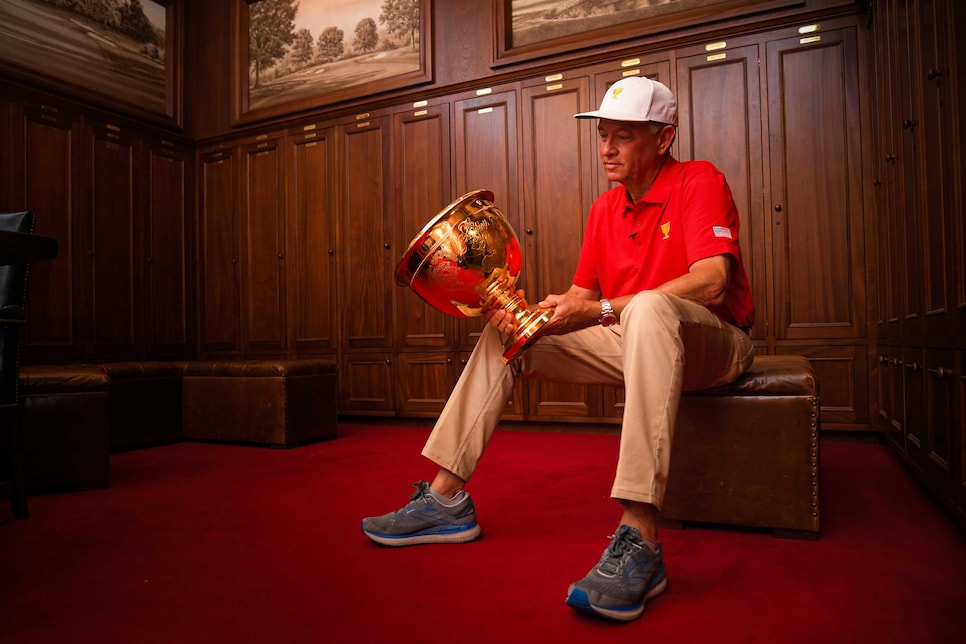 In early July, as he perched himself at the edge of a wooden bench in front of his locker at Firestone Country Club in Akron, Ohio, Davis Love III wore an expression somewhere north of agitated that had nothing to do with his closing two-over-par 72 in the Bridgestone Senior Players Championship. Love had things on his mind, and he didn't need prompting to begin relieving himself of the tension building up inside his trim 6-foot-3 frame.
"The more that I think about what's going on in golf, the more I can't see this as anything but an attempt at a hostile takeover," Love said as he slowly removed his shoes. "I mean, it is a hostile takeover. We have to see it for what it is."
Since that day, few members of the PGA Tour have been more outspoken in opposition to the upstart LIV Golf series than the man who is serving as U.S. captain in the 14th Presidents Cup at Quail Hollow Club in Charlotte. A native of the Queen City, Love is a life member of the tour with 21 victories, including the 1997 PGA Championship and two Players Championship titles. He also has lived his life under the banner of golf's establishment; he is the son of a PGA of America professional and has been a stalwart on the PGA Tour Policy Board, serving five terms as a player director, most recently in 2018.
PGA Tour devotees Rory McIlroy, Justin Thomas and Billy Horschel are among today's players vociferous in protecting their turf as LIV Golf has made inroads poaching a collection of golf's top players. For Love, however, the ongoing convulsions in the game are a personal affront. He was privy to the formative machinations of the Presidents Cup in 1993. He was in attendance in 1994 at Bay Hill when Arnold Palmer smacked down Greg Norman as the Shark got thisclose to driving a wedge into the game with his World Tour proposal—not unlike his current aspirations as the CEO of LIV Golf.
'Honestly, I don't have anything to lose at this point in my career. … I'm just speaking out for what I believe and what the tour believes, and the difference for me now is that I'm the United States Presidents Cup captain. I have a platform and I have to use it.'
—Davis Love III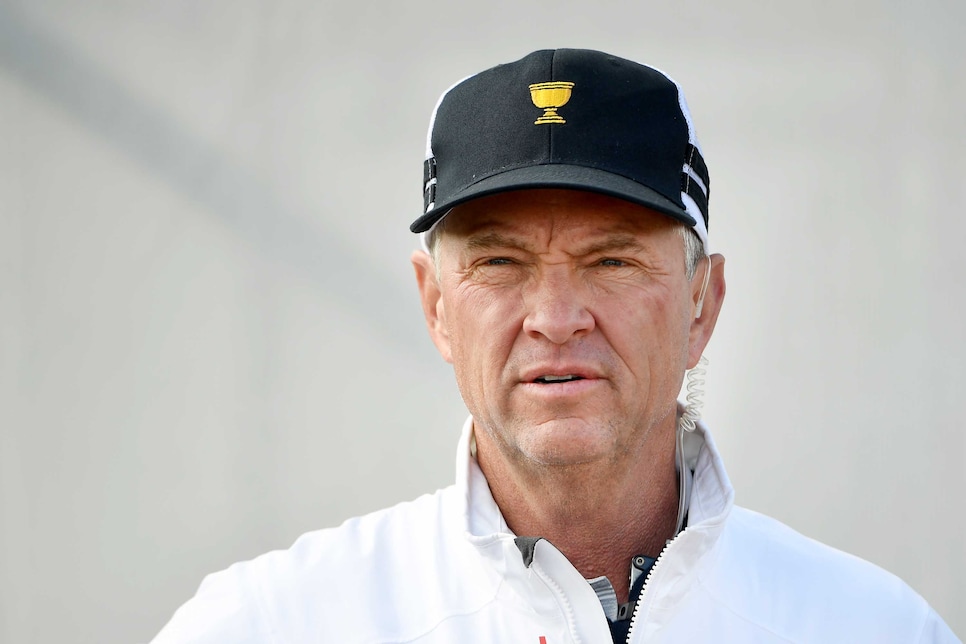 Even more pertinent to today's LIV Golf battle against the long-established tours is that Love was among the player contingent who went to Washington, D.C., in 1995 to argue the tour's antitrust case against the Federal Trade Commission. The resulting tour victory preserved its tax-exempt status and a number of key organizational provisions, including the ability to forbid members from appearing in non-tour events without the commissioner's permission. Remember this precedent when LIV Golf's antitrust lawsuit against the PGA Tour plays out in court in the coming months/years.
Approachable throughout his career and always mindful of his father's legacy of professionalism, Love is known for speaking in measured tones. Forthright, but measured. But in sizing up the financially flush LIV Golf series, Love feels the need to be more than just the good foot soldier. There's been a brashness to his comments, including the suggestion that players might consider choosing en masse to not compete in events in which LIV golfers appear.
"Somebody said to me, 'Oh, you've found your voice.' I think a lot of us have found our voices," Love told Golf Digest last week in a phone interview. "Guys are speaking their minds. I'm just doing my part."
Not long after he turned 70, former tour player and longtime NBC Sports golf broadcaster Roger Maltbie said that "with age comes a certain freedom to speak your mind." Love, 58, is inclined to agree—to a certain extent. Circumstances dictate his conversion from a behind-the-scenes diplomat to public-square caller.
"Honestly, I don't have anything to lose at this point in my career. I just hate what's going on in the game and how it's tearing the sport apart," he said. "I'm not trying to get anybody's vote or get more corporate outings. I'm just speaking out for what I believe and what the tour believes, and the difference for me now is that I'm the United States Presidents Cup captain. I have a platform and I have to use it."
Love's work previously was mostly behind the scenes, being a member of the Player Advisory Council, serving on the policy board five times and hosting a tour event. "There have been a lot of things I've had a say in, but I've tried to stay out of the spotlight," he said. "I didn't expect to be here, but a lot of us didn't. We have to stand up and support the tour. I don't think it's any different than what Jack [Nicklaus] and Arnie did when things came up. They handed this down to us and now it's our turn to defend something that has been good for us and provided us an opportunity for a great career."
Love, who previously served twice as Ryder Cup captain and five times as an assistant, doesn't just possess a platform, but he also has perspective. He's seen this movie before, Norman attempting to cherry pick the best players from the PGA Tour. He wasn't for it then—and he would been among the favored few in 1994—and he isn't today. But it's not the loss of Dustin Johnson or Phil Mickelson that furrows his brow but rather the notion that Mickelson, Bryson DeChambeau and others who sued the tour think loyal tour members shouldn't push back to protect their organization and livelihood.
"I think some guys who went to LIV weren't told the truth or didn't believe that they would be suspended from the tour if they went," Love said in Akron. "Dustin was one who fully understood it, and I have tremendous respect for him because he was honest about what he was doing and why. I really have no problem with guys going to another league if that's what they want to do. But they signed up to be a member of that league, and that means they can't play in our league anymore.
"The PGA Tour sold a package to FedEx for $660 million for 10 years. If you're FedEx, don't you say to the tour, 'Whoa, whoa, whoa, wait a minute. They just took what you were selling us. And they're putting it on top of us?' The tour, like any other business, has to protect its sponsors and players and fight back. The tour has to do what is best for the tour. It's basic business principles, and Greg Norman, who's been pretty successful in business, knows that."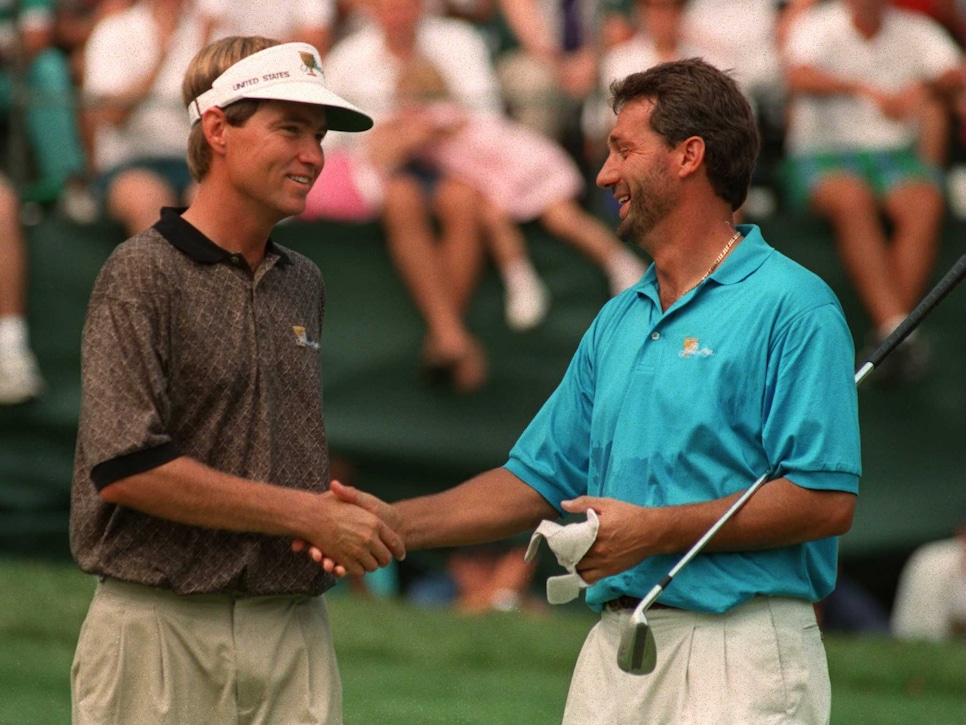 Davis Love III's history with the Presidents Cup includes six player appearances. Here he is shaking hands after defeating Frank Nobilo in the inaugural event in 1994.
J.D. Cuban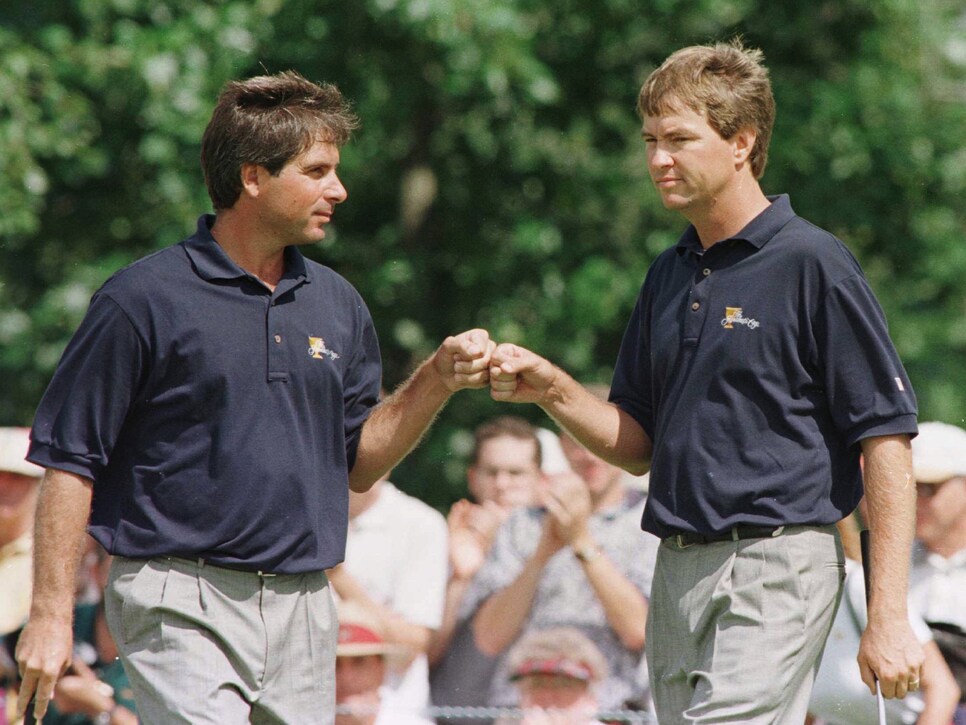 Love teammed with Fred Couples in 1996 when the pair defeated Greg Norman and Robert Allenby in a four-ball match at Robert Trent Jones Golf Club.
J.D. Cuban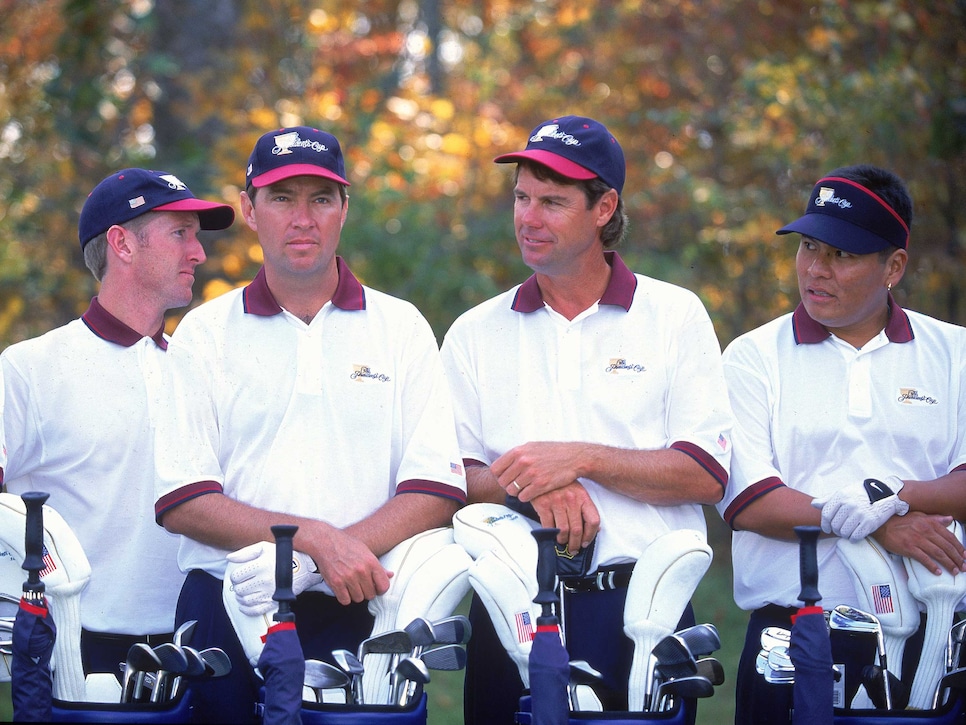 Love surrounded by David Duval, Paul Azinger and Notah Begay III at the 2000 Presidents Cup
Harry How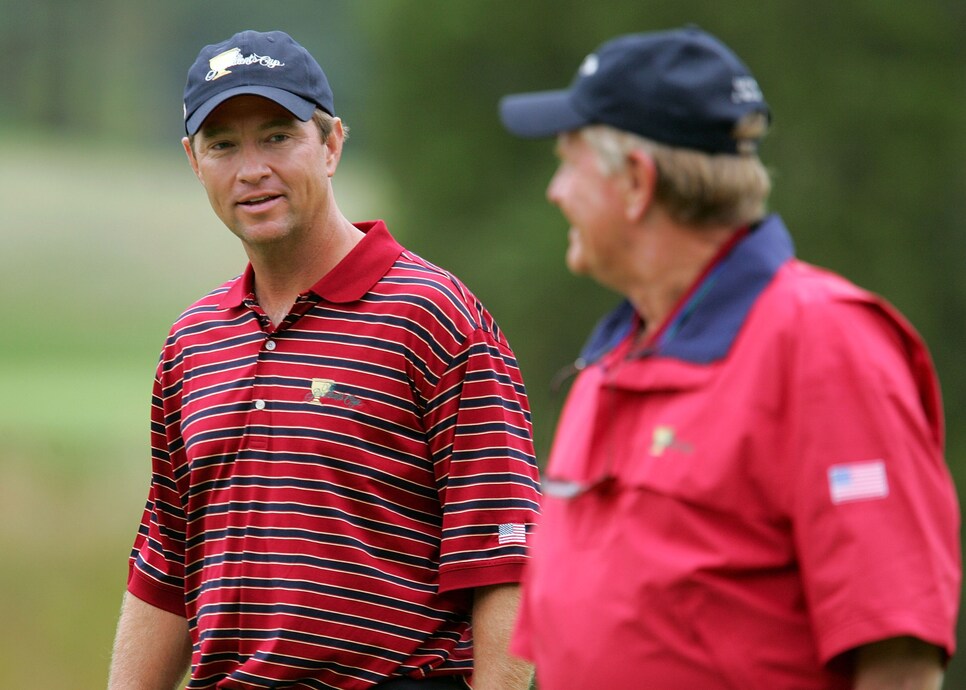 Love was on Jack Nicklaus' U.S. team in 2005, the last of Love's six Presidents Cups as a player. He finished with a 16-8-4 overall record.
Jamie Squire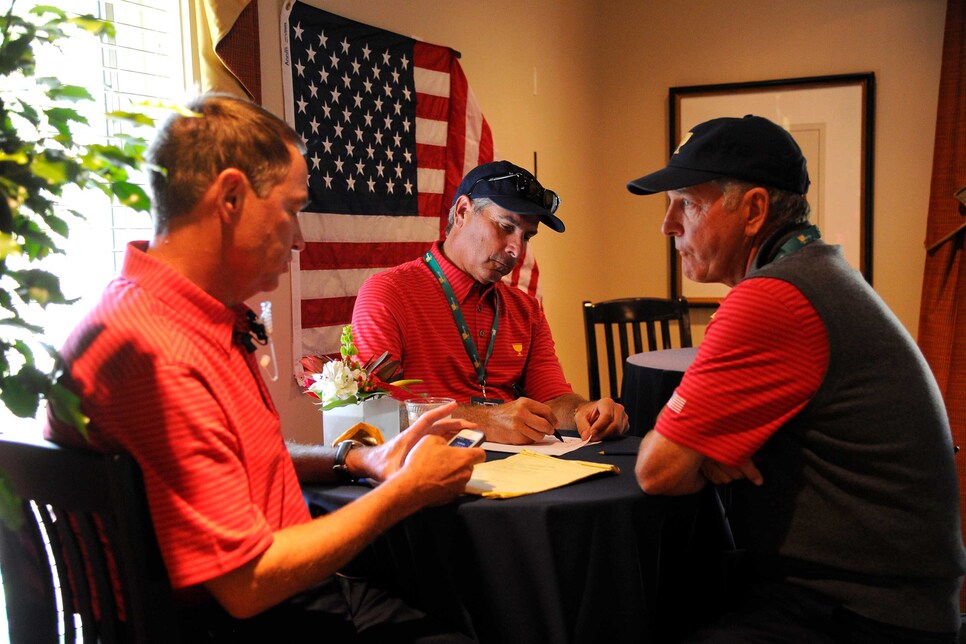 Love transitioned to a captain's role in 2013, working as an assistant for Fred Couples along with Jay Haas during the Presidents Cup at Muirfield Village. He also worked as an assistant in 2015 and 2017.
Chris Condon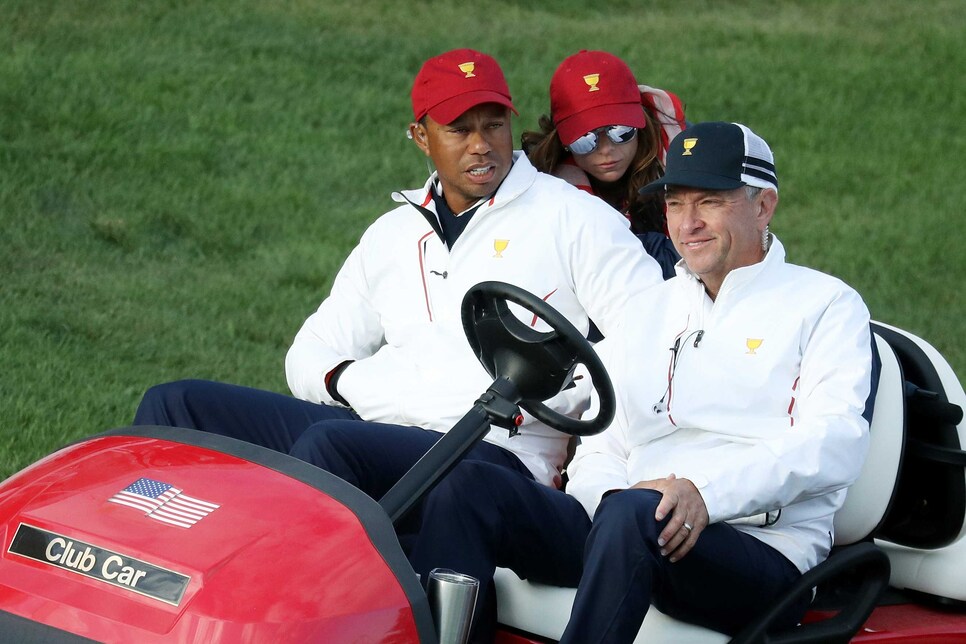 Love rides with fellow assistant captain Tiger Woods during the 2017 matches at Liberty National.
Rob Carr
Though he reveres Palmer and Nicklaus for what they did for the growth of the game, Love takes his cues for action more so from his late father, Davis Love, Jr., who was a teacher of more than just the golf swing. "I watched my dad when he would support the PGA of America, the Georgia Section, he would support young teachers, tour pros. He gave back to the game with his teaching," Love said. "He also worked hard to protect the organizations that he was a member of and who helped him. He thought it was the honorable thing to do. I'm just doing the same thing."
When the last putt drops Sunday at Quail Hollow Club, Love will abdicate the platform and, he said, "I'll hand it off to Zach [Johnson, the 2023 U.S. Ryder Cup captain], and he can run with it." But he is not going to abandon the cause. He might pull back a little, but he and good friend Fred Couples, one of his assistant captains this week, and others of the previous era who have "found their voices" are going to remain in the chorus.
"We're in a fight. It's a legal fight. It's a philosophical fight. It's a fight for legacy and tradition and understanding that it's important to preserve something that has been so successful for a long time," Love said. "Tiger Woods doesn't need to be out front on this. He can get more done behind the scenes in a day than I could in a month. But I'm happy to speak up, and I'll continue to speak up for what I think is right."