News
Tiger Woods posts three-under 69 at Hero World Challenge, sits three back of Tommy Fleetwood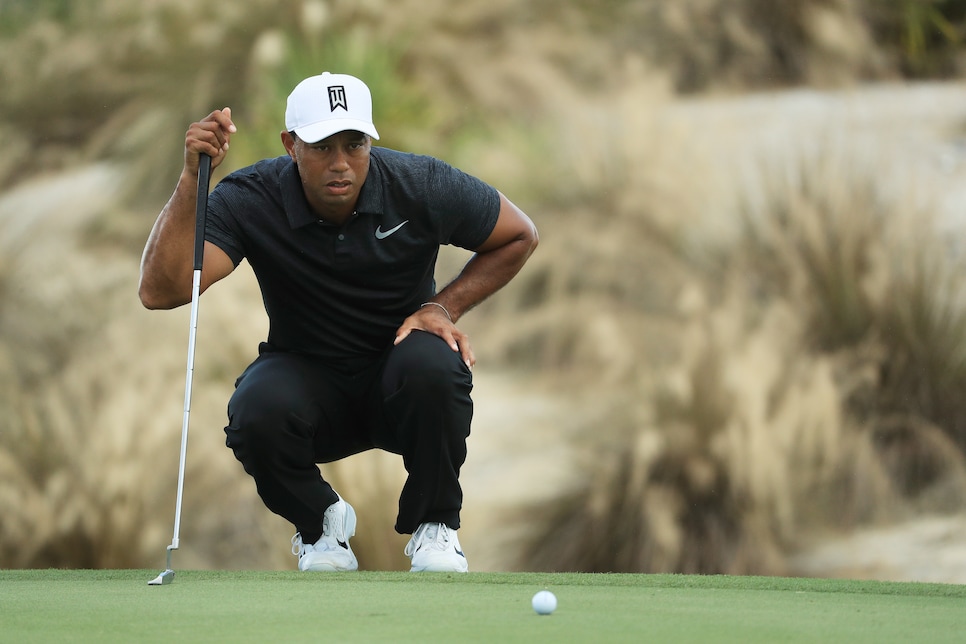 It was far from perfect, but Tiger Woods' first competitive round in 301 days had a little bit of everything. There were good moments, like a piped opening tee shot and a swagger-filled birdie, and some not-so-good moments, including a few chunked chips and one or two wayward drives. At the end of the day, it all added up to an opening-round three-under 69 at the Hero World Challenge, which has Woods just strokes shots back of Tommy Fleetwood, a spot not even the 14-time major champion thought he'd be in so soon.
"For me, I thought I did great," Woods said. "I hadn't played in awhile, after some of the difficulties I'd been through. To come out here and score like I did, that was nice. It was fun to get out there and be part of a scorecard again."
His scorecard was a clean one through the first eight holes at the Albany Resort in the Bahamas, featuring two birdies and a lengthy par save from off the green at the par-4 fourth hole, which came after his first chunked chip of the day.
"I hit a terrible chip that was against the grain, and I said 'Well, the hole's not over yet', so it was nice to make that putt and keep the momentum going."
After his second birdie at the par-3 eighth, Woods kept it rolling at the par-5 ninth, hitting the fairway off the tee and then striping a 3-wood on his approach. But a bad bounce caused the ball to roll just off the green, and Tiger flubbed another chip from a tight lie, leading to his first bogey of the day. He bounced back quickly on the back nine, making birdies on three of his next five holes. At the par-5 16th, he made his second and final bogey of the day, giving him a one-over total on the five par 5s. While there were a few missed opportunities, most would categorize it as a more-than-successful first round back, including Tiger himself.
"I didn't know what I could do. I've been playing golf, playing a lot of holes at home, but it's a little different when you have to tee it up in a tournament," he said. "I had a lot of adrenaline going, I was hitting the ball a little bit longer than I normally do. I had to dial it back a little, those are the internal struggles I haven't been through as a player in awhile."
On Friday, Woods will be chasing Fleetwood, who posted a bogey-free six-under 66. The Englishman, fresh off winning the European Tour's Race to Dubai title, is making his first appearance at the Hero World Challenge.
Tied for second at five under are Rickie Fowler and Matt Kuchar. Kevin Chappell, Justin Rose, Dustin Johnson and Jordan Spieth are all tied for fourth at four under.