News
Tommy Fleetwood's travels have taken him to the top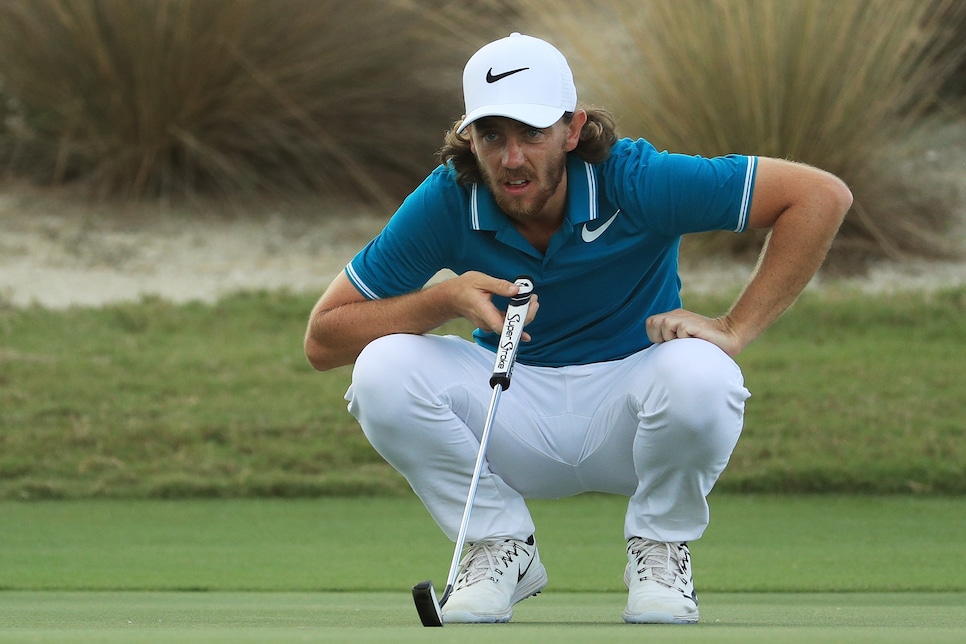 World traveler Tommy Fleetwood knew he made it Tuesday when Tiger Woods asked him when he was going to get his haircut. To this point they never had a proper full conversation. They'd made eye contact and nod to each other when Tiger was playing Dubai, walking past one another and doing what tour players do when they're at a tournament.
This was different. Fleetwood told him he just had his haircut, but Tiger didn't believe it. "Just a trim," said the young man from Formby, England, whose trademark is the rock-star flow and stubbly beard he's got working.
"I am from that generation that grew up watching Tiger Woods be Tiger Woods," Fleetwood said in his news conference on Wednesday at the Hero World Challenge. At 26, Fleetwood is 15 years younger than Tiger and 1,181 slots ahead of the legend in the current World Rankings. "He told me I had been awesome this year, which is kind of cool."
What's cool is how far Fleetwood has traveled to get to this position in the game, both literally and figuratively. A year ago this week, the Englishman was coming off a third-place finish in Hong Kong that moved him to 100th in the world. An invitation to the Hero World Challenge was unforeseen.
This year he flew into Nassau for the Hero as winner of the European Tour's Race to Dubai, father of a 2-month-old son and husband-to-be with a wedding ceremony scheduled on the beach at Albany on Tuesday with his manager, Clare.
"Me and Clare said that if we got into the tournament, it would be a great place to get married," Fleetwood said. "So missing the tournament wasn't really an option."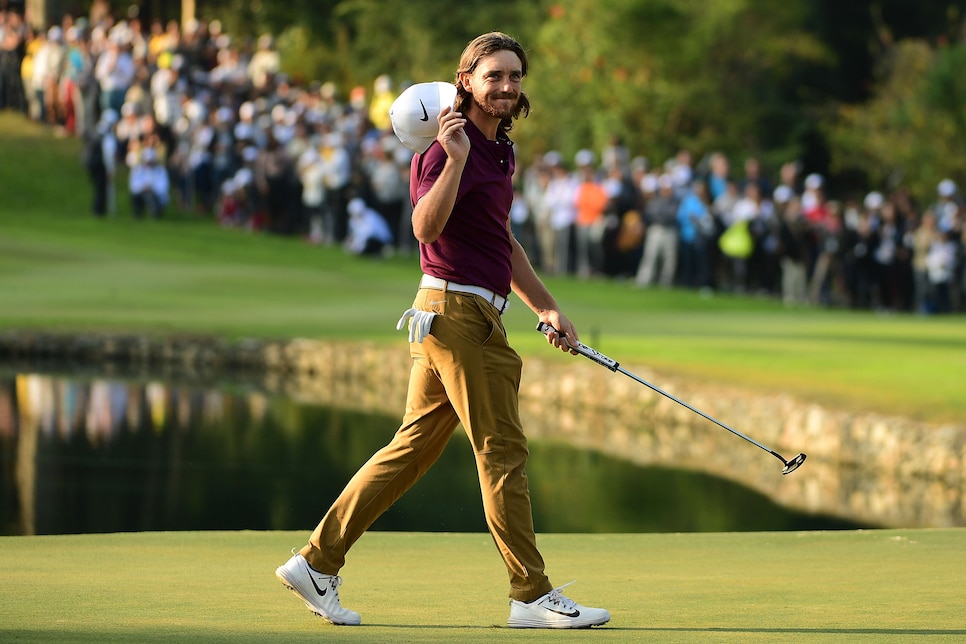 The Hero was Fleetwood's seventh start in eight weeks and the end of a 34,000-mile series of connections that began at the Dunhill Links Championship at St. Andrews the first week in October. Since then, he has been to Italy, China, Turkey, South Africa, Dubai and Hong Kong, where it all started a year ago.
The early birth of Fleetwood's son in September allowed for this to happen, all in the name of protecting the Race to Dubai points race. Fleetwood did this traveling on commercial flights with Frankie and Clare. The latest series of trips were especially brutal, from his home base near Manchester, England to Shanghai to Turkey to Johannesburg to Dubai to Hong Kong. On Sunday, Fleetwood flew from Hong Kong to Dubai to Manchester. After repacking he flew Manchester to London and finally the Bahamas with his family on Tuesday.
The jet lag caught up to him before Thursday's opening round, when he was the first player on the range, claiming jet leg had him up five hours before his 11:43 a.m. tee time.
But as Clare said, "He's not going to turn this down. He's young and he's fit, and the travel doesn't bother him much. It's not something he's going to do all the time, but this was a rare opportunity."
Despite all the travel—and his body still not being entirely certain what time it is—Fleetwood managed to shoot a bogey-free opening-round 66 at the Albany Resort to take the Thursday lead by one stroke over Rickie Fowler and Matt Kuchar.
What turned Fleetwood's career around was leaving one of the world's most respected instructors in Pete Cowen and returning to his childhood teacher from Formby Hall, Alan Thompson. The other piece to Fleetwood's rise to the top 20 was hiring best friend (and best man at next week's wedding) Ian Finnis to be his caddie. With chemistry on his bag and the restoration of his swing, Fleetwood opened the 2017 season with a win in the Abu Dhabi HSBC Championship, finished a shot back of Dustin Johnson in the WGC-Mexico Championship, and hung on down the stretch to finish ahead of Justin Rose, Jon Rahm and Sergio Garcia in the Race to Dubai.
After the wedding in the Bahamas, Fleetwood looks forward to honeymooning at home during a three-week break before practice begins Jan. 2 for a Ryder Cup year that will see him debut at the Genesis Open in Los Angeles, and establish a U.S. base at a friend's house at Bay Hill in Orlando.
When it was pointed out to him that most people get married in London and honeymoon in the Bahamas, Fleetwood quickly pointed out that he wanted to go home, that he'd been away a long time.
"I like doing things a little bit backward," he said. "It's nice to be different."