The Grind
Tiger's niece gets engaged to a celebrity golfer, Phil Mickelson's new NFL BFF and the most clever golf Halloween costumes you (probably) didn't see
Welcome to another edition of The Grind, where we're truly thankful for Ted Lasso. No, I've never watched a single episode of the TV show, but it has provided the easiest Halloween costume ever in case I'm ever required to wear a Halloween costume again. Basically, I would just wear what I wear to work (in case I'm ever required to go into work again) and then just put on/draw a fake mustache. Boom. Piece of cake. In the meantime, I wore a Wake Forest cap, which allowed me to say to anyone who asked that I was dressed as another leader of men, Wake Forest football coach Dave Clawson, who has the Demon Deacons 8-0 and in the top 10 for the first time in program history. And I did this as the crowds returned to my block this year and I handed out some 1,500 pieces of candy: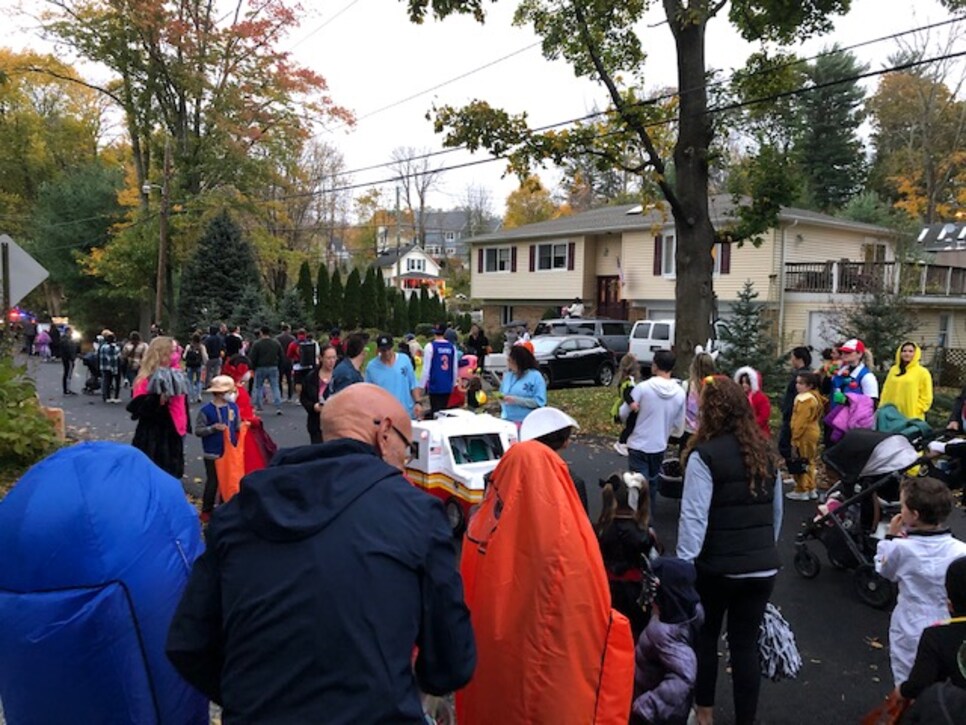 Hey, at least it wasn't freezing out.
OK, back to Halloween in a few moments. For now, let's move on to everything that happened this week in the world of golf.
Lucas Herbert: The Aussie authored an impressive final round in Bermuda to rally from four strokes back to win his maiden PGA Tour title in his 20th career start. And he was dropping jokes after. "There's a sizable triangle that seems to capture a lot of ships and planes," he told reporters after, "that's kind of the extent of my knowledge on Bermuda, I think."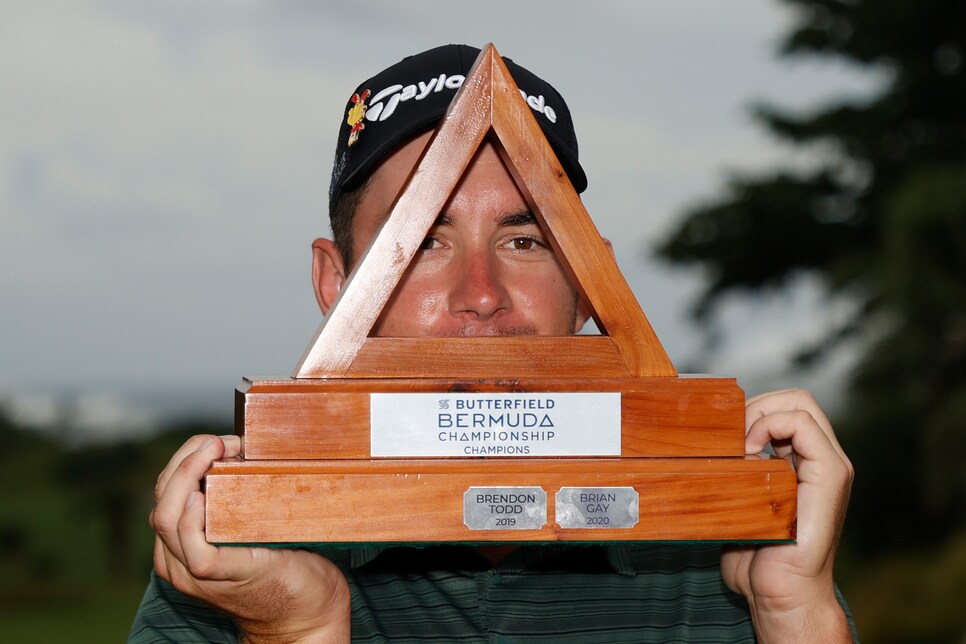 While that triangle seemed to grab a few others around him, Herbert's Sunday 69 was enough for the one-shot victory over Patrick Reed and Danny Lee. And with a PGA Tour win to go with two European Tour titles, suddenly, he's got a pretty impressive résumé for a 25-year-old.
Jim Knous: The most clutch performance of the week may have come from a guy who finished tied for 57th place. Making his final start on a major medical extension and needing a T-67, Knous eagled his second-to-last hole on Friday to make the cut on the number and birdied his final hole on Sunday to keep conditional PGA Tour status and full status on the Korn Ferry Tour. After, he called it, "the greatest top-60 of all time."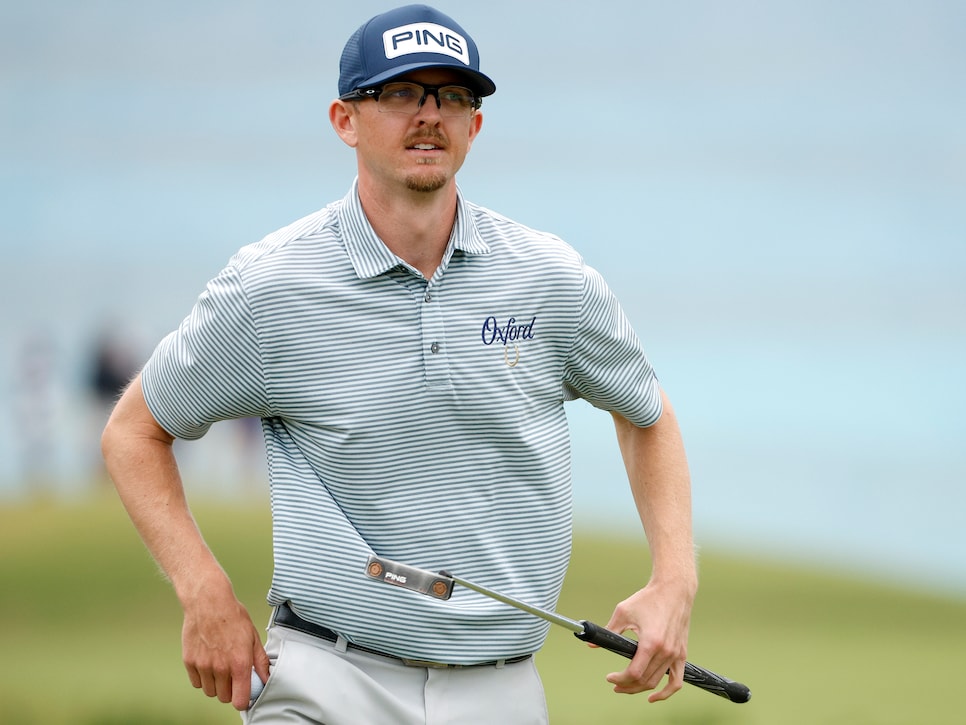 We focus so much on who wins and loses, but these are the types of stories that make pro golf the best reality TV program out there. Well, maybe not counting Shark Tank.
Josh Allen: There's been a lot of "grow the game" talk (more on that in a bit), but having one of the NFL's biggest stars show up to a game dressed as one of golf's legends certainly helps draw eyeballs. So the Buffalo Bills QB is way up in our book after pulling off this Phil Mickelson costume that included a golf shirt and shoes, a tumbler of coffee, a Kiawah PGA Championship visor and, of course, plenty of thumbs-up:
Thumbs-up to you as well, Josh. Needless to say, the six-time major champ approved.
And after the win, Allen credited Mickelson for helping him find his "zen" thanks to a 30-minute preseason video call with the team. I wonder if Phil also talked to Wake Forest before the season started. Did I mention my Demon Deacons are in the top 10 for the first time ever?
The Bermuda Championship field: To the victor goes the … 24 Official World Golf Ranking points. If that doesn't sound like a lot, that's because it's not. In fact, it's the lowest awarded at any full-field PGA Tour event (with the WGC-HSBC Champions canceled, this event was elevated in status) in 2021. But we're guessing Herbert couldn't care less, because that $1.17 million along with a Masters invite he earned is still worth just as much.
This Vare Trophy requirement: There's an interesting situation developing on the LPGA in which a bunch of the top players aren't eligible to win the Vare Trophy for the season's lowest scoring average. The top two on that list, Nelly Korda and Jin Young Ko—one of which will certainly win the tour's player-of-the-year award—will not meet the minimum 70 rounds required. Normally, we'd say it's their fault for not playing enough, but with seven events canceled this season due to COVID, there were fewer opportunities. And considering the award comes with a point towards qualifying for the LPGA Hall of Fame, it's actually a bigger deal than just taking home another trophy. So, yeah, the LPGA should probably do something about this …
This PGL/SGL mess: The PGA Tour's two emerging threats/partners(?) continue to flex their muscles. Greg Norman was named the CEO of the Saudi-backed LIV Golf Investments and our Dan Rapaport had an interesting conversation with him about the new venture with the Asian Tour. Geoff Shackelford attempted to sum up that situation as well as where the Premier Golf League now stands, and ooo boy, is it confusing. What's not as confusing is that anyone involved in this that's using the phrase "Grow the game," including The Shark, seems mostly interested in growing their bank accounts. And yes, I realize that's their right and that's how the world works, but hiding that is insulting.
Having your clubs blown into a lake: That's what happened to the pushcart of Maryland freshman Karla Vazquez Setzer during a tournament on Monday. But after bunker rakes were used to fish everything out (minus her 9-iron and cell phone), the 20-year-old birdied the next hole and three of her next five to still post an even-par opening round.
Pretty wild scene. By the way, don't pushcarts have some kind of parking brake? I know our strollers do or my kids would have probably ended up in the town lake by now. Be careful out there, folks!
The PGA Tour heads to Mexico for the Mayakoba Golf Classic, AKA the one where Matt Kuchar got a little tight with his wallet after winning. A hearty welcome to World Wide Technology for coming on as the new title sponsor. Often, we have no clue what these title sponsors do, so we appreciate World Wide Technology making it pretty clear.
Random tournament fact: Viktor Hovland won last year in what was the last official PGA Tour event of 2020. He's back to defend his title this year. And Kuchar, the infamous 2018 winner, is back as well as part of a surprisingly solid field.
RANDOM PROP BETS OF THE WEEK
—Matt Kuchar will be using another local caddie: 1 MILLION-to-1 odds
—Matt Kuchar will win this week: 100-to-1 odds (actual odds)
—Phil Mickelson has a Super Bowl bet on the Bills: LOCK
Happy Halloween! Here are some of the best looks from some of the golf world's biggest stars:
And here are a couple sneakier ones you probably didn't see from some non-golfers. These guys rocking those infamous 1999 Ryder Cup shirts:
These guys pulling off Brooks and Bryson at the Ryder Cup opening ceremony:
Enthusiastic golf claps all around.
VIRAL VIDEO OF THE WEEK (WILDLIFE DIVISION)
VIRAL VIDEO OF THE WEEK (FAIL DIVISION)
That's one expensive practice swing.
VIRAL VIDEO OF THE WEEK (LEGENDS DIVISION)
Whoever married this lovely lady is definitely a lucky man, because she's a player.
THIS WEEK IN PUBLIC DISPLAYS OF AFFECTION
Yankees part-time outfielder and full-time celebrity golfer Aaron Hicks proposed to Cheyenne Woods:
They are going to make for one heckuva dominant duo on the couples circuit. And if Uncle Tiger gets involved for any scrambles, look out. Meanwhile, in a much (much) different PDA situation, Steve Elkington showed his love for the Houston Astros with this custom-made golf shirt:
You have to be a true diehard fan to leave the house looking like that.
"I hope I inspire people, a lot of people, because it's such a rough journey, man. This is the hardest thing. And I'm not talking about golf, I'm talking about this battle. You know, it's the hardest thing ever. To be able to do this is amazing." —53-year-old teaching pro Brian Morris, diagnosed with Stage IV cancer, after shooting 89-92 in his PGA Tour debut. Something to keep in mind the next time we have a "tough" day on the golf course. All the best, Brian.
Apparently, Patrick Rodgers was two ticks away from losing a golf ball and losing his PGA Tour card during the Korn Ferry Tour Championship. Turns out, golf is a game of inches—and seconds. … Jordan Spieth is back in the top 10 of the World Ranking for the first time in more than three years. Nicely done, Jordan, but did I mention Wake Forest football is in the top 10 for the first time EVER? Go Deacs! … Happy 86th birthday to Gary Player. The nine-time major champ probably celebrated by doing 86 one-handed pushups. … And finally, here's the obligatory kids-in-Halloween-costumes photo: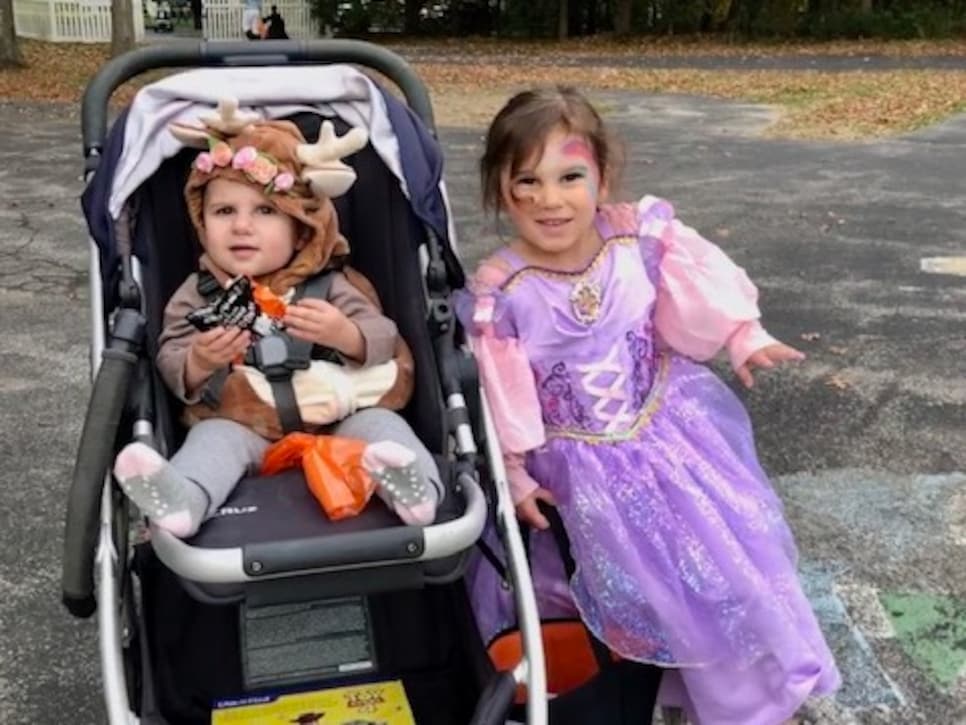 Unfortunately, I was too late with my thought of making the younger one Pascal to the older one's Rapunzel so we had no cohesive theme. I promise to try to do better next year.
RANDOM QUESTIONS TO PONDER
Is Ted Lasso really as good as everyone says?
How many pieces of candy did Gary Player eat?
How many of those 1,500 pieces of candy did I eat?