Tiger Woods' gift to golf fans, Paul Casey's "poor" timing, and the funniest golf club nickname ever
You are using an unsupported version of Internet Explorer. Please upgrade to Internet Explorer 11 or use a different web browser.
Welcome to another edition of The Grind, where we learned that being without power for a week will give you a new appreciation for electricity. By the way I reacted to my garage door opening with the push of a button again, you would have thought I'd witnessed a miracle. And thankfully, after a loooong week of living with the in-laws, I got home just in time to witness an actual miracle.
Tiger Woods nearly won a PGA Tour event. The same Tiger Woods who underwent a fourth back surgery less than 12 months ago. The same Tiger Woods who less than six months ago admitted there was "definitely" a chance he might never return to competitive golf. Not only has the 14-time major champ returned, but he's only needed 14 rounds to prove he can still hang with the world's best golfers. Let's talk about Tiger and everything else that happened during a busy week. But yeah, let's mostly talk about Tiger.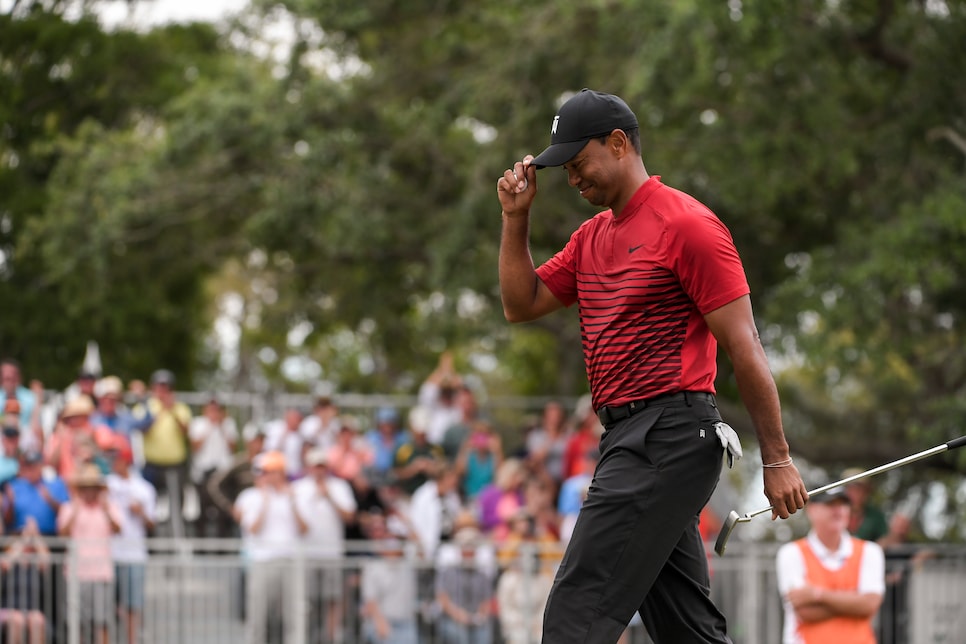 Tiger Woods: That was fun, wasn't it? Yes, the Woods of "old" would have won this tournament without breaking much of a sweat, but the fact that fused Tiger even had a chance is amazing. The pop (129 mph swing speed?!), the touch (that chip-in for the lead on Saturday) and that special aura were all back. Consider that Tiger needed to make back-to-back FORTY-footers on the final two holes to force a playoff at the Valspar Championship, and yet everyone actually believed he was going to do it!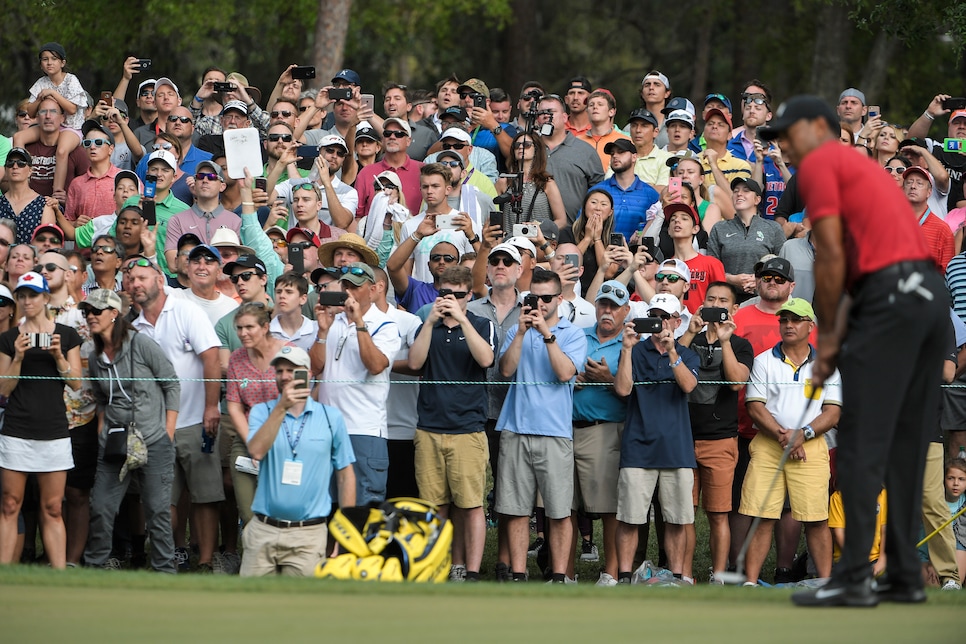 Win No. 80 didn't happen this week, but the runner-up proved it's just a matter of time. Thanks for giving us those thrills again, Tiger—especially on my birthday weekend. But now that you're "back," I'll expect a W next year.
The SMOKE WAGON: During Friday's PGA Tour Live broadcast, Woods pulled driver on the fifth hole and Ned Michaels uttered, "he's going with the Smoke Wagon." I nearly fell off my in-laws' couch laughing and proceeded to have a giggling fit for the rest of the day every time I thought about it. SMOKE WAGON! How great is that?!
Even Dan Patrick got a kick out of it, reading my initial tweet about it aloud on his show:
Paul Casey: Really, Paul? Of all the weeks in the past NINE years, you pick this one to finally win again on the PGA Tour?! Kidding. Sort of. Yes, Paul played the role of spoiler to Team Tiger, but this win was well-deserved. And a long time coming. You can't play as consistently good golf as Casey has the past few years and not eventually win. So I'm happy for him. And I'm happy he's happy to beat Tiger. He should be.
But if Paul pulls this kinda thing next month at Augusta National, he deserves to be paddled with the SMOKE WAGON.
Phil's assessment of Tiger: Dan Patrick wasn't just laughing at my tweets last week, he was getting great guests on his show like Phil Mickelson. And Phil came up with some classic Phil quotes, including this nearly prophetic line about Tiger before he teed off at the Valspar: "He's always one-upped me in my career, and I wouldn't be surprised if he came out this week and won," Mickelson said. "Just to one-up me again." Hey, the man's been known to predict a few sporting events.
My assessment of Paul Casey: "Cause for concern: He never wins anymore. Anywhere. Ever." I wrote that about Paul Casey in a Masters picks piece. On Wednesday. I really nailed that one, didn't I? My apologies to Paul and to everyone rooting for Tiger for this ultimate reverse-jinx.
JT's trip to the dentist: This didn't look fun:
I'll stop complaining about my recent root canal now. Actually, on second thought, I won't after receiving quite the email from a dentist who took offense to my moaning (Yes, this really happened). Look man, I'm not an anti-dentite, and I think my dentist did a wonderful job and there was very little physical pain. But four trips to the chair and 4K down the tubes still hurts. Sorry! Moving on. . .
Patrick Reed's Sunday outfits: My wife doesn't watch much golf, but she sat with me for a few minutes on Sunday, mostly to make sure I was OK with Tiger not winning. I was. Eventually. But she was not OK with Reed busting out the Sunday red(ish)-and-black combo in the presence of a contending Big Cat. "That's not his thing!" she exclaimed. "Your thing can't be someone else's thing!" Valid point. I get that Reed does it to honor his idol. I do the same thing for the final round of my annual golf trip every year (I know, I'm a loser. . .). But I'm also not playing in the same tournament as Tiger. Patrick should pack another shirt for Sundays just in case this situation happens again.
The PGA Tour heads to Bay Hill for the Arnold Palmer Invitational, AKA, well, you know which one this is. For a second year, The King is gone, but he's certainly not forgotten.
Random tournament fact: Marc Leishman is the defending champ. We figured we'd give Leishman a little love because you're probably going to be inundated with info about another past champ. . .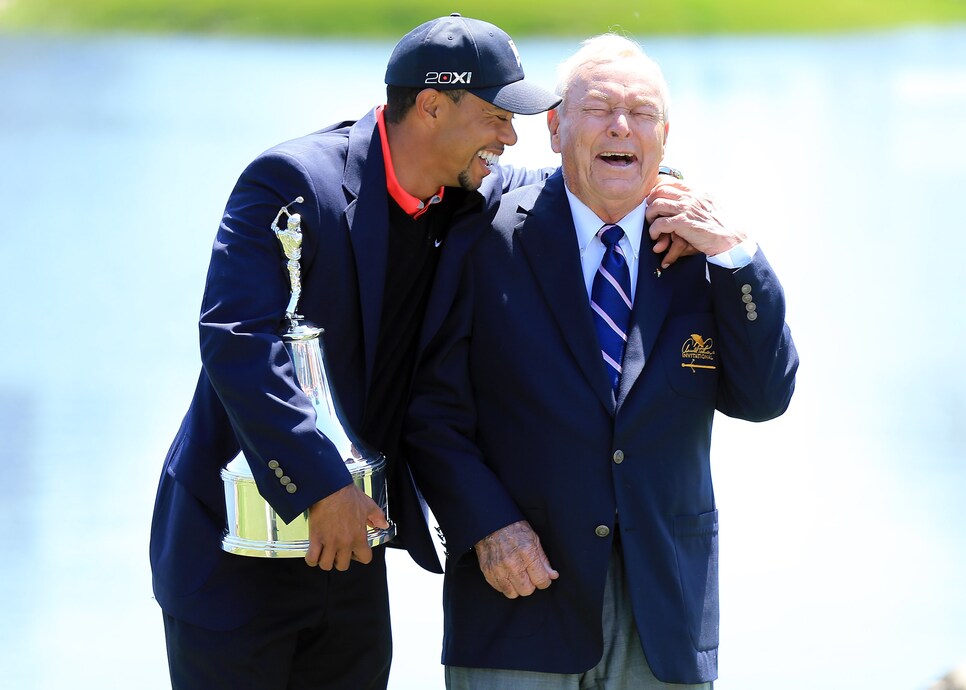 RANDOM PROP BETS OF THE WEEK
—Tiger Woods will win this week: 6-to-1 odds (Actual odds, tournament favorite)
—Tiger Woods will win the 2018 Masters: 10-to-1 odds (Actual odds, third-favorite)
—Tiger Woods will be the Masters favorite if he wins this week: LOCK
Tigermania in full effect: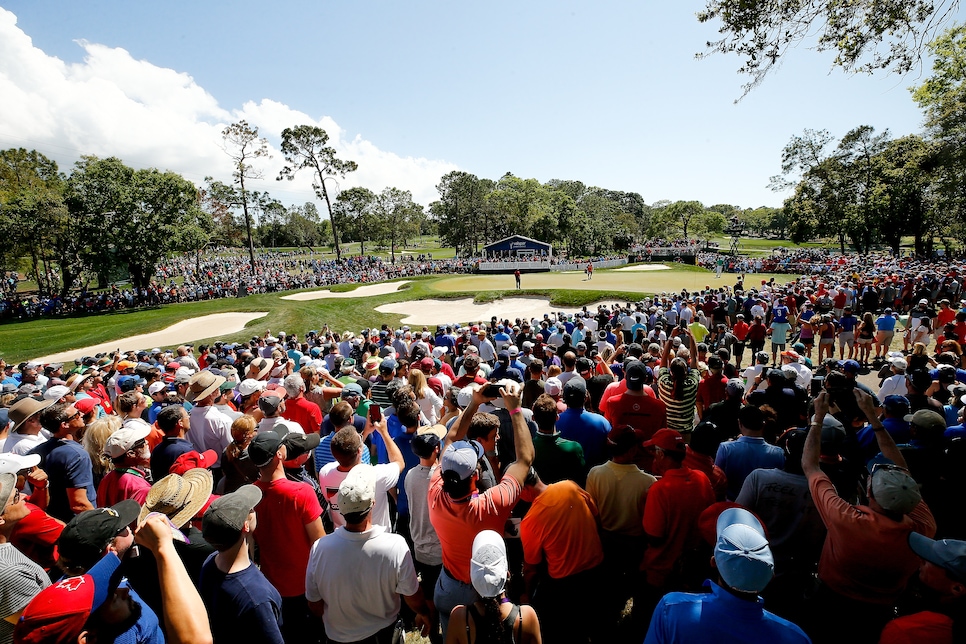 Again, this was the VALSPAR CHAMPIONSHIP!
TIGER VIRAL VIDEO(S) OF THE WEEK
NON-TIGER VIRAL VIDEO OF THE WEEK
It wasn't Jordan Spieth's best performance, but this was pretty funny:
VIRAL VIDEO OF THE WEEK (TRICK SHOT DIVISION)
I kinda wish Tania had tried that one when she visited our office.
SHOT OF THE WEEK YOU PROBABLY DIDN'T SEE
Trey Mullinax may have even out-Mickelsoned Mickelson with this one:
Hopefully, someone spray-painted "Trey Was Here" on that spot.
THIS WEEK IN DUSTIN JOHNSON-PAULINA GRETZKY JASON DAY-ELLIE DAY PUBLIC DISPLAYS OF AFFECTION
"I can confirm he's back. The roars are back." —Brandt Snedeker. Damn straight.
THIS WEEK IN TOUR PROS MAKING US FEEL BAD ABOUT OUR FITNESS
Look at Lee Westwood's hops! (Scroll to second video)
I'm about a decade younger and I'm not sure I could jump on just the green box.
INSTAGRAM BURN OF THE WEEK
There are times when we question the point of social media. This is not one of those times. Well done.
Sunday's coverage of the Valspar Championship drew a 5.1 overnight rating, making it the most-watched non-Masters PGA Tour event since 2015. Again, we're talking about the freaking Valspar Championship. Those "no one cares about Tiger" tweets in my mentions have magically disappeared. … SMOKE WAGON!!! Sorry, I just wanted to say it again. … Bill Haas finished T-49 in his first start since surviving the tragic car accident last month that took his friend, Mark Gibello. It was great to see Bill back on the golf course—and smiling. … Congrats to 86-year-old Bob Roth for recently playing his 10,000th round of golf. I've really got my work cut out for me now. … Golf Channel's Justin Ray provided golf with one of the (potentially) eeriest stats we've ever seen. Phil Mickelson's WGC-Mexico Championship victory came 1,687 days following his last win. If Tiger Woods wins on Sunday at Bay Hill, he'll also end a winless drought of 1,687 days. Amazing. … And speaking of amazing, my wife made me my usual birthday cake, only this time, a smaller version: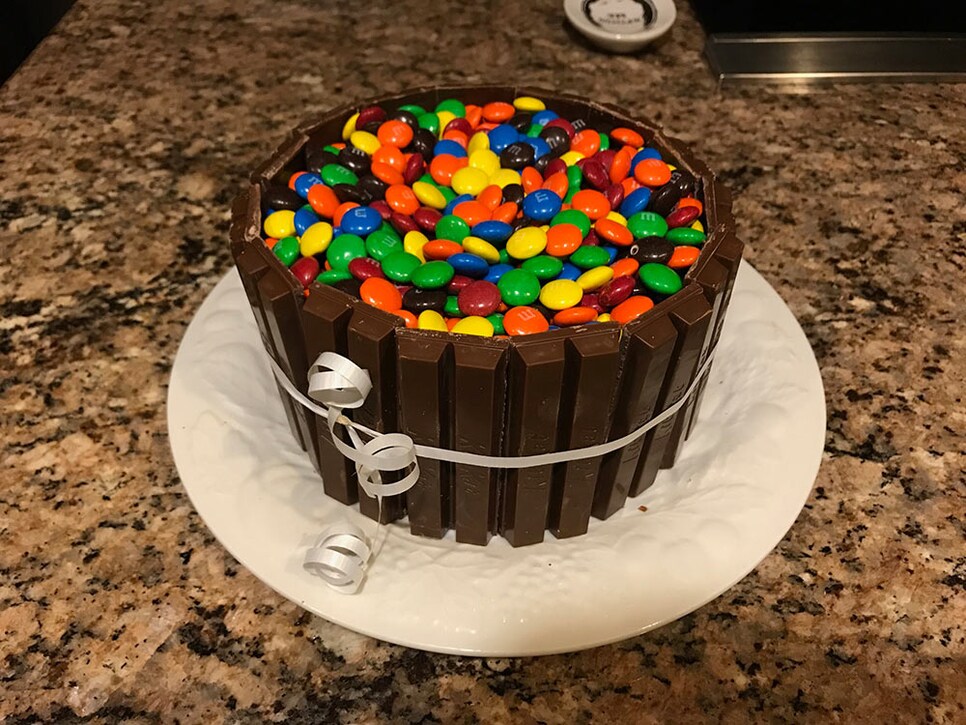 I need to make more sensible eating choices now that I'm getting older.
RANDOM QUESTIONS TO PONDER
What are TV ratings for the Masters going to look like?
Does Tiger have a nickname for his driver?
Why didn't I insist on the bigger cake?