News
Tiger takes positives from Northern Trust after closing 66, but has work to do to reach Tour Championship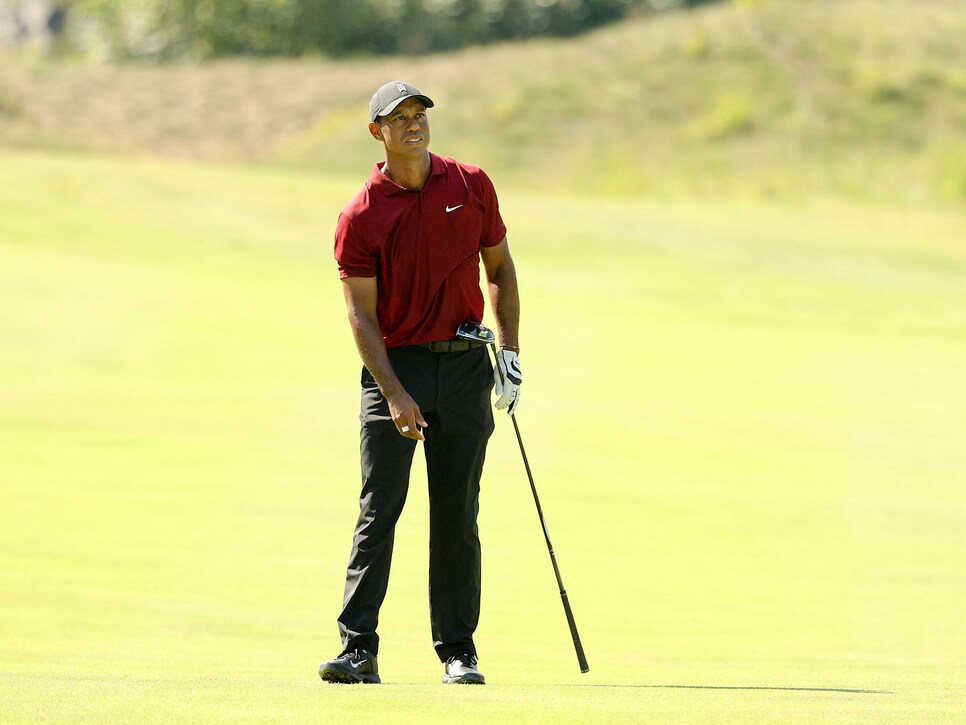 With a Sunday 66, Tiger Woods shot his best round on the PGA Tour since his win last October at the Zozo Championship.
Maddie Meyer
NORTON, Mass. — Ahhh. That was more like it.
On the final day of the Northern Trust, Tiger Woods finally approached TPC Boston the way the rest of the field had been doing all week, as a course begging for birdies. He made six of them on his front nine Sunday, shooting a blazing five-under 31, then followed up with nine straight pars on the more difficult back side for a closing 66. It is his lowest round since he won the Zozo Championship last October.
Where Woods ultimately finished on the leader board (T-58 after going six under for the tournament) wasn't as important as the fact that he'll head to next week's BMW Championship with something that's been in short supply since the restart: momentum.
"I felt like I hit the ball better," Woods said after the round. "I putted better. Everything was just cleaner and better today. It was good. Just wish I could have kept the round going a little bit more. I had a couple nice little eagle looks on the front nine.
"It could have been one of those really low rounds, but I'll take five under."
That said, to extend his 2019-'20 PGA Tour season beyond next week at Olympia Fields and work his way into the Tour Championship will require a much better finish than anything he's posted to date in 2020. To earn enough points to get into the top 30 on the FedEx Cup standings will likely require a top-four finish.
Woods had a second-straight early wake-up call and a second straight weekend tee time with Rory McIlroy, after both players struggled mightily while paired together Saturday. After only a so-so warmup, Woods stuck his first approach shot of the day to inside three feet—a much-welcomed result given his struggles on the greens this week. A good way to avoid the stressful seven-footers is to hit it inside three feet, and seeing an early birdie drop will do wonders for the confidence of any golfer, at any level.
He then hit the par-5 second in two and two-putted for birdie. It was an ideal start that built on itself when Woods holed a 45-footer on the par-3 third, easily his longest made putt of the week. Another two-putt birdie at the drivable par-4 fourth produced one of the stranger circumstances in golf, one that only 2020 could produce: Tiger Woods, four under par through four holes, playing amid complete silence.
"You hit good shots and you get on nice little runs, but we don't have the same energy, the same fan energy," Woods said. "It is different. Normally, you may have it like this at a Thursday or Friday morning round when there's no one out here, but by the time you get around the turn, people start coming around. But it's been like that from the word go, and it is very different."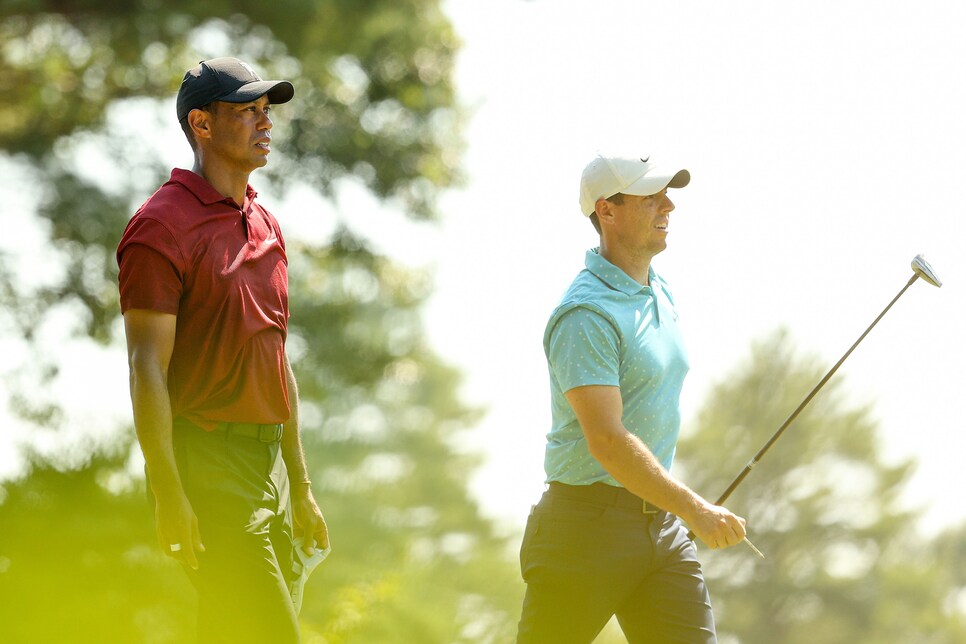 Tiger Woods walks with Rory McIlroy on Sunday, the second straight day the two stars had early tee times together at TPC Boston.
Maddie Meyer
On Saturday, Woods did something for the very first time—he putted out on a hole with the flagstick in still in the cup. On Sunday, he did something you hardly ever see him do—he hit driver off the deck into the par-5 seventh, a rising missile that ended up in a bunker just short of the green. Up and down from there and Woods was five under through 7, playing his best golf since the restart.
The rest of the round lacked the juice of that opening nine. But it was still a rather encouraging day, as Woods looked his best physically and played his best on the final day of the tournament—not an insignificant development given his injury history.
"My body feels pretty good," Woods said. "You know, this is going to be a long haul either way. I wish I would have played a little bit better this week to make it a little bit easier on me next week to try to get into East Lake, but this is going to be—if I play well, four out of five weeks, so it's going to be a busy stretch either way."
Woods will now head to the Chicago area and have to re-learn Olympia Fields, where he finished T-20 in the 2003 U.S. Open. Did he like the course when he played it 17 years ago?
"I didn't like the rough," he said in jest. "Hopefully it will be a little bit better this week."