Instruction
Tiger Woods' new video series on shotmaking begins where we all do: off the tee
In the first episode of "My Game—Shotmaking Secrets," Tiger Woods discusses the keys to his power draw.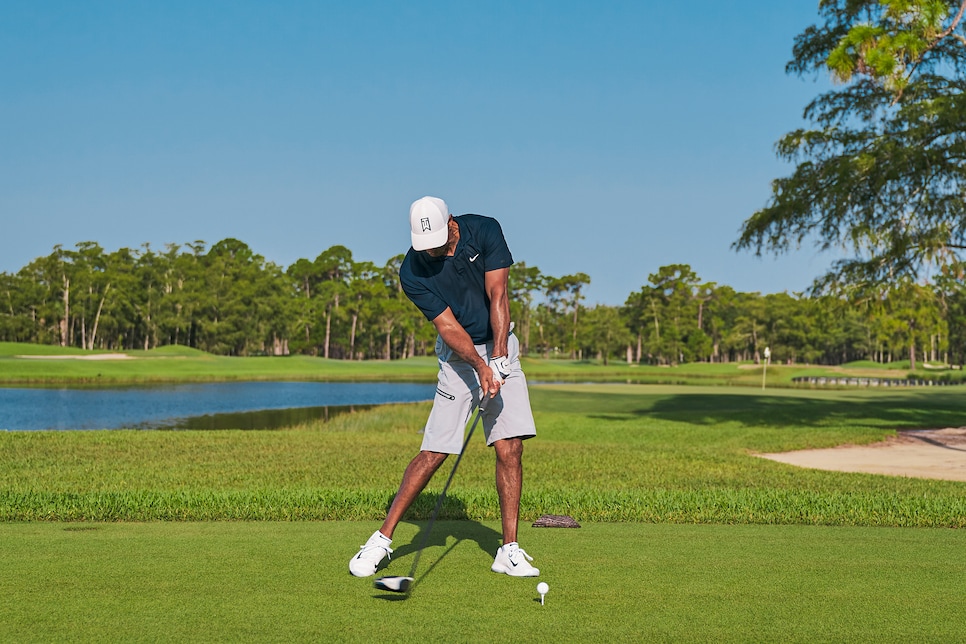 Photo by Jensen Larson / @jensenlarson
Countless times during his career, a Tiger Woods shot has summoned a familiar reaction among everyday golfers: Man, I'd love to be able to hit a shot like that.
Granted, there are elements of Woods' greatness that elude even his closest competitors, never mind those of us who pay to play. But what's still apparent is how much of Woods' approach to different shots can benefit golfers of every level. This was the genesis of the new video series, "My Game: Tiger Woods—Shotmaking Secrets." The 10-episode program, available for free on Golf Digest, is an up-close clinic with the greatest player of his generation. And understandably, it begins where we begin most rounds, on the tee, trying to hit a drive with power and precision.
In Woods' case, he has preferred to play a cut with his driver for his entire career. But you don't become a 82-time PGA Tour winner or a 15-time major champion without being able to work the ball both ways. He's used a right-to-left shot to perfection at draw-friendly Augusta National, where he has won five times.
Woods details when and how he hits a draw off the tee in Episode 1 of his new series. The process starts before he pulls a club. In fact, it starts well before the round, when Woods takes stock of how his 44-year-old body and four-time surgically repaired back are moving.
"It depends on the day," Woods says. "It's so spine related. If my spine feels really loose, hitting a draw is really comfortable and really easy for me to do. But if it's not, then I have a hard time turning back to get deep enough to hit a draw."
When he says he can't get "deep enough," Woods means he sometimes struggles to make a big enough shoulder turn to allow his hands to come down from the inside, which is necessary for the inside-to-out path that produces a draw.
On days when he does feel loose enough to hit the draw, Woods will still only bring it out under certain circumstances. And he doesn't debate shot shapes with his caddie, Joe LaCava. "It's my call," Woods says. He simply wants to know the distance to carry any obstacles in his line and a run-out number—in other words, how far he can hit the ball on a certain line before it will run through the fairway.
If his body is up for it and the hole shape calls for it, then, finally, it's draw time. He starts by teeing the ball up higher than normal. Next comes an old-school trick from an all-time great.
"When Ben Hogan would hit a draw, he'd build a stance and drop his right foot back further for a draw, and just a little bit for a cut," Woods said. "As I've come back and started to not have the mobility that I had, one of the things that I've done as an adjustment for draws—I'll drop that foot back further than I used to to help me get more turn. That allows me to get more of the inside part of the ball and shape it from right to left."