'I mean, look at that thing'
'That was a terrible mistake': Tiger Woods critiques his first career shot on the PGA Tour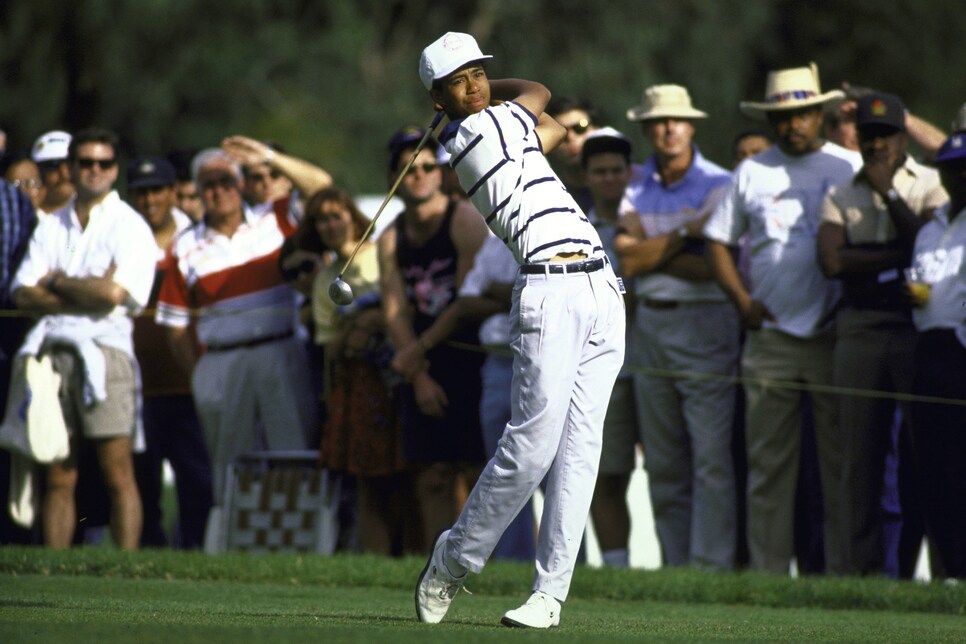 In a PGA Tour career so long and accomplished as that of Tiger Woods, there are plenty of "firsts" to reflect on. First PGA Tour win (1996 Las Vegas Invitational). First major victory (1997 Masters). First time achieving the career grand slam—he's done it three times (2000 Open Championship). But it's his first career shot on tour, at Riviera in 1992, that elicits a more critical reaction.
The 16­-year-old local phenom made his tour debut as an amateur at the 1992 Los Angeles Open, and the grainy footage of a wiry, 120-pound Woods hitting his opening tee shot remains the indelible moment from the week. On paper, the result was great; Woods made an opening birdie—one of just two on the week in which he shot 72-75 to miss the cut. For Tiger, however, there's one glaring mistake that he still can't get over 31 years later.
Sitting for a post-round interview on Sunday with CBS' Amanda Renner after finishing T-45 at the Genesis Invitational, Woods was flashed the footage of his inaugural tee shot, and he immediately got into nitpicking. You can find the exchange at the two-minute mark in this video:
Not five seconds into seeing the swing, Tiger said, "That was a terrible mistake. If you look at that, I had my credential badge in my left-front pocket. I mean, look at that thing." Renner laughed, adding "Wanted to make sure everyone knew who you were." Likely unnoticed by most at first glance, the player badge hung from the front of his left pocket, as if to clear up any confusion that this was the kid making his tour debut.
"This was out of my comfort zone, obviously. To go from high school to this [the PGA Tour]," Tiger said. To be fair, there's certainly an adjustment period to making such a leap—more difficult courses, tougher competition and yes, the question of where you put that little slip of paper that says you belong.
In seeing a side-by-side video of his 1992 tee shot and a swing from this year at Riviera, Woods continued critiquing, adding "I don't quite have that turn." Finding the silver lining, Renner asked Tiger if he's still got the signature club twirl—which teenage Woods subtly displayed. "It's still the same," Woods said. No argument here.
"This tournament means a lot to not only myself but my family and my foundation," Woods said. "I'm a SoCal kid at heart and to be able to go from my PGA Tour debut … to now being the host of this event, I would never have foreseen that. Just very lucky and very thankful."