The Loop
Tiger Woods' caddie shares hilarious story about Tiger taking a game of H.O.R.S.E. very, VERY seriously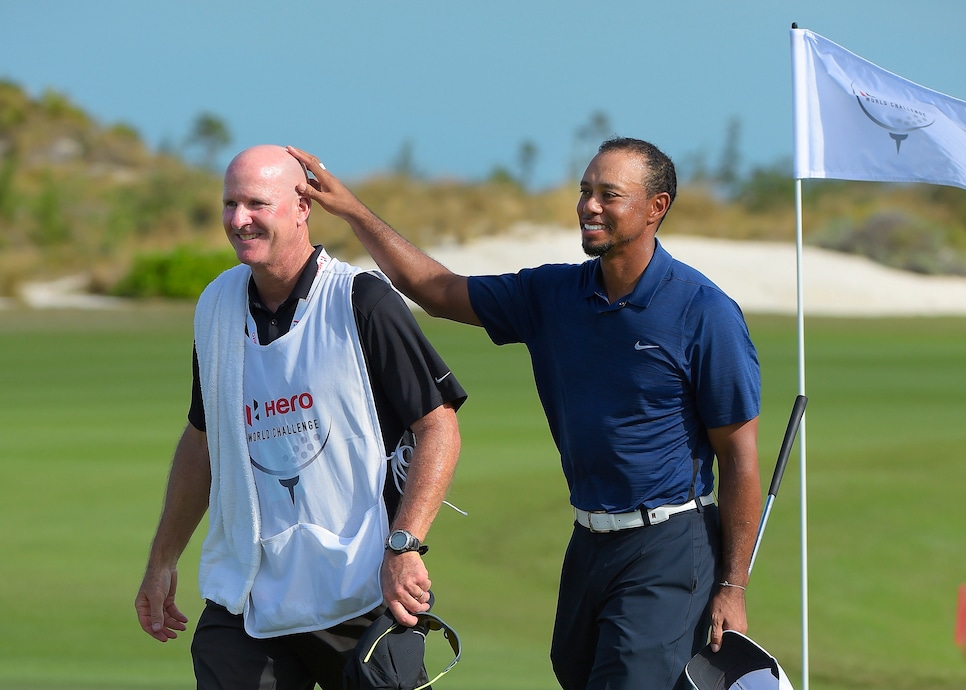 From his famed fist pumps to his intimidating stare that has rendered so many opponents helpless on Sundays, Tiger Woods' competitiveness is almost as renowned as his ability to hit a golf ball. But if you think Tiger is intense on the golf course, apparently, he's even more ruthless on the basketball court.
Woods' caddie, Joe LaCava, appeared on SXM PGA Tour Radio on Wednesday night and he shared a hilarious story about their heated hoops battles. More specifically, Woods takes his games of H.O.R.S.E. very, very seriously.
"Then I get him on the baseline from 10-12 feet, and I beat him nine games in a row, this is a true story, nine games in a row. He did not talk to me the rest of the day," LaCava said. "I didn't even get the old text, 'Dinner is ready,' because I stay across at the beach house. I didn't even get that text that night so I had to get take-out."
That's cold-blooded, Tiger. But it's also pretty understandable. After a lifetime of trying to dominate the competition, you can't just turn off that fierce mindset. Not even against one of your friends. In a game of H.O.R.S.E.
Anyway, you can listen to the funny clip here:
"He's so competitive, even with something like that," LaCava added. Not surprising.
LaCava really brought the goods to the airwaves on Wednesday. In another clip, he discussed Tiger's "nervousness" on the first hole of his latest comeback at the Hero World Challenge. "He knows all the eyeballs in the world are watching him."
So what did we learn from all of this? Tiger Woods still gets nervous on the first tee and he has a suspect mid-range baseline jumper. Oh, and if you want to be invited to eat dinner at the 14-time major champ's house, you've got to let him win at H.O.R.S.E. every once in awhile.