News
Tiger Woods updates: Tiger will miss the cut after second-round five-over 76 at the Genesis Open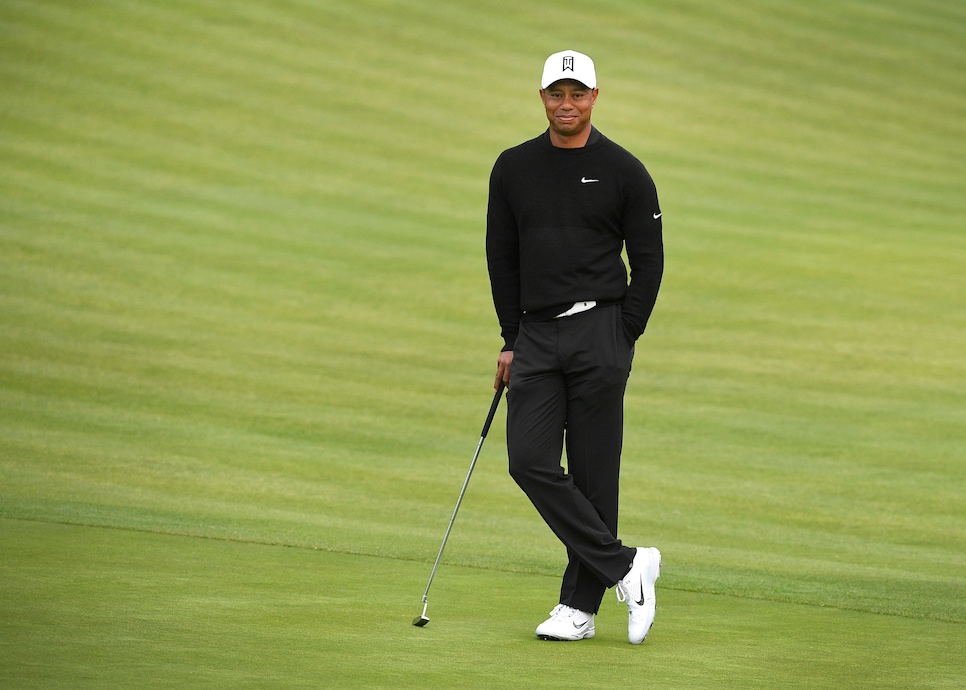 Take out your AirPods -- unless you're Mark Wahlberg -- and pay attention. Tiger Woods is back in action this week, and he has returned to one of his old stomping grounds, Riviera Country Club. Well, stomping grounds may be a bit strong since it's the golf course Woods has played the most without winning, but he certainly has a history here. A 16-year-old Tiger made his PGA Tour debut here in 1992, and his last start on the famed track came 12 years ago when his playing partners—Rory McIlroy and Justin Thomas—were a combined 28 years old. Anyway, Tiger tees off at 3:22 ET on Friday, after shooting a one-over 72 in the opening round. As he tries to make sure he's playing the weekend outside Los Angeles, we'll track his walk down memory lane Hogan's Alley through our man on the ground, Brian Wacker, along with the latest score updates and highlights. So keep it right here.
8:15 PM: Woods saves his best drive for last at the par-4 18th, piping a 312-yard drive down the fairway and then hitting a pitching wedge to 12 feet. However, the birdie putt lipped out, and Woods finished with a five-over 76 to miss just the 17th cut of his professional career. Next week is a new week for the 14-time major champion, as he heads to the Honda Classic to play back-to-back weeks for the first time in over three years.
7:53 PM: After Tiger's drive at the par-5 17th found a fairway bunker, he had to lay up, leaving him 176 yards in from the fairway. His approach ended up 50 feet from the hole, where he'd two-putt for par. The pain is almost over.
7:37 PM: Woods hits the green at the par-3 16th, and with the cut moving to two over, he got extremely aggressive with his 15-foot birdie try and missed it well past the hole, leading to another three-putt bogey. Bright side? He can catch an early flight to Florida and get some work in at PGA National ahead of next week's Honda Classic.
7:23 PM: The case of the lefts continues for Woods at No. 15, as his drive and approach both miss the fairway and green left. But he flashed some short-game magic once again, getting up-and-down for back-to-back pars. The weekend is pretty much out of reach, but it's intriguing to see him still grinding away late on Friday.
7:08 PM: After finding a bunker off the tee at the par-3 14th, Woods stops the bleeding with a nifty up-and-down for par. That's just his fourth par of the day, and the first in his last six holes. Four holes to go, all he has to do is birdie all of them to make the weekend.
6:55 PM: Woods misses the fairway and the green at No. 13, leading to another bogey after his 14-foot par putt just misses on the left side of the hole. That's seven bogeys on the day. Oof.
6:42 PM: Woods pulled his drive into the left rough at No. 12, then took a mighty lash from 194 yards out and somehow found the front of the green:
Unfortunately, Tiger three-putted again, this time from 81 feet away. He falls to three over on the round, four over for the tournament, three shots off the cut line. The wheels are officially falling off.
6:25 PM: No tree trouble today for Tiger at the 11th, but another poor result anyway. After missing the fairway off the tee, Woods approach left him a difficult chip shot that he put to around 40 feet and three-putted for bogey, meaning he's played the par-5 11th in three-over par this week. He drops back to two over on the day, three over for the tournament with just seven holes to go. Not ideal.
6:03 PM: Tiger's eagle effort was a good one, and he taps in his birdie to get back to one over on the day, two over for the tournament. Huge sigh of relief at a hole that things can go off the rails very quickly. Eight holes to go, and he likely needs only one more birdie (and no bogeys) to play the weekend. Good opportunity to get one coming up at the par-5 11th. Oh, by the way, guess who's back next week at the Honda:
5:57 PM: Woods stripes one at the short par-4 10th with a 3-wood just in front of the green in an ideal spot. OK, everyone breathe.
5:50 PM: From just 116 yards out, Woods hits a poor approach to a front greenside bunker. After a decent sand shot, Tiger misreads the par putt and walks away with his fourth bogey of the day, giving him a front-nine two-over 37. Much like at Torrey, it looks like Woods is going to make everyone sweat it out as he now needs to pick up two shots on the back nine to get back inside the cut line.
5:35 PM: Tiger hits one of his better approaches of the day to 15 feet, but the birdie putt doesn't fall. But perhaps that solid tee-to-green performance built some momentum, as Woods rips another drive at the par-4 ninth in the fairway with the big stick.
5:20 PM: Fairway alert! Fairway alert! Woods' drive at No. 8 finds the short grass. 1/6 FIR on the round. That is all.
5:14 PM: Woods' iron struggles continue at the seventh tee, where he pulls a 2-iron miles to the left that ended up in a fairway bunker. Facing a gnarly shot from the trap, Tiger's second hit the lip and rolled back out into the fairway, leaving him 160 yards to the green on his third. Somehow, he almost saved par, hitting it to inside 10 feet but missing the putt. Back-to-back boxes on the scorecard drop Tiger to one over on his round, two over for the tournament, just outside the projected cut line.
4:58 PM: Once again, Tiger follows a birdie with a bogey at the par-3 sixth after missing the green left and hitting an ugly chip, leaving him another 18-foot putt that he would go on to miss. Back to one over for the tournament.
4:46 PM: Woods misses the fairway at the par-4 fifth for the second-straight day, but this time his approach was hittable, and he caught a flier and immediately shouted at it to get down, and it did, coming to rest about 18 feet from the hole. Tiger holed it for birdie, producing another roar from the large crowd at Riviera. That's two birdies on Friday, both from 18 feet, as the putter continues to roll for the 14-time major champion.
Interesting stats so far:
-1 on the day, E for the tournament
4:30 PM: After hooking a 3-iron left of the green at the long par-3 fourth, Tiger follows with another mistake, hitting his chip shot six feet past the hole and leaving a testy downhill putt for par. From six feet, his par effort misses high, and Woods drops his first shot of the day. Back to one over for the week, which is still right on the cut line.
4:13 PM: At No. 3, Tiger hits his first green in regulation and wouldn't you know it, it leads to a birdie from 20-feet away. Woods is back to level par on the tournament, one under on the day. Pretty solid opening three holes, especially considering Thursday's birdie-double bogey-bogey start.
3:57 PM: No fairway, no green, but another par for Woods at No. 2. It looked better than it sounds though, with Tiger hitting a solid driver off the tee that just found the left rough once again, and then hitting an approach a little right of the pin and a few feet off the green. Even on the day, one over on the tournament.
3:42 PM: After Woods' second shot found a bunker in front of the green, he sailed one way past the hole and just onto the fringe, but was able to two-putt for a opening par and stay at +1. Feels like a missed opportunity on a birdie hole, but a par is a par, and if it makes Tiger feel any better, playing partner Justin Thomas had to grind out his five as well.
3:30 PM: And we're off. Tiger hits an iron off the tee at the short par-5 first and it just trickles into the left rough, but he'll have a good look at the green on his second.
3:02 PM: Tiger's Friday tee time was already a late one on the East Coast, but it got a little later when Thursday's first round was suspended due to darkness, pushing back the second round tee times. Only 20 minutes away though, so hang tight. Woods (+1), Justin Thomas (-2) and Rory McIlroy (E) will tee off the first tee at 3:22 p.m. at Riviera, and we'll have all the important Tiger updates right here as the 14-time major champion battles to make the cut, which is currently projected at +1.
3:05 PM: Woods hits one final drive to the right on No. 9, his final hole, finding a bunker on the 10th hole. But he hits an approach to the back fringe and two-putts for par to wrap up a one-over-par round of 72. Playing partners Justin Thomas (69) and Rory McIlroy (70) edge him on Day 1, but the three will tee it up together again on Friday at 3:02.
"It was all right," Woods told reporters after his round. "I made really silly bogeys out there, in particular No. 7 there, it was not very good from the middle of the fairway. But overall I thought I hung in there well and grinded."
Tiger's score matches what he shot in his first round as a 16-year-old in 1992, but this trip around Riviera was a bit more eventful. Woods hit eight of 14 fairways (not bad), but only hit a dismal seven greens in regulation, while needing just 25 putts. Of course, his greens stats were greatly affected by several awful drives, including that one into the trees on No. 11, which never came down. At the time of his finish, Woods was T-52, five shots behind early leader Tom Hoge.
2:48 PM: Woods produces his second bounceback birdie of the day -- and fifth overall -- on No. 8 to get back to even par. And he made it look easy. After pummeling a 318-yard drive down the left side of the fairway, Woods wedged his approach from 118 yards to four feet and converted the putt. His last hole of the day, Riviera's ninth, has played as the course's most difficult so far today.
2:34 PM: Woods couldn't recover from another poor iron shot on the par-4 seventh. Opting to putt from a collection area, Woods left himself with 10 feet for par, but his attempt ended with a power lipout to drop to two over.
2:20 PM: Woods misses the green at the par-3 sixth, and, you guessed it, gets up-and-down for par. Woods is at one over through 15 holes, trailing playing partners Justin Thomas and Rory McIlroy by two and one shots, respectively.
2:11 PM: Woods makes a big unforced error off the tee with an iron on the short, par-4 fifth. The wild miss left leads to Tiger taking a vicious hack just to put his ball back in play. From there, he was unable to get up-and-down from about 50 yards, making a bogey that dropped him to one over through 14 holes.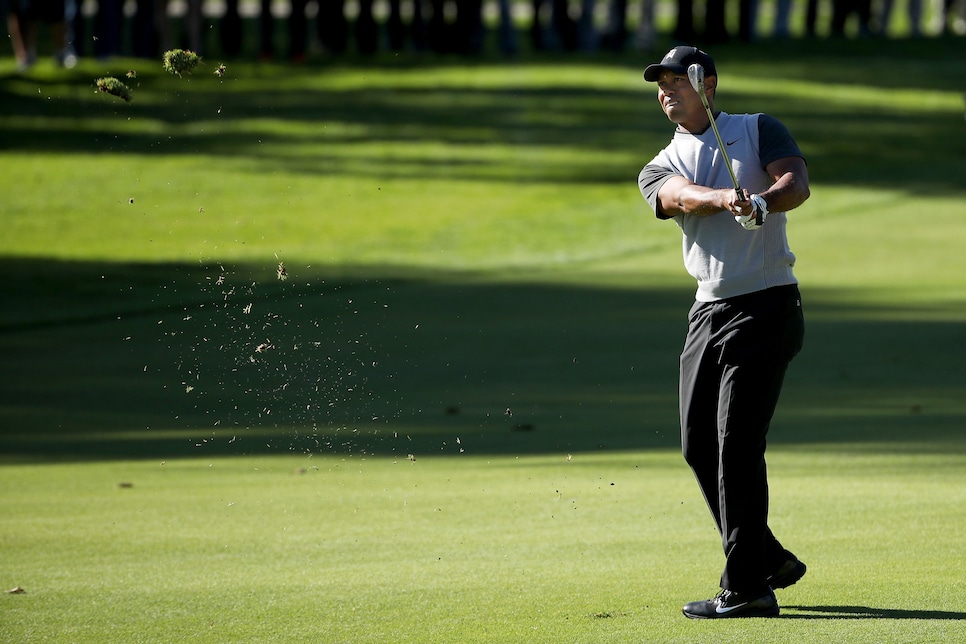 Christian Petersen/Getty Images
1:57 PM: Woods makes another terrific up-and-down on No. 4, his 13th hole of the day. After coming up short on the 230-yard par 3, Tiger hit a fantastic flop shot from a downhill lie in the rough to four feet and converted the par putt. Funny, those whispers of him having a certain Y-word have quieted.
1:42 PM: After smashing his best drive of the day -- a 333-yard effort -- Woods makes a rare miscue with another club by air-mailing his sand wedge approach over the green. Tiger responds by nearly chipping in and saves par to stay at even par.
1:27 PM: Woods misses left off the tee for the first time, but finds the front of the green with his second and two-putts for par at No. 2. He remains at even through 11 holes.
1:11 PM: Woods takes advantage of Riviera's easy opening par 5 with a two-putt birdie to get back to even par through 10 holes. He didn't make it as easy as it could have been with a poor lag putt from the back of the green, but converted from eight feet. Justin Thomas also birdies the hole to get to two under, while Rory McIlroy makes an eagle to get back to even.
12:57 PM: Woods pulls 3-wood on the par-5 first and hits his fifth fairway of the day. For those of you betting over 4.5, that was easy money.
12:53 PM: Woods finds the fairway with a driver for the second consecutive hole, but winds up having to scramble for par. After a chip for his third shot ran seven feet by, Woods sank the putt for an opening 37. He'll head to the front nine at one over.
12:31 PM: The fourth time was the charm for Woods with his driver. And after smashing one down the middle on the 608-yard, par-5 17th, Woods eventually wound up converting a five-footer for his third birdie of the day.
Woods is back to one over through eight holes as he heads to Riviera's iconic 18th.
12:11 PM: Woods escapes the par-3 16th with a par after finding a greenside bunker. Wood hit his second to six feet and then just snuck a curling putt into the cup to remain at two over. See for yourself:
12:00 PM: Another wild drive to the right costs Woods on No. 15, his sixth hole of the day. Woods slashed his second shot to the fringe, but three-putted from 60 feet -- lipping out a 15-footer for par. That's a couple of bad breaks early, but he's also 0-for-3 with the driver. At least all three of those misses have been to the right.
11:41 AM: Woods records his first par of the day on his fifth hole, hitting his tee shot on the 183-yard, par-3 14th to 38 feet and lagging his birdie putt to tap-in range. He remains at one over.
11:30 AM: Woods responds with a bounceback birdie on the par-4 13th. He split the fairway with a 320-yard 3-wood (maybe he should hit that club more. . . ), wedged one to 14 feet and drained the putt to get back to one over. Say what you will about the state of his game, but his first four holes have certainly been eventful.
11:15 AM: Another wayward drive to the right on No. 12 leads to another messy hole for Woods. He nearly pulled off a remarkable recovery shot by going with an outrageous helicopter follow-through, but failed to get up and down from a greenside bunker. Tiger is now two over through three and that opening bogey seems like it happened lot longer than an hour ago.
10:56 AM: Woods can't pull off the bogey save, missing from 10 feet. The double bogey gives back that opening birdie and one more shot as Tiger falls to one over. He's also down one golf ball.
10:45 AM: Tough break for Tiger on No. 11, his second hole of the day. Woods blocks his tee shot way right into the trees... and it never came down. Tiger was forced to take a lost ball penalty and return to the tee for his third shot, which found the fairway. He'll do well just to make bogey.
10:37 AM: BANG! Woods begins his day with a birdie, coaxing a nine-footer in. Thomas answers from three feet to make it all birdies for the marquee group to start.
10:30 AM: Tiger may be the biggest name in his group, Rory McIlroy produced the day's first roar. After missing the fairway and the green on the short par 4, the four-time major champ holed his bunker shot for an unlikely birdie. Woods and Thomas have good birdie looks coming up, but will wait to let the group behind them hit up.
10:00 AM: Here's a look at Woods warming up on the range, courtesy of PGATour.com's Ben Everill:
9:52 AM: We are 30 minutes from Tiger teeing off in the first round. He'll be playing in about the most star-studded pairing possible with Rory McIlroy and Justin Thomas. Both are good friends of the 14-time major champ, but he made it clear that when it comes to "winning time," there won't be much chit-chatting on the course.
8:42 AM: Tiger shows off his new bag and seems pretty awake at 5:42 a.m. local time:
Those Monsters are getting the job done.