The Masters
Masters 2022: Tiger's humble brag, Rory's dagger and Spieth's beef love highlight Tuesday interviews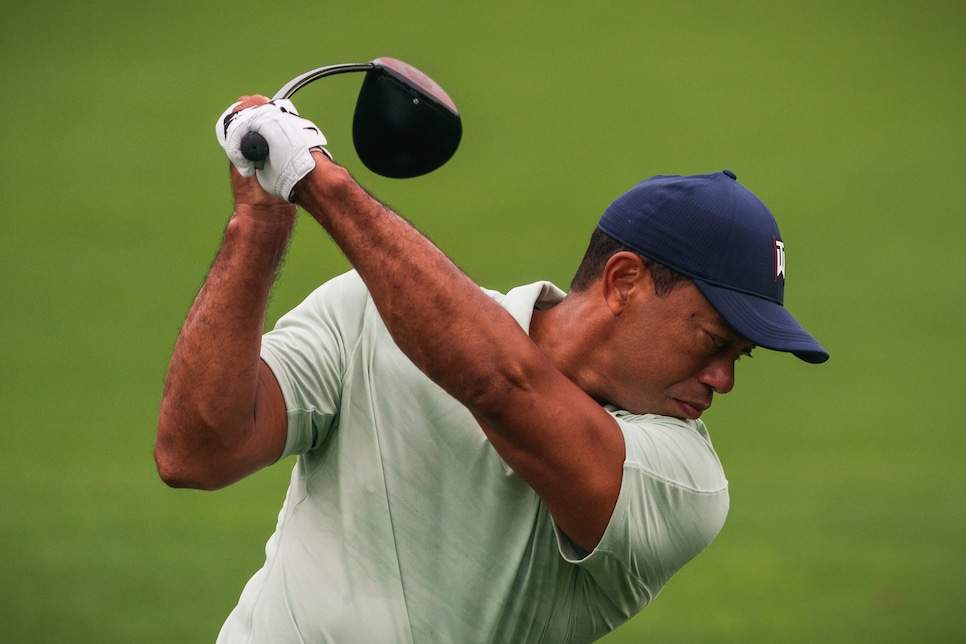 AUGUSTA, Ga.—Tuesday was a wash at Augusta National, heavy storms ending most practice rounds before they began. But while there was little action on the course there was plenty of entertainment behind the microphone. A parade of players made their way through the media center to discuss the Masters, their games and the return of a certain 15-time major winner. Here are some highlights from a busy day in the interview room.
Best reminder that Viktor Hovland is a delight
It is here we must air our pet peeve: It is so, so hard to win the Masters lottery, forcing a lot of folks who love this tournament and course to watch it from home. So it's always a bummer to see some fans who did win the lottery use their badges strictly to buy as much merchandise as possible and immediately leave the premises without watching a shot.
Which is why we appreciated this answer from Hovland when asked if he has any special souvenirs from his Masters experiences.
"I'm not a big, like, material guy, souvenirs," Hovland said. "I took a couple pictures and just memories with my mom and dad being here in 2019. Those are kind of the more special things that I relish, not so much things."

Hovland later explained he was an upbeat person because it's in his genes and that Norway is a happy country. In short, Hovland is a magnificent marching band of a person.
Best excuse for not doing laundry

Does dry cleaning qualify as laundry or are they separate entities? Nevertheless, going to the cleaners is a royal pain—the costs go up with every trip and the clothes are never ready when they're supposed to be—but once you've reached adulthood it's a pain you need to endure to avoid the wrath of a spouse asking why all your dress shirts have coffee stains on them. But, as Hideki Matsuyama said, some stains you have to make peace with.

The defending champ was asked if he had to take his green jacket to the dry cleaners since his triumph last April and Matsuyama said no, albeit for the right reasons.

"I thought about it and it needed to be cleaned, but I just was so worried that something might happen to it," Matsuyama said, laughing. "So I didn't let it out of my sight."

Honestly, we're surprised Hideki ever took the jacket off. If it were us we'd wear it to the first tee.
Best response to the Champions Dinner menu
It's no pigs-in-the-blanket—excuse us, "Smoked Kielbasa in puff pastry"—but Matsuyama's culinary choices for Tuesday's Champions Dinner are spectacular: assorted sushi, chicken skewers, miso glazed black cod, Wagyu beef ribeye, and Japanese strawberry shortcake.
"I'm going to have seconds of all of it," Spieth said. "I'm very excited. I played the Dunlop Phoenix in Miyazaki back in 2014, and I might make a lot of people mad in the state of Texas, but it's the best beef I've ever had. To be serving that tonight on top of miso cod and sushi to start, I'm very, very excited. I saw it today. I had no idea what route he was going to go, and I'm excited to shake his hand and say thank you at the end of the night. I might have to get carted off."

Thoughts and prayers to Spieth for inadvertently turning all of Texas against him.

Most efficient answer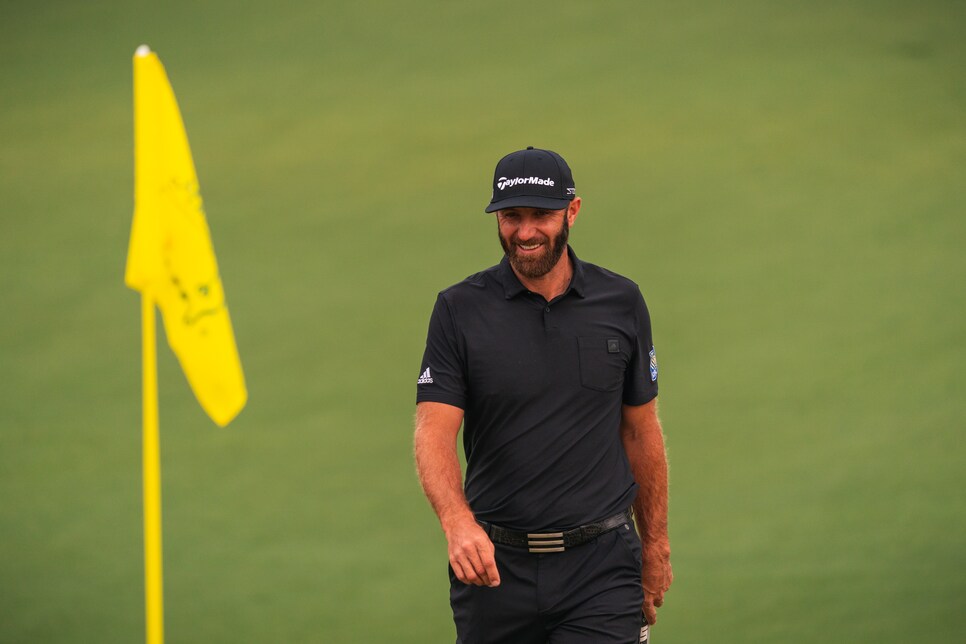 This corner is perenailly owned by Dustin Johnson, who can say in four words what others say in 40. A recurring question on Tuesday was the impact of Tiger Woods' return, a question that took several iterations, one of which revolved around the idea that Tiger and the circus then engulfs him may take pressure off other players. Here was how that question was asked to DJ:
We would provide our own commentary but it can't top that of 2015 Masters champ Jordan Spieth:
Q. Tiger seems to be overshadowing everything about this Masters. How do you feel about that?

DUSTIN JOHNSON: It's fine.
Reserved. Powerful. Astute. Clever. We've spent more words analyzing the statement than the length of the statement itself, so let's move on.
Comments that will elicit a phone call from Jay Monahan
It's no secret the tour has pushed the perception that its flagship event, the Players Championship, should be held in the same light as the Masters, U.S. Open, Open Championship and PGA Championship. Whatever your thoughts on that are fine, we just don't have the time or space or bandwidth or appetite to delve into that debate, at least during this week. But we say that to say this: Justin Thomas may be getting a call from Commissioner Monahan.

Thomas remarked in his presser that he feels like he has underperformed at the majors over his career and particularly at the Masters, and wondered if that performance is correlated to treating this week differently than the rest. This lead to following exchange:
Q. Justin, you said you felt you maybe put the Masters on too much of a pedestal. Is it different than what you felt about the PGA Championship compared to what it's meant to your family?
JUSTIN THOMAS: Yeah, I think I just did it with Masters in general. The Players isn't a major, but it's kind of being talked up for us to be on that same level. But with it being moved, this was always in the—you know, the first major of the year, the first—so it was easier to kind of get hyped up a little bit more for that first one, if that makes sense.
First a weather-wrecked tournament in March and now this. Rough 2022 for the Players Championship.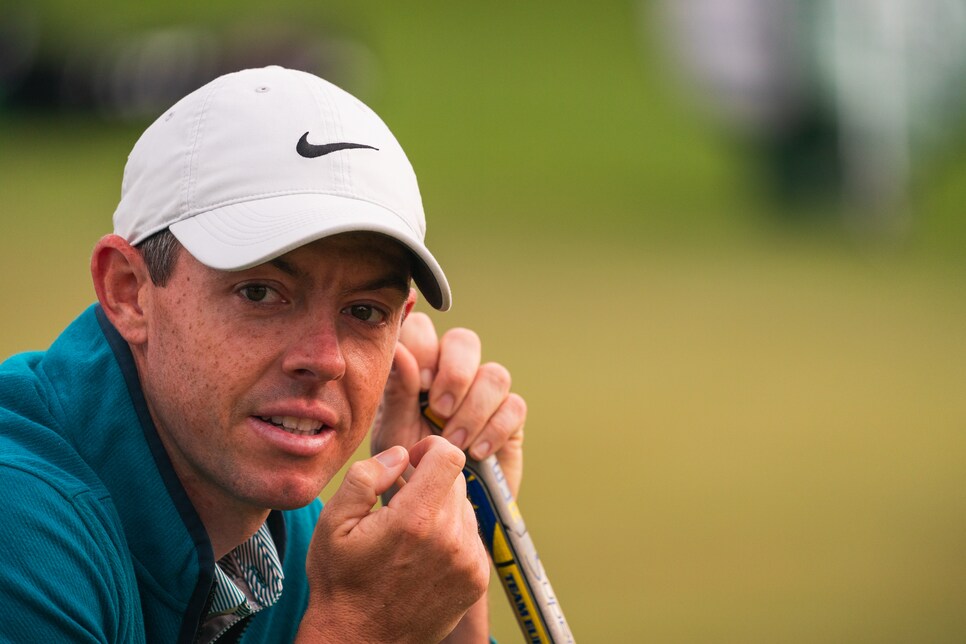 Biggest victim of friendly fire
Rory McIlroy wasn't trying to take a shot. He was just telling the truth. But sometimes the truth can hurt so much that it is dubbed a "truth bomb" and McIlroy dropped one of those bad boys on poor Padraig Harrington.
McIlroy and Harrington played a practice round with Shane Lowry and Seamus Power on Monday, and Rory was asked how that grouping came to pass. Take it away, Rors.
"Shane and I spend a lot of time together down in Jupiter now that he and his family have moved down there. So, we organized that game last week," McIlroy said. "Then he texted me and said Seamus is going to join us, and that was great, and then Padraig as well. I actually didn't know Padraig was in the field, which is bad (Laughter). But I guess he played pretty well in the PGA last year."
This might qualify as elder abuse. For the record, Harrington did play pretty well at Kiawah last year, finishing T-4 as a 49-year-old to earn a Masters invite.
Biggest sign that JT is Tiger's spiritual little brother
Jon Rahm is low-key one of the better interviewees in golf. He's thoughtful, he avoids platitudes, he's not afraid to counter a line of questioning, yet does so without being combative. He's also funny, evidenced when someone asked Rahm if he's ever received short-game advice from Tiger.
"I've asked him before. I remember asking him at East Lake the year he won, before on the putting green in the practice round, 'Hey, man, any tips for Bermuda?' Or this and that. He turned around and said, 'It's all about feel,' and just kept going. I was like, 'Cool, thank you,'" Rahm said with a laugh. "Yeah, I asked him at Albany once about chipping into the grain. You just got to be shallow. Okay.

"Meanwhile I turn around and [Justin Thomas] is there with him, and he's getting a whole dissertation on what to do."

Damn, that's cold. Then again, Tiger is notorious for playing things close to the vest and apparently that includes instruction. That Thomas gets an exception proves he is a made man. Which leads us to our final takeaway …
Oh right, Tiger. You can read about the latest on his return here, but we'd like to point out the following from Woods' press conference. Specifically, his reaction to the masses that followed his every move around the property on Monday afternoon.
TIGER WOODS: As I said earlier, the last time I'd had patrons out here was on that Sunday when I won, and it felt a little bit like that. Not quite as frenzied as that was. That was a little bit different. That was on a Sunday of a championship Sunday. But yesterday was incredible. Everyone loves Freddie. That's why they all came out (Laughter).
It's funny because those patrons weren't there to see Fred Couples at all! Forget training sessions or practice rounds or swing speed; that Tiger is cracking cheesy jokes again is the surest sign he is back.
More Masters 2022 stories from Golf Digest