News
Tiger-Phil match 2020 odds: Does Phil Mickelson's motivation outweigh Tiger Woods' home-course advantage?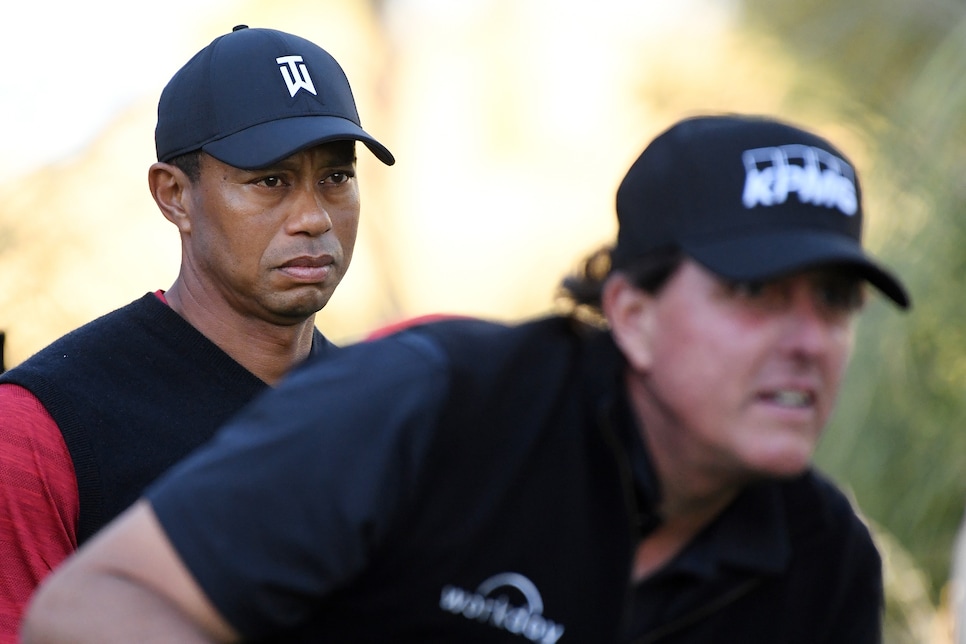 (Photo by Harry How/Getty Images for The Match)
Another week, another star-studded match at an exclusive Florida club. For anyone who has been betting on ping pong, the Outlaw Tour and various other ESPN8 "The Ocho"-style "sports" for two months, what's better than live golf back again? "The Match: Champions for Charity," which pits Tiger Woods and Peyton Manning against Phil Mickelson and Tom Brady, is set to begin on Sunday on TNT at 3 p.m. (eastern) from Medalist Golf Club, where Tiger is a member.
According to a few sportsbooks, last Sunday's TaylorMade event was "similar to a major" in terms of betting. Interest-wise, this weekend's Tiger vs. Phil match could be on par with a major given the golf star power, alongside two of the greatest quarterbacks in NFL history. The format is match play, with a Best Ball format on the front nine and a Modified Alternate Shot format on the back. Brady and Manning will each receive three strokes on the front (one on a par 3, par 4 and par 5). And the back nine will see each team select the best drive and play alternate shot in from there. It's certainly a difficult format to handicap, but we're not ones to back down from a challenge.
Currently at FanDuel Sportsbook, 66 percent of the handle, and 64 percent of bets, are in favor of Phil Mickelson and Tom Brady (+160). That means bettors are leaning with the value of the underdogs, like we saw in the Rickie Fowler/Matthew Wolff duo, which led last weekend before the closest-to-the-pin finale. But as of Sunday, the book reported they received a $6,300 bet on the Tiger/Peyton side (-178). Read on to see who our experts like to win at Medalist.
Odds courtesy of DraftKings sportsbook:
Tour caddie: Tiger Woods/Peyton Manning (-186) – The edge has to go to Manning over Brady. From the swings I've seen them each take, Manning is more accurate off the tee, and Medalist isn't exactly a course you can spray it around and make birdies. Also, Manning is retired, and Brady's going through offseason camp right now. The three strokes each quarterback will get on the front also favors Manning, since his Handicap Index is almost 2 points lower. Tiger's Back to Medalist, Tiger has hundreds of rounds of experience. And Phil isn't exactly leading in fairways found, so I can see a lot of scrambling from their side around that course. Can Phil's motivation overcome Tiger's home-course advantage? That's the question you need to answer to handicap this.
Brandon Gdula, FanDuel: Tiger Woods/Peyton Manning (-186) - I don't love backing a favorite, but I think everything points to a win for this duo. The course familiarity edge goes to Woods over Phil, and the golf ability (and overall schedule) edge goes to Manning over Brady.
With a best-ball format for the front nine, this is effectively Tiger vs. Phil for the first nine (or Tiger and Manning vs. Phil). Tiger, over his past 50 rounds, has been 2.1 strokes per round better than Mickelson, via FantasyNational.com. Nine holes isn't enough of a sample to rely solely on the stats, but the ball-striking edge is Woods'. That matters. Manning (reportedly a 3.5 to 6.4 handicap) should help more than Brady (reportedly an 8.1) on the back-nine, which is a modified alternate shot format. With Brady still transitioning to a new NFL team, we can probably widen that gap a bit between their expected skill level. I think going with the favorite is the right call here from just about every angle.
Stephen Hennessey, Golf Digest dep. managing editor: Tiger Woods/Peyton Manning (-186) – It's a simple handicap, but given the amount of reps Tiger has at Medalist, I'm going with his side in an event that will come down to consistency and putts-made. Peyton should have the edge over Brady in terms of consistency, and Tiger knows these greens way better than Phil. This number is steep, so I'll probably wait and hope that Phil/Brady get out to an early lead, then pounce on a line around -120 or -130 if it's available.
Christopher Powers, assistant editor: Phil Mickelson and Tom Brady (+160) – Much like last week, these two teams are much more even than the odds say. Given the format, the fact two amateurs are involved and the fact Tiger and Phil haven't teed it up for real in months, this event is basically a tossup. That somewhat similar logic almost cashed a nice +145 Wolff/Fowler ticket last week, but we got completely screwed by the progressive skins format and the "playoff hole," if you could call it that. I'm not salty. But I can definitely see why Manning/Woods are heavily favored. Based off everything you read, Manning has the slight edge over Brady on the golf course, and he should be in much better golf shape, as he's been retired for the last five years while Brady continues the NFL grind. Then there is the home-course advantage factor for Woods, who is a member at Medalist. All signs are pointing to Woods/Manning, but I'm rolling with the juicy dog again. Mickelson is highly motivated to beat his longtime rival, and he only needs his A game for 18 holes. As for Brady, he needs no help getting fired up. Another chance to beat Peyton, an area he has plenty of experience in, is all the motivation he needs.

RELATED: 9 things we learned from diving deep into Tom Brady's and Peyton Manning's handicaps
Tour caddie: Here's my advice for guiding your prop bets: I don't think the match will go to extra holes, but I do believe Tiger's team will win three holes in a row, if you can find that bet. And they'll also be the team to go "1 up" first, and "2 up," so look for those bets as well. I think Phil will make the most birdies on the front, and Tiger's team will make the most birdies as a team.
Gdula: Mickelson/Brady to Lead after 3 Holes (+160, FanDuel) - If we're playing the angle that Woods and Manning are the better golfers and should emerge over 18 holes, then we should seek opportunities that increase variance for Phil/Brady. The fewer he holes, the better.
They'll start the first three holes on the 15th-, 1st-, and 7th-toughest holes on the course. The 465-yard par 4 2nd has a split fairway that won't let Phil launch it, but the 553-yard par 5 3rd will. You're basically playing for an even first two holes and for Phil to best Tiger on a lengthy par 5.
Hennessey: Phil/Brady to win the front nine; Tiger/Peyton to win the match (+550, William Hill) – I'm getting a little cute, but I also can see the match transpiring this way. Phil can make some birdies in foursomes. But Brady might put him in some tough spots on the back, so that edge will go to Tiger/Peyton. If you can find a bet for only the back nine, I'd absolutely take Tiger/Peyton there. But for fun, I'll put a half unit on this at a juicy number.
Powers: Tiger Woods/Peyton Manning to lead after 3 holes (+125, DraftKings) -- I like this bet because it's a great way to get the juices flowing early, and it won't interfere with my Mickelson/Brady overall bet. Plus, I think the front nine's Best Ball format favors the steadier team (Woods and Manning), while the back nine's Modified Alternate Shot format favors chaos, which Phil thrives in. I think Woods/Manning will get off to a hot start and Mickelson/Brady will get back into the match late. Keep in mind, this bet includes a "tie" option at +225, so Woods/Manning have to be at least 1 up after three holes for this to cash.