News
Tiger/Phil match 2020 odds: Our 9 favorite props you should bet on for the Champions for Charity
Will Phil wear a visor or a regular hat? Can he bomb one by Tiger? These are some of our favorite prop bets for their Sunday match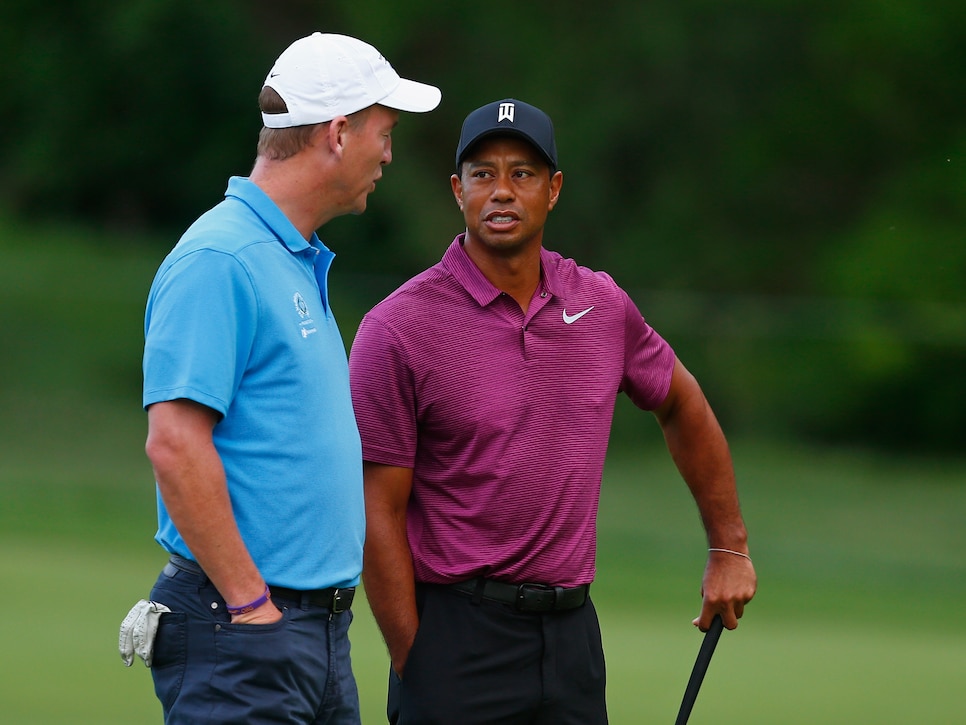 Back-to-back weeks of live golf—and this Sunday we have two of golf's greatest showmen, along with two of the NFL's all-time great quarterbacks? Yep, we're in. Tiger Woods and Phil Mickelson will try to iterate, as they say, on their first match last November, in this second edition of Tiger vs. Phil, this time with partners. Tiger and Peyton Manning will face Phil and Tom Brady at Medalist on Sunday at 3 p.m., with a fun format that features plenty of twists and turns. The focus will be on the charitable efforts, as they should be, but that doesn't mean bettors can't make a few nickels and dimes on the action. We'll have our expert picks to handicap the actual match, but in the meantime, here are some of our favorite props to keep your eye on.
Peyton Manning fairway in regulation on Hole 1 (NO, +100, DraftKings)
Peyton's swing was made to find fairways, and I know both he and Brady have experience playing golf in front of fans and on television. But this isn't a random shot on Thursday at the AT&T Pebble Beach Pro-Am, this is the opening tee shot of a match that millions of eyeballs will be on. That thought has to creep into both he and Brady's mind as they take their first few practice swings. I don't care how many fourth quarter, game-winning drives he's led in his lifetime: Hitting the first fairway while America is watching is a much different type of pressure. –Christopher Powers
Longest Tee Shot, third hole: Phil Mickelson (+105, DraftKings)
All of this "I hit bombs" talk isn't just Phil being outrageous. He actually does hit bombs. According to FantasyNational.com, over the last 50 rounds on tour, Mickelson ranks 42nd in Driving Distance, way ahead of Tiger, who ranks 140th. That's probably a bit misleading, as Tiger has been reliant on the fairway wood off the tee this season. But Tiger's a favorite (-134) in this prop, and I think the number should be close to even. With Phil gearing up to crush one, I like the chances of him hitting one past Tiger. –Stephen Hennessey
Longest Tee Shot, third hole: Tom Brady (+105, DraftKings)
I'm sticking with this team here. Word is that Tom Brady has the length advantage over Peyton Manning; TB12's just a little inconsistent. So we're betting on Brady's tee ball going straight. If it does, you're getting more than even money on him outdriving Peyton, which sounds like it's doable. --SH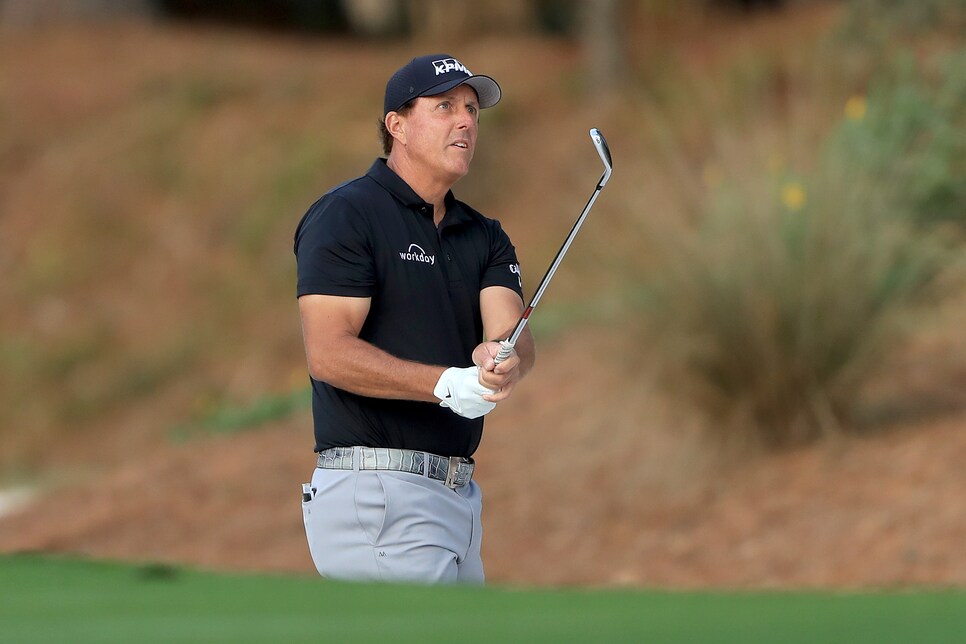 What style hat will Phil Mickelson wear? Baseball cap (-220, Betonline)
Looking at every tournament he's played in this year, Phil has worn a hat in every round. A visor could be an option (+170) if he made a special request to KPMG (his hat sponsor) for one. Our guess? Phil'll go with the reliable hat to cash this bet. --SH
Tiger Woods/Peyton Manning to lead after 9 holes (+110, FanDuel)
Of the many bets Woods and Manning are favored in, this one has the best value, in my opinion. Manning seems to be a slightly better golfer than Brady, and they are getting an equal amount of shots on the front nine in Four-Ball. If Manning can just make one or two contributions, preferably on the stroke holes, he and Tiger should be 1 up heading to 10 tee, at worst. --CP
Will Either Team Hole a Shot from Off the Green? Yes (+260, DraftKings)
This is a fun bet to keep you engaged for the entire match. My mind goes immediately to all the highlights of Phil and Tiger holing out crazy shots throughout the years. Not to mention, in the first iteration of their match at Shadow Creek a couple Novembers ago, Tiger holed a chip just off the famous 17th green. These guys have a flair for the dramatic, and they want to put on a show—so they'll be looking to hole any shot off the green. Plus, a ball just needs to be slightly in the fringe for this to count. --SH
Phil Mickelson/Tom Brady most par 5s won - Tie no bet (+120, DraftKings)
There are four par 5s at Medalist, and it may only take 1 win to cash this bet. In best ball, chances are the first two par 5s, both gettable, will be halved by Woods and Mickelson with birdies or routine pars. On the back nine, which features a 610-yard par 5 and the par-5 finishing 18th, anything can happen in alternate shot with a pair of amateurs. So I'll take the value with Brady and Mickelson and pray they can pick one or two off on the 5s. –CP
Total Number of Commercials Peyton Manning is In on Broadcast: Over 1 1/5 (+140, Betonline.ag)
Peyton is one of the GOATs of his generation in the commercial category, how does this not cash? --SH
Match to end on the 18th hole or in playoff (+130, FanDuel)
This is another silly one that's foolish to try and "handicap." But here's what I'll say there's been three "made-for-TV" events over the last 18 months: Tiger vs. Phil, MGM Resorts "The Challenge" and TaylorMade Driving Relief. Two of those have gone to a playoff, and one ended on the 18th hole. They are "made-for-TV" for a reason, if you catch my drift. –Christopher Powers
You are using an unsupported version of Internet Explorer. Please upgrade to Internet Explorer 11 or use a different web browser.