LIV Golf
Thomas Pieters got the call to join LIV Golf only last week and jumped at the opportunity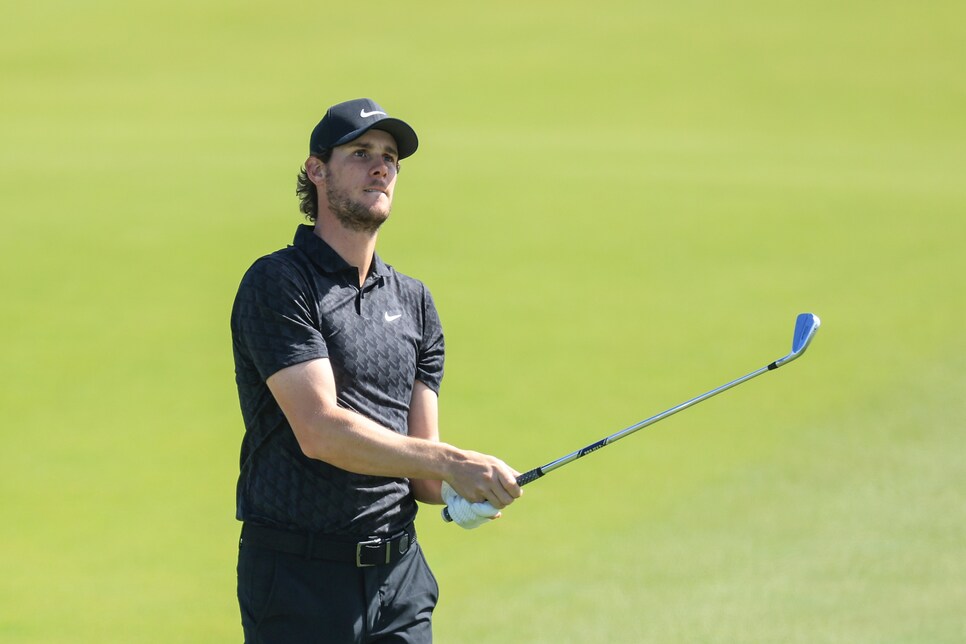 Thomas Pieters was able to join LIV Golf because of Hudson Swafford is out after hip surgerry.
David Cannon
MAYAKOBA, Mexico — DP World Tour star Thomas Pieters revealed on Wednesday that he wanted to join LIV Golf since its debut last summer and that he'll accept whatever repercussions the move has on his European Ryder Cup hopes.
The Belgian native and World No. 35 was announced as one of the latest signees for LIV earlier this week, becoming the fourth member of Bubba Watson's Range Goats team along with Americans Talor Gooch and Harold Varner III. The Saudi-backed league kicks off its second season on Friday at the Mayakoba Resort in Mexico's Playa del Carmen area, competing on the El Camaleon course designed by LIV Golf CEO Greg Norman that formerly hosted a PGA Tour event in the fall series.
A six-time winner on the DP World Tour, Pieters said he aspired to play for LIV last summer, when the circuit began its eight-tournament inaugural series. The league launched with several major champions on board including Phil Mickelson, Dustin Johnson, Sergio Garcia, Charl Schwartzerl and Martin Kaymer. As the summer continued, LIV added Brooks Koepka, Bryson DeChambeau, Patrick Reed and reigning Open champion Cameron Smith.
But it was not until early LIV recruit and former PGA Tour player Hudson Swafford announced last week he would undergo surgery on his hip, which will sideline him four to six months, that a spot on one of LIV's lucrative rosters came up.
"Hudson got injured, and I had a call saying do you want the spot," Pieters said. "You don't wish ill on anyone, and I hope Hudson recovers soon. As a professional you have to take opportunities when they arise. It has been a whirlwind since then, really, sorting everything out and getting everything ready over the weekend."
Pieters said his move to LIV had nothing to do with a social-media post last week venting frustration at not being given a sponsor's invitation to the Genesis Invitational at Riviera Country Club in Los Angeles. He tweeted: "Sad to miss my favourite tournament of the year. Because well as #34 in world, I just couldn't get in."
"Honestly, I know how it must have looked, but it had nothing to do with it," Pieters said. "I was talking to my friends, and they were saying 'Hey, we can't wait to watch that pairing with Tiger [Woods] and Rory [McIlroy] and JT [Justin Thomas],' and I just became a bit angry that I wasn't playing as World No. 34. [The tweet] was just bad timing, I guess."
Pieters, 31, said the Ryder Cup and potentially not being able to compete made his decision difficult. He starred for the European team at Hazeltine National in 2016, his only appearance, with a rookie record of four points.
"It was difficult, for sure," said Pieters, whose last DP World victory came in the Abu Dhabi HSBC Classic in January 2022. "The Ryder Cup has always been an ambition and it was a dream to play in 2016. I've been trying to get back ever since. I enjoyed the Hero Cup, but accept the consequences of this choice, whatever they turn out to be."
He said he has spoken with Europe captain Luke Donald about his LIV move and holds out hope of being able to play in this year's Ryder Cup in Rome. The possibility of doing so hinges on the outcome of a arbitration hearing that took place earlier this month in London between the DP World Tour and LIV. Last year, Sports Resolutions U.K. put a temporary pause on bans and fines given out by the DP World Tour to members who had played on LIV. That decision allowed Ian Poulter, Lee Westwood, Patrick Reed and others to continue playing on the Old World circuit. The DP World Tour also runs the European side of the Ryder Cup.
Pieters hopes the decision, which is due within weeks, as to whether bans can be implemented or not goes the way of LIV golfers and that he can then play well enough to warrant one of Donald's six captain's picks in September.
"Yeah, we [he and Donald] exchanged texts. He's in a difficult decision, isn't he?" Pieters said. "I haven't given up on playing in it again, including this year even. We will have to see the result of the hearing. I could still qualify. I'm in all the majors this year … well, I hope the U.S. Open. Maybe I can play so well it'll make it very difficult not to pick me. I don't know. We will have to see, and like said, I accept whatever comes."
Pieters has never wanted to play on the PGA Tour fulltime, given it wouldn't be possible to be a member while living in Europe. He said LIV's 14-event schedule of $25 million events ($5 million of which is a team component) this year was appealing for him and his family.
"Of course, with the two young children it is all attractive," he said. "I've struggled playing 26 events a year, to be honest. As a father it suits me to have a lighter schedule.
"I have never wanted to play full-time on the PGA Tour because I don't think you can do that and live where I want. With LIV, it is [nine] weeks in America, sure, but with 14 [five overseas] in total, that is preferable for me and my game."