King of the Hill?
This week's dizzying World No. 1 scenarios involving Rory McIlroy, Jon Rahm, and Scottie Scheffler are at least simpler in one regard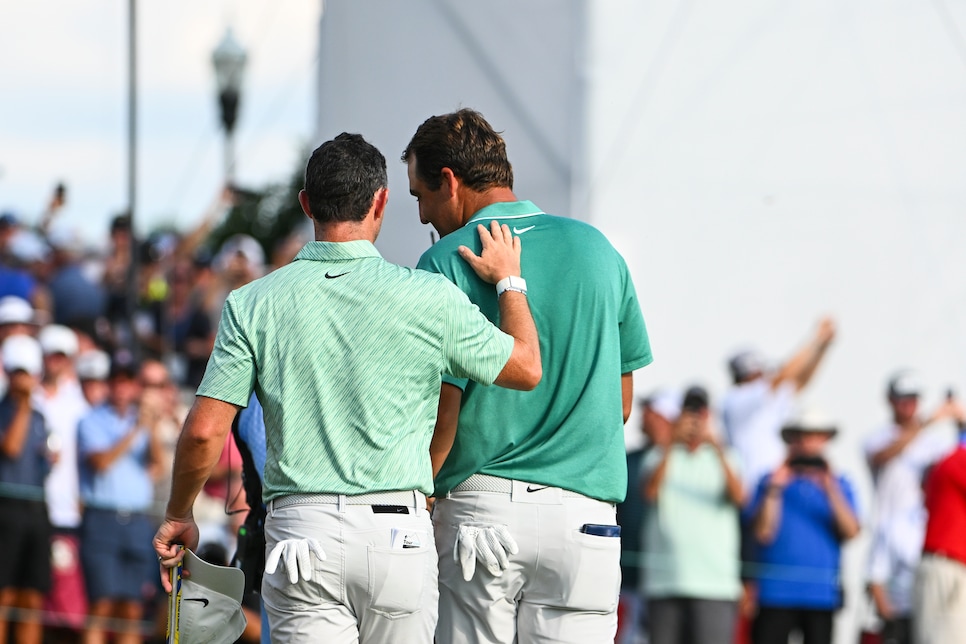 As we've seen a few times already in 2023, the top spot in the Official World Golf Ranking is very much up for grabs this week at the Waste Management Phoenix Open. The difference? Those vying for it will actually compete against each other on the same course.
Thanks to an (extra) loaded field at TPC Scottsdale with this being a PGA Tour designated event, Rory McIlroy, Scottie Scheffler and Jon Rahm are all teeing it up at the WMPO. And all three have a chance to be World No. 1 by week's end.
As always, our friend and OWGR guru Nosferatu on Twitter provided the entire breakdown of possible scenarios. And they are a lot less complicated because they're in the same field:
OK, not really. But at least it will be more of an apples-to-apples comparison. As you can see, not only do each of them have a chance at the top spot, none of them necessarily need a win to get there. And obviously, current World No. 1 Rory McIlroy, needs to do the least to keep his status.
Both McIlroy and Rahm have both been on complete tears in recent months, but Scheffler remains second after an incredible 2022 campaign that saw him win four times including his first major at Augusta National. McIlroy is currently No. 1 with 8.7609 average points, followed by Scheffler at 8.0529 and Rahm at 7.9136.
According to DraftKings, McIlroy and Rahm are co-favorites at 8-to-1 odds. Scheffler, the defending champ at this event, is third at 12-to-1 odds.
Rahm has already won twice on the PGA Tour in 2023, while McIlroy won his 2023 debut last week in Dubai on the DP World Tour. Scheffler won his first career PGA Tour title a year ago at TPC Scottsdale.