Stats
Rory McIlroy has been on just as much of a heater as Jon Rahm, according to this crazy stat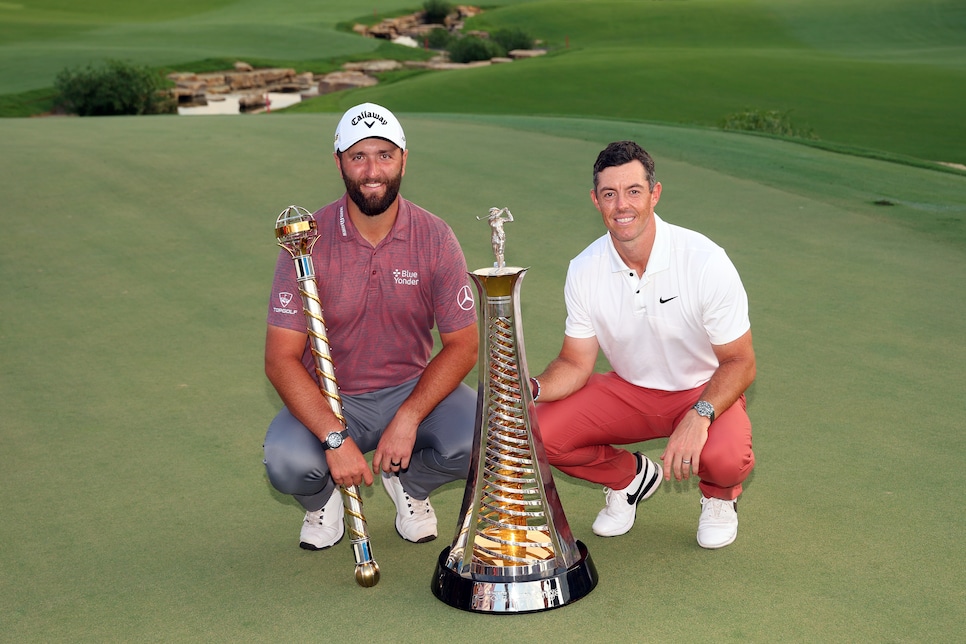 Jon Rahm's recent rampage has been one of the big storylines early in 2023—especially because it didn't result in him moving back on top of the Official World Golf Ranking. It's something that golf fans and Rahm himself haven't seemed too pleased about. (Just ask him!) But had the Spaniard overaken Rory McIlroy, it's McIlroy who would have had good reason to complain as well.
While Rahm won his first two PGA Tour starts of the new year, McIlroy took time off. But his 2023 debut in Dubai ended with a win on Monday—and reminded everyone of just what a heater he's been on as well.
Have a look at this stat courtesy of Twenty First Group's Justin Ray, which shows nearly identical performances from the two Ryder Cup teammates over their past eight worldwide events:
Wow. That's a crazy-good stretch of golf by both. But add in McIlroy's major performances last year (top eight in all four, including three top fives) compared to Rahm's (no top 10s) and you see why Rory remains World No. 1. At least, for now.
Rahm had a chance to take the top spot this past week, but was unable to win a third consecutive start at the Farmers Insurance Open on Saturday. Two days later, McIlroy distanced himself a bit with his latest DP World Tour title. Oh, by the way, reigning Masters champ Scottie Scheffler sits in between the two at No. 2.
In other words, this is about as close of a battle for the top spot as we can recall since the inception of the Official World Golf Ranking in 1986. But here's another way to look at Rory's recent run:
Yeah . . . Tough to argue with that.