Courses
How Our Green Star Winner Tamed The Floods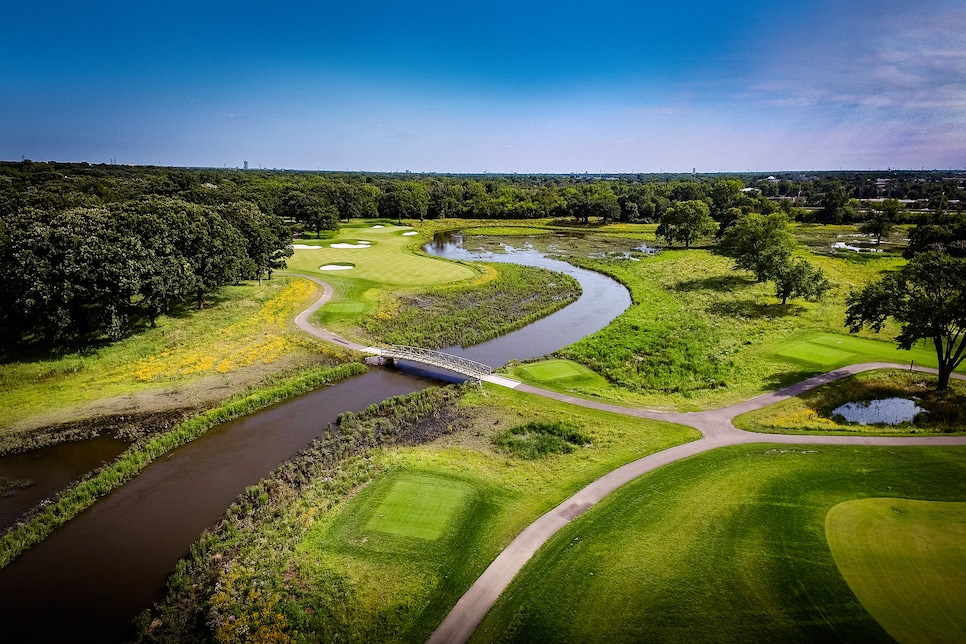 Photo: Courtesy of the Preserve at Oak Meadows
The Preserve at Oak Meadows, a daily-fee in Addison, Ill., north of Chicago, may be the most important new golf course to open in 2017. Its harnessing of a notorious creek that had periodically destroyed property upstream and down demonstrates that a golf course can serve not just golfers but also a greater community. The creative manner in which it addresses floods and storm-water makes it the winner of our Green Star environmental award for 2017.
The aptly-named Preserve began life in the mid-1920s as private Elmhurst Country Club, purchased by the DuPage County Forest Preserve District in 1985, renamed Oak Meadows Golf Club and opened to the public. Heavily treed, lightly bunkered, it was a busy municipal course except for occasions when Salt Creek, which ran through the center of the layout, would overflow. In 1994, a flood control plan was implemented, building berms on each side of the creek to keep flood waters off fairways. But floods would breach the berms, spill onto holes and, because the water couldn't recede back into Salt Creek, acres of turf would sit under water for days and die. One year, the course flooded four times. But the tipping point came in 2009, when a lightning strike caused a fire that consumed its popular 40,000 square-foot clubhouse.
Forest Preserve officials then met to decide if there was any point even having a golf course on such a flood-prone locale. Chicago-based golf architect Greg Martin was consulted. He talked with storm-water experts and hydrologists. They told him the solution was allow Salt Creek "to breathe" as it passed through the property during flood stages. That would require extra room for overflow. Martin toyed with the idea of reducing the layout to nine holes or an 18-hole precision layout before proposing that a totally new 18 holes be created on higher ground, utilizing in part the adjacent East 9 of Maple Meadows Golf Club, another Forest Preserve operation next door, which also suffered periodic Salt Creek damage.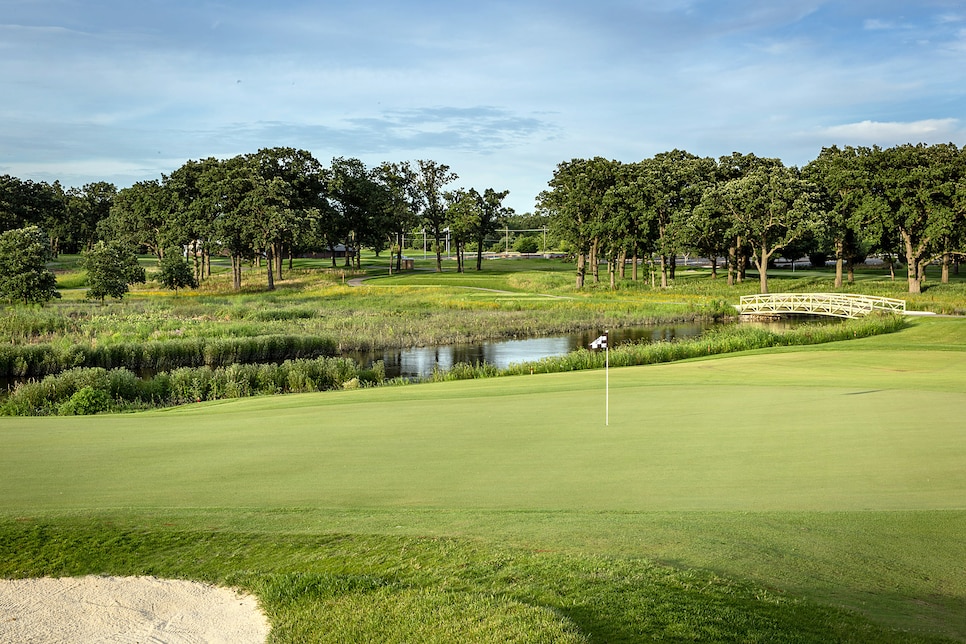 After three years of planning and permitting that involved 19 different groups, including local and state agencies, the U.S. Army Corps of Engineers and even the local chapter of the Sierra Club, construction started on the $17 million project in July, 2015. First order of business was reconfiguring Salt Creek. It was diverted into a narrow channel while the main stream bed was reshaped into twists and turns to slow water down, with an irregular bottom to aid in sediment disbursement and water filtration. Adjacent to the creek, 35 acres of wetlands were created to accept overflow if water levels rose that high. Beyond that, 40 acres of prairie ground were established. To make room, many golf holes along the creek were abandoned and cut down 1,500 mature trees, most of them low-quality. "We're a forest preserve," said one concerned district official. "If we take out 1,500 trees, what's left?"
In truth, plenty of trees remained, and today The Preserve starts and finishes with holes in dense forest of oaks and hickory. Most of the downed trees were not hauled away, but instead, their root balls were upended and placed at purposeful spots along the mile-and-one-half stretch of new creek, to buttress outside turns of creek meanders, prevent bank erosion and provide new wildlife habitat. With new overflow pools, it's estimated the 288-acre section of land can now accept 20 million additional gallons of storm-water than it did before, enough to deal with a 100-year storm event.
Several holes on Martin's new design still edge Salt Creek, notably the par-5 ninth, par-3 10th and par-4 16th. Several others run beside the seasonal wetlands and a third are edged by prairie, its native vegetation now home to many small animals and bird species.
Before the course officially opened last summer, Martin gave a tour the day after torrential rains had closed many area courses. The Preserve was high and dry, very playable, while Salt Creek, fully out of its banks, as ill-defined as a delta, explored every pool and run available on the site, flowing like the Platte River in Nebraska, lazily, with swirls and eddies, over marsh reeds and between lowland trees, but never threatening a single hole. By the time it exited the property, it was a manageable stream once again. Homes downstream were none the wiser.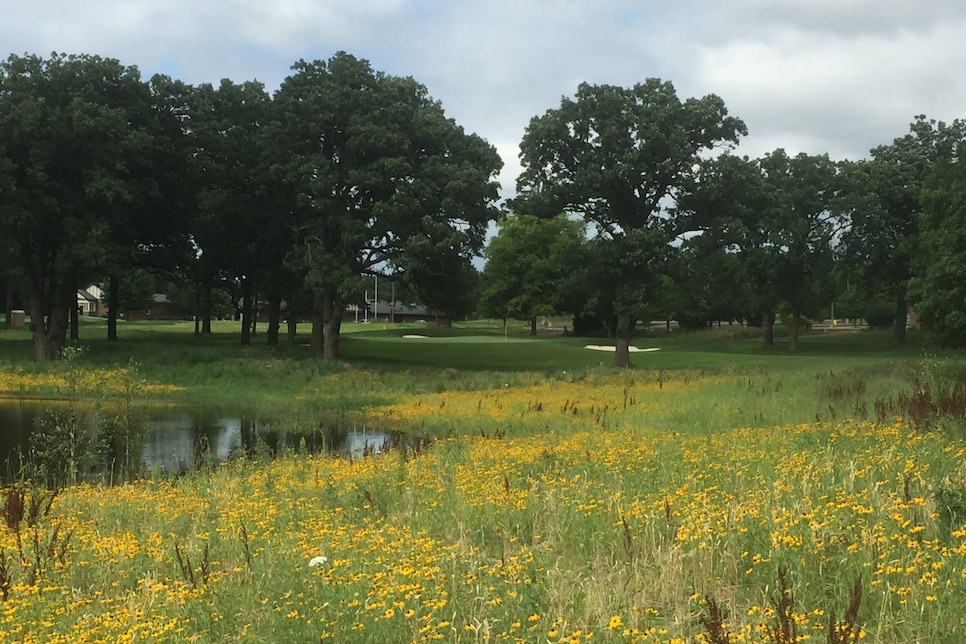 PREVIOUS GREEN STAR ENVIRONMENTAL AWARD WINNERS
2009
• Omni Barton Creek Resort & Spa, Austin
• Kiawah Island (S.C.) Golf Resort
• Pebble Beach (Calif.) Resorts • Sunriver Resort Sunriver, Ore.
2010
• Madden's On Gull Lake, Brainerd, Minn.
2011
• Barona Resort & Casino,Lakeside, Calif.
2012
• Bandon Dunes Golf Resort, Bandon, Ore.
2013
• Bear Trace At Harrison Bay, Harrison, Tenn.
2014
• Pinehurst (N.C.) Resort (No. 2 Cse.) • Pasatiempo G.C., Santa Cruz, Calif.
2015
• Northport Creek G. Cse., Northport, Mich.
2016
• Rio Olympic G. Cse., Rio de Janeiro, Brazil