Golf Digest's Green Star Award
This might be the role model for every golf facility that thinks it can't afford to go green.
Madden's on Gull Lake in Brainerd, Minn., is Golf Digest's lone recipient of our Green Star environmental award for 2010. Our panel of judges, which includes representatives from many facets of the golf industry and leading environmental organizations, believes that only Madden's meets the standards set by our four initial recipients from 2009: Barton Creek Resort & Spa in Texas, Kiawah Island (S.C.) Resort, Pebble Beach Resorts and Sunriver (Ore.) Resort. Those standards are extremely high, as they should be. A Green Star is meant to signify environmental achievement in every phase of a golf resort's operation.
Madden's is a charming, intimate, third-generation mom-and-pop facility positioned mostly on a peninsula in Gull Lake, with a mile of shoreline. It has four golf courses within its 1,000 acres, offering something for every skill level. The Classic at Madden's ranks 40th on Golf Digest's list of America's 100 Greatest Public Courses. Pine Beach East, the resort's oldest, is a regulation 18, and Pine Beach West is an 18-hole par 67. There's also a par-28 Social 9. Madden's has 287 guest rooms in an inn, lakeside lodges, villas and overnight cabins. It's configured like a small village, complete with a row of storefronts that includes a general store and boutique shops.
But it is not Pebble Beach, with a $67 million reverse-osmosis water-treatment facility, or Kiawah Island, with an extensive underground drainage-recapture system. Madden's is a far more austere operation but equally dedicated to preserving and enhancing the ecology of its locale.
Madden's is Karen Enberg, daily collecting all trash for recycling, depositing it in her little red wagon that she tows around the property using an ancient red Farmall, a recycled tractor. It's course superintendent Scott Hoffmann, directing workers to hand pick weeds to avoid spraying synthetic chemical herbicides. It's co-owner C. Brian Thuringer, who once pitched in and shoveled leftover food into a pigpen to avoid wasting the stuff. (An experience, he says with a smile, best done not in street shoes.)
Thuringer owns the resort with his wife, Deb, whose great-uncle started the business in the late 1920s. It was Thuringer's idea in 2008 to embrace a hospitality-industry trend and establish a company-wide stewardship program. He organized a Green Committee to review and recommend changes to minimize the resort's impact on the environment. To his surprise, the committee found many sustainable practices were already in place, previously implemented as cost-cutting measures.
The resort already had a linen and towel re-use program in all guest rooms. The outdoor bars and dining areas were already using glassware and china instead of disposable cups and dishes. ("I've always felt that glass equals class," Thuringer says.) Hoffmann was already composting leaves and grass clippings for use as mulch and soil for the fenced-off chef's herb garden.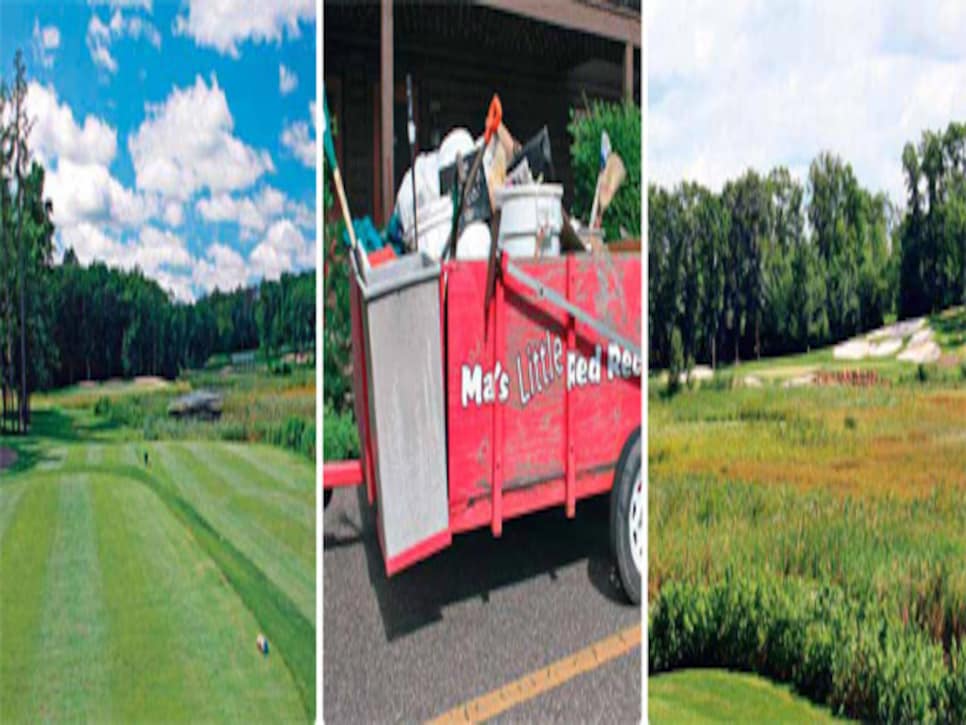 "Most of what we were doing made sense as well as cents," Thuringer says. "We just expanded from there, concentrating on what we could do manually. We weren't prepared to invest in a lot of technical equipment."
The resort added recycling bags to each lodging room, switched to recyclable bottles of complimentary shampoo and mouthwash, and installed towels made of recycled paper in restrooms. At the snack bar, polystyrene-foam food containers were replaced by ones made from biodegradable cornstarch.
Old mattresses were donated to a local charity. Old doors were re-purposed as desktops and benches elsewhere at the resort. Used fryer oil collected from the resort's seven food-service locations was turned over to a renewable-energy firm for use in biodiesel fuel. Staff members were directed to turn off lights in unoccupied rooms. (Thuringer's mantra, "When not in use, cut the juice," resulted in a savings of $32,000 the first year.)
It wasn't all low-tech. An ozone system was installed in the laundry facility, injecting ozone into the wash water in place of phosphates and chlorine. Ozone needs only cold water, so two of the facility's three hot, steamy boilers were shut down, greatly improving working conditions within the laundry, which handles 40 loads each 12-hour day. Laundry drying times were also reduced, and the discharge water became much cleaner. The savings in natural-gas consumption, Thuringer says, paid for the $15,000 system in one year.
The most radical changes have occurred on the golf courses, particularly the resort's showcase Classic course. After consulting a California management firm, Hoffmann decided to go old-school in his maintenance program and dramatically reduced chemical inputs. Complicating the change is the fact that Hoffmann faces different turf conditions on each of the courses.
Madden's Pine Beach East is primarily Poa annua (annual bluegrass), a perfectly good golf turf in cool climates, except that it quickly dies if the weather turns hot and humid. Hoffmann manages the Poa fairways but has been eradicating Poa on the greens, admittedly with a chemical growth regulator that slows Poa but not bent grass. The East greens are now 70 percent bent.
Pine Beach West, built in the 1950s, has Kentucky bluegrass fairways infested with Poa, which Hoffmann fights in a most unorthodox fashion. Dollar spot (a fungus) takes out Poa, so he doesn't spray a fungicide on the fairways. The Poa dies, and he reseeds with bluegrass.
The Classic course, which Hoffmann designed and built in the mid-1990s with the assistance of some friends, including golf architect Geoffrey Cornish, has bent-grass tees, fairways and greens. Its popularity demands that it remain in top shape throughout the season, mid-April to late October. But the new regimen involved cutting back on irrigation and nutrients to strengthen the bent. It was a leap of faith. "We were way out there on the edge," Hoffmann says. "It was nerve-racking for a time."
He now feeds The Classic just half a pound of nitrogen a year. "It's not a starvation program," he says, "it's a minimal-nitrogen program."
Hoffmann also holds back on irrigation, watering fairways only once every three or four days, and usually waters greens every fifth day. Less water means less growth, so he mows fairways only on Mondays and Thursdays, picking up the clippings to capture any stray Poa seeds. He mows the putting surfaces only as needed, some days rolling them instead.
Less growth means less thatch, so Hoffmann has not had to aerify and pull cores from his fairways or greens in two years. Less thatch means less need for pesticides. Hoffmann has slashed his pesticide budget by $35,000. Less mowing means less labor. Man-hours on The Classic have dropped from 22,000 to 15,000.
Yet despite that radical approach, which, Hoffmann says, is basically the sort of maintenance program that most courses had to follow in the days before automatic irrigation and power mowers, The Classic looks and plays like every other resort course in the area.
"American golfers love the courses in Scotland, but they don't want a half-brown course here at home," Hoffmann says. "So we apply iron sulfate to keep the turfgrass green. We've received a positive reaction from our customers. We've gotten firmer on fairways and quicker on the greens."
Madden's is ready to implement more sustainability programs. Thuringer is considering alternative energy sources, even exploring wind power to generate electricity. The resort is also pressing vendors to show more interest. "If a supplier is providing its product wrapped in plastic," Thuringer says, "we tell them they're headed in the wrong direction. If they want our business, they need to change."
Madden's cost-based approach to environmental compatibility is a method easily implemented by any golf operation. It's a modest mom-and-pop golf resort that raised its awareness, reduced its impact on the environment, improved its bottom line and earned a coveted Green Star in the process.