Courses
Learning to Do Without Water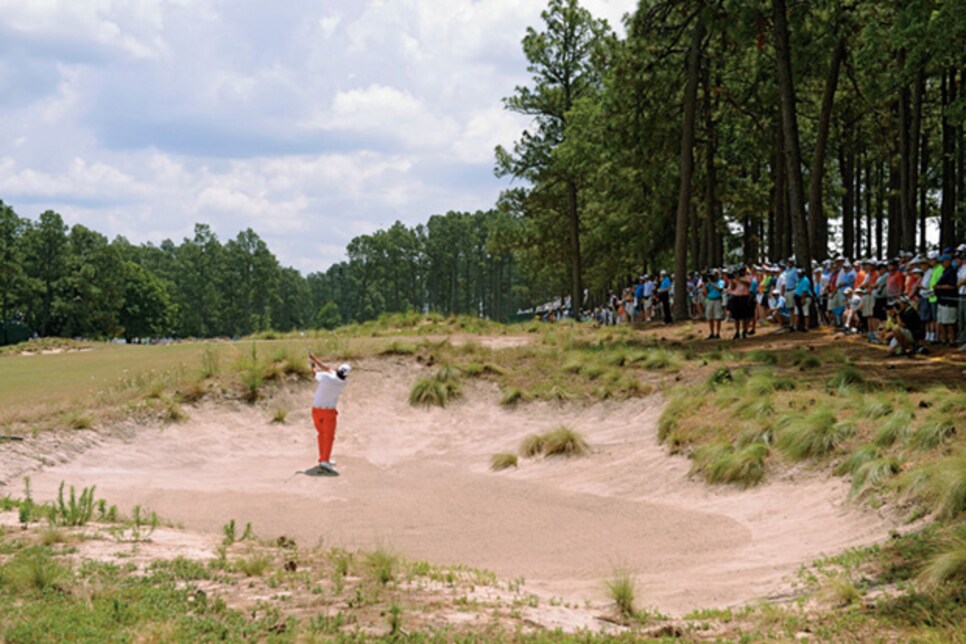 Pinehurst No. 2 put its natural look on display at the U.S. Open.
The new reality for American golf is that water is far too precious to be squandered on golf courses. As communities around the country cope with extended droughts, the notion of courses sporting lush, wall-to-wall green grass is no longer feasible, very likely socially unacceptable and in some ways downright criminal. Indeed, even the idea of fully irrigated fairways may soon become a thing of the past. There's a distinct possibility that golf in the future will routinely be played on minimally-irrigated fairways. Brown is the New Green is more than a marketing slogan. It's becoming a mindset.
This new reality has compelled Golf Digest to present 2014 Green Star Awards for Outstanding Environmental Practices to Pinehurst No. 2 and Pasatiempo Golf Club, two iconic American courses that have implemented water reduction programs in startling and instructive ways. Pinehurst No. 2 has been retrofit so that its conditions resemble those of 1935, when the redesigned course reopened and quickly became the ultimate masterpiece of course architect Donald Ross. Its reduced water bill is a beneficial byproduct of that effort. In contrast, Pasatiempo was forced by governmental regulation to cut its watering in half, so it adopted a drought contingency program that makes hard choices without sacrificing playability.
was host to both the U.S. Open and U.S. Women's Open on back-to-back weeks this past June. Some of most compelling golf course images of the year were those taken from a blimp during telecasts of those events. What viewers saw was a course graphically defined by twisting, turning fairways framed by vast stretches of exposed sand instead of deep rough. What made the views especially dramatic were the colors of the bermudagrass fairways. They weren't lush green. They weren't uniformly green. Indeed, they were hardly green. They were tawny, yellow, in places even brown.
A narrow ribbon of yellow-greenish grass ran down the water line of each fairway; on some holes even that turf consisted merely of circles of green, each splotch marking the far reach of an irrigation head. Except for the putting surfaces, Pinehurst No. 2 looked arid.
It was as dry as any U.S. Open course has ever looked, at least in the Technicolor television era, in keeping with the U.S. Golf Association's new crusade of "Maintenance Up the Middle," which promotes the virtues of water reduction and sustainability. Yet its conditions were still suitable for hosting the national championships of men's and women's golf.
In the effort to restore Pinehurst No. 2 to its 1935 underpinnings, consulting architects Bill Coore and Ben Crenshaw recommended removing all bermudagrass rough, which had first been planted back in the 1970s, and reestablishing the sandscapes that existed in Ross's day. Besides stripping out 40 acres of rough, workers also removed all the sprinkler heads that had irrigated all that rough. Pinehurst No. 2 went from 1,100 irrigation heads to just 450 heads, half of them around tees and greens, the remainder in fairways.
"Coore and Crenshaw were intent on restoring the strategy of the course as it was in its early days," says Bob Farren, director of golf course and grounds management at Pinehurst Resort.
"Back then, when a ball left the fairway, it didn't it end up in deep rough; the ball kept rolling across hard sand. That was the uniqueness of the course."
The restoration turned back the clock by installing an older-style irrigation system in the fairways.
"We pulled a new irrigation line down center of each fairway and put center row heads on that, understanding that we weren't going to have 100 per cent irrigation coverage," Farren says.
"That's what Coore and Crenshaw desired. They wanted the turf to just to fade away at the edges of the fairway, so the center of each fairway has much better turf than what you'd find on the edges. It's not high tech at all."
In 2009, 55 million gallons of water were poured onto Pinehurst No. 2. This year, Farren estimates they'll use only 15 million gallons on the course.
Although some suspected that Pinehurst No. 2 was intentionally dried out prior to the Opens to make a statement, Farren insists that head superintendent Kevin Robinson did not manipulate the irrigation in any way. A month after the Women's U.S. Open concluded, visitors to Pinehurst No. 2 saw a much different picture. While the course was closed to allow its famed greens to be regrassed with an ultradwarf bermuda, its fairways were green again, almost from edge to edge, a healthy green, the kind resort golfers expect. They were green not because the manager had fired up the irrigation once the U.S.G.A. left town. They were green because it had rained.
That's the new policy at Pinehurst No. 2. Let nature dictate the course conditions.
But nature can be cruel, as evidenced by what has occurred at Pasatiempo Golf Club in Santa Cruz, California. In October, 2013, members of the Alister MacKenzie Society, which honors the legendary golf architect who died in 1934, met for their annual meeting at Pasatiempo, MacKenzie's favorite design and the course on which he had his home. (The course is ranked 24th on Golf Digest's 100 Greatest Public list.
) Participants found the course resplendent, its roller-coaster greens recently reclaimed, its splashy bunkers recently restored. Its Poa annua fairways were dry but playable. What was noticeable were the far roughs, where irrigation had been turned off. They were yellow and tan, grass turned crispy by the California sunshine. Santa Cruz was feeling the effects of a drought. Pasatiempo was doing its part.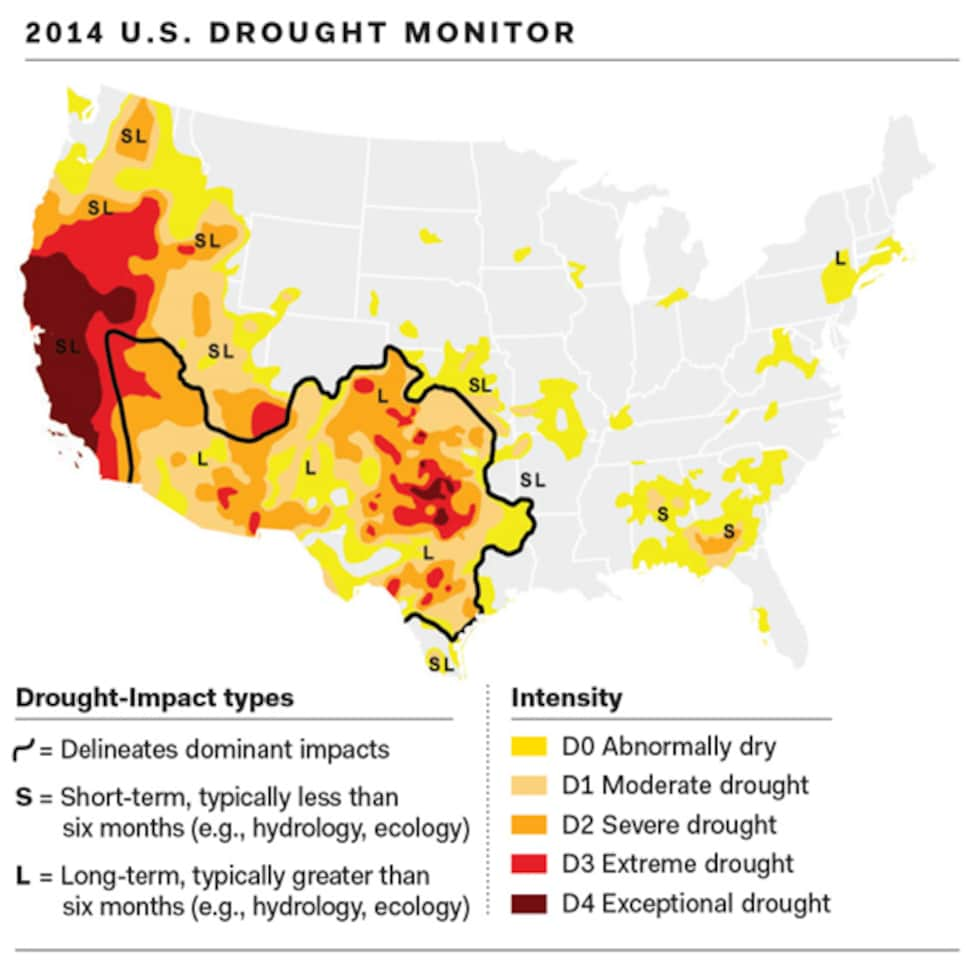 Six months later, a return visitor to Pasatiempo found the drought was worse and the club was now under a city mandate to cut its water use in half. Irrigation had been shut off to the first 75 yards of each fairway (100 yards on downhill holes), so the start of each hole looked like the crust of a well-baked casserole. Some parts of some holes looked like burnt toast. The once-crispy far roughs were now dirt.
Pasatiempo looked even more parched than Pinehurst No. 2 had during the Opens, not by intent, not by design, but because it hadn't rained. But, despite its look, Pasatiempo was still packed with golfers. Which proves that looks aren't everything.
Thirty-six year old Justin Mandon became Pasatiempo's superintendent in early 2013, moving from an assistant position at The Olympic Club in San Francisco, where, he says, water is abundant. That was normally true at Pasatiempo, too, where its irrigation system, supplied solely by city water at a cost of $475,000 a year, is normally supplemented by 30 to 40 inches of annual rainfall. But it hadn't rained a drop for 15 months. Soon after Mandon arrived, there was a storm, but the ground was so dry and hard, the rainwater ran off, little of it soaking in. The drought resumed, and this past May, the City of Santa Cruz issued its mandatory 50 per cent water reduction by all residents and businesses, with hefty fines for those who exceed limits. Mandon's focus quickly went from producing beautiful uniform turf to keeping grass alive with far less water and without sacrificing playing quality.
To determine where to shut off water, Mandon invited head professional Ken Woods and general manager Scott Hoyt to walk the course with him. They examined every irrigation head, discussing the impact to golfers and to aesthetics if each were turned off. By the end of the day, they had agreed to shut down 250 heads and also quit watering the driving range.
They spared the first and ninth fairways and par-3 18th hole for aesthetic reasons. The club does about 50 weddings per year in its adjacent Hollins House and those holes serve as backdrops.
"California has five stages of drought," Mandon says. "We're in Stage 3. If we go to Stage 4, we'll water only tees, landing areas and greens. Stage 5 is just tees and greens."
(That could very well happen. It's happened before. Few remember the 1977 PGA Championship was contested at Pebble Beach when it was under a similar tees-and-greens-only irrigation restriction.)
One of the ironies of Pasatiempo's situation is that a pipeline runs adjacent to the course that carries effluent water from the city of Scotts Valley, north of Santa Cruz, out to the Pacific Ocean. The effluent isn't sufficiently treated to qualify as golf course irrigation yet, but would be if filtered one more time, either at the source or at Pasatiempo. The club has tried for a dozen years to convince Scotts Valley to sell them 10 per cent of the flow, some 30 million gallons per year. But the city hasn't wanted to commit to a long-term contract for fear that it might someday need the effluent for domestic uses. Mandon is now involved in the negotiations and hopes to soon reach an agreement.
But that would satisfy only half of Pasatiempo's normal needs, so the club is also doing test drilling on its property in hopes of finding water and establishing a deep well as a supplemental source.
For the time being, Pasatiempo looks like it probably did when MacKenzie first opened it in 1929, before it had automatic fairway irrigation. The club's 300 members, who account for two-thirds of its annual rounds of golf, have been extremely supportive. One member told Mandon the course conditions are those he remembers playing back in the 1960s. Most members are local residents and are fully aware of the extent of the extreme drought. Indeed, some have converted their adjacent backyards into rock and stone xeriscapes.
Pace of play has improved, since there's little time spent looking for balls in high rough. Surprisingly, handicaps have dropped a bit. Woods thinks that's because golfers get more roll off the tee. But even the most loyal members hate the spotty lies in the parched fairways. Small groups of members have informally adopted year-round winter rules until the drought abates.
Among paying customers (which constitute about 9,000 rounds each year), the reception is more subdued. Some have grumbled that the club shouldn't be charging full green fees ($230 per round, plus $32 for a cart) when the course is less then pristine. (The club, however, needs the revenue more than ever, given its plans to install a huge underground water storage tank.) But many visitors to Pasatiempo know of its MacKenzie heritage and of the state-wide drought, and cut the club considerable slack.
"Being transparent about our situation has helped," Woods says. "But there's still a problem of perception. We can say "We're firm and fast," but there are still some golfers who look and think, 'Oh, man. Their fairways are dead.' But nobody has asked for their money back."
There are lessons to be learned from both these Green Star recipients. At Pinehurst, Farren emphasizes that his fairways would not likely succeed with such little irrigation if carts were routinely run across them. (Pinehurst No. 2 is a walking-only course.) Pasatiempo allows carts. Most members walk, but most visitors ride. Mandon, not a fan of stakes and ropes and directional signs, has been forced to utilize them to keep golfers from driving willy nilly over stressed turf.
Pinehurst No. 2 is no longer overseeding its bermudagrass fairways during the winter months. (The same policy will apply to several of its other nine courses this winter.) Instead, it's painting the fairways with a green pigment. That's done strictly for aesthetics. Pasatiempo painted its unirrigated driving range recently, also for aesthetic reasons. (It's visible from the Hollins House.) But Mandon sees little point in painting the Poa annua fairways, many portions of which aren't dormant but dead. Instead, he'll have to reseed, and he's contemplating planting a more drought-tolerant turfgrass, whenever enough water becomes available to do so.
The final lesson is that the quality of a golf course depends on far more than uniform lies or perfect turfgrass. Pinehurst No. 2 proved it's a championship test even when its grass is yellow. Pasatiempo is demonstrating that golf can still be fun even in hard times and on hard fairways.