FedEx Cup Playoffs
Possible Tuesday finish lingers at The Northern Trust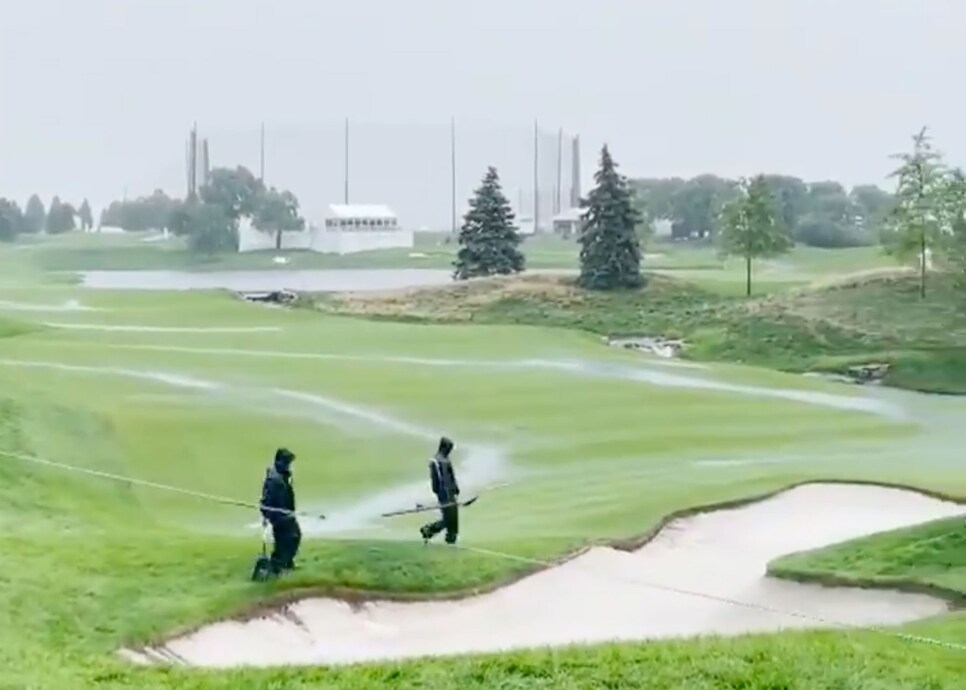 The grounds crew works on Liberty National on Sunday as 6.5 inches of rain fell thanks to Hurricane Henri.
There will be a fourth and final round to the final edition of The Northern Trust, PGA Tour officials reiterating on Sunday night that the tournament plans to go a full 72 holes. Exactly when that final round will conclude, however, is unclear thanks to the remnants of Hurricane Henri lingering in the New York metropolitan area.
The storm that arrived on Sunday forced the postponement of the final 18 holes at Liberty National in Jersey City, N.J., until Monday. But more rain is expected to fall Monday on a saturated course that received 9 inches of rain since Saturday night.
Tour officials have paired players into threesomes and planned to start them on the first and 10th holes beginning at 7:30 Monday morning, with no fans permitted. But continued rain and course conditions have forced officials to announce a delay to the re-start three times already on Monday with the round finally getting under way at 11:30 a.m.
The possibility of the tournament, the first in the three event FedEx Cup Playoffs that concludes the 2020-21 season, being shortened to a 54-hole event if the full final round couldn't be completed on Monday seemed to be ruled out on Sunday. That's when PGA Tour commissioner Jay Monahan sent a memo to players explaining that he was amending the tour's bad weather guidelines to allow for a Tuesday finish regardless of how much of the final round was completed on Monday.
Complicating matters is the fact that the second event of the FedEx Cup Playoffs, the BMW Championship, is being held at Caves Valley Golf Club outside of Baltimore, a venue most players have not played in tournament conditions as it is hosting a PGA Tour event for the first time. That tournament is scheduled to begin on Thursday, with the top 70 players in the FedEx Cup standings after The Northern Trust making up the field. Many of the players advancing from Liberty National to Caves Valley would have just the one day to get in a practice round should the Northern Trust be pushed into Tuesday.
This is the last year of The Northern Trust being part of the PGA Tour schedule. The tour announced earlier this month that Northern Trust will be replaced by the St. Jude Classic in Memphis as the first event in the FedEx Cup Playoffs in 2022.