Northern Trust
How Erik van Rooyen bounced back from his embarrassing tantrum at the PGA Championship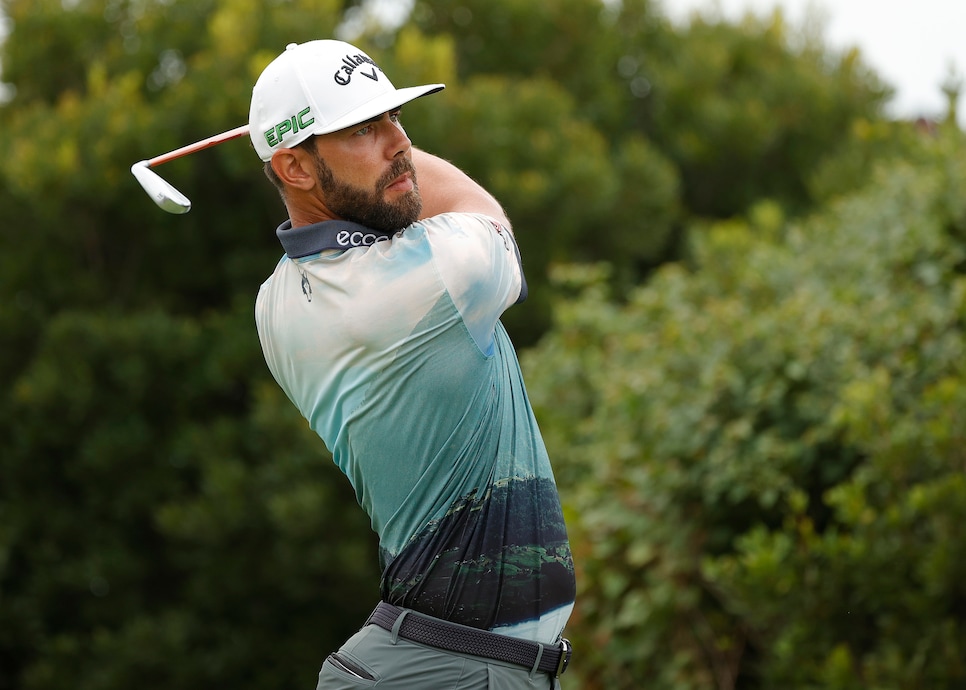 Erik van Rooyen plays his shot from the third tee during the third round of the Northern Trust.
Sarah Stier
JERSEY CITY, N.J. — Erik van Rooyen wasn't sure which camera to look at, then had to introduce himself to the PGA Tour media official shepherding him through the carwash of post-round obligations.
He's still new at this, at least relatively so. At 31, he's not particularly young by today's phenom-impacted standards. He's won on both the European Tour and the PGA Tour and been inside the world's top 50, so it's not like he's a complete outsider. But he's playing his first full season as a PGA Tour member—he locked up his card through non-member points last year—and, up until a few weeks ago, he hadn't done much to warrant any post-round attention at all.
"Up-and-down, definitely," van Rooyen said of his debut campaign. "Lots of down. I've only sort of found my feet the last month or so."
Prior to August, the enduring memory of van Rooyen's year was a cringeworthy one. It happened back at Kiawah Island; perhaps you remember. Marred in a slump and needing to play the final two holes in level par to make the PGA Championship cut, his tee shot on the par-3 17th trickled … and trickled … and trickled into the water. He was now going to miss his fourth cut in a row, and he absolutely lost it. The normally affable South African swung at a tee marker, missed, then turned around and swung again. He made sweet contact on that second swipe, breaking the marker and snapping his club in half, with the head saucering down the fairway and nearly slicing the leg of Matt Wallace's caddie.
"One of the lowest points of my career," van Rooyen said Saturday at Liberty National. He's in a much better place now. More on that in a minute. "It's really not like me to do stuff like that, but obviously I did it and I apologized for it. I'm still pretty embarrassed about it."
His next tournament wasn't a tournament at all but a 36-hole qualifier for the U.S. Open—at the loaded Columbus site for final qualifying. Van Rooyen shot 14 under to finish co-medalist, then took T-10 at the Palmetto Championship that weekend. The momentum had turned, it seemed, until he tweaked his neck at the U.S. Open and had to take the next three weeks off. After a missed cut at the Open Championship, his season seemed destined for an appearance in the Korn Ferry Tour Finals.
"But throughout that stretch, there was glimpses of really good stuff," he said, "and I hung on to that. And it's coming through now."
Indeed it is. Van Rooyen shot 62 on Saturday and will enter Monday's final round—the PGA Tour decided against even trying to play Sunday, with Hurricane Henri set to make landfall in the Northeast—with a chance to win the Northern Trust, but that's not the only goal in play. Van Rooyen entered this week No. 76 in the FedEx Cup standings and, after Saturday's round, was projected to move up toward the top 20. That'd easily get him into 70-man BMW Championship, and a top-three finish would put him in great position to make the Tour Championship.
Van Rooyen is not bothered with all the mathematical possibilities at the minute, for there is a trophy in his sights. It'd be his second victory in three weeks after he knocked off win No. 1 at the Barracuda Championship while all the big boys played the WGC-FedEx St. Jude Invitational.
"That win was huge for him," his caddie/college golf teammate/best friend, Alex Gaugert, said. He goes by 'Feely.' Childhood nickname. "He's so good, but sometimes he needs to be reminded of how good he is. Amazing what a little bit of confidence will do."
A little confidence, and a little person. Van Rooyen and his wife, Rose, who he met while at the University of Minnesota, welcomed their first child—a baby girl, Valerie—six months ago.
"I didn't know you could love something so much, like, instantly," van Rooyen said. "That was the biggest thing. I don't feel like all the sudden I'm playing for someone else or anything like that. But I just—you're a bit lighter when you walk off the course because you get to look into your daughter's eyes and everything's OK."