pga tour
A mid-tournament off day: Here's how tour pros will handle a strange situation at the Northern Trust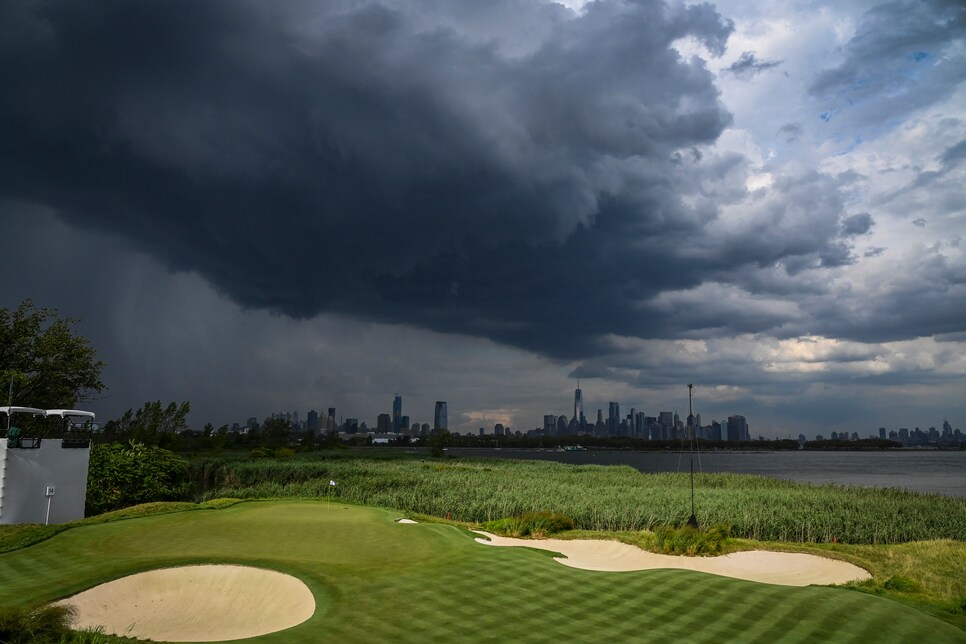 JERSEY CITY, N.J. — They obliterated the golf course. Now, they wait.
The best players in the world dissected a defenseless Liberty National on Saturday, when the average score at The Northern Trust was just a hair over three-under 68. Doug Ghim became the first player to break 30 on nine holes here, then Corey Conners matched his front-nine 29, then Cameron Smith missed a 12-footer to "settle" for 60. (Still the course record, though. By two). At 16 under, Smith is joined on top of this leader board by the man on top of world golf, Jon Rahm, who played sloppily and still shot 67. Erik van Rooyen is alone in third at 15 under, with Justin Thomas and Tony Finau a shot farther back.
A rainy and humid week has this place playing pillow-soft, and that, coupled with a lack of wind and pure greens, is always going to result in birdies. Many, many birdies. The good news for a battered and beaten Liberty National: It'll now get a breather, if you can call it that. Hurricane Henri is set to make landfall in Long Island sometime soon, and while northern New Jersey should avoid the brunt of the storm, the PGA Tour still deemed it unwise to even attempt holding the final round on Sunday. Instead, it'll be the first Monday finish since the 2019 Zozo Championship.
At least, that's the plan. There is, of course, the possibility that the Hurricane changes course—they're not known for rule-following—and Liberty gets hit worse than expected, rendering the track unplayable even for Monday. Or the cell could linger longer than it's supposed to. That's what happened 20 miles west of here at the 2011 Northern Trust, which was shortened to 54 holes as Hurricane Irene passed through Plainfield Country Club.
The PGA Tour can shorten this event to 54 holes up until the point that more than half the field has finished their final round. With Smith and Rahm knotted at the top, however, there's guaranteed to be at least one more hole of playoff golf played. One cannot win a PGA Tour event by way of a card-off. (Smith would've won it).
"I always think it's hard to back up a really good round," Smith said, "so maybe the day off will help me out. Yeah, I don't know what I'm going to do tomorrow. I've never been in this situation. Probably just a little bit of a rest. A round like this usually takes it out of you a little bit, the adrenaline, the highs and the lows. Sleep in. Maybe a little bit of gym and come out Monday firing."
That seems to be the consensus as far as Sunday's plans go: a light gym sesh, and chilling. It's not dissimilar from a Lazy Sunday you or I would enjoy. You know, when the weather outside is frightful, and you feel zero pressure at all to leave the couch.
"I'll probably stay inside so I don't blow away from the storms that are coming in tomorrow," said Viktor Hovland, who's three back after a 65. "But try to get a workout in and just watch a couple movies, talk to a couple buddies. I've got no problem wasting time."
Finau, however, hopes to be a little more active despite knowing Liberty National will be closed. He said he'll consider finding a different course at which to practice, weather permitting. If the storm keeps him inside, he'll find a way to get some reps in. Such is the determination of a frustrated golfer, which Finau was after a poor putting performance (-2.48 strokes gained) hindered what was an excellent ball striking day (2.773 strokes gained).
"I've got a nice smooth piece of carpet that I can roll on," he said. "It's more common than you guys would think, guys putting in their room. I've done it many times."
"Not as much," he said. "I think hallways games, that's probably more like in the hallway where you can chip to things. But for sure, the putter is going home with me tonight."
Rahm has plenty of experience killing time inside. The 26-year-old tested positive for COVID-19 while leading the Memorial by six, then tested positive again shortly before the Olympics.
"If COVID quarantine has taught us anything, it's what to do the whole day cooped up in a room," the World No. 1 said. "We're at a hotel, so instead of me getting up to get food, I can room service the food, and hopefully the fitness center and spa and some of the amenities at the hotel are open and we can take advantage of it. At the same time we have a four-month-old in the room that needs a lot of attention. Take a lot of walks around the hotel, I don't know, but it's definitely going to be a fun family day.
"If I had a one-shot lead at 17 under, would hope the hurricane comes and stays for two days and we don't have to play again."
Justin Thomas didn't seem totally thrilled with the tour's decision to postpone the round at around 1 p.m. on Saturday—which came after it chose not to try to squeeze in 36 holes on Saturday.
"I'm not sure what that decision was," Thomas said after his 67. "Weather changes all the time, and weathermen are wrong all the time. We're going to look pretty stupid if it's pretty nice tomorrow and we're all sitting in our hotel room, but it looks like the decision was already made. I guess there was obviously a lot more decisions that went into it than just that. I'm going to have to figure out what to do because I've never had an off-day in the middle of the tournament. Probably a lot of putting in my room and a lot of eating and a lot of TV watching.
"Everyone's going to have to go through it. It's going to be weird for everybody, but once we get out here and start hitting some balls, chips and putts, we'll get back into it."
Weather permitting, of course.