The Loop
A must-see hole-in-one, a hard-to-watch video of Jordan Spieth, and Jim Nantz makes a "green jacket" cameo
Welcome to another edition of The Grind where we have never felt so good after losing. Although I choked as usual to finish runner-up for about the 200th time on my annual golf trip, the courses in the Sandhills region of North Carolina were too good to spoil my time down there. And you can't beat who we had emceeing our green jacket ceremony:
Thank you, Jim. That was really special. And almost enough to get me to forgot about blowing the tournament on the back nine during the long drive back. Almost. Anyway, here's what else was happening in golf last week.
Jim Herman: The Wyndham Championship didn't have its normal drama with tour cards carrying over until next year due to COVID-19, but this journeyman still provided some pre-playoff excitement. Basically needing to win to continue his season, Herman did just that despite entering the event with zero top 25s and 11 missed cuts in 18 previous starts. Amazing. How do these guys come out of nowhere and maintain complete coolness under pressure?
OK, so maybe he was a bit nervous. Regardless, well done.
Stacy Lewis: Congrats to the former World No. 1 on winning for the first time in three years and for the first time as a mom at the Ladies Scottish Open. "The only disappointing thing is that she's not here to take a picture with this [the trophy], but I have been trying to get a trophy from the day she was born," Lewis said of her two-year-old daughter, Chesnee. "That's been my goal." Good stuff, Stacy. Trophies make for fun toys.
Bandon Dunes: I may be the only Golf Digest employee who has never been to this golf haven, but I enjoyed watching the U.S. Amateur from there at night during my golf trip. The place looks spectacular. That being said, playing in that much wind didn't look like too much fun. No one did it better than Tyler Strafaci, though, the Georgia Tech senior who claimed the title 85 years after his grandfather won the U.S. Amateur Public Links. Pretty cool.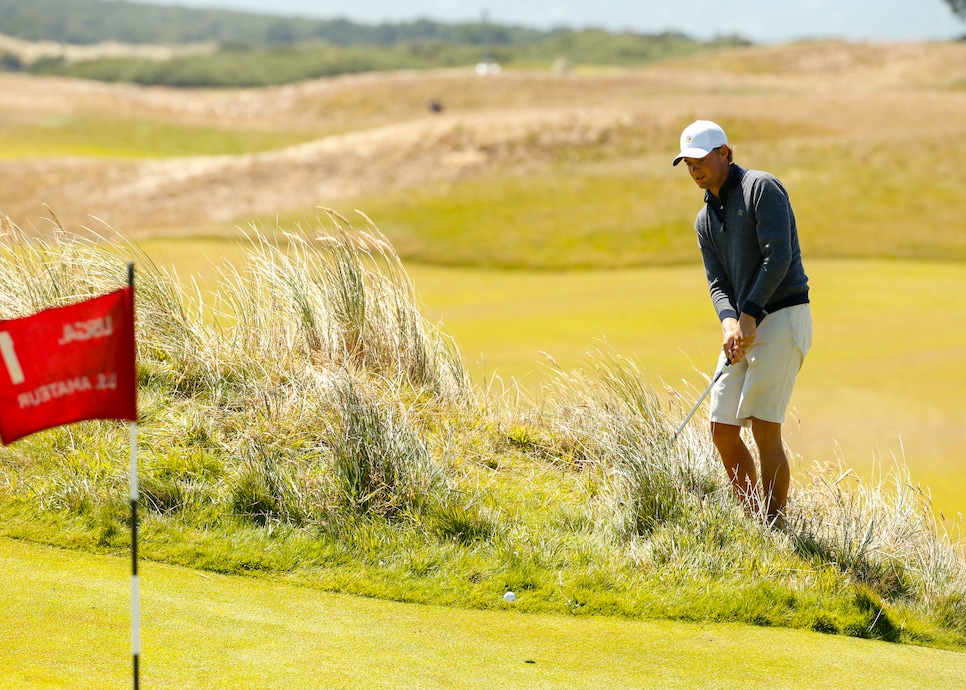 Moe Norman: What a pleasure it was to learn more about this Canadian legend for our latest episode of Local Knowledge. Please give it a listen:
LPGA pace of play: Admittedly, I didn't see much of this since I was busy trying to win my own golf tournament, but Golf Twitter was abuzz on Sunday with how slow those in contention were taking, in particular, Azahara Munoz and Jennifer Song. To overcome the pace, Lewis said after she actually turned to a song, "Shake it Off," by Taylor Swift. Great song. Maybe I should have had that in my head on the back nine at Mid Pines on Sunday. Anyway, speaking of taking a long time. . .
Jordan Spieth: A few weeks ago, I was buying this guy on his 27th birthday, but this video is just hard to watch:
Wow. That's a dude battling some demons right there.
Mike Strantz dying so young: This year's HGGA Championship featured two of this architect's works of art (yes, ART): Tobacco Road and Tot Hill Farm. Strantz's tracks are basically amusement parks for golfers. Are there spots where the man nicknamed the Maverick took it too far? Possibly. But there is truly nothing like playing a Strantz. Sadly, he died from cancer at 50 before even getting to double digits in solo course designs. But Tobacco Road joins his first work, Caledonia in Pawleys Island, at the top of my list. We will be back. To both. Soon.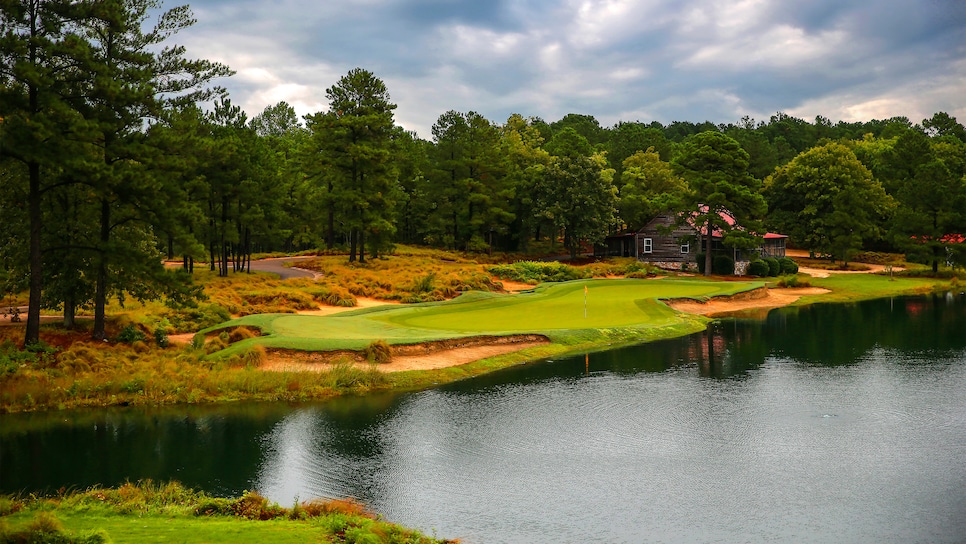 The PGA Tour heads to New England for the Northern Trust, AKA that nomadic FedEx Cup playoff event that flip-flops between Boston and New York. So while Patrick Reed is technically the defending champ, Bryson DeChambeau won the last tournament played at TPC Boston. Talk about a potentially spicy Sunday pairing, huh? Anyway, let's all get fired up with the latest effort from our friend Sam Harrop:
Random tournament fact: The worst winning score ever at TPC Boston since it started hosting a PGA Tour event in 2003 was 14 under. So expect a bunch of birdies this week.
RANDOM PROP BETS OF THE WEEK
—The PGA Tour will ever stage an event at Bandon Dunes: 1 MILLION-to-1 odds
—The HGGA will ever stage an event at Bandon Dunes: 10-to-1 odds
—I will finish in second place yet again if we do go there: LOCK
VIRAL VIDEO(S) OF THE WEEK
Somehow the best amateur golfers in the world were upstaged by another golfer playing at Bandon Dunes. This shot, well, putt, was incredible:
Must. Be. Nice. Also at Bandon, how about this spectacular club twirl?
That is a thing of beauty.
"I was looking at an Instagram post of mine I think three years -- five years ago now, yeah, it's 2015, 2016 when I just turned professional. I went to the Bahamas and had my shirt off and I can't believe how skinny I was back then. I thought I was like pretty ripped and jacked back then. No, definitely not." —Full-time body builder/part-time golfer Bryson DeChambeau.
Kudos to Jerry Kelly for winning his seventh PGA Tour Champions title and his first major at the Bridgestone Senior Players Championship. With the win, Kelly will compete in next year's Players Championship. (Please be a Players Championship next year). . . . Another week, another win for Sam Horsfield on the European Tour, this time capturing the Celtic Classic. This kid is really cooking right now. . . . Speaking of actual kids, a tip of the cap to Tiger Woods' 11-year-old son, Charlie, for winning a nine-hole U.S. Kids event. By five shots. . . . Congrats to Golf Digest colleague Stina Sternberg on making her first hole-in-one. And no, it wasn't with a putter:
And finally, congrats again to former Golf Digest colleague Eric Lebowitz on winning his second HGGA Championship:
I've got a lot of work ahead of me this off-season.
RANDOM QUESTIONS TO PONDER
What would a Mike Strantz design at Bandon have looked like?
What would Jim Nantz sound like reading "Goodnight Moon"?
Does anyone know any good sports psychologists?