News
Tyler Strafaci comes up clutch on 36th hole, wins U.S. Amateur to add to his family lore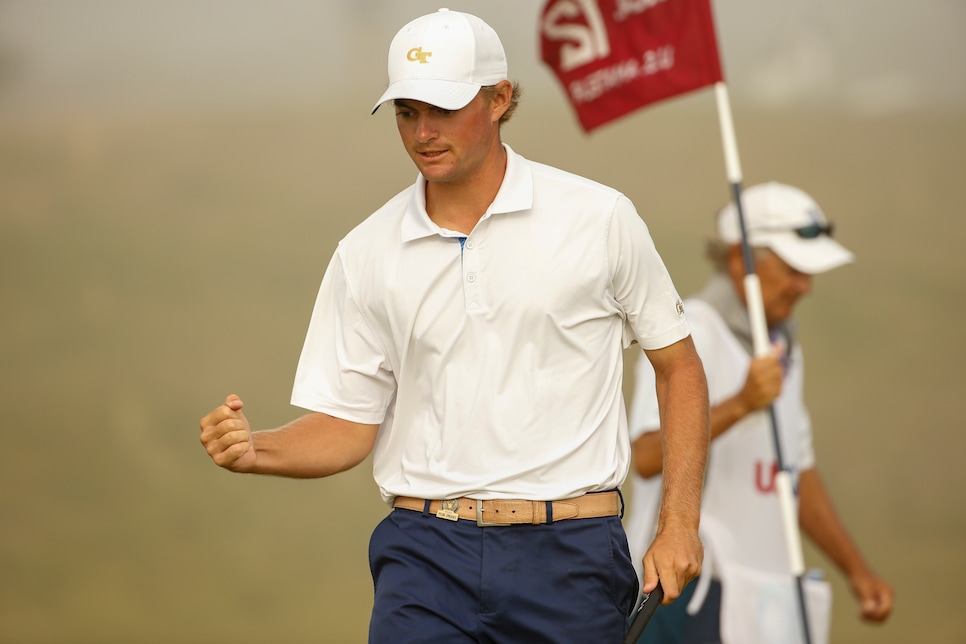 Tyler Strafaci reacts after making a birdie putt at the 30th hole during the final round at the 2020 U.S. Amateur at Bandon Dunes Golf Resort.
Steven Gibbons
BANDON, Ore. — It was a scene out of fiction, a gorgeously sunny day turned damp and gloomy, the fog having crept onto the cliffs and blanketed the Bandon Dunes Golf Course. In the eeriness, a movie of Tyler Strafaci's making was playing in his head. He took a deep breath and closed his eyes, visualizing the 4-iron shot that he was about to strike on the 36th hole in the final of the U.S. Amateur Championship.
"I said, 'This is your time to hit a winning shot. Go get it,' " Strafaci recalled later when darkness had descended on the Oregon coast. "I've done it a bunch of times back home, and I knew I could execute it, and I trusted myself, and I did it."
Strafaci powered a draw into the mist and exclaimed, "Oh, please be good!" When a handful of onlookers near the green cheered, he knew he'd reached the par 5 in two, settling 14 feet from the hole. It was the shot of Strafaci's life, and in the fog, considering the pressure cooker of the circumstances, it's likely one of the greatest on a finishing hole in the 120-year history of America's national championship.
When opponent Charles (Ollie) Osborne, who had fought back in the tremendous match by winning the 34th and 35th holes, couldn't get up and down for birdie, the 20-year-old from Reno, Nev., conceded the last, and Strafaci took the match, 1 up, without rolling a final putt.
It was a fittingly dramatic ending to a tremendous contest in which the combatants combined for 25 birdies and one eagle, including concessions. In the morning alone, they would have shot 60 in best ball.
"Ollie played spectacularly," said Frank Strafaci Jr., who caddied for his son for the 159 holes he played over seven days. "I don't know what they're saying, but this has to be one of the best-played finals in U.S. Amateur history."
Tyler Strafaci, whose amateur and college career at Georgia Tech was extended by the coronavirus pandemic, earned the right to lift the Havemeyer Trophy that eluded his highly accomplished grandfather, Frank Strafaci Sr. Eighty-five years ago, the eldest Strafaci captured his only USGA title, the U.S. Amateur Public Links.
"This trophy has been the holy grail for my family for over 80 years," said Frank Strafaci Jr., 62. "And it's something that my father always felt was an empty spot in his competitive career. It's something that meant a lot to him, and I can genuinely say that he would have preferred Tyler to win it."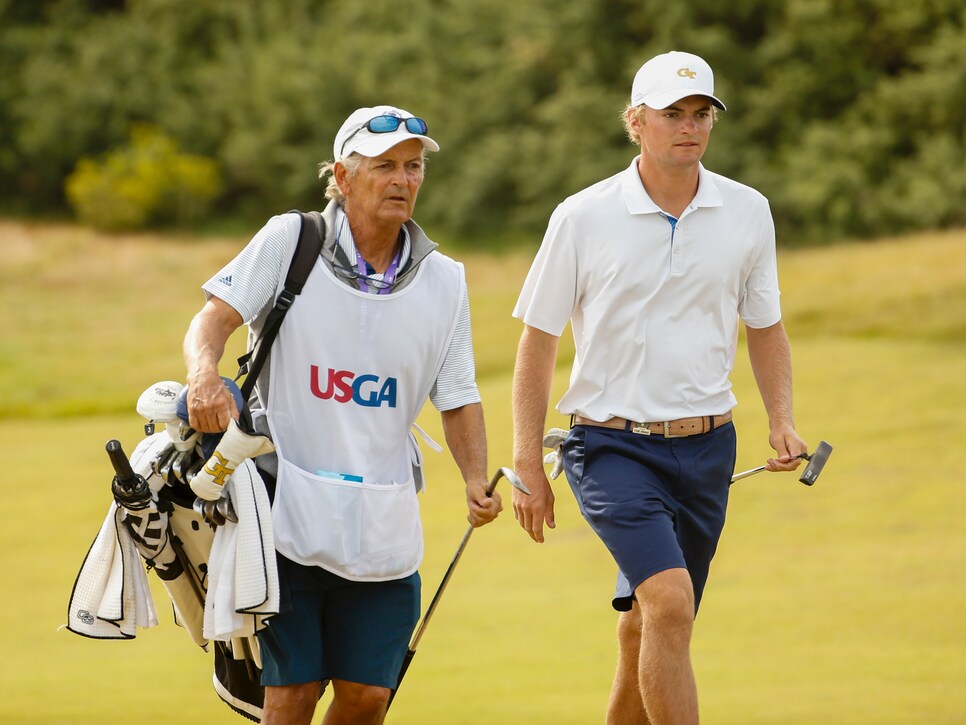 Tyler Strafaci with his caddie/father, Frank Strafaci, as they walk together during the final match of the U.S. Amateur.
Steven Gibbons
On the 18th green, Tyler Strafaci bear-hugged and lifted off the ground 2021 U.S. Walker Cup captain Nathanial Crosby, the 1981 U.S. Amateur champion. With the triumph, Strafaci automatically makes the American Walker Cup team for the matches against Great Britain & Ireland next May at Seminole Golf Club in Strafaci's home state of Florida.
"My grandfather was born in America, and during the late '30s he was the best amateur golfer in the world—no ifs, ands or buts about it," Tyler Strafaci said. "And for him not to be selected on that Walker Cup team, it kind of hit home hard with him. It's a different day and age now, but he kind of held that deep inside him. That's why I always wanted to be the first Strafaci to make a Walker Cup.
"It's been a rough couple years," he added, "because I've been pretty close to it, and now that I'm on that team, I feel like I've made him proud, and I feel like it's just unbelievable."
Strafaci has worn the family name with pride at times while feeling a pressure he may not have been able to acknowledge until he captured this summer's North and South Amateur, a prestigious tournament his grandfather won twice in the 1930s.
"I think he found out this summer that he belongs," said Georgia Tech head coach Bruce Heppler, who flew overnight on Saturday from Atlanta to attend the final and see U.S. Amateur and Yellow Jackets history. No other university has had two different players win back-to-back titles, with teammate Andy Ogletree winning a year ago a Pinehurst.
Reflecting on the family legacy on Sunday, Tyler said, "Later in my high school career, when I started playing amateur events and U.S. Amateurs and the North and South, and I had 20 people and cameras following, I don't think I was ready to handle it—until about six months ago. To be able to do what I did and kind of overcome all that pressure and stuff, I've grown up and kind of compartmentalized a lot of stuff, and I got it done."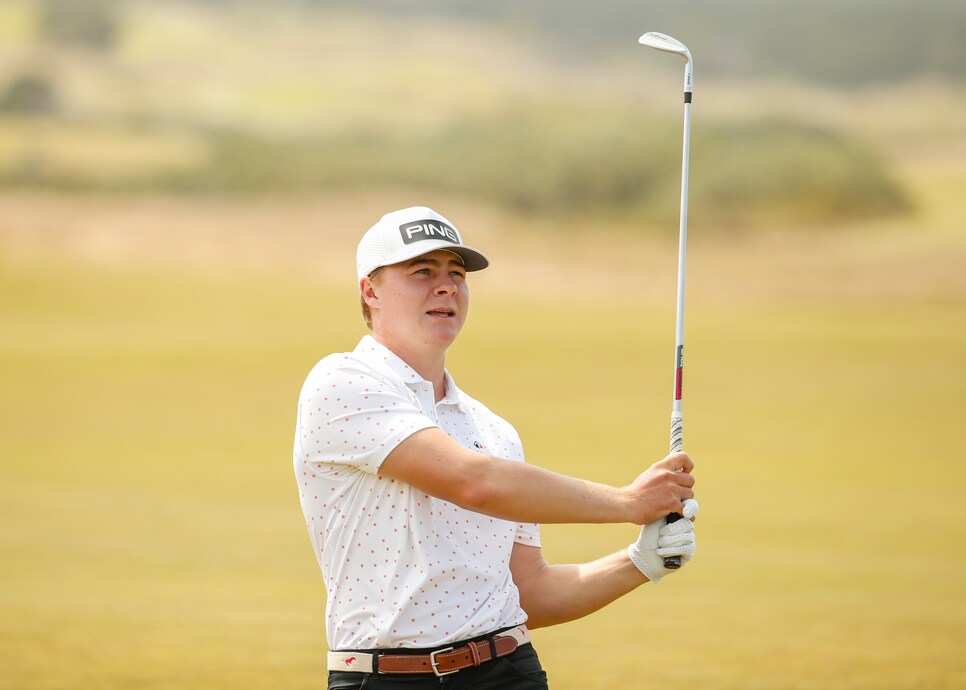 Ollie Osborne plays his second shot to the 11th hole during the final round at the 2020 U.S. Amateur at Bandon Dunes.
Steven Gibbons
There was plenty of packaging things into various boxes in the Bandon Dunes final. There were the first 12 holes in the morning, when Osborne and his hot putter seized a 5-up lead with seven birdies—only one of them conceded.
Was Strafaci rattled? No, he said flatly, "Never a doubt."
He backed up that bravado by storming back to win four of the last six holes in the morning to be only 1 down heading into a 90-minute lunch break.
When Strafaci won the 20th hole with a birdie 2 he completed the comeback, and on the 25th hole he seized his first lead with another birdie.
Then the fog rolled in and the match got wild. Osborne tied it with a birdie 4 on the 31st hole, but Strafaci countered with what would have been the shot of the tournament if not for his 4-iron at the last. Strafaci said he didn't catch all of his tee shot at the par-4 14th—playing at 315 yards in the afternoon—but he still drove the green, his ball catching a slope and cozying up to six feet from the cup. And after Osborne made a tremendous up-and-down for birdie, Strafaci drained the eagle putt to retake the lead.
"To be able to clutch up on top of him was pretty cool," Strafaci said.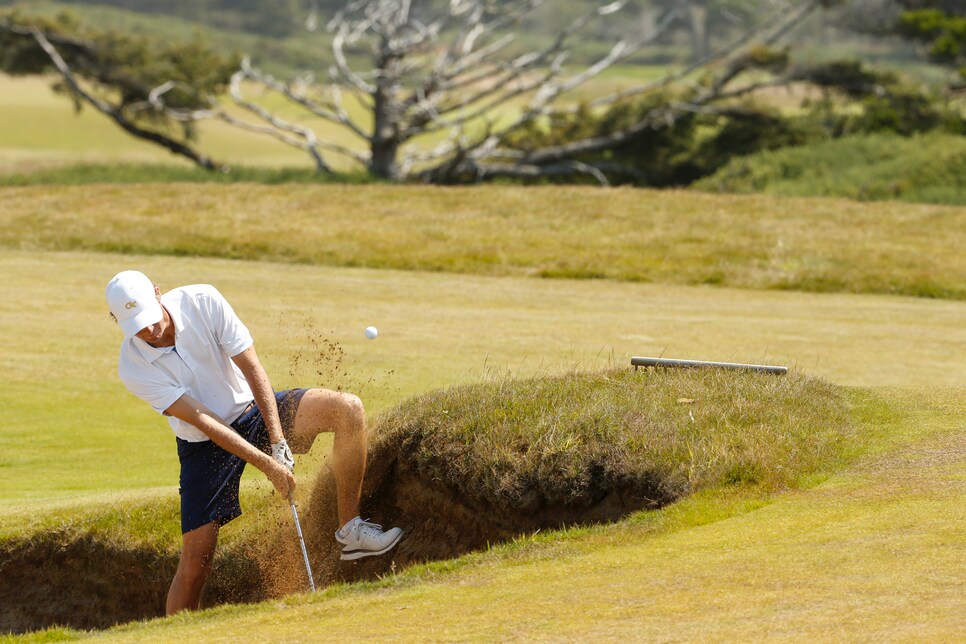 Tyler Strafaci plays his shot out of the fairway bunker at the 16th hole of the morning portion of the U.S. Amateur final.
Steven Gibbons
The lead went to 2 up at the par-3 15th when Osborne overcooked his 7-iron to a tough lie down a slope and conceded after needing three shots to reach the putting surface. But then Strafaci made two big mistakes that led to the match becoming tied again—driving into a fairway bunker on the par-4 16th when he could have chosen to lay up, and not having enough club to clear the canyon on his approach at the 17th.
So, Strafaci had to stare down the par-5 18th hole again. He was forced to play it in his previous three matches—proof of his grinding wins.
"Coach [Heppler] today after my first 18, he came up to me and pretty much told me, 'You know how to play 18. If it comes down to it, you've won it [three] times in a row; do it again. I did it," Strafaci said.
Frank Strafaci marveled at the 4-iron shot from his son pulled off from more than 225 yards and recalled what he and his wife, Jill, saw in Tyler when he was a kid.
"He'd hit a shot like that and we'd go, 'There's something about him, something special," the father said. "He just did things … we'd look at each other and say, 'That's not us; that's all him."
It's all Tyler Strafaci now, and he's got a USGA trophy to call his very own.