News
Stacy Lewis grabs first title in nearly three years, winning four-woman playoff at the Ladies Scottish Open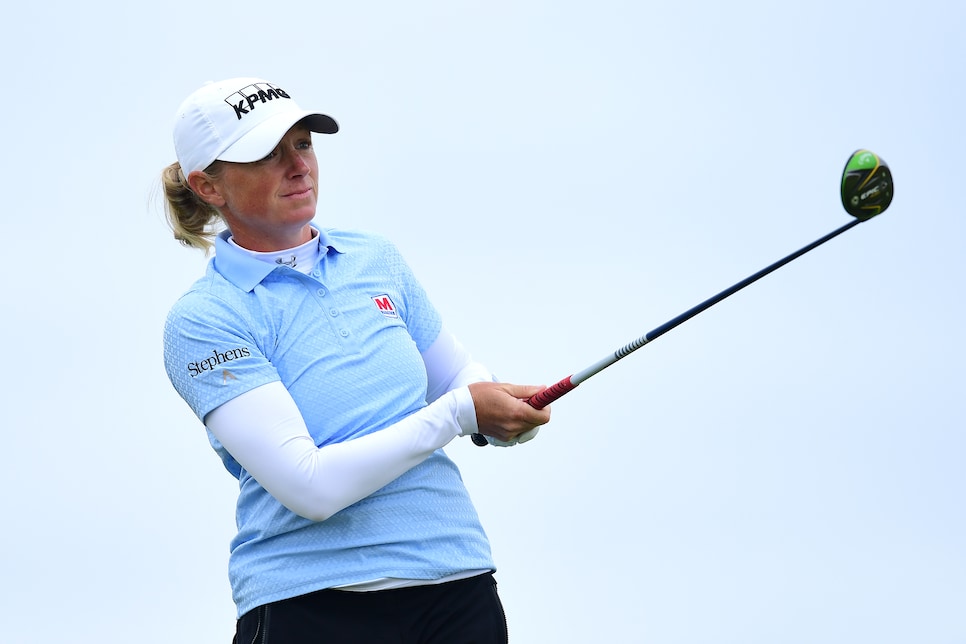 Stacey Lewis hits a tee shot on Sunday during the Aberdeen Standard Investments Ladies Scottish Open.
Mark Runnacles
It took a while for Stacy Lewis to grab LPGA career win No. 13. Nearly three years to be precise. A lot has happened to the 35-year-old former World No. 1 between her victory at the 2017 Cambia Portland Classic and her triumph Sunday at the Aberdeen Standard Investments Ladies Scottish Open. Most notably, she and her husband, University of Houston women's golf coach Gerrod Chadwell, welcomed their first child, Chesnee, in 2018.
"It's amazing," Lewis said of winning for the first time as a mom. "The only disappointing thing is that she's not here to take a picture with this [the trophy], but I have been trying to get a trophy from the day she was born. That's been my goal. I just called them, got to FaceTime with them. My husband said she was hitting the TV screen with her plastic golf clubs when I made that putt. So it's just pretty cool. I can't wait to get home with them in a week or so and celebrate."
Lewis shot a one-over 72 in the final round for a five-under 279 total at Renaissance Club in North Berwick, Scotland. She then made 23-foot birdie putt on the first playoff hole to claim the title over Azahara Munoz, Cheyenne Knight and Emily Pedersen, who all made pars. The win came with its own milestone: The $225,000 first-place prize puts Lewis' career earnings over $13 million, making her just the eighth player in LPGA history to reach the mark.
Heading into Sunday, Lewis was nervous about what lay ahead. Pace of play from her group on Saturday, which included Munoz and Jennifer Song, was troublesome for Lewis, who was worried that it would mess with her rhythm. And yet she was paired with both again on Sunday.
"Honestly," Lewis said after her third round, sitting one shot back of Munoz in second place, "my biggest challenge is to figure out with that pace of play how I can get into a good rhythm and how to keep myself in a rhythm of playing golf and not feeling like you're waiting so long in between holes and shots and different things."
Lewis' worries proved warranted as pace of play was an issue again in the fourth round (it took the group five hours and 16 minutes to complete 18 holes). They were put on the clock on the 11th hole, where Lewis made double bogey, her only double of the tournament, that erased a lead created by two early birdies in the round.
However, Lewis focused on what she could control and was able to regain her rhythm, playing the last seven holes even par.
To deal with the situation, she made a promise with herself to not bring it up with her caddie. By not talking about it, she hoped she wouldn't think about it as much.
"I stayed more in a rhythm of my game and kind of the way I was thinking about shots," Lewis said. "I knew that was going to be the biggest challenge of the day, and overall, I felt like I did a really good job with it."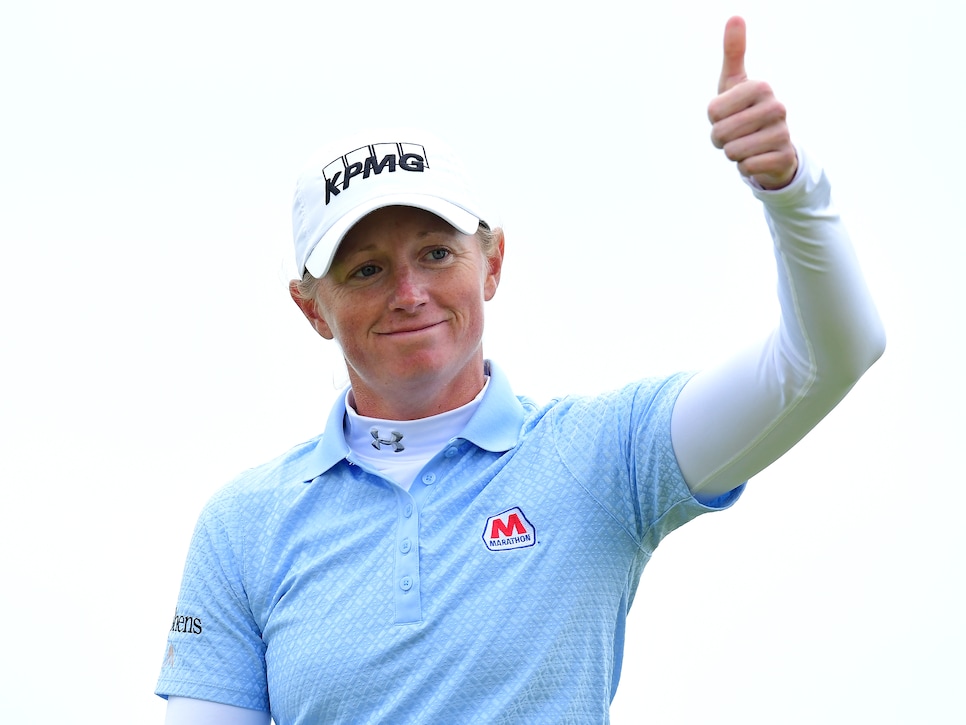 After nearly three years since her last LPGA title, Lewis had plenty to smile about on Sunday.
Mark Runnacles
While excited about her victory (her first in a playoff after going 0-3 previously), Lewis is thinking about more than her own game when she verbalizes her concerns about slow play. She's trying to help the tour overall. "I do think an effort needs to be made across the board to play faster, because obviously I wasn't watching it on TV, but I'm sure it couldn't have been fun to watch on TV," Lewis said.
It was fun, however, for Lewis to be a winner again. Since returning to the tour in 2019 after having Chesnee, Lewis has struggled to find the game that helped her claim two major titles. She played 19 times last season, coming away with three top-10 finishes but missing eight cuts and falling to No. 96 in the Rolex Rankings.
But what she showed in Scotland hints that there's more left in Lewis, who no doubt hopes career win No. 14 will come a tad bit quicker than No. 13.