News
The most meaningful win of 2017
How Stacy Lewis' selfless act for the people of Houston became a career-defining moment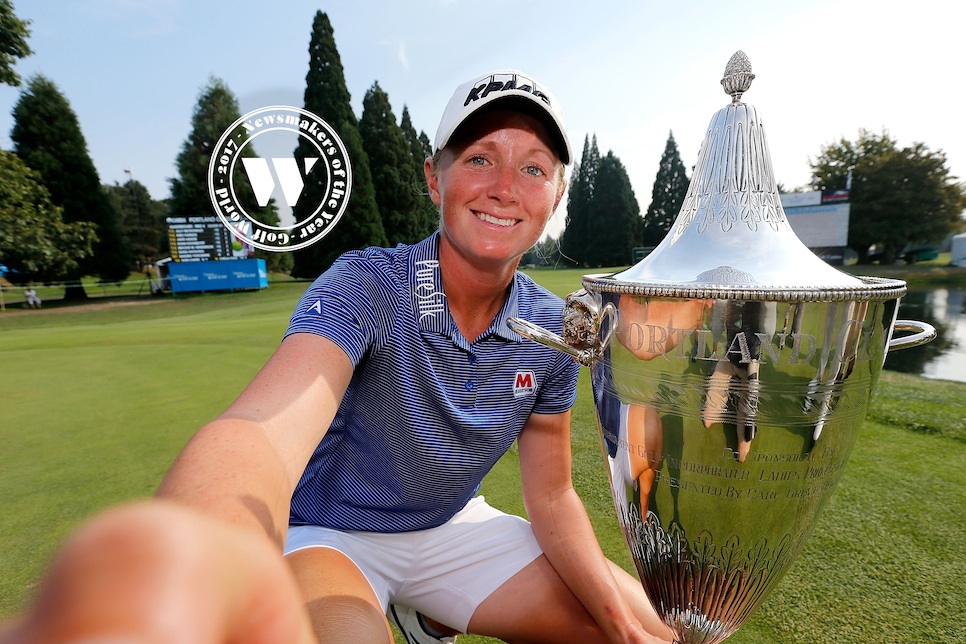 Photo By: Jonathan Ferrey/Getty Images
At the start of 2017, no one would have predicted the most meaningful victory in professional golf would occur at a relatively anonymous LPGA Tour stop. The Cambia Portland Classic is not a major. It's not on network TV. It's not the Solheim Cup. And yet it was this 45-year-old event, held the first weekend in September, where Stacy Lewis turned a tragic set of circumstances unfolding more than 2,000 miles away into an emotional triumph the entire golf world could embrace.
A week earlier, Lewis' hometown of Houston was hit by Hurricane Harvey, a Category 4 storm that caused widespread flooding along parts of the Texas Gulf Coast. Lewis had been on the road competing when Harvey blew threw. She was in contact with her husband, Gerrod Chadwell, coach of the women's golf team at the University of Houston, who gave her updates about the storm's devastating impact. Lewis' family was, thankfully, safe and unharmed, and her husband's team was fine, too. Yet tens of thousands in her community had their lives thrown into chaos, their homes damaged or destroyed, their possessions washed away.
Lewis' despair was real and heartfelt as the 32-year-old two-time LPGA player of the year traveled from Ottawa and the Canadian Pacific Women's Open to Oregon for the tour's next event. Her neighbors were in distress, and she wanted to help. But how? Was returning home to help with recovery efforts enough, or was there something else she could do?
"Talking to my husband and knowing what was going on back home, I felt so helpless in Portland," said Lewis, who recently spoke to Golf World having had time to reflect on the uneasy circumstances of that moment. "I needed to give myself a purpose for being there. I saw other players were doing things like donating a certain amount of money per birdie, and I was like, What if I just donate my check?
The winner at Columbia Edgewater Country Club would receive $195,000. A decent finish—Lewis had twice been a runner-up in the tournament—could bring in five figures. It wasn't necessarily the amount of money Houston Texans football star J.J. Watt was grabbing in donations on Twitter, but it was a sum that could go a long way to helping those in need.
"I never really talked to anyone about it other than my husband," Lewis said. "It was a quick decision."
"My mom called it a God thing. Maybe it was meant to be." —Stacy Lewis
Anyone who knows the former NCAA champion and All-American at Arkansas, who has earned more than $12 million in her LPGA career, knows she goes into every tournament focused on winning. Yet the desire to perform—and the pressure that accompanies it—increases when you're playing for a cause.
"I think to start the tournament was when I was the most nervous," Lewis recalled. "In the back of your mind you're like, What if I play horrible? And then I doubled my second hole. So, I said, I can't win it here anyway. And I played it out. I was so calm. My caddie said I was so focused on the next shot I wasn't worried about the previous swing or the next putt. I was just in a good frame of mind."
The clarity that overtook Lewis freed her up to play some very good golf. After rounds of 70-64-65, she led by three strokes heading into Sunday. The quiet little story coming out of Oregon suddenly started to echo nationally.
As if the pressure to win for Houston wasn't great enough, there was also the little matter of Lewis coming face-to-face with one of the most confounding streaks on tour. After claiming 11 titles from April 2011 to June 2014, she had gone the next 39 months without a victory. In that same time, she had accumulated a frustrating 12 runner-up finishes.
Sunday's final round didn't lack for drama. Over the course of the afternoon, In Gee Chun chipped into Lewis' lead, which had shrunk to just one stroke when they played the par-4 18th. Lewis hit her drive into a fairway bunker, but she put her approach to about 25 feet. Chun went long on her approach, and chipped to six feet from the hole. That meant Lewis had two putts to win. She lagged the first, and the three-footer par found the hole for a closing 69 and a 20-under total, one off the tournament record.
Despite having traveled a long, poignant road to become one of the game's standout players—diagnosed with scoliosis at age 11, she plays with a rod and five screws in her back after undergoing an extensive surgery prior to college—Lewis isn't one to be outwardly emotional. Yet she broke down on the 18th when Chadwell, who had flown from Houston to surprise her, was there to celebrate with her on the green.
"I remember making the putt," Lewis recalls, "and seeing my husband there—I didn't know he was coming. Everything was a blur. I was so surprised. For the two of us, it'd been an emotional week. It was hard being apart."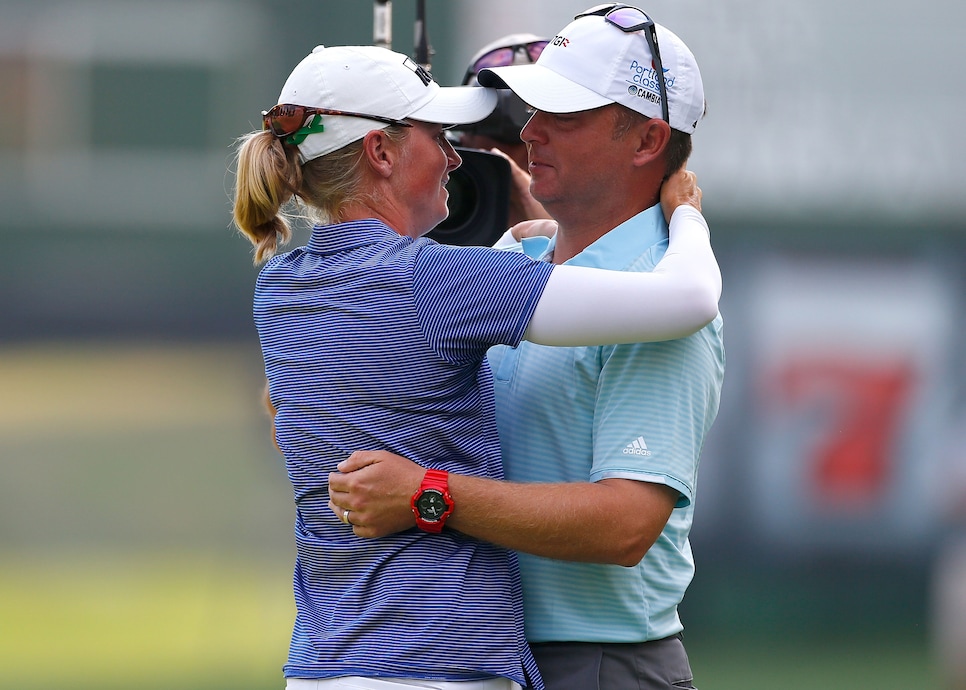 Jonathan Ferrey/Getty Images
Though Lewis knew the importance of the win for those who it would help back home, it was no less a personal victory over her own golf demons.
"It was more of a relief than anything," Lewis says. "I finally just got focused and realized I'm playing some good golf, it's going to happen when it's supposed to. You just need to relax. … It was a lot of things coming together at once."
During her press conference after the win, Lewis found out one of her sponsors, KPMG, was going to match her $195,000 donation. Additionally, friends of Lewis, whom she did not wish to name, donated another $60,000, bringing her total to $450,000.
Three months later, the 2017 season complete, Lewis says she's been putting her time into figuring out how to distribute her donation. "You want to know where it's going," Lewis said, "and knowing it's going to the right place."
She's been working with the St. Bernard project, a national group that rebuilds houses after natural disasters, with a particular neighborhood on the west side of Houston that's been the focus of efforts.
"We had some friends there," Lewis said. "So now we're figuring out who we're going to help rebuild their houses."
Lewis says the entire experience—from the win itself, to the outpouring of support she received, to the actual process of donating the money—has been eye-opening. She's a former No. 1 player in the world who already had the respect of her fellow players. But it was a 12th career LPGA win that brought with it the most perspective.
"My mom called it a God thing. Maybe it was meant to be," Lewis said. "You get so caught up in making birdies and finishing in the top 10. But this was a reminder that as pro athletes, part of our job is to give back and help people. I'm so lucky I was financially in a place where I could do it. It's a reminder of how lucky I've been."