FIRE PIT COLLECTIVE
The Curtis Cup Conundrum: Can Great Britain and Ireland hang with a loaded U.S. roster?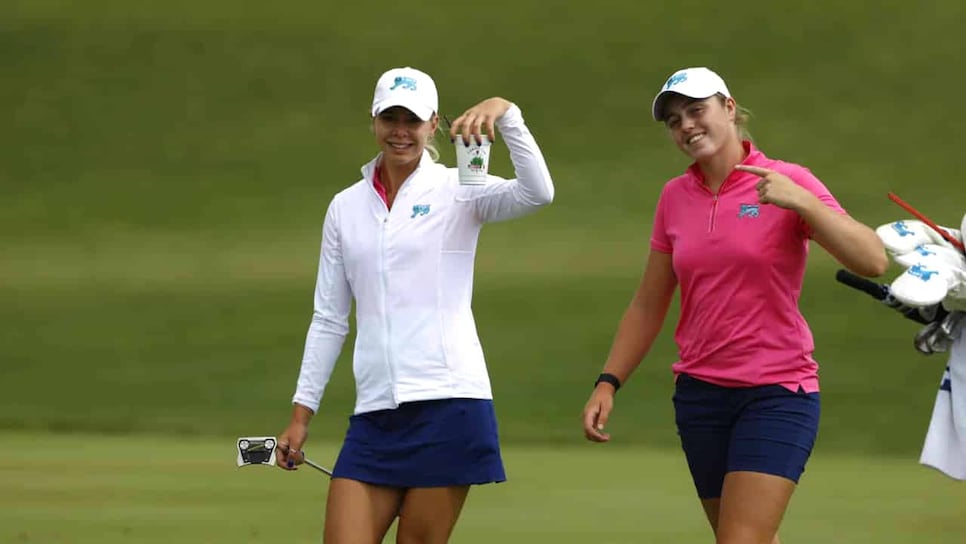 ARDMORE, Pa. — If there's a case to be made for expanding to a Team Europe contingent for the Curtis Cup, now would seem a good time to discuss it.
As top women's amateur players convene this week at Merion Golf Club, Great Britain and Ireland is 8-30-3 against the United States in the biennial event that dates to 1932. Starting in 1996, GB&I won five of six matches, but the U.S. has dominated since then, winning eight of the last 10. None of those wins were by fewer than two points, and the other six were by at least five, none more dominant than the record 17-3 romp in 2018 at Quaker Ridge.
Meghan MacLaren delivered the clinching point in GB&I's most recent win, in 2016 at Dun Laoghaire in Ireland.
"Getting to that point was one of the biggest rushes I have ever felt and will ever feel in golf," MacLaren says. She recalls seeing plenty of red in the form of an American takeover on scoreboards before trading blows with Beth Wu. MacLaren won 2 and 1 as GB&I prevailed, 11.5-8.5.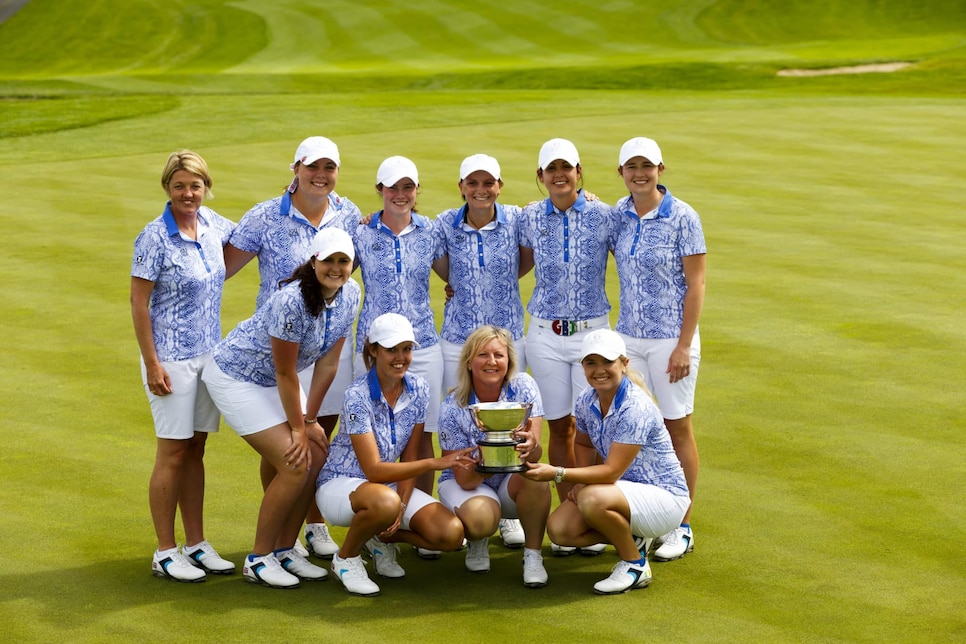 GB&I team holds the Curtis Cup trophy following their victory at the conclusion of singles matches at the 2016 Curtis Cup at Dun Laoghaire Golf Club near Dublin, Ireland on Sunday, June 12, 2016. Photo credit: USGA
The optics are much different as the sides descend upon Merion. GB&I is the away team. The visitors are experienced, returning six of eight faces, but that team lost by five points at Conwy in Wales last August. (The pandemic delayed the 2020 event.) Their captain only wants to look forward.
"Despite the result, there were really encouraging signs in the team's performance at Conwy," Elaine Ratcliffe said upon the announcement of her selections. "There is a strong foundation to build upon as we prepare for the match in June."
She is again calling upon Annabell Fuller, Hannah Darling, Louise Duncan, Caley McGinty, Lauren Walsh and Charlotte Heath. GB&I led by three points after the first day last year, but things went downhill from there. The teams were tied after Day 2, and the U.S. dominated the Saturday singles en route to a five-point victory.
"I'm still furious it's not good enough," said Darling, who halved her singles match. Coupled with a McGinty victory, GB&I would earn only 1.5 of a possible eight points on Saturday.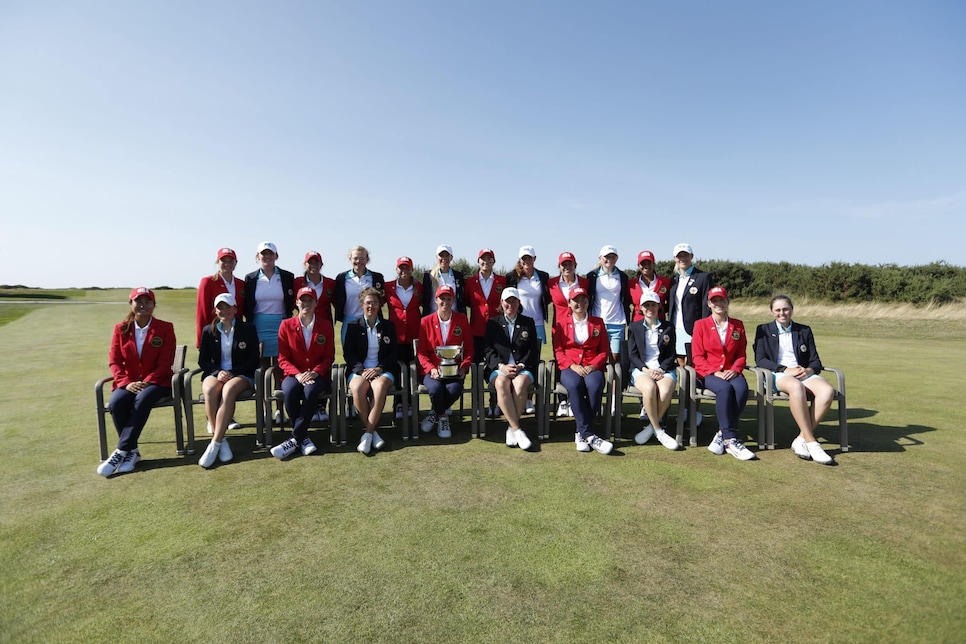 A brokenhearted GB&I poses side-by-side with a victorious Team USA in 2021. Photo credit: USGA
Now the U.S. is sending out arguably its deepest and most talented squad, amateur golf's version of the 1992 Dream Team. The Americans, led by No. 1 Rose Zhang and No. 4 Rachel Heck, feature six players who are in the top 19 in the world amateur rankings.
This Curtis Cup will be contested at storied Merion for the first time since the U.S. claimed a 6-3 victory in 1954, and Ratcliffe is pulling out all the stops. Justin Rose won the 2013 U.S. Open and Luke Donald played in that final group, so Ratcliffe sought the advice of Mark Fulcher and John McLaren, the Englishmen's former caddies. That was a smart move, as Merion will be a departure from the links courses the GB&I players are accustomed to.
The two new faces in the lineup, both from England, should provide a boost. Emily Price is coming off a career year, with three wins over the past two seasons at Kent State. Amelia Williamson had a win and a trio of top-10 finishes as a senior at Florida State, while leading the Seminoles to a runner-up finish at the ACC championship.
An overmatched GB&I expanded to include Europe in the Ryder Cup in 1979, and the wins soon followed. That begs the question: Would GB&I inviting the rest of Europe to the party make the event more competitive? Not necessarily, because GB&I's contemporaries continue to impress. Darling is ranked 14th in the world. McGinty finished 12th at the Augusta National Women's Amateur in April. Walsh played on Wake Forest's 2021 national championship team and has been ranked as high as 10th in the world. Only 19, Fuller is playing in her third consecutive Curtis Cup. Last year, Duncan became the first Scot to win the Women's Amateur championship in 24 years. Heath has won multiple team championships for England.
The talk has been around for a while; it's almost welcomed.
"To kind of prove people wrong and to win it definitely meant a lot," says two-time GB&I player Olivia Mehaffey, who got her hands on the Curtis Cup in 2016.
She and other GB&I players past and present insist there's no need to change the format. Starting Friday, the newest representatives will get an opportunity to make their case.