The Fringe
The Best Bad Golfer: The story of Rowan McCarthy's miraculous 'Holebatross'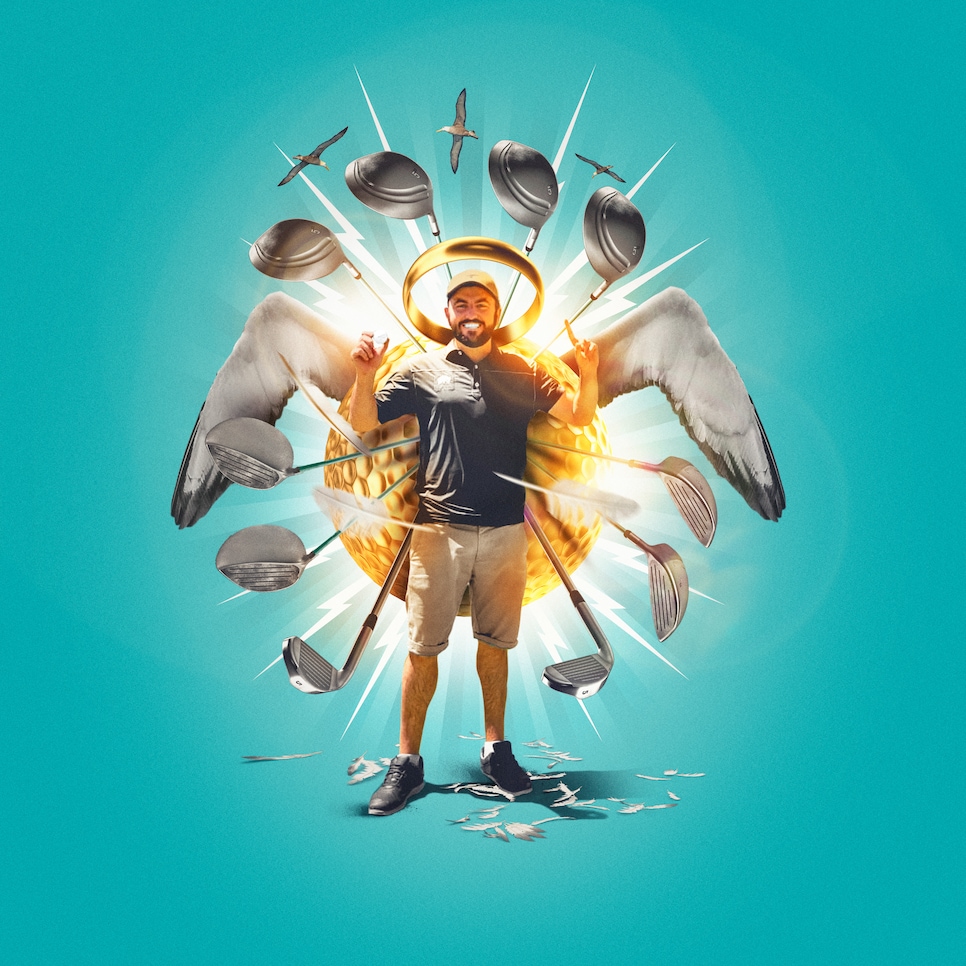 Illustration by Neil Jamieson
Usually, I'm the one doing all the research before an interview, but in this case, Rowan McCarthy had done his homework on me, and he knew to keep quiet.
Despite being an avid golfer for two decades, I've never made a hole-in-one, something I bitterly note in my Golf Digest writer bio. "I saw on your profile that you don't have one," McCarthy said as we were wrapping up our call. "But I decided to do the right thing and not say anything."
Appreciate that, Rowan. Then again, the 32-year-old holds bragging rights over just about everyone who has ever played golf. Not even Tiger Woods or Jack Nicklaus have done what McCarthy did earlier this year. I'm not talking about installing commercial air-conditioning units like the mechanical engineer does at his day job. McCarthy didn't just make a hole-in-one on the par-3 12th (7-iron from 185 yards) at Perth's Wembley Golf Course in January—he added an even rarer albatross three holes later at the par-5 15th (5-iron from 202 yards).
The odds of pulling off such an unfathomable double have been estimated at 72 billion to 1, but that doesn't tell the full story. You see, McCarthy did this as a 20-handicap, a weekend hacker who picked up the game after moving from Ireland to Australia five years ago. He looked like one making two triple bogeys and a double bogey during that magical five-hole stretch. Anyone can get lucky once. (Well, other than me, apparently.) But to get that lucky twice? Within an hour? It's nothing short of miraculous.
McCarthy's feat—his friends refer to it as a "holebatross"—even occurred in a Perth Golf Network event. Under a modified Stableford format, McCarthy's 39 points (his 84 was the third-best score of his life) made him an easy winner—in the B-flight, of course.
Luck has always been on McCarthy's side, from winning raffles as a kid to claiming a big poker tournament in college. None of those accomplishments, though, came with the notoriety of his "holebatross." McCarthy says more than 40 media outlets have contacted him. "People were ringing me to celebrate, and I've been getting recognized at pubs," McCarthy says. "When I went back to work, it was the talk of the office. It was pretty cool."
McCarthy is trying to capitalize on his notoriety through an Instagram account "Shank Magic" that pokes fun at his good fortune—he describes himself as "the world's best worst golfer." He also hopes to raise more money for Beyond Blue, an Australian mental-health support organization, through a charity golf event he helps run with friends.
"A lot of people are saying I should have been a dairy farmer," McCarthy says, "because I'm milking it so much."
Milk away, Rowan, because according to DoubleEagleClub.org, which has tracked albatross-related feats for a quarter century, McCarthy is only the 22nd person (a list that includes legendary UCLA men's basketball coach John Wooden) to officially record this rare double in one round. However, the site's founder, Michael Christensen, says that McCarthy has by far the highest handicap—although he is down to a 17—to pull it off.
"That's absolutely amazing to think about," McCarthy says. "But for me, golf is about the social aspect. I can play with people I've never met, and at the end of the round you're best friends."
Now, in me, he has met another friend from across the world, albeit a jealous one.