Rap Report
Finding reward in cross-generational golf friendships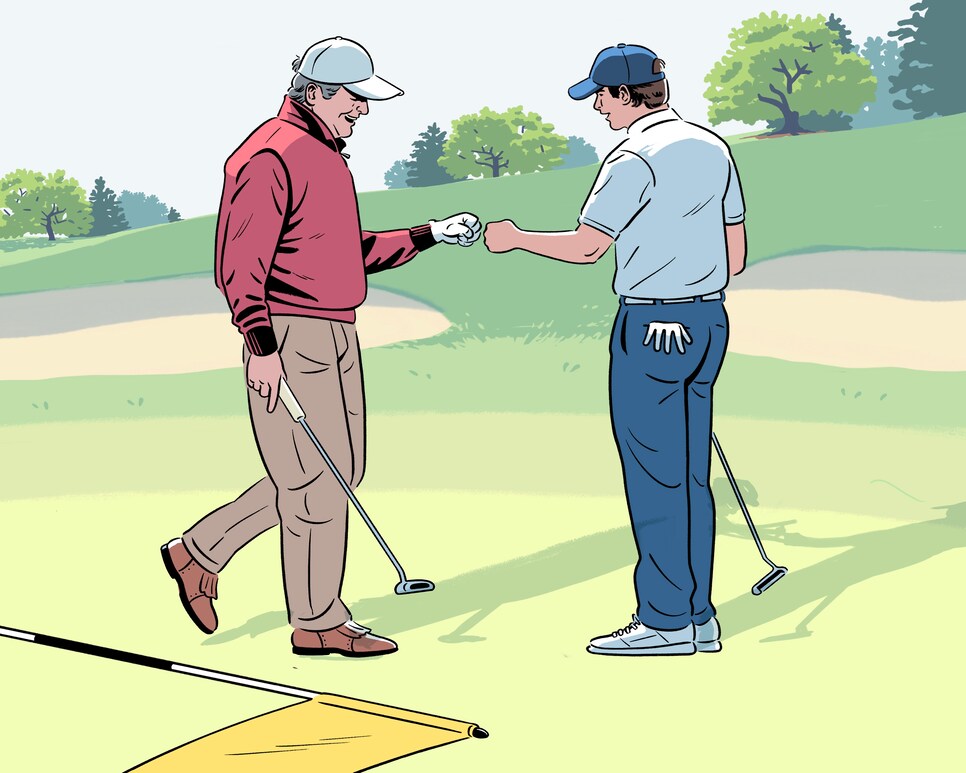 Illustration by Madison Ketcham
My best golf buddy's name is Bill. He and I text often and call each other "dog." When I need an emergency fourth to fill out a group, Bill's my go-to. He has been my partner in a member-guest and will be one of the first invites to my upcoming wedding. Bill is more than twice my age.
Nearly every golfer has a friend in a wholly different stage of life. The play-your-own-ball nature of the game and the ingenuity of the handicap system make any foursome of players and abilities doable. In turn, golf fosters cross-generational friendships that don't occur in the wild.
I spent the majority of my childhood weekend mornings tagging along with dad's regular game and teasing gray hairs about their shakiness over four-footers. I learned when to strike up conversation (after good shots) and when to avoid eye contact at all costs (after a water ball). I discovered that, vernacular differences aside, we all laugh at the same jokes. I came to embrace these unique relationships, to take pride in my ability to mingle with my friends' parents when other kids couldn't muster much more than "Hey, Mr. Johnson!"
It's simple: Grown-ups are cool, too. The PGA Tour's Matt Fitzpatrick knows this. While his pals chased girls on Friday nights, he marked his golf balls. "That was my life growing up," the two-time Ryder Cupper says. "I'd sign up to play in the Saturday morning games at the golf club, and I'd play on my own with the grown-ups."
His game blossomed, and his people skills flourished.
"That's one of the things I'm most thankful for in this game," he says. "I learned at a young age how to interact with adults—how to ask them questions, how to answer their questions, how to enjoy their company."
It goes the other way, too. Playing with kids brings out the kid still inside you. (Or so I'm told.) Where else in life can you unleash a guttural yell? Bond over a cocktail at noon? Spend four hours outside picking a brain molded by a different era?
"There is no other sport where you can truly compete in your advancing years with young, strong bombers," Bill says. I can only assume he's talking about me. "But the real draw is the swagger and lively, electric chatter. Great golf and great fun is an unbeatable combination."
Rory McIlroy is not quite AARP-ready, but the 33-year-old is no longer one of the young guns in world golf. He is, however, still very much in the Featured Group rotation, and the influx of even-younger talent on tour means he's the oldest player in his group just as often as he's the youngest.
"When I play with Viktor Hovland or with Collin Morikawa or with Joaquin Niemann, it's like, Oh, I remember those days," McIlroy says. "Everything's sort of new, you're not quite as cynical, you're a little more naive. That's a really nice way to be. I play with these guys, and I see myself in them.
"Golf is the game of a lifetime. I've played in a major championship against Tom Watson, and I've played in a major championship against someone born in the 2000s. That's unbelievable."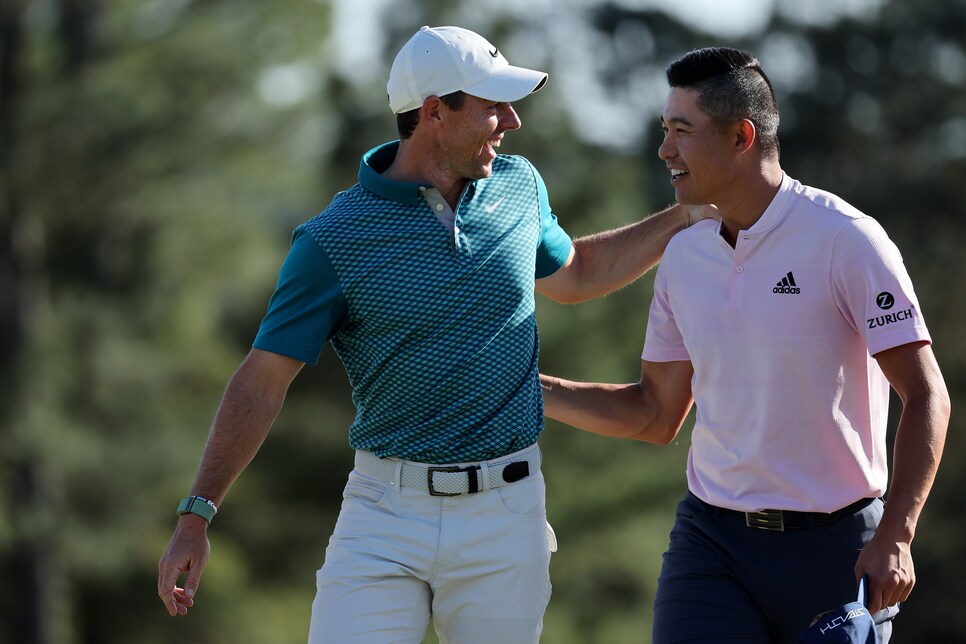 Tiger Woods' two most famous friendships are with people from other generations. The only witness to what Woods calls the greatest round of his life was a man double his age. When a 21-year-old Woods moved cross-country to Florida, famous as hell but low on genuine friends, Mark O'Meara mentored him. The pair would play countless rounds together at Isleworth Golf & Country Club—like the one on April 4, 1997, six days before Woods' first Masters as a professional. Woods shot 59 that day, the lone sub-60 round of his life. They teed it up again the next day, as pals do. "We teed off on 10—I birdied 10, I made a hole-in-one on 11—and Mark just left," Woods remembers with a warm-your-soul laugh. "It was a helluva two days."
O'Meara has since called it a career. Tiger's new bestie on tour, Justin Thomas, is young enough to be his son and a mentor to his son.
"We have become so close that I think Charlie is like the little brother Justin never had, and Justin has become the little brother I never had," Woods said late last year.
As this golf season kicks into full-swing, make an effort to play with the Bill (or Dan) in your life. If you don't have one, find one. It shouldn't be too difficult. Literally any golfer is a candidate. That's the beauty of our game.