Journeys
Aaron Rai: 'I turned pro when I was 17. I wasn't ready'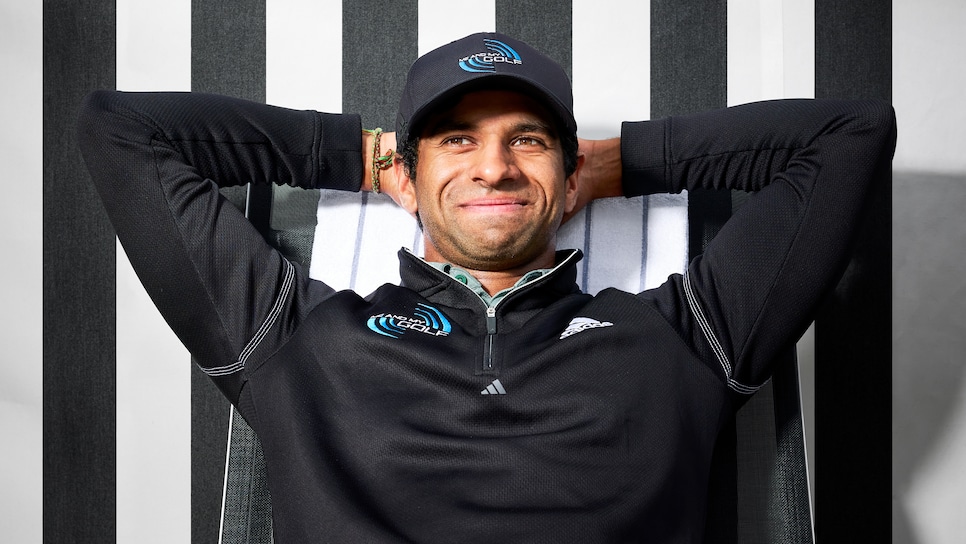 No one in my family played golf. My dad, Amrik, was a tennis player and says my tennis stroke looked more like a golf swing, so he got me plastic clubs. I played my first tournament when I was 4 years old. The age group was 12 and under. I had many family members watching. I won the net division and finished second gross. I played in tournaments every month after that. It didn't take long for me to know I wanted to pursue golf.
We were a working-class family. My mum, Dalvir, immigrated to England from Kenya with her family as a teenager. She has had many jobs, from mental-health nurse to aerobics instructor. My dad was a community worker who was born in England but whose family immigrated from India. My dad read golf books to learn about the swing.
He bought me a set of Titleist 690 MBs when I was 7, which were the top Titleist clubs at that time. I practiced every day, in all weather. When the clubs got muddy, my dad used a pin to clean every groove. Then he'd put baby oil on the face to prevent rust. He bought me iron covers to protect them. I learned early to value what I had.
For guidance, my dad leaned on Shaun Ball, a coach at the par-3 course where I practiced. Ball said, "Put Aaron in different situations and let him figure it out." That was empowering. When I turned 12, I started working with Andy Proudman and Piers Ward. They still coach me.
My dad reached out to local papers to raise awareness and maybe some funding for my golf. A man reached out asking if I'd try his gloves. They were all-weather, and I'd wear one on each hand. I loved them. At practice, I forgot one and had to play with one glove. It was awful. I've played with two for 20 years, still that same brand: Macwet.
Shabir Randeree, owner of the first course I joined, became a close family friend. He funded my golf and my private high school education. Junior memberships were inexpensive. He helped me join different courses from a young age so that I would become versatile. He's still my sponsor now.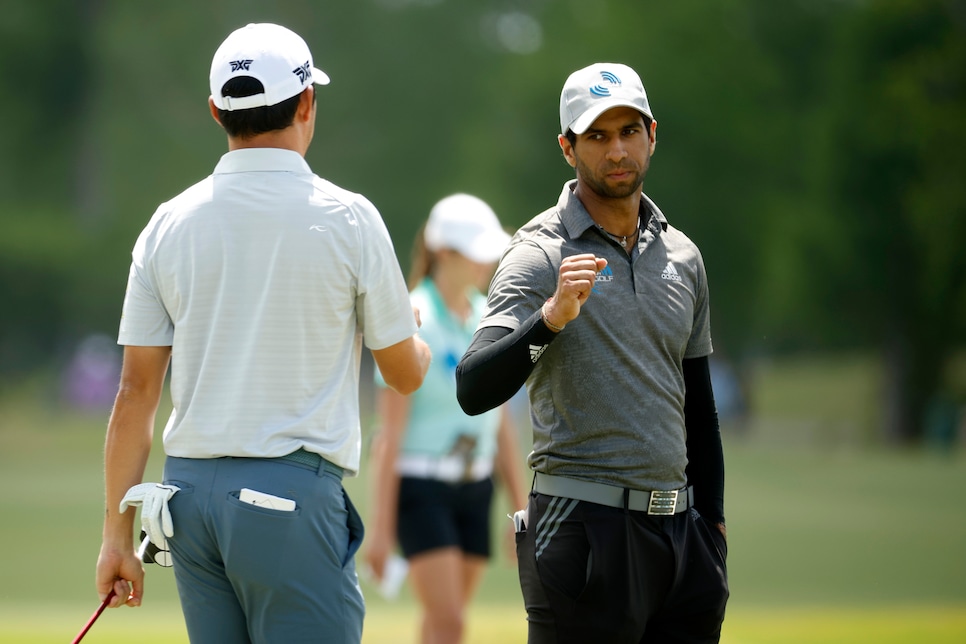 David Lipsky and Aaron Rai react to a putt during the second round of the Zurich Classic of New Orleans at TPC Louisiana on April 22, 2022 in Avondale, Louisiana.
Chris Graythen
I turned pro when I was 17. I talked to my parents and Shabir. We believed turning pro was the best way to learn, even though I probably wasn't ready.
It was lonely. I started on the EuroPro Tour. I missed the first four cuts. The guys out there were longer, had more awareness, better strategy, smarter shot selection and putted better. I had a lot to learn, but I saw how accurate I was. I picked up on little things they did. I lost my card two years in a row but got it back every year at Q school.
Finally, I finished in the top five and graduated to the Challenge Tour. In 2017, my mum came with me to a tournament in Kenya, her first time back since she was 14. She came onto the 18th green when I won. It was Mother's Day in the U.K. It was the most memorable moment of my career.
I moved up to the European Tour where I won the 2020 Scottish Open in a playoff with Tommy Fleetwood. In golf you lose over 95 percent of the time. Having that small percentage where it goes the other way is invaluable. I tend not to look at leader boards. Instead, I try to completely focus on the process at hand.
Because of my finishes in 2020, I got into the PGA Championship, two World Golf Championships and the Open Championship. I played solid, which got me into the top 200 in FedEx Cup points, which then got me into the Korn Ferry finals where I finished third and got my PGA Tour card. It took me a couple of hours to internalize what I had done.
So far as a pro I haven't always played well, but I've seen enough to know I can hang around. In the final group on Sunday at the Farmers Insurance Open with Will Zalatoris and Jason Day, the crowds were big and loud. I need to keep putting myself in that position because you can't simulate it.
A lot of the crowd didn't know me. The fact I don't have any social media accounts probably added to that. Social media amplifies the highs and the lows. That's not an environment that I want to expose myself to. I don't really see how it's going to help my golf.
I still use iron covers. It's the little things in life, the interactions that people have with one another, the gestures, the thoughts, the moments that reinforce character. It all adds up to build something strong. I don't want to lose sight of what's important. Although I have access to plenty of equipment now, it's the message and the meaning behind those iron covers that keep me using them. —With Keely Levins