It's tough to fathom that one of the best course architects in American history did not start designing courses until, as a 32-year-old, A.W. Tillinghast was asked to help build what is now the Shawnee Inn Golf Course in the Poconos. A Philadelphia socialite, like other world-class Golden Age designers from Philadelphia including George Thomas, Hugh Wilson and George Crump, Tillinghast was an accomplished golfer, playing in several U.S. Amateurs, U.S. Opens and other prominent events, and his love for golf took him to St. Andrews, where he took lessons from Old Tom Morris. Enthralled in the artistry of building a golf course after his Delaware Water Gap creation, Tillinghast put together one of the most impressive design firms of the time, and he amassed a fortune from his work in the 1920s (he would sadly lose it as tougher times were to come). Interestingly, as a comprehensive 1974 profile by Frank Hannigan points out, Tillinghast became forgotten for a period of time, until four USGA events were held at Tillie courses that year. His reputation was saved.
Though his work was concentrated in the Northeast, Tillie's brilliant designs extend out west (San Francisco Golf Club his most notable, and two underrated works being Brackenridge Park and Brook Hollow), and even abroad to Toronto and Quebec. Among his other talents included photography, writing and editing—as he wrote for Golf Illustrated from its founding in 1914—even writing the following about a 14-year-old Bobby Jones in 1916: "Little Bobby Jones of Atlanta is a really fine player, and shows every indication of becoming a tremendously great one, once he is a master of himself." Though the Great Depression struck his business interests in the 1920s, forcing him out of the design business, Tillinghast's legacy endures as one of the best classic architects in history. As Hannigan wrote in 1974: "Tillinghast's greatest assets were his rich intelligence, imagination and sense of aesthetics. He did not repeat himself; his best courses are marked by variety, and he could be audacious." Tillie's impressive list of designs has endured history almost 100 years later.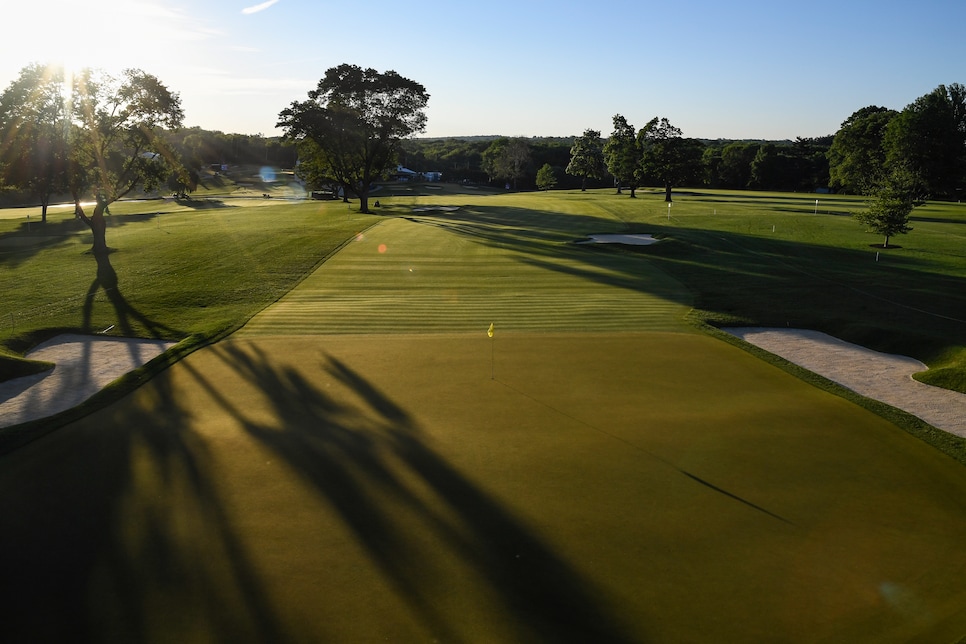 10 . Philadelphia Cricket Club (Wissahickon), Flourtown, Pa.: Tillie grew up learning cricket at the Cricket Club before building the club's original golf course. A recent renovation by Keith Foster has brought this Philly design back to its classic roots, re-establishing one of Tillie's best works. The Wissahickon course is currently ranked 115th on our latest Second 100 Greatest ranking and fifth in the state—moving up seven spots from its previous position. A member of our two inaugural "200 Toughest" rankings, the Cricket Club is as close as it has ever been to making its return to our biennial ranking o America's 100 Greatest. The great hazard on the fourth hole is one of his best, and the 18th hole is one of his best finishers.
9 . Ridgewood Country Club, Paramus, N.J.: Perhaps unheralded compared to Tillie's other great courses in the New York City area, the 27-hole New Jersey club has hosted the 1935 Ryder Cup, 1974 U.S. Amateur and senior majors in 1990 (U.S. Senior Open) and 2001 (Senior PGA) before entering the Barclays rotation in 2008. Ridgewood will host the event, now the Northern Trust, again in 2018, for the fourth time (also hosting in 2010 and 2014). Ridgewood appeared on Golf Digest's 100 Greatest from 1989 through 1995, holding the No. 76 position in 1989. Gil Hanse, who has done restoration work at many of the A.W. Tillinghast courses on this list, first presented a master plan for Ridgewood in 2001—and has continued his work on these 27 holes in Bergen County in recent years, including significant tree removal and recreating the flashy Tillie bunkers and restoring these interesting green complexes that tour players will take on at the first event on the FedEx Cup Playoffs. Some of the most fascinating features include the Nickel-and-Dime 12th hole (the sixth hole on the club's Center nine), a 291-yard par 4 with a 2,200 square-foot green surrounded by devilish bunkers, and the classic minefield of mounds on the third hole that come into play for the average golfer's second shot—all before playing to one of the most distinctive greens in New Jersey with five distinct plateaus.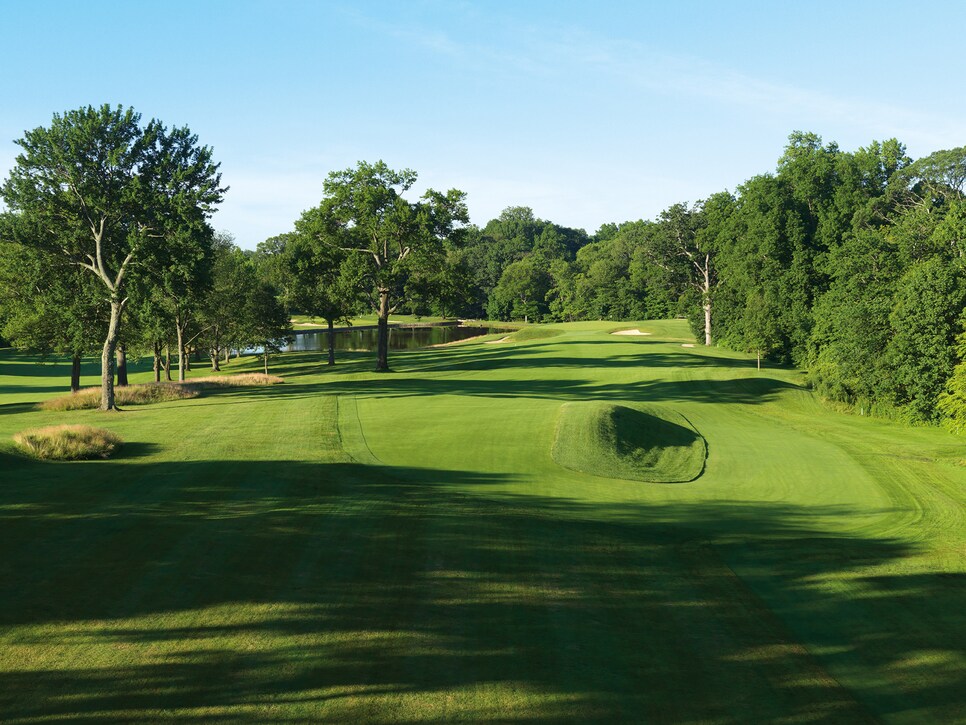 Evan Schiller/Courtesy of Quaker Ridge GC
8 . Quaker Ridge Golf Club, Scarsdale, N.Y.: Many might not realize that A.W. Tillinghast didn't design the original layout on this land. John Duncan Dunn laid out the original nine-hole course in 1915 on this land right next to the Hutchinson Parkway in Westchester County. Tillie came here just a few years later and ignored that routing to build a new 18 holes, which earns its spot on this ranking. A member of Golf Digest's 100 Greatest from 1967 through 2010, the club fell off the ranking for a short time before Gil Hanse's renovation was complete. The club returned to the ranking in 2013, and it currently sits at No. 76.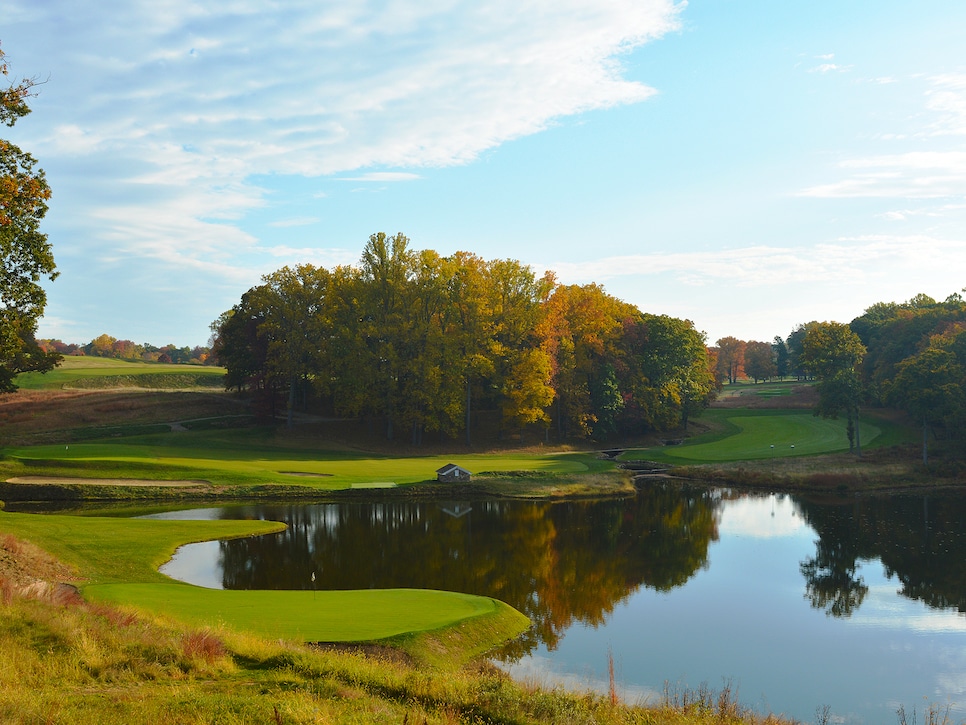 Courtesy of Somerset Hills CC
7 . Somerset Hills Country Club, Bernardsville, N.J.: Perhaps Tillinghast's boldest green designs sit at Somerset Hills, where his greensites remain mostly untouched since 1918. Tillie did not usually design template holes, but his Redan second hole is one of his best. Somerset Hills currently sits at No. 64 on our 100 Greatest, with the charming, rolling layout ranking as high as 41st in 2003.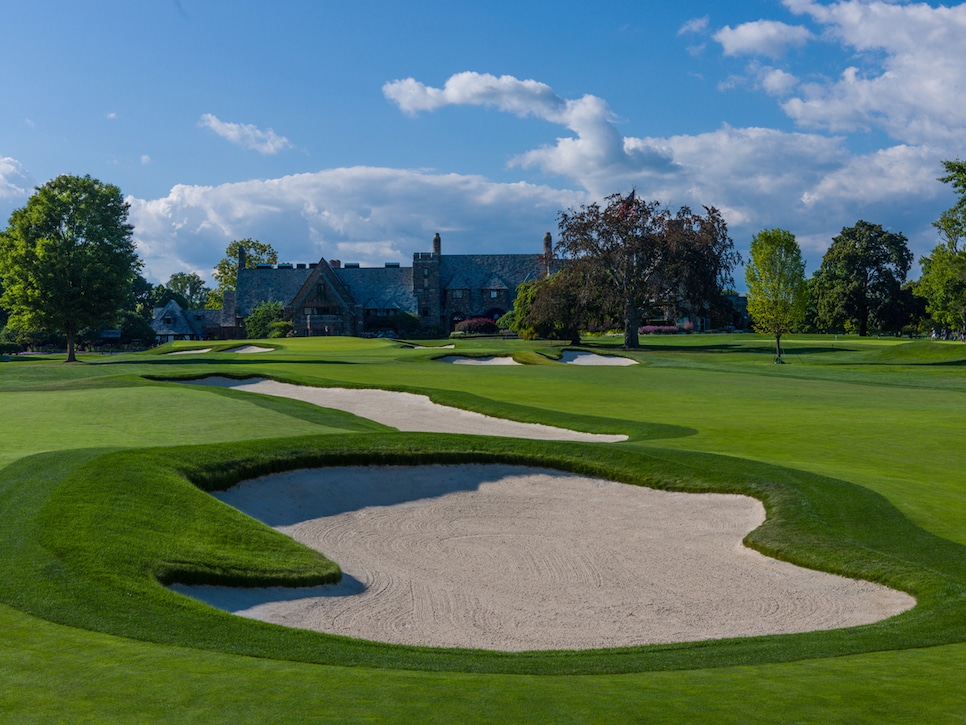 6 . Winged Foot Golf Club (East), Mamaroneck, N.Y.: Sitting on just 280 acres on mostly flat land, Tillinghast masterfully designed 36 championship holes at Winged Foot. Gil Hanse's recent renovation at Winged Foot included re-establishing Tillinghast's bunkering and reclaiming the original sizes and shapes of the greens. Winged Foot East, which is often used as a parking lot for the U.S. Open (which will likely occur again in 2020), is ranked 62nd on Golf Digest's 100 Greatest.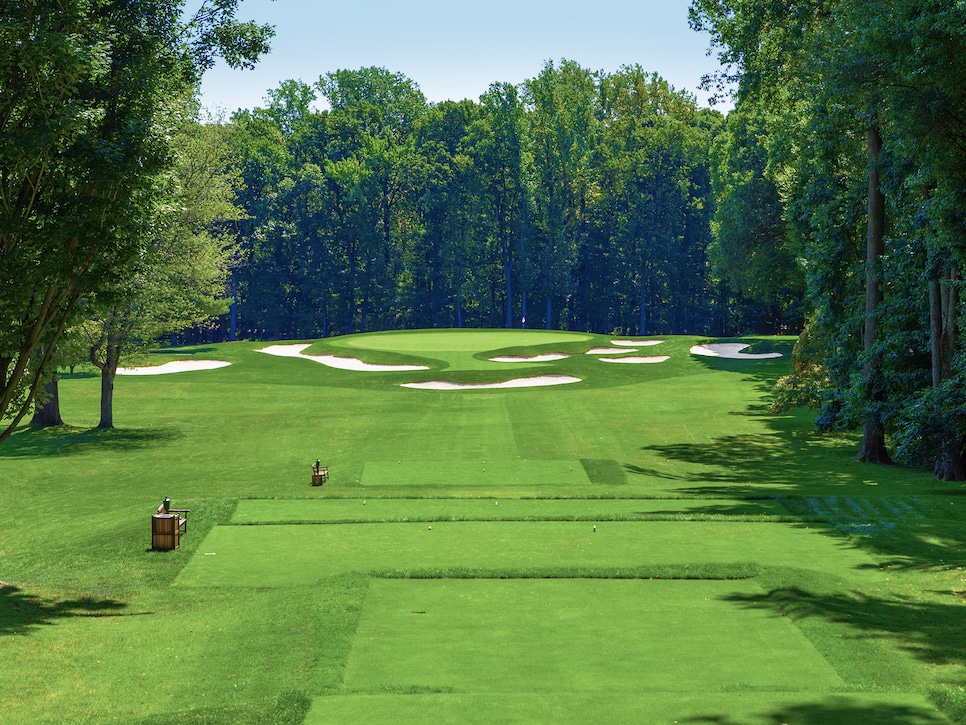 5 . Baltusrol Golf Club (Upper), Springfield, N.J.: In 1916, Baltusrol already had 18 holes, but the club decided to ditch its existing layout and hired Tillinghast to build 36 holes. World War I prevented the club from opening both courses until 1922. Since then, the club has built its reputation on its national championships, and though most have been held on the Lower course, the Upper course held the first U.S. Open at Baltusrol, in 1936. Since Rees Jones' work at the Upper, the course has found its way into our 100 Greatest, and it has gained a reputation of its unique and interesting routing. The Upper course is currently ranked 61st on our 100 Greatest.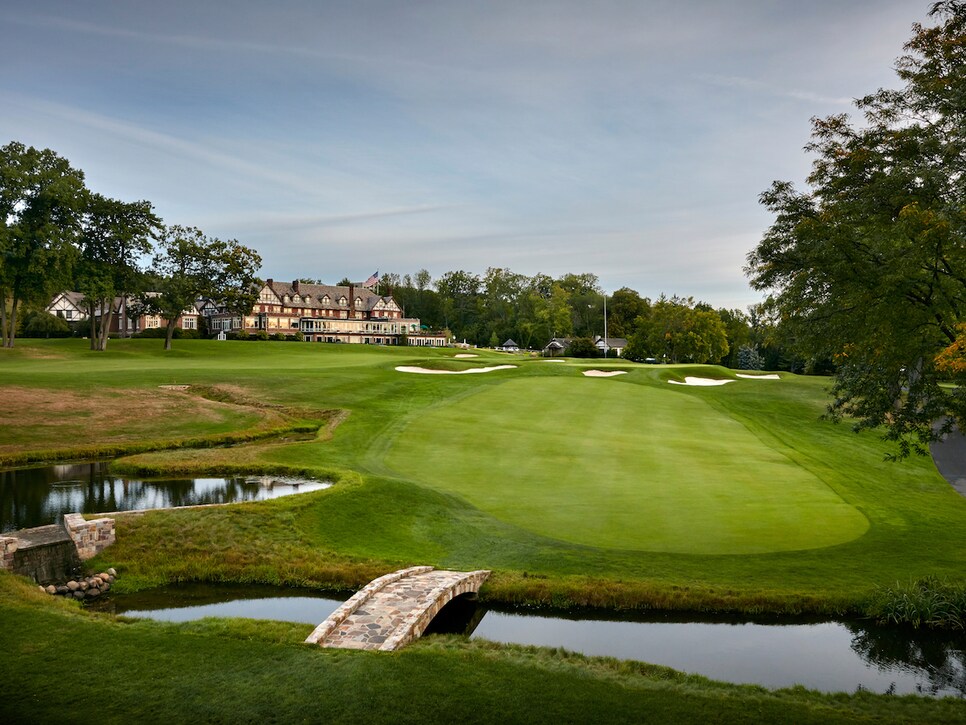 4 . Baltusrol Golf Club (Lower), Springfield, N.J.: Speaking to his bold design characteristics is the finishing two holes at Baltusrol's famed Lower course being back-to-back par 5s to end. Tillinghast cited par 3s as his favorite holes to design, which is why holes like the fourth at the Lower course at Baltusrol are often his most memorable. Like Winged Foot's West course, Baltusrol Lower sits on a mostly flat piece of land, but Tillinghast carved out an interesting test that has hosted 17 majors, including seven U.S. Opens, two PGA Championships, and the future 2023 KPMG Women's PGA Championship and 2029 PGA Championship.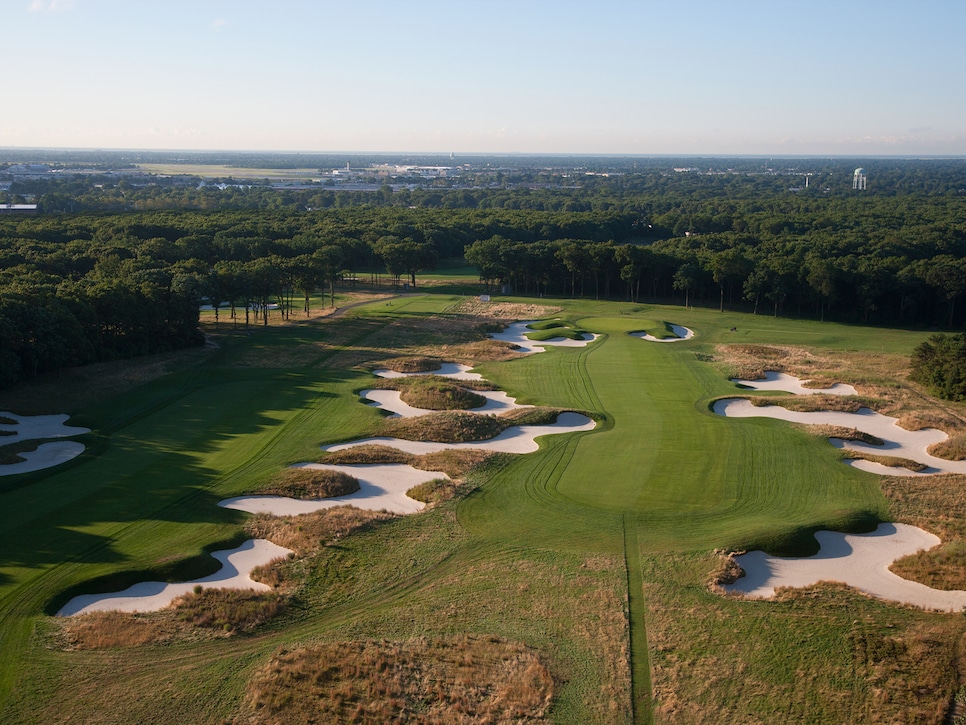 3 . Bethpage State Park (Black), Farmingdale, N.Y.: Though commonly referred to as one of Tillinghast's great designs, the truth is, the design for Bethpage Black should mostly be credited to Joseph H. Burbeck, the long-time superintendent at Bethpage State Park. Mostly finished as a solo designer by 1936, Tillie was brought in as a consultant by owner Robert Moses, referred to as "New York's Master Builder, the man responsible for creating most of the dams and bridges around the state, most of its highways and state parks, two New York City World Fairs and the United Nations building," wrote Ron Whitten in 2002. Regardless, Tillinghast and Burbeck combined to create "the public Pine Valley" for Long Islanders, who agreed to share their course with the world for the 2002 and 2009 U.S. Open, and 2011 and 2016 Barclays. The 2019 PGA Championship will take place at Bethpage Black, in addition to the 2024 Ryder Cup, which is bound to be the most boisterous set of matches in Cup history.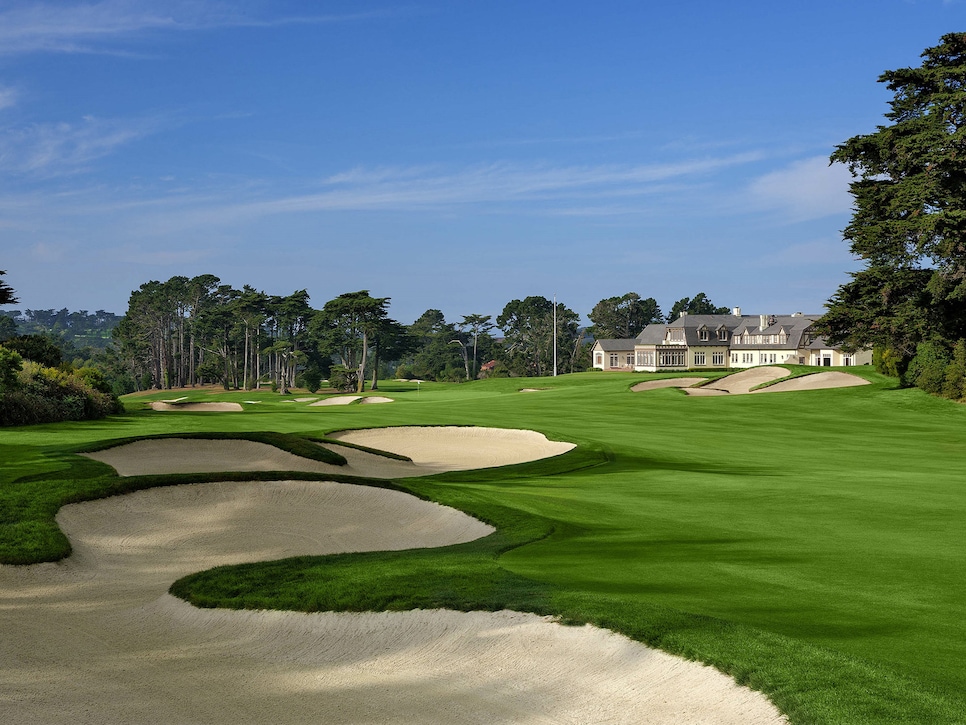 Courtesy of San Francisco GC
2 . San Francisco Golf Club: Tillinghast often referred to his favorite hole as San Francisco Golf Club's par-3 seventh hole, which is where a one-shotter of a different kind took place, having hosted the deadly 1859 duel between U.S. Senator David Broderick and California Supreme Court Justice David S. Terry took place (the last legal duel in this country). The course was originally routed by three club members, then redesigned by Tillinghast in 1923. San Francisco Golf Club has been ranked inside Golf Digest's 100 Greatest since 1971, its highest position being 18th in 1999 and 2001, and its current rank being 37th.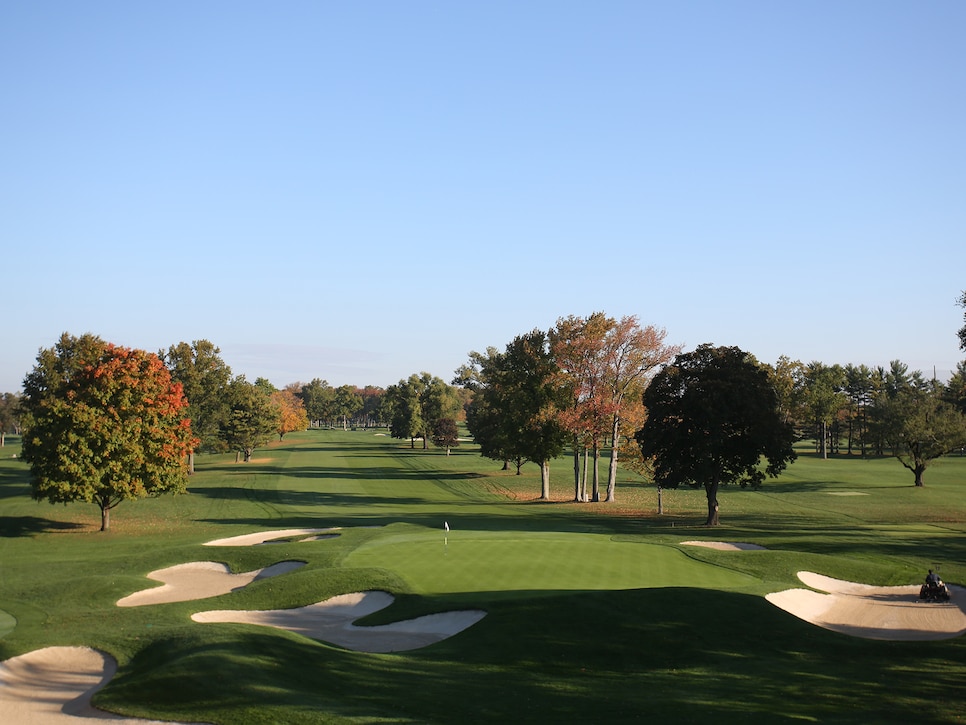 1 . Winged Foot Golf Club (West), Mamaroneck, N.Y.: Likely Tillinghast's most complete set of green designs, Gil Hanse recently referred to Winged Foot West as having the most fascinating to study in the world. He might be slightly biased, having completed a restoration project at Winged Foot, but Hanse has worked at many, many top clubs—and has seen pretty much every top course in the world. So his opinion of Tillinghast's mushroom-shaped complexes is one to be appreciated. In 2020, the U.S. Open will return here for a sixth time, adding to the rich history here (only Oakmont and Baltusrol have hosted more U.S. Opens with seven each). The West course is currently ranked 10th on our 100 Greatest; its highest position coming in 1985 and 1987 (fifth).
Other notable Tillinghast courses:
(Though Tillie designed some holes at other top clubs such as Sleepy Hollow Country Club and Inverness, for example, they are accepted as predominantly designs by other architects (C.B. Macdonald in the case of Sleepy Hollow and Donald Ross with Inverness), so they do not appear on this list.)
-- Baltimore Country Club (East), Timonium, Md.: The Five Farms club has one of the finest reputations of any clubs on this, missing only one ranking of Golf Digest's best courses from 1966 through 2003. And the East Course ranked no lower than 75th on Golf Digest's 100 Greatest from 1987 through 2003. Keith Foster, who also renovated the Wissahickon course at Philly Cricket Club, completed significant at Baltimore Country Club a couple years ago. The resulting work has ensured Baltimore Country Club is firmly in the conversation for Tillinghast's best work.
-- Fenway Country Club, Scarsdale, N.Y.: Currently ranked 20th in golf-rich New York, Fenway is right across the highway from other Tillinghast gems Quaker Ridge and Winged Foot's West and East courses. Gil Hanse's design team also completed renovation here recently to reestablish Tillie's green shapes. Other original Tillie layouts in New York are: Southward Ho! and Old Oaks. He also did work at Sunningdale Country Club and North Shore Country Club, No. 26 on our last Best in State rankings](https://www.golfdigest.com/story/new-york-best-in-state-rankings)
-- Oklahoma City Golf & Country Club: Currently ranked sixth on our Best in State rankings, Tillinghast did reconstruction work here before the 1953 U.S. Amateur, won by Gene Littler. Tillie's work in Oklahoma also included Tulsa Country Club and Oaks Country Club.
-- Brook Hollow Golf Club, Dallas: When it opened in 1921, Brook Hollow was thought to have the most extensive irrigation of its time. The course appeared on Golf Digest's original 200 Toughest Courses ranking, and it currently sits at No. 25 on our list of the Best in Texas. Tillie's other work in Texas includes the under-appreciated Brackenridge Park Golf Course, the site of the Texas Open for many years and one of the most fun munys in the country, and Cedar Crest Golf Course, another Tillie public course in Texas that was recently preserved in his style.