Times They Are A-Changin'
Texas and Oklahoma trying to join the SEC is craven, opportunistic, and probably what's best for college football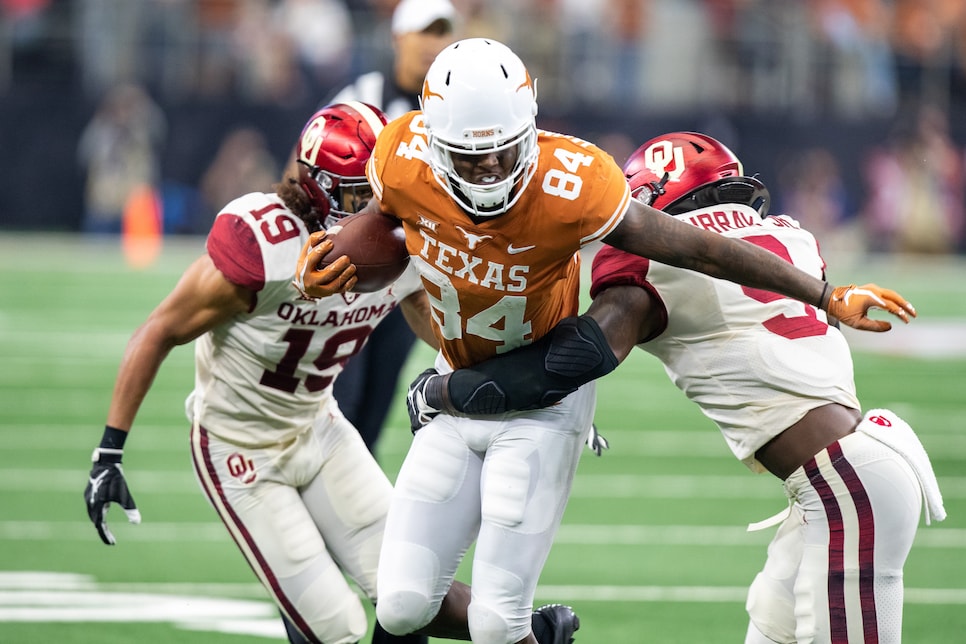 College football, at least south of the Mason Dixon, was rocked to its core on Wednesday, when news broke in the middle of SEC Media Day that both Texas and Oklahoma were in talks with the Southeastern Conference over a merger. Jimbo Fisher, coach of recent Big 12 ex-pats Texas A&M, scoffed. Oklahoma State tisk tisked. But despite the disapproval from longtime rivals, reports suggest the power play is only picking up steam, not losing it.
Obviously this will take time. Texas has informed the Big 12 it does not plan to extend its media grant of rights, but that doesn't expire until 2025. It also likely means the end of the Big 12, definitely as we know it, potentially altogether. It's exploitative, greed-driven, and seeks to bankrupt tradition in the name of profit. But through the smoke and mirrors, there's a literal and figurative goldmine waiting for college football fans. How so? Well, we're glad you asked …
If Texas and Oklahoma were to join the SEC, conventional wisdom suggests they would be placed in the SEC West, requiring one SEC West team to move to the SEC East for a balance of eight teams per division. The most likely contender for such a move would be Alabama, opening up annual tilts against Florida, Georgia, and Tennessee. Assuming the Iron Bowl remains on the calendar in the name of history cold, hard cash and Alabama faces Texas, Oklahoma, or LSU in the Big 12 Championship each season, this seems like the best possible Saturday afternoon scenario for the college football neutrals of America.
The Texas-Texas A&M rivalry
When Texas A&M joined the SEC in 2012, it effectively ended the second biggest in-state rivalry game in college football. With a potential Texas-Oklahoma move into the SEC West (reports suggest this is a package deal and one will not happen without the other), not only would the Red River Rivalry remain intact, but Texas-Texas A&M would return to the annual fall slate. So far the Aggies seem to want no part of getting noogied by the big brother on a yearly basis again, but when they see the national TV attention and Kyle Field beer sales they might just change their tune.
Mike Leach vs. Lincoln Riley
If y'all like 74-72 barburners, this is where it's at.
No more overrated Sooners teams in the CFP
In the seven years since the berth of the College Football Playoff, Oklahoma has made the final four three times. Only Alabama and Clemson have been more regular participants (Ohio State also has three appearances). Yet the Sooners have never advanced past the semifinal, losing 37-17 to Clemson in 2016, 54-48 to Georgia in 2018, and 63-20 to LSU in 2020. Joining the SEC West solves that problem for them. With a murder's row schedule each and every year, the Sooners won't sniff another College Football Playoff without learning how to recruit on defense, saving themselves and college football fans the trouble of another wasted New Year's Eve.
Texas forced to stick or twist
For years the Longhorns have ridden their own coattails, hiring and firing one savior coach after the next while slowly sinking toward national irrelevance. They've lost three or more games per season every year since 2009 and have clearly lost their stranglehold on in-state recruiting. A move to the SEC West won't help those win totals, at least not initially, but it will bring more money and exposure to prospective athletes—which means a lot in the post-NIL world in which college football now operates—and may be just the boot up the ass Texas needs to become, well, Texas again. Or not, and we get to watch them drop pivotal late-season games to Arkansas for the rest of eternity. That's what you call a win-win, folks.
Lane Kiffin leaving Ole Miss in the middle of the night to take the Texas job
Now Mike Gundy and Oklahoma State will finally have their time to shine! Just kidding. The reality is the Big 12, at least when it comes to football, has been a pretty underwhelming for awhile now. It's empty-calorie football. It's home to one of the single-worst FBS programs in the nation in Kansas. Nebraska and A&M already ditched, Morgantown is 1,400 miles from Austin, and Pat Mahomes III isn't walking through that door in Lubbock for at least another 19 years. Maybe it's better to just burn it down and start over. Put Texas Tech in the Mountain West with the high-altitude air-raiders. Let TCU play SMU in the AAC every year and send the Mountaineers back east where they belong. As much as it may hurt to hear, it makes too much sense not to listen.