International Crown
Team USA's semifinal comeback falls short as dreams of International Crown victory end against Thailand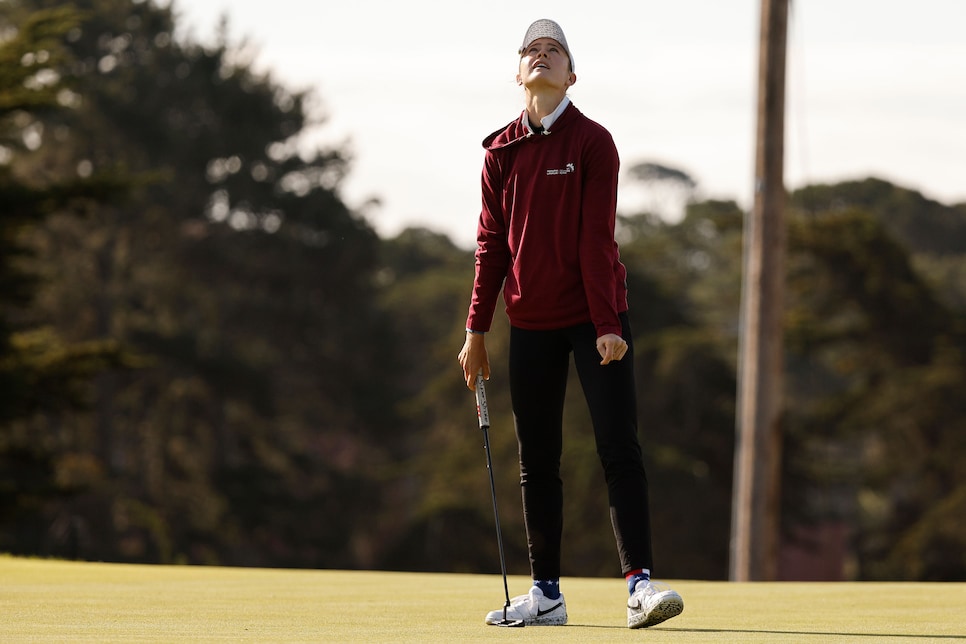 SAN FRANCISCO — Sunday morning's semifinal showdown with Thailand was a microcosm of the week for Team USA at the Hanwha LifePlus International Crown. The Americans displayed solid if less than spectacular golf that caught up with them on the last hole of the last match at TPC Harding Park.
Nelly Korda and Danielle Kang fought back from a 2-down deficit in their foursomes match against Ariya and Moriya Jutanugarn, but a birdie-birdie finish allowed gave the Thai sisters a 1-up victory. Combined with the point earned by Atthaya Thitikul in a 3-and-2 singles win over Lexi Thompson, Team Thailand had the two points needed to advance to the finals and face Australia, a 3-0 winner in its semifinal match with Sweden.
"Obviously a little disappointed," Korda said. "I can only speak for myself, not being in the final. But I think we played well. Danielle and I shot three under an alternate shot. That's tough to do. [The Jutanugarn] sisters just played super well today, and I think overall, even Lilia and I paired up the first three days, we had so much fun, and we played solid golf, too.
"We wish some more putts were dropped. But overall, I think our performance has been pretty good, and it's a way for us to build going to Solheim too."
A slumbering Sunday with tee times before 8 a.m. local time resulted in a slow start for Team USA. The Americans were at least 2 down through five holes in all three their matches, Lilia Vu facing Patty Tavatanakit in singles in the match-play contest. But once again, that had been the story of the week: the U.S. led for only 10 holes of 81 played on the opening side.
"The first five holes, there's three par 5s, so if you don't kind of take advantage of it and the opponents take advantage of those, then you are going to be 2, 3 or even 1-down," Korda explained. "After that, the course gets pretty tough. It is a tight golf course, and pars win sometimes, so you just kind of have to keep your head up and know that there are more opportunities out there."
Thompson could win just one hole against Thitikul, with her last singles match victory on the LPGA shockingly dating back to the 2013 Solheim Cup, a 4-and-3 win against Europe's Caroline Masson.
Vu, however, turned things around against Tavatanakit (her former UCLA teammate) by winning three of four holes from Nos. 11 to 14, eventually pulling out a 1-up victory. It was first time anyone had beaten Thailand all week, and allowing everything to come down to the alternate-shot match.
Tied through 16 holes, the Jutanugarn sisters regained the lead with a birdie on the par-3 17th. Both teams reached the par-5 18th in two shots, as Korda's 30-foot eagle putt slipped hard left in front of the cup. A two-putt from the Jutanugarns sealed their victory and a loss for the Americans.
"They're a tough team, but we're here to play, as well," Tavatanakit said. "Even though we might be the lower-ranked team. But at the end of the day, we start from hole 1 to hole 18. It's all equal game."
The Americans remained jovial after the semifinal loss. They joked about who should answer questions at the press conference. Despite not winning, they felt grateful to play wearing the U.S. flag and hopeful to pull out the consolation match in the afternoon against Sweden.
"Anytime you can be able to tee up and represent your country, it's the highest honor you can possibly have, and to be alongside these girls, they've been amazing," Thompson said. "We've had a lot of fun. Today wasn't how we planned, but we did our best, and they played some great golf."