Takeaways
Bubba hangs in despite balky putter, Abraham Ancer's relatable hole-in-one message and DJ, Bryson quietly lurk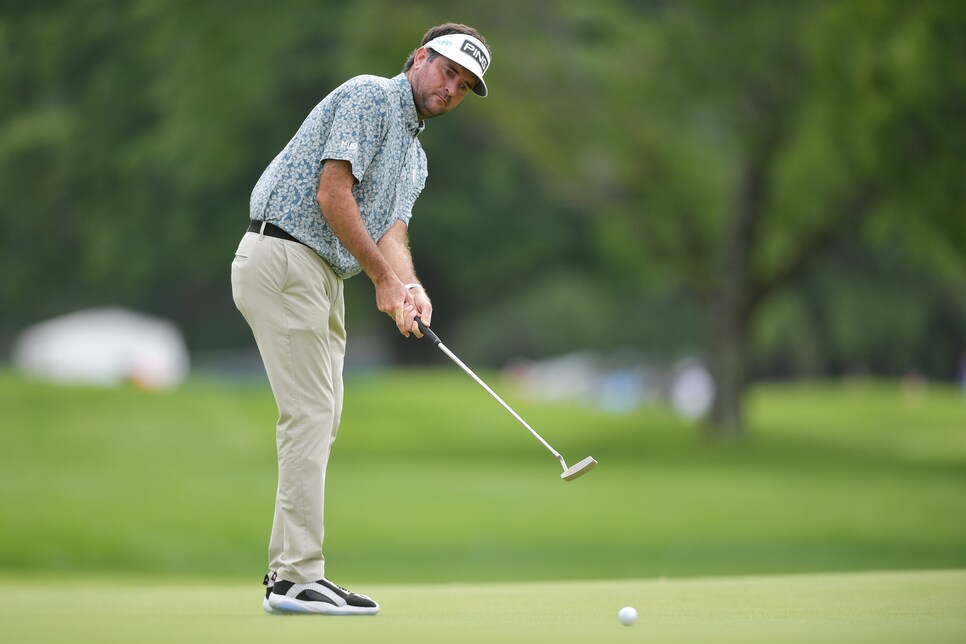 Bubba Watson putts on the fifth green during the third round of the Travelers Championship.
Drew Hallowell
If Bubba Watson goes on to win the Travelers Championship for a fourth time on Sunday, he won't remember what happened on the back nine on Saturday at TPC River Highlands. If he comes up short, though, a few wasted shots could prove to be nightmare-worthy.
Those wasted shots, of course, came with the putter, the club that's done Watson in throughout his career. At the par-3 11th, where he held the solo lead at 11 under, Watson three-putted from 27 feet, missing a three-footer for par. Five holes later, he did it again, three-putting from 32 feet and missing a four-footer for par at the par-3 16th. At the 18th, where he was coming off a bounce-back birdie, he stuffed a wedge to five feet, but missed the birdie try.
Despite the short misses, Watson is still tied for the lead at 10 under, which sort of sums up his career. Despite a balky putter, he's managed to win 12 times on the PGA Tour, including a pair of green jackets. His all-world tee-to-green play, a combination of elite power and creativity, has been good enough for nearly $50 million in on-course earnings in his career.
On Sunday, he'll go for his 13th career win, and would tie Billy Casper for the most wins at the Travelers. Watson's most recent tour victory came at … yep, you guessed it, the 2018 Travelers Championship.
Abraham Ancer's relatable hole-in-one message
After making the cut on the number, Abraham Ancer was free to take it deep on Saturday morning, and it looked like he might late on his front nine. Ancer made his first birdie of the day after a streak of pars at the par-5 sixth, then things got very, very interesting at the par-3 eighth, where Ancer made a hole-in-one: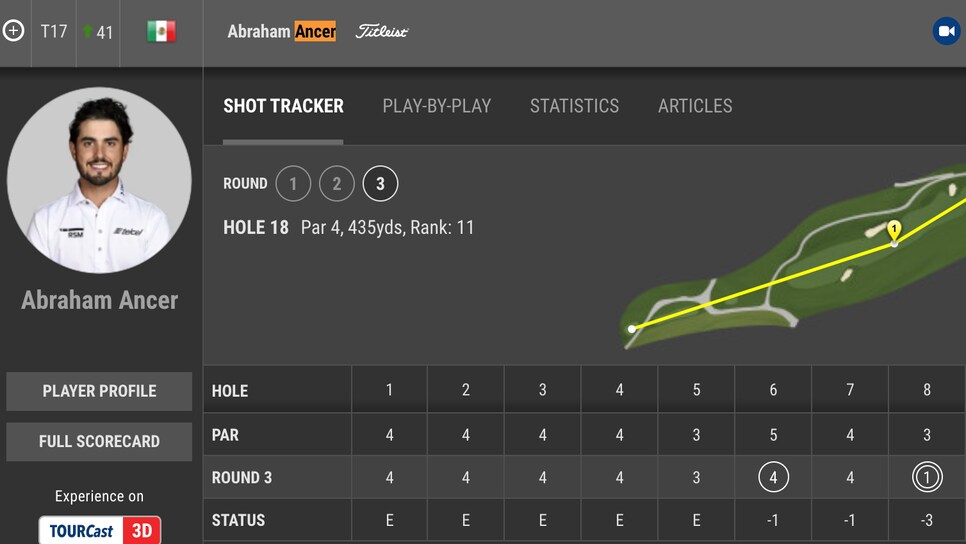 Ultimately, Ancer played the final 10 holes in only one under, posting a second-straight 66 to reach six under, which has him just four back. If he doesn't pull off the comeback win, though, he'll always have this highlight to remember. Check out the video:
WHOOPS! Just kidding, there is no video, though Ancer assured everyone that the ace did, in fact, happen:
How good is that? Is there anything more relatable than the hole-in-one that no one sees? I'm speaking from zero experience, since I do not have a hole-in-one, but I do have nightmares about finally making mine while I'm alone, with no one around to watch and no way to prove it. Ancer has plenty of proof here given it's an official 1 on a PGA Tour scorecard and his partners and caddies saw it, but not having video still stinks for him. Don't worry, Honest Abe, we believe you.
Dustin Johnson, Bryson DeChambeau quietly lurking
DJ and Bryson, both at seven under, DJ via a five-under 65 and DeChambeau a two-under 68, are just three off the lead, very much in striking distance. A seven- or eight-under round on Sunday, waiting in the clubhouse, will very likely be in the mix. Both guys sound like guys prepared to do just that.
"[It] can happen out here," DeChambeau said. "You just got to execute shots and be confident and make some good putts."
"I feel like I'm doing a lot of things really well," Johnson said. "Feel like the game is coming around."
Couple early birdies from either of these guys on Sunday and suddenly things will get very real for the leaders.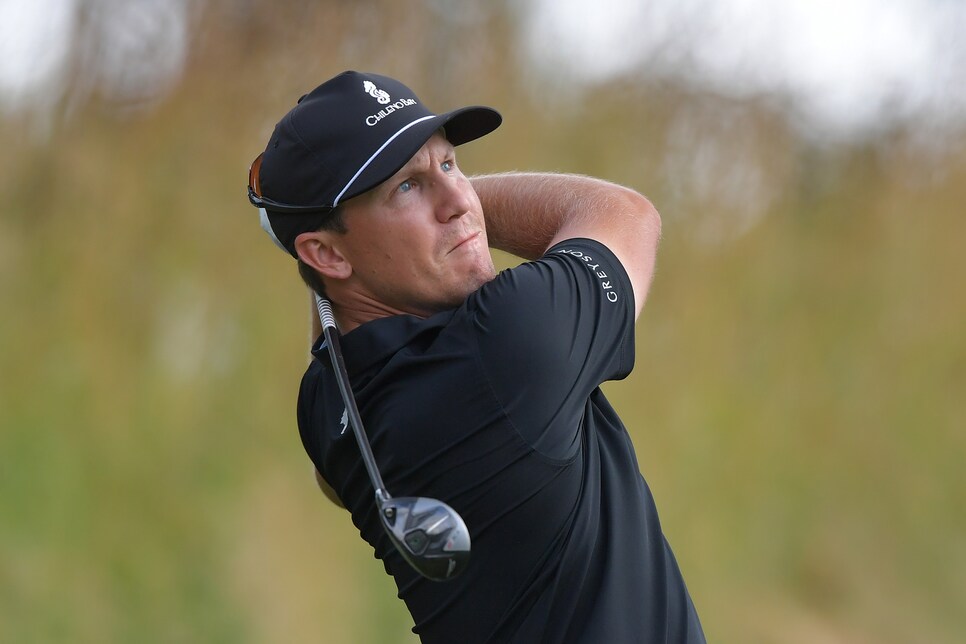 Kramer Hickok plays his shot from the 17th tee during the third round of the Travelers Championship.
Drew Hallowell
Kramer Hickok in new territory, Russell Henley back for more
Normally, the only time you hear Kramer Hickok's name is in reference to him being Jordan Spieth's former roommate. You'll probably still hear that a few times on Sunday, but that's because Hickok will be in the final group alongside Watson, holding a share of the 54-hole lead in a PGA Tour event for the first time in his young career.
Hickok does have a Korn Ferry Tour win and two top-10s on the PGA Tour, but this is very much new territory for the former Texas Longhorn. He knows it.
"Mental for sure," Hickok said when asked if Sunday will be a mental or physical challenge. "You know, just being in this position I'm trying to relay it back to how I felt on the Korn Ferry Tour and the Mackenzie Tour. Obviously this is a bigger stage, but it's just about going out there and playing golf, and I play my best when I'm relaxed.
"I'm going to try and be as relaxed as possible and talk to my caddie and try and have a fun round."
Despite bogeys on the final two holes to fall back to 10-under overall, Hickok looked very relaxed on Saturday. So did the tour pro he played along side in Russell Henley, who, fresh off a disappointing Sunday at Torrey Pines, is back for more in Connecticut. Might Henley pull a full Chez Reavie? In 2019, Reavie posted a T-3 in the U.S. Open at Pebble Beach, his lone career major top-10, then promptly won the Travelers Championship a week later. Henley, nine under and just one back, wound up tying for 13th last week, his second-best finish in a major. A logical next step might be a win, which would be his fourth on the PGA Tour.