Takeaways
Brooksy gets leg up on side bet with JT, Jason Day skyrockets up the board and Bubba does Bubba things at Travelers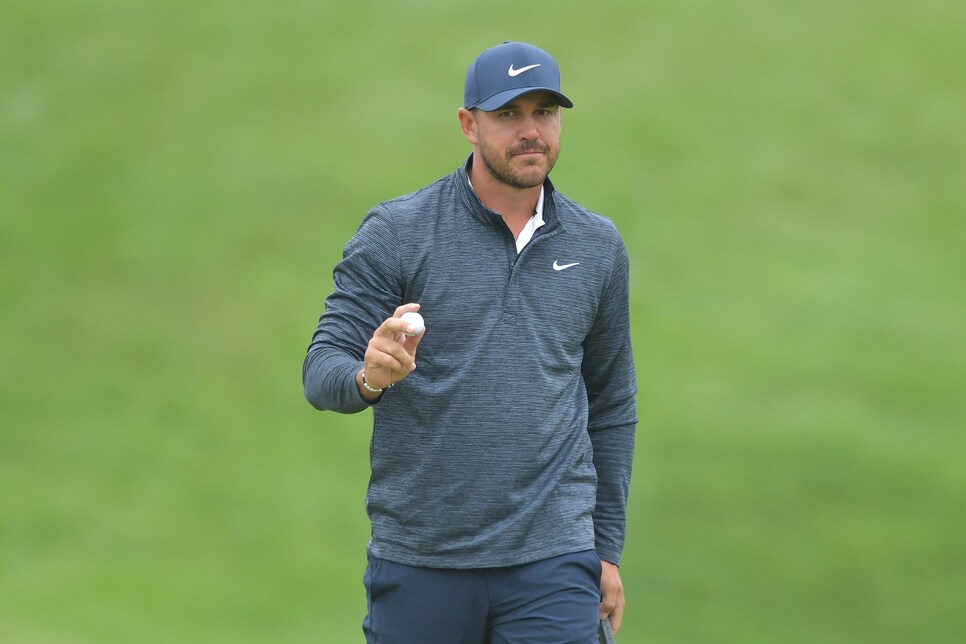 Brooks Koepka reacts to his putt on the fourth green during the second round of the Travelers Championship.
Drew Hallowell
Following a first-round one-under 69, Brooks Koepka sounded a lot like a guy who was destined for an early exit at the Travelers Championship. "I'm awful the week after a major," he said. "Because it takes so much out of you."
Fast forward to the 18th fairway on Friday, Koepka's ninth hole, and suddenly he was right back in the thick of it, having gone two under on his first eight holes. Then, from 159 yards out, he holed out for eagle to turn in four-under 31:
You may have noticed Koepka turn the camera, make the Johnny Manziel money gesture, and say "JUSTIN THOMAS." A closer look:
If you're wondering why, Koepka and JT have a yearly side bet on every hole-out from over 50 yards in a PGA Tour event, $1,000 per. Koepka's obviously met that criteria, which Thomas was none too pleased to see:
The Travelers is no major, but Koepka, four under and just five off the lead, was able to play the game within the game this week to get back in the hunt.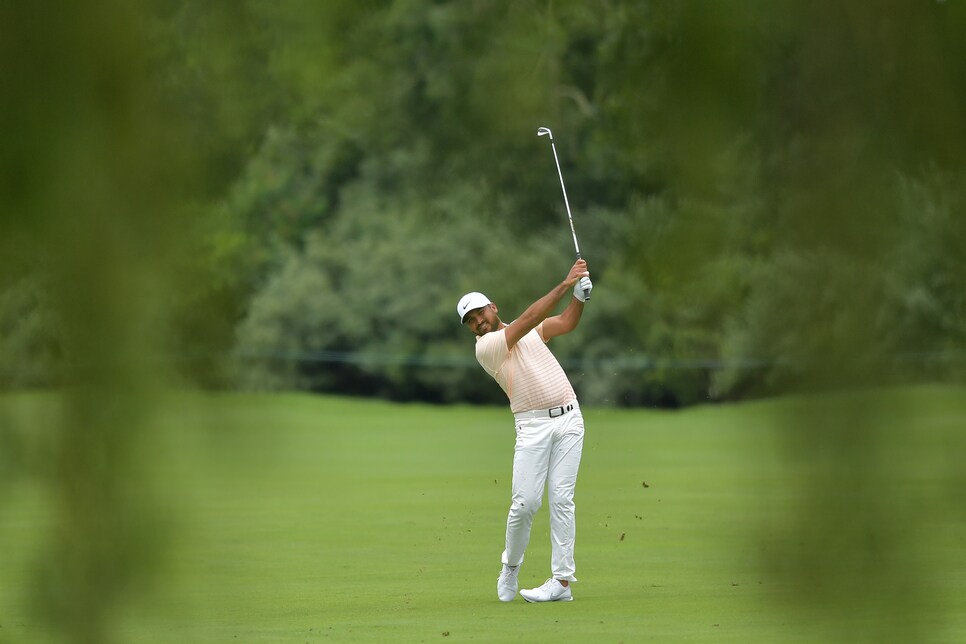 Jason Day plays a shot on the 13th hole during the second round of the Travelers Championship.
Drew Hallowell
Jason Day skyrockets up the leader board
Between July of 2020 and February of 2021, Jason Day had six finishes of T-7 or better on the PGA Tour, including a fourth-place finish in the 2020 PGA Championship at TPC Harding Park. With that in mind, it's unfair to say he's fallen off the map or even been bad; however, he has missed three of his last four cuts, and didn't even attempt to qualify for the U.S. Open.
As odd of a move as that seemed ot be, it may prove to be the prudent one this week. A well-rested Day opened with a one-under 69, then skyrocketed up the leader board with an eight-under 62 on Friday at TPC River Highlands. It was a Jason Day of old-type 62, with the Aussie peppering flagsticks and holing a few bombs when he wasn't within kick-in range. The ballstriking was World No. 1-type stuff, as was the putting, two areas he's seriously lacked in over the last nine months. To see them both clicking like they did Friday is a reminder that the 2015-16 version of this guy can show up at any moment and produce a stop-what-you're-doing-and-watch sort of round. If only his body would cooperate.
"Yeah, body is okay," said Day, who could be seen walking a bit gingerly on his last few holes. "Just stiff. It's sore to get onto the other side of the golf swing, so any time going left was a little bit sore.
"It is what it is. I haven't had time to really rest it since I kind of put it out. I think having a couple weeks off was great, but you just need a little bit more time is what it is."
This has been a similar refrain from the 33-year-old for some time now, almost as if he's come to terms with the fact his back will never feel as good as he needs it to feel. Even when it doesn't, though, he can still play really good golf. Now the question is, can it hold up on the weekend, when he'll begin Round 3 as the 36-hole leader, a spot he's not been in since the 2017 AT&T Pebble Beach Pro-Am.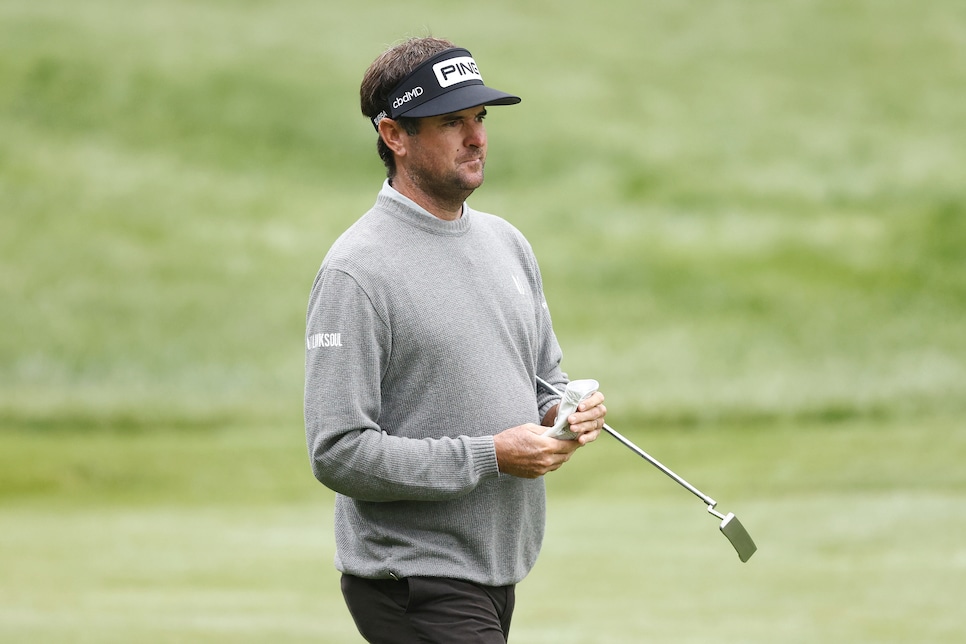 Bubba Watson looks on at the 10th hole during the second round of the Travelers Championship.
Michael Reaves
It might just be a Bubba week
Day will certainly have something to say about this, but Bubba Watson shooting a second straight 66, despite cracking his driver mid-round, might just mean it's one of those Bubba weeks, folks. Riviera, TPC River Highlands, Augusta National. There are just some places where, if Bubba's on, both physically and mentally, it's a wrap for everyone else. Again, Day is not going to back down, nor are a number of worthy chasers, but Watson is clearly feeling it at a place that fits his eye. Look out on Saturday and Sunday.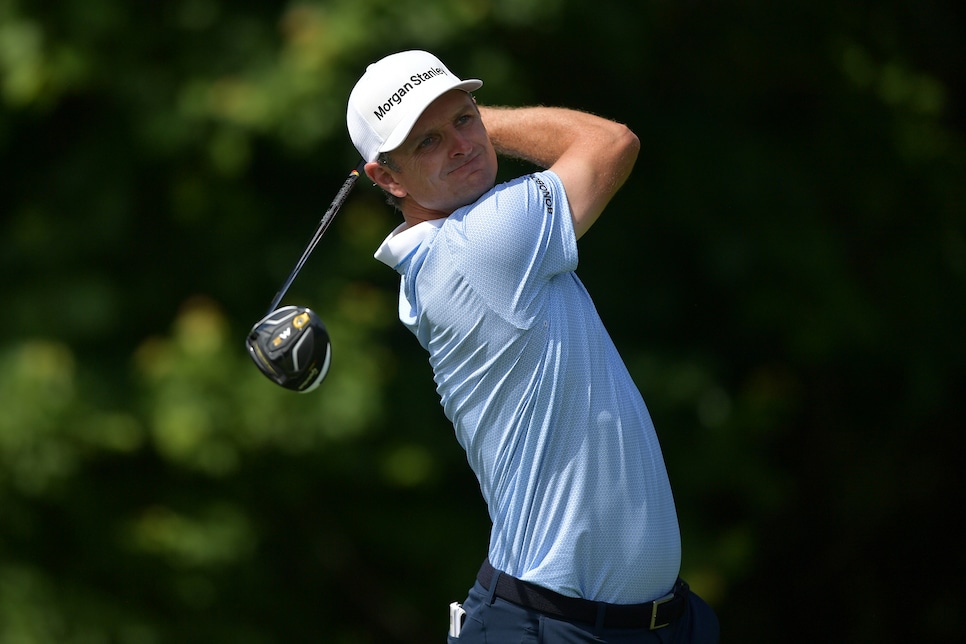 Justin Rose plays his shot from the 12th tee during the second round of the Travelers Championship.
Drew Hallowell
The leader board: strong to quite strong
Scroll past Day and Bubba and this board just gets better and better, starting with a pair of Georgia Bulldogs in Kevin Kisner and Russell Henley, coming off a strong week at the U.S. Open that ended in disappointing fashion. As for Kiz, he's been bad bad of late, but this does seem like one of those courses he's mentioned he feels like he actually has a chance on. They are both at seven under, as is Justin Rose, who had a horrific week at Torrey Pines but quickly got over that with a 63 on Friday. Scottie Scheffler and Patrick Cantlay lurk at six under, and so does Italian U.S. Open folk hero Guido Migliozzi. Bryson DeChambeau (five under), Patrick Reed (five under), Koepka (four under) and Dustin Johnson (two under) are all hanging around for the weekend as well. Let's party.