AT&T Byron Nelson
Sam Burns goes scorched earth, Jordan Spieth hangs in despite short fuse and Doc Redman recaptures his early-season form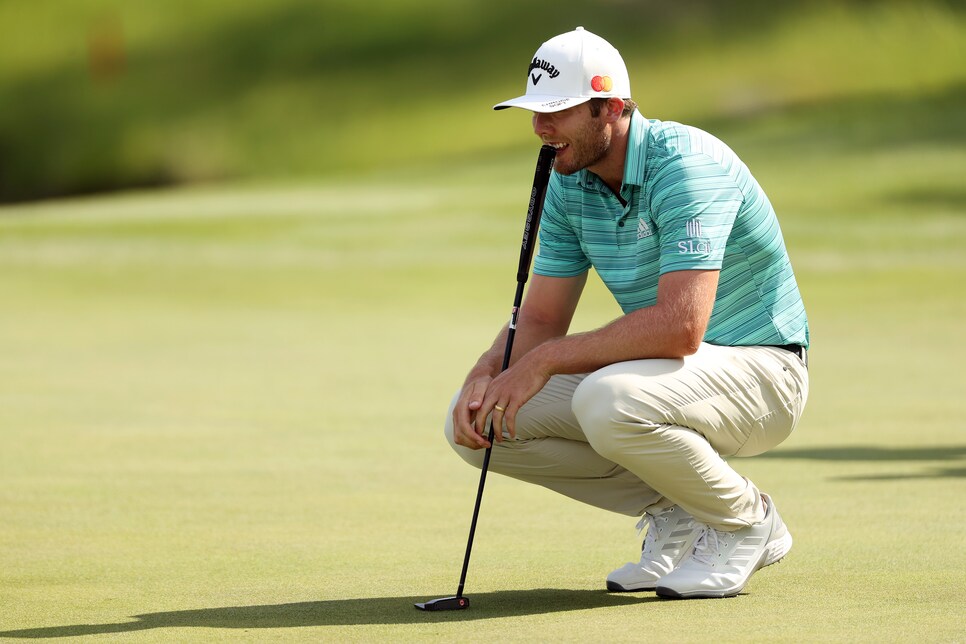 Sam Burns lines up his putt on the 16th hole during round two of the AT&T Byron Nelson.
Matthew Stockman
When you're hot, you're hot. It also helps when your last name is Burns.
OK, so maybe that's just a coincidence, but there could be something to it given how scalding hot Sam Burns is right now. Two weeks removed from his maiden PGA Tour victory at the Valspar Championship, Burns has grabbed the 36-hole lead in the AT&T Byron Nelson. His opening two rounds: 65-62. The man is boiling.
"Yeah, everything out there felt great," Burns said. "Just feel like we got into a good rhythm throughout the round. Made a run right there on the back nine, and so it was nice to be able to finish it off with two birdies at the end."
Those two closing birdies gave Burns 10 on the day, against zero bogeys. As the six-under cut line showed, TPC Craig Ranch is a bit of a birdie fest for these players, but 10-under 62 is impressive anywhere, and it's given the former LSU standout the solo lead.
To be clear, this is not a random, hot stretch, as Burns was quick to point out. He contended a number of times in the fall and winter before hitting a bit of a snag in Florida, missing three straight cuts. But he stayed the course, finally closing off a win at Innisbrook.
"The biggest thing for me is just seeing the hard work that we put in it, start seeing results from that," he said. "A lot of times you don't know how long the results are going to take. Golf is a fickle game.
"It's cool to see some feedback from the progress we've made back home and seeing it in tournament play as well."
Golf is a fickle game, but one Burns is making look easy at the moment.
Three other takeaways from Round 2 at TPC Craig Ranch.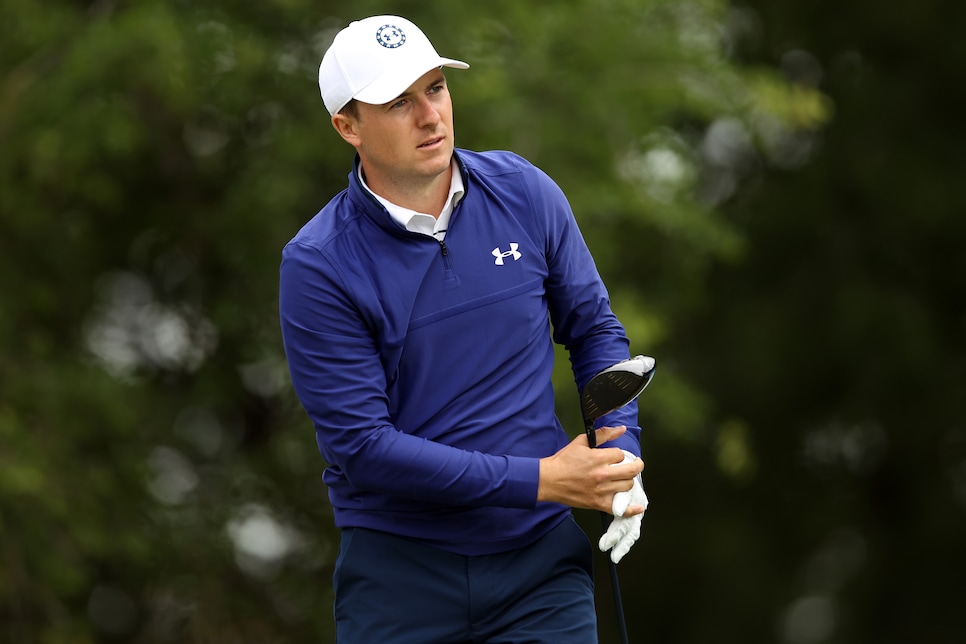 Jordan Spieth hits his tee shot on the second hole during the second round of the AT&T Byron Nelson.
Matthew Stockman
Jordan Spieth overcomes early struggles, 'short fuse'
Much like Rory McIlroy, Jordan Spieth is the rare type of superstar who is never afraid to tell us exactly how he is feeling. On Friday, the three-time major winner admitted he had a bit of a "shorter fuse" during his second round because, like any of us would be, he was a little cranky from lack of sleep.
"When I wake up at 4:30 I'm in a bad mood just as most people probably are and I needed to kick that today," Spieth said. "I think yesterday even when I wasn't playing a good hole I was kind of laughing at the miss or chunked it and laughed. Today I had a shorter fuse."
That could explain Spieth's shaky start, when he bogeyed the par-4 10th to begin his day. That was the only bogey of the round, as he played the next 17 holes in three under, shooting at two-under 70. He's six off the lead at 11 under, which is not an insurmountable hill to climb at this golf course, provided he can sleep in a little on Saturday morning.
"I'll just get some better rest tonight and then tomorrow will be kind of a fun test," Spieth said. "There is no reason for me not to trust everything I'm doing. At this point, I've got an opportunity to contend here, and if I can get myself a chance on Sunday, that is the best prep for this tournament and also next week."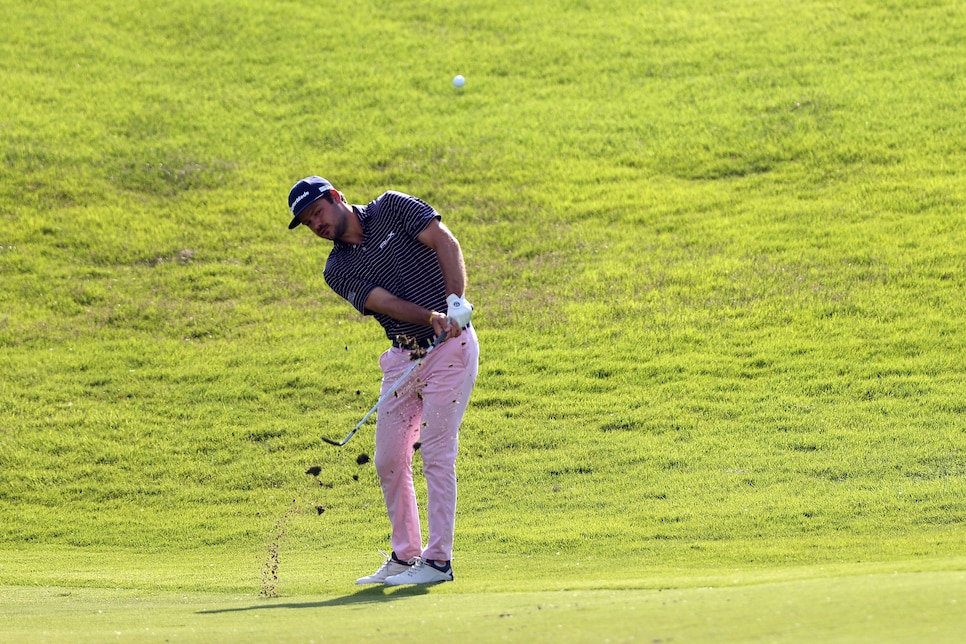 Doc Redman hits an approach shot on the sixth hole during the second round of the AT&T Byron Nelson.
Matthew Stockman
Doc Redman recaptures his early-season form
Much like fellow rising star Sam Burns, Doc Redman has contended a number of times early in his career. Unlike Burns, though, he's yet to break through for his first tour win, and he's had a much more prolonged "slump" then Burns' three-week Florida Swing slump.
Enter TPC Craig Ranch, which has proven to be just what the former U.S. Amateur winner needed to return to his early-season form, when he posted thr3e top-four finishes in six starts between August and October. Since then, he's missed seven of 12 cuts, with a best finish of T-39.
He's on pace to post a much better result this week, starting with 64 on Thursday and following it up with a Friday 67, putting him four back of Burns. Perhaps we're in line for another maiden win from a young stud, which the PGA Tour could use more of, obviously.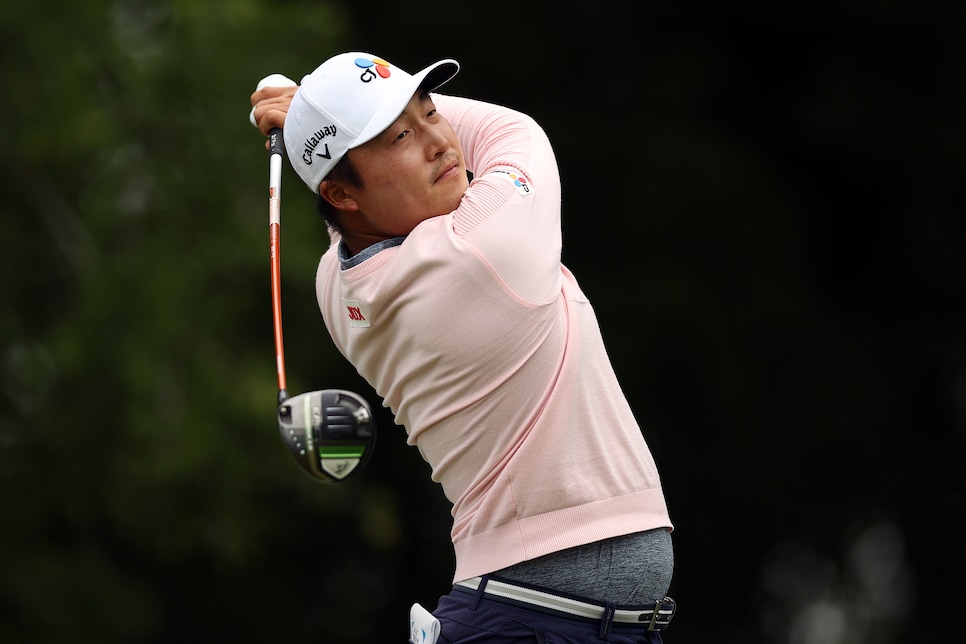 K.H. Lee hits his tee shot on the second hole during the second round of the AT&T Byron Nelson.
Matthew Stockman
K.H. Lee bounces back from disappointing week at Wells Fargo
If not for Phil Mickelson catching fire last Thursday, K.H. Lee would have had a share of the first-round lead at the Wells Fargo. He then proceeded to finish T-58, shooting rounds of 77-70-76.
As crushing as that must have been, Lee has bounced back nicely in Texas, opening with consecutive 65s to pull within three of Burns' lead. It's easy to forget this guy almost won the Waste Management Phoenix Open in February, mostly because he's been relatively quiet since (no top-10s). But last week's Thursday 66 and his first 36 holes this week is a reminder this guy can ball. As of right now, he's top seven in the field in strokes gained/approach, SG/tee-to-green and total strokes gained.
Brooks Koepka's lowkey trunk slam
In his first start since the Masters, Brooks Koepka did end up missing the cut, which was semi-expected given his health and the rust factor. But it wasn't a violent missed cut, with Koepka shooting 71-70. Honestly, they're good reps for next week's PGA Championship, which is all the four-time major champ had in mind when entering this tournament. If the knee acts up next week, he could go MC-MC. But if he feels healthy enough to give it a go, no one should be surprised if he's a factor down the stretch on Sunday of a major at a tough golf course.