European Tour
Former Ryder Cup player Chris Wood opens up about 'humiliating' struggles with his game
The past rookie of the year has fallen from the world rankings and he discusses why and how it happened.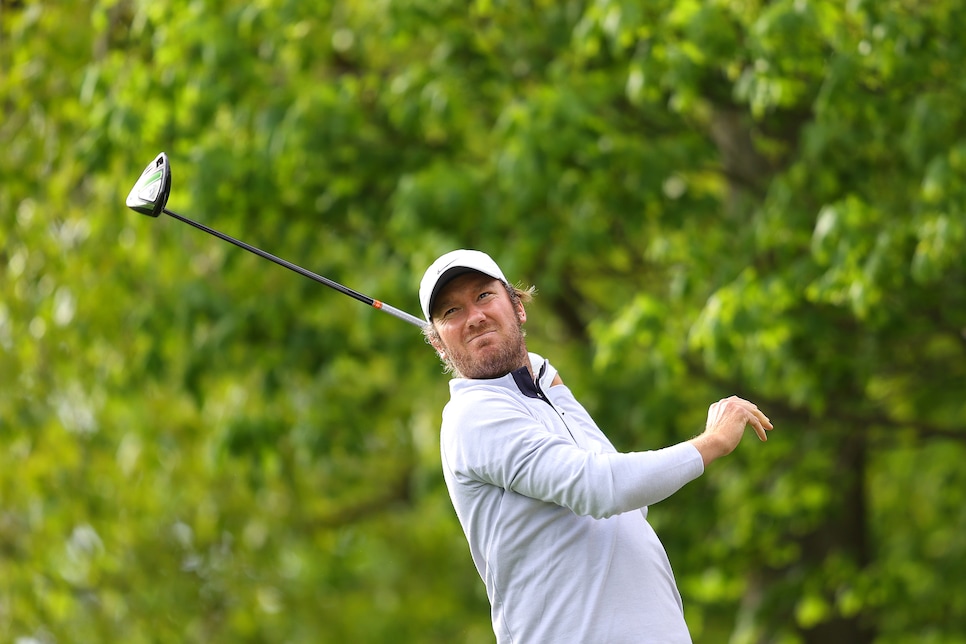 Chris Wood tees off on the 16th hole during the first round of the Betfred British Masters.
Richard Heathcote
SUTTON COLDFIELD, England — Back in 2016, the world was a very different place for Chris Wood. Winner of the biggest tournament on the European Tour, the BMW PGA Championship at Wentworth, the then 28-year old went on to make his Ryder Cup debut at Hazeltine later that summer. By the end of the season, he was the 39th best golfer on the planet. Everything in the lanky 6-6 Englishman's world was looking good.
"The reality is I was in a horrendous place technically," says Wood, who finished T-5 in the 2008 Open Championship at Royal Birkdale to be low-amateur, then T-3 a year later at Turnberry as a professional. "I have pictures of me warming-up at Hazeltine and it's almost an unplayable golf swing. I say 'almost' because I clearly could play back then - I actually performed well that week - but there was no way I was ever going to progress from that point. My clubface was 30-degrees open at the top of my backswing. The only way to get back to square at impact was to 'flip it' with my hands."
Still, despite that knowledge, Wood's career continued on its generally successful way. There were no more victories over the next couple of seasons, but in 2018 he was three times a runner-up on the European Tour. The last of those came along at the KLM Open in September and two weeks after that he was T-12 in the Portugal Masters. That was the last time Chris Wood finished in the top-20 at a tournament on the Old World circuit. Today he is ranked 1107 in the world.
"In 2018 I was hitting the ball about 280-yards off the tee," says Wood. "The shots were weak and 'spinny' but I knew where they were going. I could stand on the tee with a bit of confidence even if most guys were hitting it past me. I got round with my golfing brain - which I feel is a real asset of mine - so I could still compete. But it couldn't last."
And it didn't. "I played in India early in 2019," continues Wood. "(European Tour chief executive) Keith Pelley was in my pro-am team that week. I lost eight balls that day. And later in the year I walked off the course in Morocco. Mentally, I had had enough. I couldn't take any more really."
Injuries have played a part in all of the above. For long enough, Wood had issues with his neck, pain he puts down to the swings he was making back then. And his back is an ongoing problem, one that may or may not be related to his height.
"Every time I would be out for, say, a month it would take me at least as long again to get back to where I was," Wood explains. "That's something people forget. So my problems have been a mixture of physical and technical - but mainly technical. I've been through hell, to be honest. But you have two choices: either you keep going or you pack it all in."
That Wood chose the former route and is still out on tour is down to two things: the five-year exemption (extended to six because of the pandemic) and his own determination. An immensely likeable soul, the soft-spoken qualities for which the three-time tour winner is known mask a deep streak of bloody-mindedness.
"I'm proud of myself," he says. "I'm not sure how many in my position would have kept going. I've had to dig deep. Which is not to say I haven't come close to quitting. That time in India was tough. And I've had maybe six of those. My wife keeps me going. But it's in me. I'm not a quitter. I just can't walk away. I don't want to be looking back in 20 years time wishing I had gutted it out."
Having seen the carnage up close, Pelley has been supportive and understanding through Wood's struggles. In the wake of his walk-off in Morocco, Wood was publicly confronted by the tournament director and berated for his premature withdrawal. A fine followed, as did an e-mail from Wood to the tour boss.
"I didn't feel I had been treated fairly or sympathetically," says Wood. "I'm not one to give up. But I had reached a point where the golf had taken over my life. I just had to get out of there. I told Keith it wasn't about the fine; it was about the lack of awareness shown by the tournament director. And, to be fair to Keith, he was fantastic. Since then he has checked in on me fairly regularly."
That support has been welcome for a man who, in the midst of his despair, would rise from his bed in the middle of the night lest he disturb his wife with his restlessness.
"My brain was constantly thinking about what had happened and what might happen," says Wood. "Which wasn't fair on my wife. I've got two young children at home. My wife is effectively a single-parent, even when I'm home because of Covid. When I go home, I can't take the kids out. I can go and practice. But I have to stay away from them. All I can do is go to the golf course. But what gets me out of bed in the morning is the thought that this is as much for my wife as it for me. She has been with me every day. She won't admit it, but raising two little ones through Covid has been bloody hard."
Things are getting better though. Now working with swing coach Alan Thompson (who also helps Tommy Fleetwood), Wood is making progress. Last month there was a T-21 finish at the Austrian Open. And this week the former European Tour rookie-of-the-year is three-under par and well placed after 36-holes in the British Masters at The Belfry.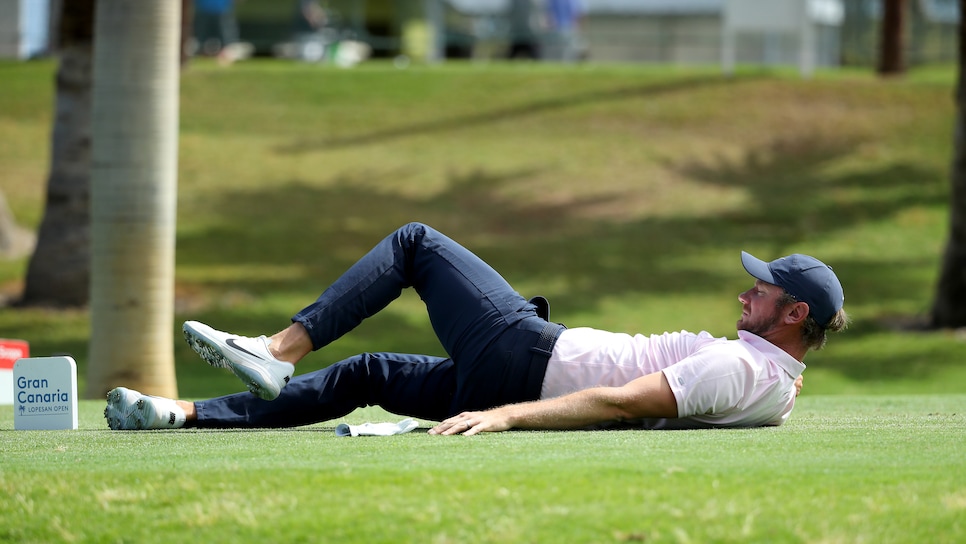 Wood takes a moment to stretch his back at the Gran Canaria Open at the end of April.
Warren Little
"Working with 'Thommo' has been a breath of fresh air," he says. "But he inherited a mess. Having said that, I'm improving. This week I've hit a lot of good shots. A few bad ones too. I still lose it left more than I'd like. But there are signs that I'm getting there. With a 3-wood in my hands, I'm hitting 'bullets.' So I'm pretty close now. I just lack a bit of confidence. Which is understandable."
Still, Wood is well aware that his recovery is likely to be a long-term process. Much scar tissue remains, memories of horror shots still vivid in his mind, as is the sense of embarrassment that inevitably followed.
"Slow, steady progress is what I want ideally," he says. "The mental side of all this is actually the toughest. This whole thing has been humiliating. I couldn't hit the course at one point. But the really awful shots I've hit will, in a weird way, stand me in good stead. I know what bad golf really is now. We're all perfectionists out here. But I smile when I hear players moaning after a shot that finishes five-yards left of target. I'd have been over the moon with that. And now shots that miss by a little don't bother me at all. Nor should they. I'm actually in the place I should have been in when I was playing well. But I've gone a long way round to get there.
"Even if I lose all status on tour I'll still be grafting," he insists. "It's a pride thing. I want to be the player I was again, the player I know I can be. In my mind's eye I have glimpses of myself holding trophies. That's a massive motivation. I'll keep going. And when I get there it will be the biggest achievement of my life."