PGA Tour Takeaways
Patrick Reed's post-Winged Foot grinding is beginning to pay off as he shares the Day 1 lead at Torrey Pines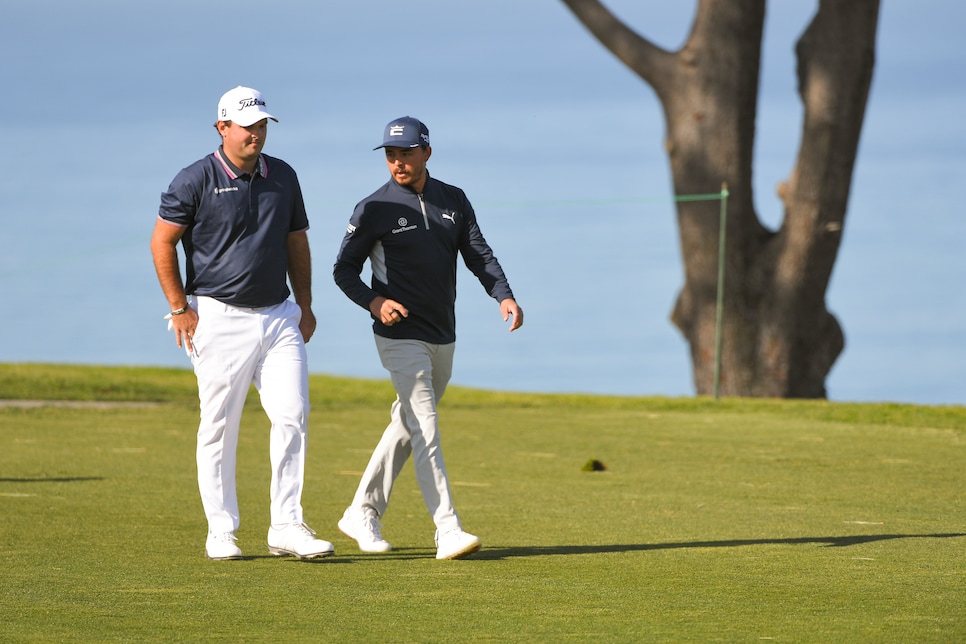 According to the PGA Tour schedule, the West Coast swing starts with The American Express. But it doesn't really start until the Farmers Insurance Open, at least in our brains. The strength of field, and the major championship vibes the South Course gives off, make Torrey Pines the sport's true starting point each new year.
Of course, the North Course's inclusion in the event means there are still plenty of birdies, and there were a ton on Thursday. With some ugly weather looming on Friday, it was absolutely key to get off to a hot start for those on the North Course in the opening round, which is exactly what leaders Patrick Reed and Alex Noren did.
Here are five takeaways from Day 1 in San Diego.
Patrick Reed's hard work is paying off
As any of us who have swung or gripped a golf club one way for a long period of time know, it can be frustrating—and perhaps downright impossible—to make a legitimate change. The difference between us and Patrick Reed, though, is that he decided to do it exactly 24 hours after tying for 13th in the U.S. Open, which he at one point led on Saturday.
Following his brutal 77-74 weekend at Winged Foot, Reed flew straight to his new coach, David Leadbetter, and the two got to work. For three days, the 2018 Masters winner grinded away, a period that included Reed changing the golf swing he had used "his whole life"—including that Masters win.
"To make that change is obviously tough," Reed said Thursday. "There's a lot of work going on not just on the golf course but also at home and doing drills, stuff like that, just trying to dial it in and get it more locked in. It's been a tough change, making a change, but at the same time it's been very rewarding. It's the right thing we're doing. I feel very good about it and definitely see signs of where it could take me."
Reed didn't expand much further on the changes, but whatever they are, they're working. He opened with a bogey-free 64 on the North Course, the second-lowest opening round of his PGA Tour career. On Friday, we'll get a true glimpse of just how much his work is paying off, as he'll take on the far more difficult South Course and in far more difficult conditions.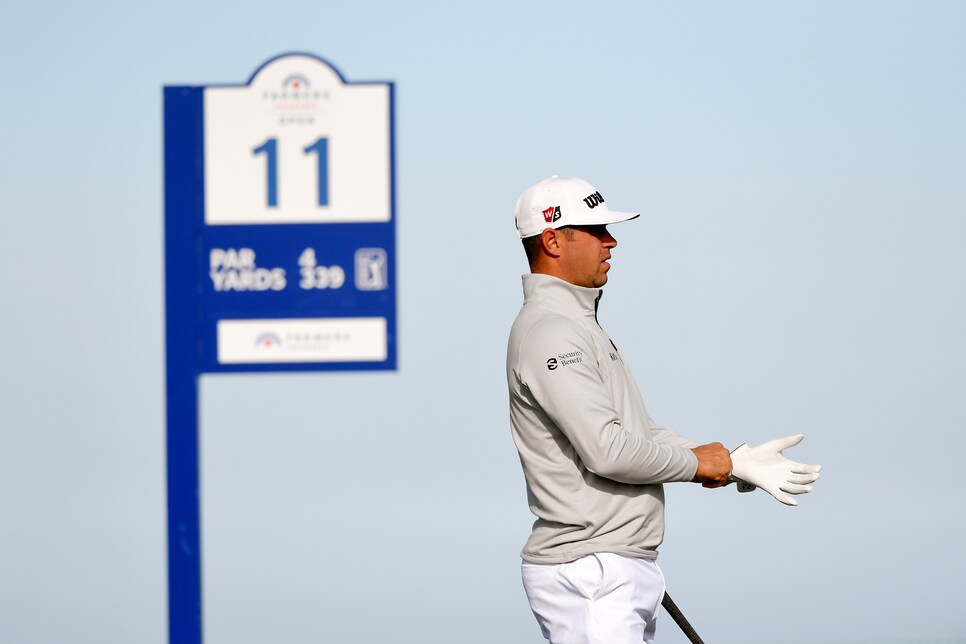 The North Course played WAY easier on Thursday
For fear of beating the North Course angle into the ground, we'll try to keep this short. It did play way, way easier, as it always does, but more so with ball in hand as it was Thursday. Pristine conditions and lift, clean and place is not something you see every day, but it was apparently done in the name of "fairness." A few numbers just to drive home the crazy difference in difficulty:
Of the 88 players under par Thursday, just 24 of them played the South Course
Of the 48 players over par Thursday, 41 of them played the South Course
Of the 21 players who shot four over or worse, just one of them (John Senden) played the North Course
10 players shot six over or worse, and they all did so on the South Course
15 players shot six under or better. Just two of them played the South Course (shoutout to Peter Malnati and Ryan Palmer, who both shot six-under 66s. That is BALLING.)
Wild stuff. Friday will be fascinating, especially if the weather turns out to be as bad as predicted. Could be some crazy swings on what's already a great leader board.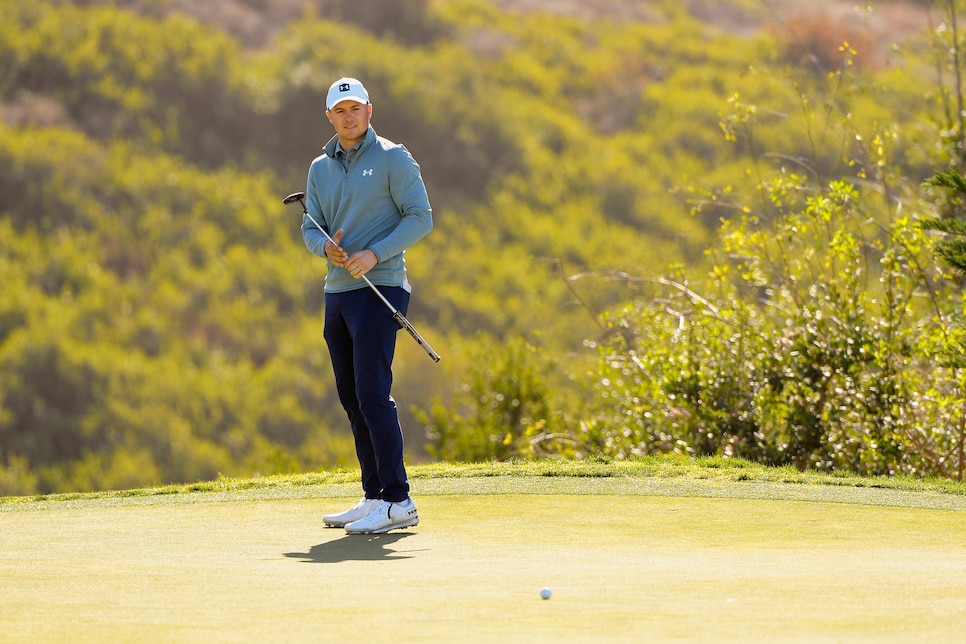 Jordan Spieth shot a three-under 69. Deep breaths, everyone
Right away, we should note that Spieth's 69 came on the North, which, in case you haven't heard, is the easier of the two courses the players will face this week. Right away, Part 2: Spieth's round was a very typical Spieth round in that it was an absolute scratch-and-claw fest. He drove it all over creation (hit just 5 of 14 fairways), and he made a few of the ridiculous up-and-down par saves we've come to know and love from him. It's the same round, frankly, we've seen quite a bit from Spieth of late. And that makes us think disaster is right around the corner and any hopes you have in him "figuring it out" should be tabled immediately, especially with the South Course on tap for Friday. Hey, we're rooting for the guy, but we're not ready to fall in love again after a scrappy 69 on an easy track.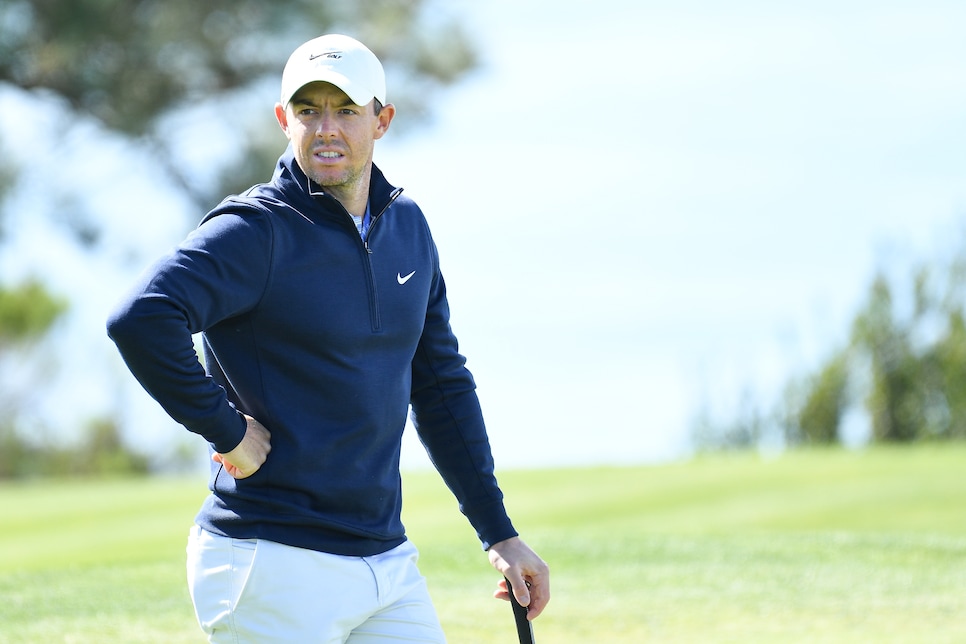 Rory McIlroy is in position to strike
Speaking of guys you shouldn't get your hopes up over, Rory shot a four-under 68. But not just any four-under 68, a four-under 68 ON. THE. SOUTH. COURSE. (Man, I cannot wait for the weekend when they only play the South Course and we get to stop clarifying who shot what where.)
But yes, it was an impressive 68 for Rory, who showed no signs of fatigue after flying in from Abu Dhabi, where he tied for third last Sunday. Next up is the North Course, where a 65 or 66 could absolutely have him tied for the lead heading into the weekend, when he'll inevitably disappoint us. (Sorry, sorry, positive vibes only.)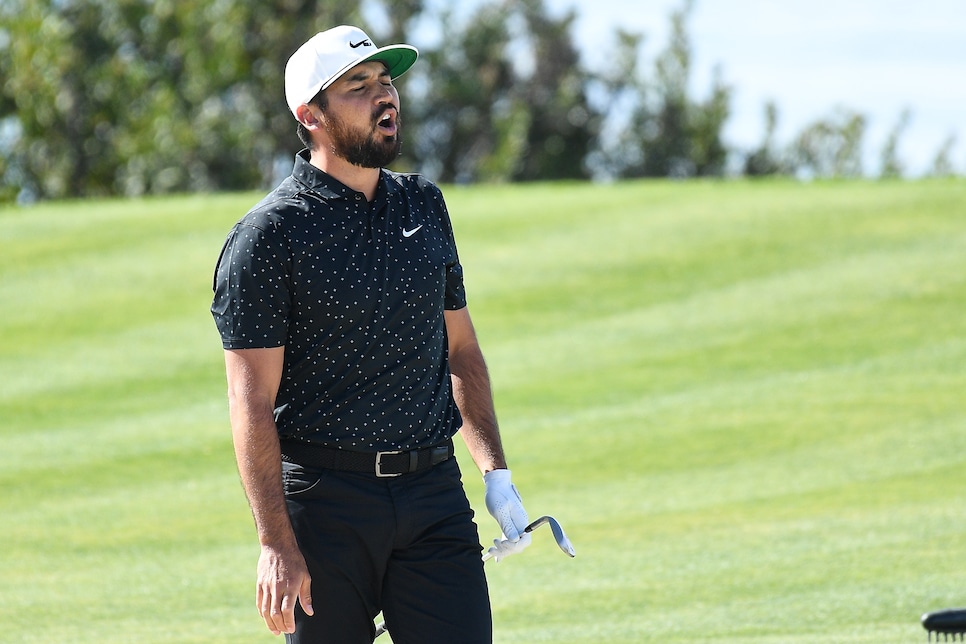 There were some real head-scratchers on Thursday
Coming into the week, two popular picks were Jason Day, because of his history at Torrey, and Matthew Wolff, because of his Cali ties and success on Poa greens. These two combined to shoot 10 over on Thursday, and will need to take it deep on the North Course Friday to even sniff the cut line. Brooks Koepka, who also started on the South, shot another blah even-par 72, which has him in a tie for 88th. Most surprising of all, however, was Charles Howell III's eight-over 80, which puts him in a tie for last. Why should that shock you? The man has never missed the cut in 17 tries in this event:
Even Mr. Consistency / the human ATM has an off week. That, or stats guru Justin Ray jinxed the hell out of him. We're big fans of Ray's work, so we'll go with the former.