News & Tours
Collin Morikawa was very honest about why he hasn't watched the new Tiger Woods documentary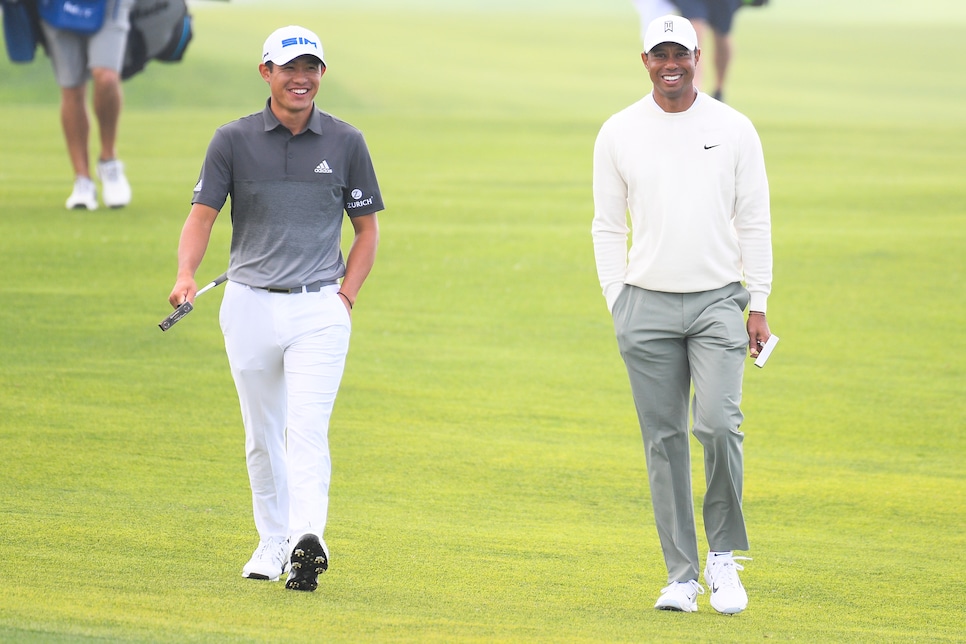 One of the biggest topics of conversation in golf over the past month has been HBO's Tiger Woods documentary. Now tour pros are being asked about the newly released doc in their press conferences.
Collin Morikawa is over in Dubai playing in the European Tour's Omega Dubai Desert Classic, and he was asked about the documentary by reporters. He had a well-thought-out response—which is exactly what you'd expect from the University of Cal-Berkeley grad.
The entire exchange is worth reading:
Reporter: Have you seen the Tiger Woods film which has just been launched over here, the HBO one?
COLLIN MORIKAWA: No, I have not.
Do you have any interest in watching it?
COLLIN MORIKAWA: You know, I've seen the comments. I've seen the highlights. You know, I wouldn't say there's an interest. I've grown up watching Tiger my entire life, and all I could dream about when I was a little kid was to be able to play with him when he's on the PGA Tour, and I've made that dream a reality and I've gotten to know him off the course.
So for me to have a personal connection aside from golf, and actually get to know him, and talk to him, you know, not just about golf but about anything else, that's all that matters to me.
You know, we all know the history of what happened. Facts are facts. But for a Tiger documentary, unless he was going to be the one narrating it, I really have no interest.
I would have thought because you know him as well as you obviously do, that would have made you more interested in watching something like this?
COLLIN MORIKAWA: To be honest, the best way you can get to know someone is by talking to them, right. You're getting to know me through this interview. I'm getting to know you by the questions you're asking. And for me to be able to ask Tiger personal questions, face-to-face, about golf, sports, family, whatever it may be, that's all that matters to me. I've idolized him and he's been a role model or a huge reason why I'm here today.
So you know, from what I have seen, comments and whatnot, there is no interest for me to watch it.
Some have been critical of the documentary—in which Tiger Woods' voice is not included—for its reliance on outside characters to tell the story of his life, rather than the story including his perspective. And Morikawa has summed up why he won't watch it—in a very honest way. Good for Morikawa.